* Organized labor has been divided on Chicago's mayoral race for months, but the split has been mostly amicable and professional until this week.
During the first round, the unions were scattered around, with progressive labor organizations like the Chicago Teachers Union backing Brandon Johnson, numerous trade unions staying with Mayor Lori Lightfoot, Local 150 of the Operating Engineers and various Teamsters locals endorsing Chuy Garcia, and the Chicago Fraternal Order of Police going with their former labor negotiator Paul Vallas.
Since the runoff began, however, the unions quickly polarized, with trade unions lining up behind Vallas (Local 150 quickly switched gears, for instance, and pledged $1 million for Vallas) and more progressive public employee unions uniting with Johnson (including SEIU Local 1 and AFSCME, which sat out the first round).
* Tensions have been building in the runoff, including over race, and they escalated quickly yesterday when CTU President Stacy Davis Gates spoke to a national publication about the contest…
Organizers in Johnson's camp say the CTU is the glue holding together a coalition, not the sole force of his campaign. Davis Gates noted that she and the heads of the local SEIU and SEIU Healthcare, also behind Johnson, are all Black, and her members are mostly women.

That shows union membership isn't just "white guys in hard hats," she said.

"The organized labor that's behind Brandon are unions that have routinely fought for issues that lift up working people," said Bill Neidhardt, a campaign adviser for Johnson.
"White guys in hard hats." OK.
…Adding… The CTU membership is not exactly representative of the city nor the public school student population. From the Tribune in 2021…
Of the 22,000 CPS teachers, 48.8% are white; 22.3% are Hispanic; 20.7% are Black; and 4.2% are Asian.

About 330,000 students are enrolled in CPS, with 46.6% Hispanic; 36% Black; 10.8% white and 4.4% Asian.
* Trade unions have been criticized for a lack of diversity, mainly by Black and Brown politicians, but rarely has that criticism come from within labor itself. And the CTU president's comments badly stung some trade union leaders yesterday. From the Building Trades Council…
"There is no room in the labor movement or politics for divisive statements like Stacy's," said Mike Macellaio, President of the Chicago and Cook County Building Trades Council, which represents 15 unions and more than 80,000 members. "The building trades are a diverse group of highly skilled men and women of every race, color and creed; and we committed to protecting the rights of every worker and opening doors for the next generation. Building trades unions funded the vast majority of the Workers' Rights Amendment campaign, which protects every worker in Illinois, and we have invested millions in programs to increase access to apprenticeship programs and provide skill training to a diverse new generation of workers. We call on Brandon Johnson to make clear where he stands on Stacy's comments as well."
Tensions between the two union sides have existed for years, even before the issue of pension reform bitterly divided the house of labor in the past decade. Teachers unions and AFSCME refused to contribute to then-House Speaker Michael Madigan's personal campaign fund after he pushed through a pension reform package. Some of the trades, which backed Madigan, then began publicly calling for pension reform to free up state money for things like infrastructure.
But then Bruce Rauner came along and his strident anti-union rhetoric and his publicly admitted decision to hold the state budget hostage until Democrats went along with his "right to work" agenda fused organized labor together like it had never been before.
The bond has mostly held since then because both sides have done pretty darned well under the current governor and there's no reason to fight over crumbs, but the split has been particularly obvious in the mayoral runoff as the trades congregate behind the conservative White guy and the public employee unions align with the lefty Black man.
* So where do they go from here? Politico…
Bob Reiter, president of the Chicago Federation of Labor is also concerned. "The labor movement fights every day to provide pay and opportunity to members. But we have to make sure that we can disagree with each other without getting to a point where it divides us — because the labor movement has to endure."

Staying neutral: Neither the CFL nor the trades council have endorsed anyone in the mayor's race.

Gates responds: "I truly don't understand the response to my comment. And, I think we are saying the same thing: Labor is diverse, and its leadership is diverse, too. It is important especially for women during Women's History Month to know they are represented at the highest levels of union leadership," Gates said in a statement.
But it's obviously more than just her comments about women which have sparked the ire of the trades.
* In response to the Johnson campaign's statement that "supporters of Brandon tend to be the people who lift workers up," a high-level member of the building trades pointed out that their unions - the so-called "white guys in hard hats" - put their money where their mouths were last year to back the Workers Rights Amendment…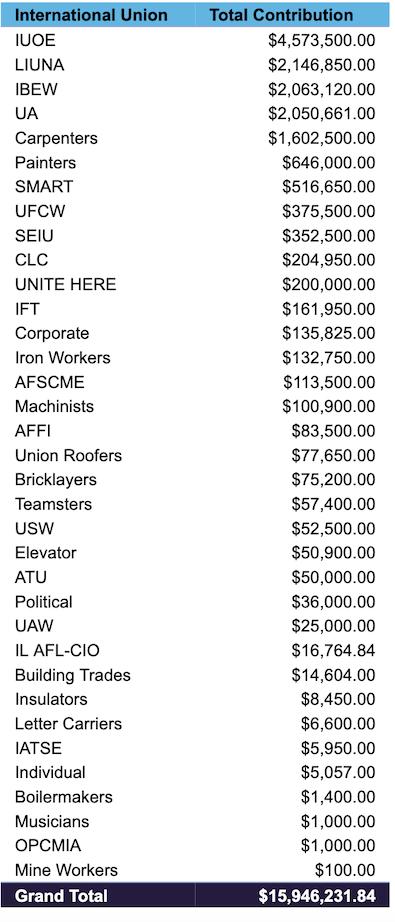 The official noted that the money spent by teachers' unions on the amendment ($162K) pales in comparison to the seven-figure sums those unions are now putting behind Johnson. That difference, the official said, "tells the story about lifting up workers vs. getting a contract this summer."
Ouch.
44 Comments



































































































































Sorry, comments for this post are now closed.