* On December 21, 2021, when Paul Vallas was substitute hosting for Dan Proft on WIND, 4,178 people were hospitalized with COVID-19. More than 300 people died from the virus that week, bringing the total number up to more than 27,000. Hospitalizations surged to 7,380 just a few weeks later, on January 12th. Hospitalizations didn't fall back to the December 21st level for a month, and didn't fall below a thousand until late February…
Amy Jacobson: It's a two-week peak. So, we're going to have a two-week peak here. So as soon as the cases rise, that's quickly as they are going to fall. And they are going to say it worked because of the vaccine mandates. You know that. Because two weeks from now on January 10th, this is going to be a nothing-burger.

Paul Vallas: We'll be having strains every year and this is going to be the new normal.
OK, let's stop right there. We've never again had a peak like the horrific winter of 21/22. The mini hospitalization spike we had this past December was around 1,800. That earlier winter's spiral hasn't become the "new normal," as Vallas predicted, because vaccines work.
* And, as you'll see, they mocked leaders for trying to keep even more people from dying…
Paul Vallas: But I think for people like Lightfoot and others this is an opportunity. Well first of all, this gives them the ability to make decisions unilaterally with no input. How many executive orders has Pritzker [issued]?

Amy Jacobson: 24.

Paul Vallas: 24. Illinois Policy does great work, great work in terms of reporting on these things. I mean, really them and CWB, and of course, Wire Points and I mean, they just do great work on providing really independent research and reporting. On these executive mandates, no legislative input whatsoever. So it gives them the ability to act like dictators. The second thing it does is it creates the perception that somehow they're being decisive leaders.
That "dictator" stuff is the exact same rhetoric used by Darren Bailey and his ilk. The courts ruled again and again that the executive powers already existed in state law.
I've said it before and I'll say it again: I do not envy Chicago voters.
…Adding… Speaking of Darren Bailey, this was posted by Bailey in May of 2022, during the Republican primary…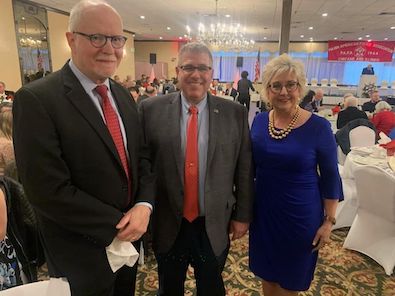 Caption?
Also…
Feds provide $5 bil. in new COVID funds for IL public schools and Pritzker agrees to increase state K-12 funding by another $350 mil. Yet, Governor still tries to SLASH Tax Credit Scholarships for poor families who send kids to private schools, saving a paltry $14 mil. Shameless!

— Paul Vallas (@PaulVallas) May 10, 2021
"Shameless!"
*** UPDATE *** From Natalie Edelstein at the Pritzker campaign…
Throughout the pandemic Governor Pritzker spent every day fighting to save people's lives and livelihoods. He did it by following the advice of the nation's best virologists and epidemiologists, many of whom are at Illinois' world class research institutions and hospitals. Leadership requires making tough choices and not pandering to the loudest voices driven by politics. The next mayor of Chicago may be called upon to lead in a similar type of emergency and residents deserve to know if their next Mayor will listen to experts or instead to right wing talk show hosts when making decisions about people's lives.
Vallas campaign…
"Paul Vallas looks forward to working with state leaders in tackling all the issues facing Chicago, from making the city safer to improving education to confronting crisis situations whenever they emerge. As a lifelong Democrat, Paul respects Gov. Pritzker's leadership and voted for him in the past election."
55 Comments




































































































































































Sorry, comments for this post are now closed.