* Personal PAC's latest mailer…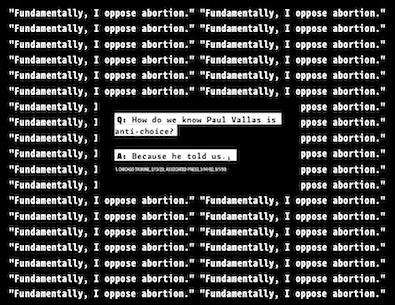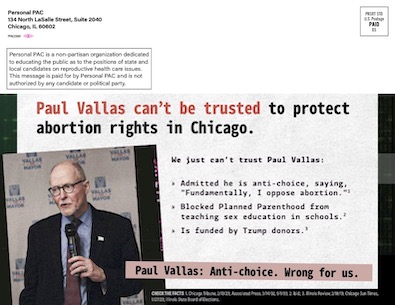 * Trouble at EIU…
Second union headed toward a strike today:
EIU faculty and staff union to rally Monday, deliver Intent to Strike pic.twitter.com/NQiIicE50f

— IL Federation of Teachers (@iftaft) March 24, 2023
* More disturbances at Pontiac's prison…
Two officers at Pontiac Correctional Center were attacked earlier this week, marking the third assault on staff at the facility in just five months.

According to Will Lee, President of AFSCME Local Chapter 494, two inmates jumped on the officers in the law library Wednesday morning. Both officers were taken to the hospital, with one released the same day. The other required additional treatment, and was taken to a different hospital to have more work done. There's no word on his condition, per privacy reasons.

Both of the inmates are identified. Their names are confidential, pending more information from the Department of Corrections. It's unknown if they're facing charges.

The latest in a string of attacks at Pontiac, Lee says not much has changed since their demonstrations last fall calling for additional security measures at the facility. He points to a continued lack of staffing as the primary reasons. For now, the union has monthly meetings with facility management, with union members bringing up consistent issues.
* Pantagraph story about a teacher who quit after parental rage…
A Heyworth teacher has resigned following public backlash over a sex education book in her classroom.

The Heyworth school board approved a separation agreement at a special meeting Thursday with eighth grade English teacher Sarah Bonner. The vote came after a closed session and more than an hour of public comment, generally in her favor.

Bonner declined a request for an interview with The Pantagraph following the meeting.

The book in question was Juno Dawson's "This Book is Gay," a young adult nonfiction work on sexuality and gender. It was not in the school library but was Bonner's own book in her classroom, Superintendent Lisa Taylor said.

Parent Jeff Klawitter, who spoke twice, said the issue had nothing to do with Bonner's teaching style but he believed the book was inappropriate and was brought into the classroom without his or other parents' knowledge.
* For no reason in particular, here's the Illinois unemployment rate since 1976…

* ICC…
Chicago, IL – The Illinois Commerce Commission released its annual report on accidents and incidents involving hazardous materials (hazmat) on Illinois railroads. Of the 8,549 rail cars inspected in 2022, the ICC found violations in just 1.3 percent of all inspections. When these inspections first started in 1981, violations topped 12 percent.

"The disaster in East Palestine has rightfully turned attention to our nation's rail safety efforts. Our hazardous materials report is an important resource for understanding the kinds of incidents that occur on Illinois railways and helps the Commission to inform its ongoing safety measures," said ICC Chairman Carrie Zalewski. "Investigating these incidents when they occur is critical, but the goal of routine inspections is ultimately to minimize and prevent these disasters from occurring in the first place."

To help prevent hazmat disasters, ICC inspectors conduct frequent field checks to evaluate signals, track structure, operating practices, and hazardous materials transported by rail. In cooperation with Federal Railroad Administration inspectors, ICC inspectors focus on railroad mainline tracks, rail yards, and the industrial facilities of shippers and consignees of hazardous materials. Any violations or defects discovered, regardless of severity must be corrected to prevent serious incidents.

In addition to routine inspections, the ICC's Hazardous Materials Safety Program includes technical assistance to shippers, consignees, and rail carriers; the inspection and escort of nuclear materials; and education and outreach activities. To keep communities safe in the event of a derailment, ICC works with the Illinois Emergency Management Agency to provide technical aid to local emergency responders and investigate the cause of hazmat incidents.

The ICC is required by law to prepare a report on hazmat accidents for the General Assembly including the location, substance involved, amounts involved, and the suspected reason for each accident, as well as the rail line and point of origin of the hazardous material involved in each accident. Three categories of information contained in the report have also been added by the ICC's Railroad Safety Section to make the report more useful. These include the type of equipment involved, date of incident, and the amount of hazardous material released in the accident. "Amount Released" is distinct from the required "Amount Involved." "Amount Involved" is simply the quantity of commodity that was being transported; the "Amount Released" into the environment by an accident is far more critical.

To read the report on accidents and incidents involving hazardous materials on railroads in Illinois click here.
* "Entry is free for high school and college kids"…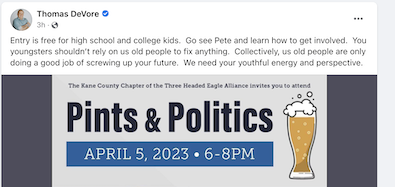 Looks like grooming /s.
…Adding… I forgot about a pic I had. This press release reminded me…
Last night, Illinois State Representative Jennifer Sanalitro (R-Bloomingdale) celebrated the unanimous passage of her first bill through the House of Representatives. The legislation – HB2094 – aims to protect homeowners from deceptive mortgage marketing practices. The bill cracks down on bad actors who take advantage of unsuspecting homeowners, specifically those who are new to the home buying process and seniors who may be more vulnerable to deceptive marketing tactics.
She was wearing a red jacket loaned to her by former Rep. Randy Ramey. It used to be, freshmen were compelled to wear Ramey's red jacket during floor debate on their first bills. But like most other freshman hazing rituals, the tradition was (thankfully) abandoned…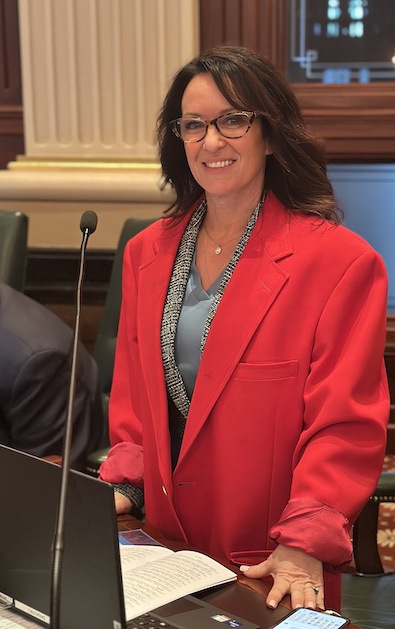 That's just a wee bit big on her.
* Isabel's roundup…
* WBEZ | Illinois Democrats spending big to combat 'extremist conservatives' in school board races: Historically, voter turnout for school board elections are low, and don't make headlines beyond the given community. But in recent years, school board meetings and elections across the country have become more contentious over topics like COVID-19 mitigation policies, book bans and diversity, equity and inclusion curriculum.

* Sun-Times | 'We nearly broke the system': Hospitals face staff exodus, violence three years into pandemic: At the three-year anniversary of the coronavirus shutting down Illinois, the pandemic has ebbed, but Chicago area hospitals are struggling to cope with the vastly altered health care world the plague left behind.

* Block Club | Chicago Public Schools Is Paying $4 Million To Help Fix Its Bus Woes: Chicago Public Schools provides transportation for over 17,000 students. Hundreds of students have commutes longer than an hour.

* Sun-Times | Black Illinois Tollway employees outraged over rope hung in locker room: A white co-worker said it was part of a joke having nothing to do with race. One complaint from a Black employee called it "an overt, poignant and intentional display of intimidation and harassment meant to impose terror."

* Daily Southtown | Palos Park mayoral candidates share their plans to increase community engagement: Milovich-Walters said she'd like to establish a welcome committee made up of community members to help get the word about businesses, events and organizations. The committee would make brochures with information and talk with residents, particularly new residents, to engage them with the community.

* WGN | CPD officer Danny Golden files lawsuit against now-closed Beverly bar: Sean's Rhino Bar and Grill — which closed last year and remains for sale — violated its liquor license, ignored capacity restrictions and did not have security guards working on the night that Golden was shot last July, according to the lawsuit filed last month by Golden and his brother, who was also wounded in the shooting.

* AP | Rap artist Afroman sued by officers who raided his home: Seven law enforcement officers have sued rap artist Afroman, accusing him of improperly using footage from a police raid on his Ohio home last year in his music videos. Four deputies, two sergeants and a detective with the Adams County Sheriff's Office brought the suit earlier this month, claiming invasion of privacy. Other law enforcement officers who were involved in the raid are not named as plaintiffs.

* Salt Lake Tribune | A Utah parent says the Bible contains porn and should be removed from school libraries. Here's their full challenge.: Frustrated by the books being removed from school libraries, a Utah parent says there's one that hasn't been challenged yet, but that they believe should be, for being "one of the most sex-ridden books around."

* WaPo | Most trans adults say transitioning made them more satisfied with their lives: "Living doesn't hurt anymore," said TC Caldwell, a 37-year-old Black nonbinary person from Montgomery, Ala. "It feels good to just breathe and be myself."

* Vice | Trans Children Were the Beginning. The GOP Is Coming for Adults Now.: A newly-proposed healthcare ban in Florida could effectively ban gender-affirming care for people of all ages, in yet another indication that GOP lawmakers are not only targeting trans youth, but trans adults too.
15 Comments












































Sorry, comments for this post are now closed.