* These numbers from BSP Research are not only old, but the poll was taken over an unusually long period, March 15-23. It sure took them long enough to release the results…
With one week remaining until Chicago's mayoral runoff election on April 4, Northwestern University's Center for the Study of Diversity and Democracy (CSDD) and a coalition of Black and Latino nonprofits released the results of a second nonpartisan poll showing candidates Brandon Johnson and Paul Vallas in a neck-and-neck race to the finish line.

Overall, the choice among voters is evenly split between Vallas and Johnson, with each candidate earning 44% of the overall vote, with 12% undecided.

When broken down by race/ethnicity, Black registered voters favor Johnson by a wide margin. Fifty-five percent have decided to vote for or lean toward Johnson, versus 28% favoring Vallas. Among Latino registered voters, 46% favor Vallas, while 35% prefer Johnson. Registered white voters are the most split between candidates with 51% voting for or leaning toward Vallas and 42% for Johnson. One interesting finding is that one-third of Latinos think Vallas also may be Latino.
It was 40-40 without including leaners.
Methodology is here.
* Because the horserace numbers are relatively old, let's look beyond them to some issues…
The poll found that reducing crime is far and away the most important issue, with 50% of registered voters saying it is an important issue. Likewise, across race/ethnicity, 49% of Latino, 53% of Black and 50% of white voters cited crime as the most important issue. There were substantial differences across age, with 80% of registered voters over 65 years of age saying reducing crime is an important issue and 31% of 18- to 29-year-old voters saying it is an important issue.

Despite the concern over crime, 30% of Black voters said police reform was the second most important issue. Among Latinos and whites, 35% of Latinos and 31% of whites said the rising cost of living was the second most important issue.
* Vallas voters and leaners were asked: "Here is a list of reasons why people may vote for Paul Vallas. For each, tell us whether this factor was VERY important, somewhat important, or not important at all in your decision to support him"…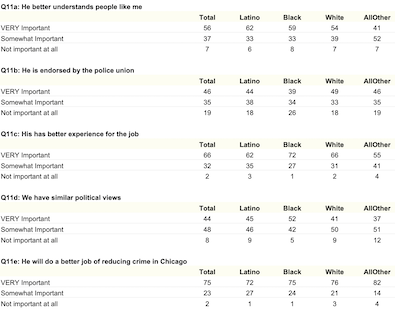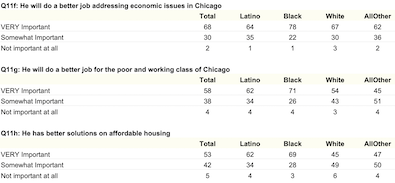 * Same question for Johnson voters and leaners…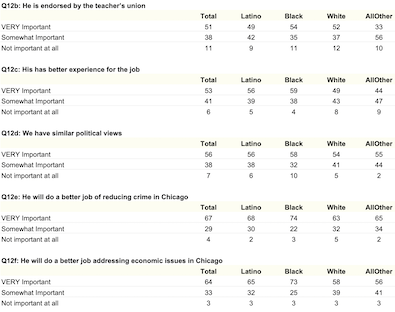 * Never underestimate the voters' desire to want two seemingly opposite things at once…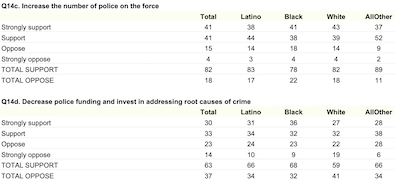 Still very odd, though. And if that second result is even close to accurate, it upends everything we're supposed to believe about this contest.
* Back to the press release…
Preferred characteristics: The survey also asked about important characteristics in supporting a candidate for mayor. For voters overall, the top two characteristics were being progressive and fighting for progressive issues (37%) and experience as an elected official (36%). Another strong preference among Latinos is that "the candidate truly understands their community (35%)."

Lastly, the poll shows high levels of perceived commonality by Black and Latino voters. When asked how much they think Latino and Black voters have in common, 75% of Latino registered voters said they had a great deal or a fair amount in common. Among Black registered voters, 73% said they have a great deal or a fair amount in common.
15 Comments












































Sorry, comments for this post are now closed.