* WCIA…
The Democratic Party of Illinois has accused three Champaign School Board candidates of pursuing "extremist political agendas." But, they all deny promoting radical platforms and want to know why they're being singled out.

In a news release from last week, the party described its $300,000 plan to "prevent extremist conservatives from implementing regressive platforms on school and library boards throughout the state." To do that, they're recommending candidates they believe share their values, and steering voters away from those they think have an extremist agenda.

"I am flabbergasted, to say the least," candidate Jeffrey Brownfield said. "There is no need and there is no room for politics when we're talking about our children."
* The local Republican Party has been pushing these three candidates for weeks and months, so the "politics" thing has already been breached…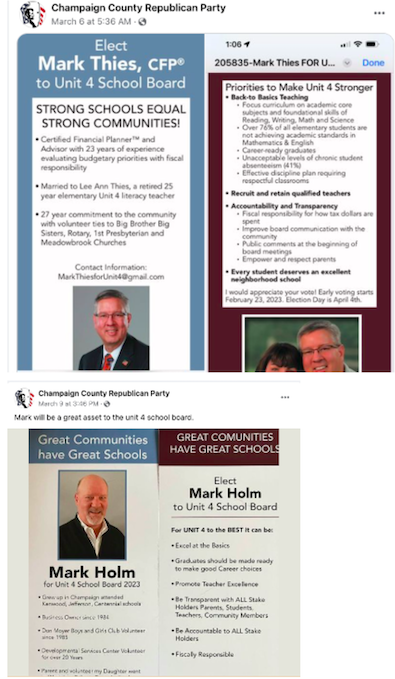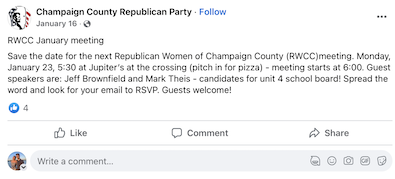 The party has done things like call out a local school district for the apparent crime of supporting inclusive language and griped about a bill to regulate all-gender restrooms…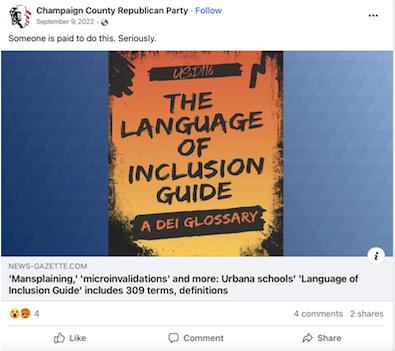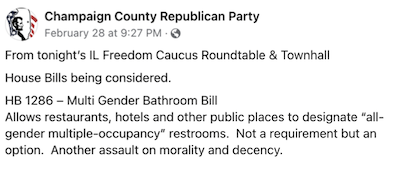 Also from the Champaign GOP's website…
HB 5188 – MANDATED COMPREHENSIVE SEX ED. Over 70% of school districts have made public their intent to not serve up comprehensive sex education curricula to minor children after the legislator passed a requirement that those schools that do teach comprehensive sex ed must align their standards with the pornographic National Sex Education Standards. So, what was the response in Springfield by the radical Democrats? MAKE IT MANDATORY. It is an affront to parents, local control, and common decency. As of Jan 7, Bill before Illinois Senate would make sex ed mandatory in public schools, but allow students to opt out
* Let's move on. As noted above, the three candidates deny they want to ban books, or ban sex ed.
I asked DPI how they came to be involved in the race. Their executive director told me this…
As to how we came to this point with these three candidates in Champaign County, across this whole program, we've been very thoughtful about sourcing local feedback and very deferential to understanding of nuances from our stakeholders on the grounds. And from the start of this program, our stakeholders in Champaign County have made it clear that these three candidates are running with bad intentions and are very much in support of that same framework that some of these other extreme organizations are.
I asked if the stakeholders were teachers unions…
Yeah, our party stakeholders. So if across this program and across the state in any instance where we've identified a candidate that we had an inkling was running for and in support of this extreme right wing agenda, we worked hard to source information from our apparatus at the local level. So precinct captains, township committees, county chairs any of our our most engaged Democratic grasstops folks on the ground. Because you can't know everything when you're operating statewide, so we've just been very deferential to local information.
* And DPI also sent me this…
These candidates all emphasize teaching the "basics"- commonly used language by those who support limiting the scope of inclusive curriculum. It's a dog whistle employed by known extremist candidates and organizations including Darren Bailey ("I believe we need to back up and start teaching reading, writing and math skills"). This is their playbook for implying that schools/teachers are pushing a social agenda by teaching LGBTQ+ inclusive curriculum or certain discussions of historical racism that they label "CRT."

Censorship of Books

When asked "Do you support censoring books or topics pertaining to racial justice, critical race theory, or LGBTQ issues?" each candidate gave caveats for removing certain books. While they state they wouldn't support "banning books" they point to scenarios in which books should be evaluated for context or age appropriateness- the same arguments that extreme groups use to justify censoring books they disagree with.

Mark Thies: Expresses concern about "age appropriateness" of books

Mark Holm: Supports a committee to review books for "age appropriateness"

Jeffrey Brownfield: Says that if people have concerns about books that should be elevated and evaluated and sometimes we should keep them and sometimes we shouldn't
Thoughts?
36 Comments











































































































Sorry, comments for this post are now closed.