*** UPDATE *** He's really trying hard…
Democratic mayoral candidate Paul Vallas is releasing the following statement reacting to the indictment of former President Donald Trump:

"This unprecedented and historic news begins the process of proving once and for all that no one is above the law and everyone must be held accountable for their actions. A grand jury has reviewed the evidence and found that a crime was committed by a former President — that is unprecedented and must be taken seriously. Donald Trump repeatedly and shamelessly violated the rules and norms that govern the Office of the President, cheapening the most widely respected elected position in the world and demeaning our democracy. He must be held accountable and I'm grateful the first step towards justice has been taken.

The threats of retribution and violence that have been made recently by Donald Trump are dangerous and irresponsible. Our nation is still grappling with the devastation of January 6th and just how close the peaceful transfer of power came to being cast aside, and we must always do whatever is necessary to protect the integrity of our democracy."
…Adding… This just in over the transom. When talking about the Trump impeachment, Vallas said on February 16, 2021 while substitute co-hosting for Dan Proft, "I always felt that it was a witch hunt." 1:05:11…
For those wanting to put Republicans on the spot, if he would have been censured, it would have put much more pressure on them. And, you know, I always felt that it was a witch hunt. I mean, it doesn't mean that they didn't make mistakes and that Trump has acted irresponsibly and I've certainly been a critic of what he's done. But at some point it is time to move on because what do we need for years of people chasing Kamala Harris? At the end of the day, the country needs to move forward and you know, Biden's talked about unity and here's an opportunity. So I just think that, you know, they need an enemy.
…Adding… The Vallas folks point to this…
Trump directly responsible for violation of our capital & deaths of four people. But so are political cowards in Congress like Ted Cruz & others who gave credence to Trump's claims that election was stolen. Damage done to our democracy will be lasting. They should all resign.

— Paul Vallas (@PaulVallas) January 7, 2021
But a month after that, he's calling the impeachment a witch hunt. Go figure.
[ *** End Of Updates *** ]
* We're gonna do a little "dueling oppo" today. To set up the first one, here's Crain's…
After weeks of jostling between Brandon Johnson and Paul Vallas over whether Vallas really is a Republican, the horse's mouth of sorts has something to say about it: Word from the Chicago GOP is that Vallas is not one of them.
Huh. OK. But check out this video taken of the Chicago GOP's Lincoln Park office…
Did you catch the end of it?…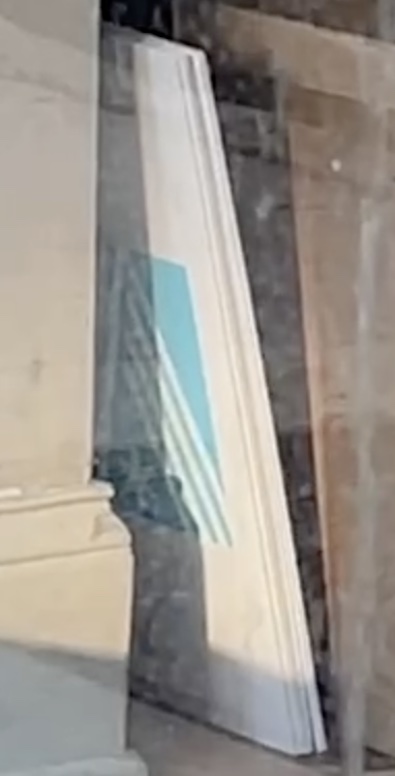 Does that logo look familiar?…

Imagine that.
Isabel has been trying to reach that office since early this morning, but nobody's answering.
* And now, this…
Brandon Johnson Currently Owes The City Of Chicago $3,357.04 In Unpaid Water And Sewer Charges. (Chicago Department of Finance Records, Accessed 3/21/23)

• Johnson's Payment Of $91.08 On February 13, 2023 Was The First Time He Had Paid His Water Bill Since June 22, 2022. (Chicago Department of Finance Records, Accessed 3/21/23)
• Since 2010, Johnson Has Accrued $6,661.70 In Fines And Penalties Due To Nonpayment. (Chicago Department of Finance Records, Accessed 3/21/23)

Johnson Also Owes The City Of Chicago A Combined $1,044.58 In Unpaid Traffic Tickets From 2014 And 2015. (Chicago Department of Finance Records, Accessed 3/21/23)

Illinois Law Would Prevent Johnson From Being Sworn In As Mayor If His Debts To The City Remain Unpaid

Under Illinois Law, A Person Who Owes An Unpaid Debt To A Municipality Is Not Eligible To Take The Oath Of Office For An Elected Position In That Municipality. "(b) A person is not eligible to take the oath of office for a municipal office if that person is, at the time required for taking the oath of office, in arrears in the payment of a tax or other indebtedness due to the municipality or has been convicted in any court located in the United States of any infamous crime, bribery, perjury, or other felony, unless such person is again restored to his or her rights of citizenship that may have been forfeited under Illinois law as a result of a conviction, which includes eligibility to hold elected municipal office, by the terms of a pardon for the offense, has received a restoration of rights by the Governor, or otherwise according to law. Any time after a judgment of conviction is rendered, a person convicted of an infamous crime, bribery, perjury, or other felony may petition the Governor for a restoration of rights." (65 ILCS 5/3.1-10-5, Accessed 3/29/23)

Johnson Currently Earns A Combined Salary Of Over $175,000 Per Year

Cook County Commissioners Earn $93,500 Per Year. "Under the plan, the board president's annual salary will be bumped to $187,000 from $170,000, while commissioners will see a hike to $93,500 from $85,000 a year and the board's finance chair salary will increase to $99,000 from $90,000. (Alice Yin, "Cook County Board Members Vote Themselves 10% Raises, With Automatic Future Pay Bumps," Chicago Tribune, 5/24/22)
In 2022, The Chicago Teachers Union Reported Paying Johnson $85,906. (Chicago Teachers Union Form LM2, U.S. Department of Labor, 11/1/22)
The oppo is from a FOIA. Click here for the documentation.
I can't believe he didn't pay that off before getting into the race.
* Another press release from the 43rd Ward runoff…
Aldermanic candidate Brian Comer is once again playing shell games with his finances. This time, Comer broke campaign finance laws by taking several contributions over the legal limit and failing to report several high-dollar donations within the required two-day window.

"Brian Comer is breaking the law and continuing a pattern of hiding information about his finances from voters," said Alex Hanns, Knudsen's campaign manager. "Comer previously refused to tell voters any information about his clients from his last nine years as a 'consultant,' and now he's taking illegal contributions and failing to disclose his donors as required by law. Voters deserve better than a shady candidate who is trying time and again to deceive them."

Two donors, including Comer's campaign treasurer, donated above the $6,900 limit for individuals. A total of 13 contributions of $1,000 or more were filed past the two business day window that is required by law.

Two donors gave an aggregate of $10,000 each to Comer's campaign — $6,200 over the limit — both of which included at least one late filing:

* Condron, Michael - $2,500 - received 3/28/2023, filed 3/28/2023 1:58:27 PM

* Condron, Michael - $2,500 - received 3/28/2023, filed 3/28/2023 2:20:16 PM

* Condron, Michael - $2,500 - received 3/25/2023, filed 3/28/2023 2:37:46 PM

* Condron, Michael - $2,500 - received 3/16/2023, filed 3/28/2023 2:42:22 PM

* Tordella, Paula - $5,000 - received 3/20/2023, filed 3/25/2023 8:32:15 AM

* Tordella, Paula - $5,000 - received 3/24/2023, filed 3/25/2023 8:29:55 AM
There's more, but you get the idea.
* Isabel's roundup…
* Block Club | The New Stop And Frisk? Chicago Police Make Millions Of Traffic Stops While Searching For Guns: Chicago police pulled over hundreds of thousands more drivers than they previously reported, but they found guns in fewer than one of every 150 stops, according to a new data analysis.

* Sun-Times | Dollars vs. decentralization: Johnson's and Vallas' vastly different fixes for CPS: Paul Vallas plans drastic changes to CPS structure, bolstering principals and local leaders' power over spending and programming — and even the ability to let a charter school take over their campus. He would prioritize standardized testing and make it easier to hold students back a grade so they don't graduate without necessary reading and math skills. […] Brandon Johnson would rather the school district's central office end per-pupil funding and guarantee a baseline of resources for every school — such as art teachers, social workers and librarians. This would reduce the role enrollment plays in whether a school can afford staff and, he says, help ensure every neighborhood can offer a quality education. He would focus on addressing poverty and trauma.

* Sun-Times | Betsy DeVos-founded, Republican-funded school choice group backs Vallas campaign for Chicago mayor: A Vallas spokesman said his campaign "would strongly reject any endorsement from Betsy DeVos." "Our campaign has not been in contact with this organization, we have certainly not sought its support," the spokesman said in a statement. "Campaigns cannot coordinate activities with independent expenditure committees by law and we have no control over this group's actions." … The American Federation for Children created its Illinois Federation for Children PAC as an independent expenditure committee in March 2022 to support and oppose candidates for statewide office, all with the mission of advancing school choice. The political committee spent over $700,000 toward those efforts last year on Republican candidates for the Illinois Legislature. The PAC lists a Washington, D.C., address. … The Illinois Federation for Children PAC is chaired by Nathan Hoffman, who was a registered American Federation for Children lobbyist in Springfield until January. He has tweeted from Vallas' February election night party and fundraising events since then.

* Sun-Times | Young voters explain low turnout in Chicago elections: John Cook, 21, said he has noticed excitement about politics declining since 2020. Cook, a student at the School of the Art Institute of Chicago, said he did not vote in February. "Our first election in 2020, it was like, everything is the most important that could possibly be, and so I think everybody was up on that. It's been like a big deflation in political activism," Cook said. "Even people who were engaged before have dwindled off."

* Jewish Insider | Chicago's Jewish community could swing mayoral race: In February's nine-way mayoral election, Vallas, 69, performed best in some of the city's most heavily Orthodox areas, winning two precincts in the 50th Ward with more than 80% of the vote. Across the entire ward, where the majority of Chicago's Orthodox community is concentrated, he claimed 50% of the vote, defeating Johnson, a Cook County commissioner and outspoken union organizer who has embraced a progressive platform, by more than 30 points. … Meanwhile, Johnson's close affiliation with the Chicago Teachers Union, which endorsed him even before he announced his candidacy, has fueled speculation that he is beholden to its interests. He has rejected those claims. The union, from which Johnson is on leave as a paid organizer, has opposed the continuation of a tax credit scholarship program that has benefited low-income students who attend Jewish day schools. In alignment with Orthodox leaders, Vallas has expressed support for the state legislation, which is set to expire this year.

* Alisa Kaplan | With an increase in dark money, Chicagoans have a right to know who's trying to buy their vote: The U.S. Supreme Court says we can't limit super PAC money, but it has consistently upheld efforts to illuminate it. Our organization, Reform for Illinois, worked with state Rep. Maurice West this year to introduce House Bill 3804, a bill that would require big donors to disclose the original source of their funds no matter how many secretive groups the money passes through. Alaska, California, Massachusetts, Rhode Island and Minnesota have all enacted laws aimed at unveiling hidden political contributors, and last fall, 73% of Arizona voters approved a referendum requiring comprehensive donor disclosure. If they can do it, we can too.

* CBS Chicago | Lightfoot, City Council gathering for special meeting Thursday: Several aldermen are calling for a vote on the new rules and committees for City Council members during the 2023 to 2027 term. The timing is considered unusual as council members typically vote on these matters *after the election.

* Tribune | West Side incumbents fending off challengers in 24th and 29th ward runoffs: In the 24th Ward, which includes North Lawndale, challenger Creative Scott received only about 15% of the vote to Monique Scott's 45%. In the 29th Ward, which includes parts of Austin north to Montclare, former Chicago police sergeant Taliaferro was forced into a runoff by just a few dozen votes, though community activist CB Johnson received nearly 40% of the vote in the first round.

* ABC Chicago | Chicago mayoral candidates break down how they would manage city budget: In his $800 billion tax plan, Johnson proposes bringing back the city head tax, where large corporations who do most of their work in the city will pay a 1-4 dollar tax for each employee. Johnson also pitches increasing the hotel tax, jet fuel tax, a tax on securities trading and increasing the transfer tax on property sold for more than a million dollars.

* Sun-Times | 6th, 21st Ward candidates discuss future of South Side ahead of runoff: Time to 'resurrect dreams of residents: Hall, 38, lead pastor at St. James Community Church in Chatham and a field director for the Rainbow PUSH social justice organization, narrowly came in first place with 23.82% of the vote during the Feb. 28 election — only about 70 votes ahead of Wooten, an Army veteran and retired police officer.

* NBC Chicago | 3 Former Chicago Police Superintendents Join NBC 5 For Conversation About Public Safety, Crime: "Without question, public safety is top of mind for many Chicagoans," said Holt. "It's clear, we need to figure out how to make the city safer. This show is a unique opportunity to sit down with three men who have been at the forefront of tackling this crisis. It's a chance to learn from the mistakes of the past, figure out new ideas, and try to forge a new path toward a safer city."

* NBC Chicago | Chicago Department of Transportation Plans 150 New Miles of Bike Paths as Part of Cycling Program: The biggest part of the plan includes adding 150 additional miles of bike lanes. Other parts include adding low-stress options like concrete curbs separating the bike lanes from vehicular traffic, making bicycles like Divy more accessible to everyone.

* Block Club | Workers At Peggy Notebaert Nature Museum, Chicago's Oldest Museum, Are Voting To Unionize: "We're forming our union because we want to work with our colleagues and leadership to ensure that our institution is always becoming an equitable, inclusive and safe workplace," said Anabel Hirano, a member of the union organizing committee who is a volunteer and intern coordinator at the Nature Museum. "That can't happen unless we have an equal say in the decisions that affect us."
32 Comments































































































Sorry, comments for this post are now closed.