* More on this tomorrow…
Cook County State's Attorney Kim Foxx says she will not run for re-election. We sat down with her for an in-depth exclusive interview @chicagotribune https://t.co/XnAsDIdi5v

— Gregory Pratt (@royalpratt) April 25, 2023
* Crain's…
President Joe Biden strengthened his Illinois connections as he formally launched his 2024 re-election bid with a three-minute video early today.

U.S. Sen. Tammy Duckworth, D-Ill., is one of his campaign co-chairs, while Quentin Fulks, a former political adviser to Illinois Gov. J.B. Pritzker, will be the principal deputy campaign manager for the president's campaign. […]

Fulks will be deputy to Julie Chávez Rodríguez, who will be campaign manager after serving in Biden's White House as senior adviser to the president and director of the office of intergovernmental affairs.
Q has really come a long way.
* The city is run so poorly on just about every level…
The 14th District police station is one of several in the city where asylum seekers could be seen camping out Monday evening as Chicago-area shelters reach capacity. […]

A Venezuelan mother who spoke to WGN, who only wanted to be identified by her first name, Anngimar, said she has been taken back and forth between the 8th and 14th District police stations with her two daughters. […]

Anngimar said they're waiting to be transferred to a shelter, but in the meantime, those they contacted over the City's 311 helpline instructed them to stay at the police station to avoid missing pickup or transfer.
* Background is here if you need it. Rumors have been flying that Paul Vallas' campaign owes money all over town. They just admitted it…
In a new motion filed yesterday in Vallas' lawsuit against a campaign consultant, we learn that Vallas—who repeatedly touted his decades of budgetary expertise—needs the money back because other campaign checks are now bouncing. pic.twitter.com/2bhSubUjdD

— The People's Fabric (@peoplesfabric) April 25, 2023
Vallas reported that he had $1.7 million cash on hand as of March 31, four days before the election. And he's reported receipts of at least another $1.3 million since then.

According the lawsuit, only the final $200k wire xfer to Enyia was executed after March 31.

— The People's Fabric (@peoplesfabric) April 25, 2023
Vallas made sure to pay himself back the $100,000 that he loaned his campaign. The reimbursement was made on March 20, the same day he claims that Enyia submitted his first invoice.
* From a popular Redditor…
There are really two main issues that make the new Twitter verification system a complete nightmare.

The first is the userbase. Very few normal users are willing to pay for a free social media site. Moreover, the main "selling point" of the service is to boost post visibility. The service inherently appeals only to people who both a) care extremely deeply about their posts being seen, and b) make posts that inherently are unappealing to other Twitter users (since people with appealing/interesting/funny/not-weird posts would be able to naturally grow an audience on the platform if they want to). So pretty much every single blue check is a hyper-online weirdo who is deeply bad at posting, despite being obsessed with twitter metrics.

The second is that verified replies get promoted to the top of every post. You have to scroll through all the blue check replies to get to even the most popular non-blue check replies. This is true even for blue check replies that have zero engagement, are completely off-topic, or are just straight up spam or scams.

As a result, if you're looking for relevant discussion on a popular tweet, you have to first scroll past the thoughts of some of the most terminally online, inherently unlikeable people on the planet. So normal users are constantly exposed to the most off-putting segments of the userbase.

It's like if Reddit incentivized every antisocial weirdo to post as much as possible to get their money's worth, and then forced every user to sort by controversial. It's a horrible structure that makes the product practically unusable for non-weirdos. Which is just how Elon likes it I guess.
Click here and here for a couple of good examples of how the paid blue checkers obsess over metrics.
And here's a taste of the type of posts which are now being promoted up by Elon Musk's new scheme…
Fat

— John G 🐰 (@realgunsmok) April 8, 2023
What are your public worker pension obligations, tubby?

— Steve Smith (@SteveSm50389024) April 25, 2023
* Press release…
County Clerk Jean Kaczmarek announces DuPage had the highest regional voter turnout in the 2023 Consolidated Election compared with suburban Cook, Lake, Will, Kane and McHenry counties. DuPage County had 20.33% voter turnout, nearly three points above the next-highest county.

"A top priority of mine has been to increase voter turnout. In order to achieve that, voter access must be optimized. I wanted citizens to be tripping over voting opportunities," Kaczmarek says. "The combination of actively promoting mail voting, doubling early voting locations, and DuPage being the only Illinois county to offer "Vote Anywhere" on Election Day made a difference."

Today DuPage County sent certified results to the Illinois State Board of Elections that 124,033 ballots were cast from 610,092 registered voters – 40,842 mail, 21,890 early voting, and 61,301 Election Day ballots. DuPage beat its own recent consolidated election turnout high of 18.93% in 2013.

DuPage County 20.33%
Election Night Reporting (dupageresults.gov)

Kane County 17.42%
Cumulative Report.pdf (kanecountyclerk.org)

Will County 16.64%
Election Night Reporting (clarityelections.com)

Suburban Cook County 13.81%
Election Results - Cook County Clerk's Office (cookcountyclerkil.gov)

Lake County 13.64%
Election Night Reporting (clarityelections.com)

McHenry County 13.50%
Election Night Reporting (clarityelections.com)

"A number of factors influence voter turnout including heated races and referendums with aggressive campaigning. Like DuPage, every county has their own races and campaigns driving turnout," Kaczmarek says. "I believe advancing voter access deserves credit for DuPage's turnout being comparatively high."

"Of course, with DuPage being the leader, there's plenty of room for turnout growth. Ultimately it is the responsibility of citizens to participate in democracy. I vow to continue helping citizens to not take their precious right to vote for granted," Kaczmarek adds.
* Press release…
The Illinois Housing Development Authority (IHDA) today announced the grand opening of the Home Repair and Accessibility Program (HRAP) designed to assist low-income and very low-income homeowners with health, safety, accessibility, and energy efficiency repairs to their homes. HRAP will provide $15.3 million to preserve existing affordable housing stock, provide investment in underserved communities, improve the health and well-being of occupants, and help people with disabilities stay in their homes and communities. Eligible homeowners may receive up to $45,000 to cover necessary repairs through a five-year, forgivable loan. […]

HRAP will be administered locally through 36 local government and nonprofit organizations with experience operating and administering homeowner rehabilitation assistance programs. To be eligible, homeowners must be at-or-below 80 percent of the Area Median Income based on household size, current on their mortgage payments, and the property must be single-family.
* This comforting sign is just around the corner from the Senate's temporary chamber…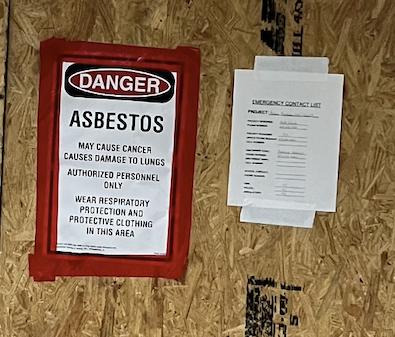 * Isabel's roundup…
* Elle | How Two History-Making Congresswomen (and Roommates) Made It Through 100 Days in Office: But Lee and Ramirez aren't in school—they're freshman members of Congress, helping to expand the U.S. House's growing progressive "squad." Lee is representing Pennsylvania's 12th district, where she overcame millions of dollars spent against her campaign to become the state's first Black congresswoman, and Ramirez is representing Illinois' 3rd district as the first Latina congresswoman from the Midwest and the rare member of Congress in a mixed-status marriage. (Her husband is a DACA recipient.) "We're both working class-background women, and it was very clear rent in D.C. is so, so expensive," Lee explained. "It was a great choice to share space with another women from my generation who is taking on this fight."

* News Gazette | Unit 4 board member asks: 'Are we, Champaign, ready for me — a Black female — to be the school board president?": "What makes me ready?" Baker asked before rattling off a lengthy list of reasons from a prepared statement, ranging from her commitment to "educational, societal and environmental justice" to to reviewing every district policy "with an equity lens" to filling in as an unpaid substitute teacher in a pinch. "I promise to be board president," she said, "not superintendent, not mayor, not any of the other roles … and allow the board to be a voice of seven."

* The Southern | Automatic license plate readers are currently being installed in Carbondale: The purchase and installation of the readers was approved by Carbondale City Council last summer. According to documents presented to the city council, the readers will expand the police department's investigative capabilities by providing more tools to detect vehicles that have been associated with crimes.

* Sun-Times | Mayor-elect Brandon Johnson's team moving quickly to find interim police superintendent: Among those likely under consideration to replace Carter — at least until Johnson chooses a permanent superintendent — are three newly departed members of the CPD's leadership team: former 1st Deputy Supt. Anthony Riccio, former Chief of Detectives Brendan Deenihan and former Chief of Counterterrorism Ernest Cato.

* WICS | Bill seeks to create hunger-free college campuses: The bill will give the grants to campuses that meet the requirements for addressing student hunger. This can be campuses that create hunger task forces or have different programs.

* Tim Drea and Aaron Gurnsey | Death in Springfield a reminder of continued need to improve workplace safety: Gregory David Fields reported to work at Springfield's Capital Airport on Monday, April 10, just like any other day on the job for this longtime HVAC service worker. But it was far from just any day at work. An explosion caused blunt-force injuries and cost Fields his life at the age of 55. His wife, children and grandchildren were left picking up the pieces: setting up funeral arrangements, writing his obituary, mourning his untimely passing.

* Ollie Idowu | State can, should do more to invest in community health centers: This spring, we are taking action at the Illinois State Capitol. In the recent run of strong state revenues, Illinois leaders have repeatedly and generously invested in core health care services and social service programs; community health centers have been grateful to be a priority. We are now urging the Illinois Legislature to make continued investments in community health centers through two important initiatives.

* Kam Buckner | It takes a village to raze a Chicago child — and a village to come together and raise the child again: Being a young person downtown or on the lake is not a crime, and we cannot treat it like it is. Chicagoans are interested in solutions, but it should first be said that when we talk about making sure that young people have things to do in their neighborhoods, it's not because we want to keep them out of downtown. If you show me a downtown with no young people, I will show you a city that is dying. Young people on the South and West sides should have things to do in their neighborhoods because all kids and teenagers should be able to have fun close to home, no matter their ZIP code.

* The Triibe | Marshall Hatch Jr. eyes Brandon Johnson's county commissioner seat: Marshall Hatch Jr., the 35-year-old executive director of the MAAFA Redemption Project and the son of influential Pastor Marshall Hatch Sr. of New Mount Pilgrim Missionary Baptist Church in West Garfield Park, believes he is uniquely suited for this seat.

* WBEZ | A Brandon Johnson campaign consultant lost his own Chicago race by 1 vote but isn't contesting it: Darius Newsome, who worked on Johnson's faith-based outreach, won 2,245 votes, one fewer than Carmelita P. Earls, for the third of three seats on the Austin District council. Earls, a former Chicago Fire Department deputy district chief endorsed by unions for city cops and firefighters, will take office next Tuesday with two police reform advocates, Arewa Karen Winters and Deondre Rutues.

* NYT | The College Board Will Change Its A.P. African American Studies Course: The College Board said on Monday that it would revise its Advanced Placement African American studies course, less than three months after releasing it to a barrage of criticism from scholars, who accused the board of omitting key concepts and bending to political pressure from Gov. Ron DeSantis, who had said he would not approve the curriculum for use in Florida.

* Charles Burdick | Why do birds fly In V-formation?: The lead bird cuts straight through an invisible wall of air. This sets up flowing currents of air behind him, and the following birds take advantage of them. The leader's work is hardest, and after a while he tires and hands over his pioneer work to another bird. He can then relax a little with the help of the currents and sheltering eddies which flow behind the lead bird.

* Block Club | New White Sox Mascot? Meet The Stray Sox Park Cat Adopted By Team Photographer: The cat, aptly named Beef, was seen wandering the stadium and swiping snacks from fans. "You don't expect to see a cat playing center field," one fan said.

* The Hill | They graduated during the pandemic. Now they face their first student loan payments: Graduates for the last three years all had the grace period, as the Trump and Biden administrations extended a pause on student loan payments amid the national health emergency. Now things are about to change: Payments will begin either 60 days after the Supreme Court rules on President Biden's student debt forgiveness program or 60 days after June 30, whichever comes first.
51 Comments
























































































































































Sorry, comments for this post are now closed.