* Sources have been saying for a while now that the governor and the Democratic leaders wanted to have a press conference to announce a budget deal. Well…
What: Governor Pritzker to join Speaker Welch and Senate President Harmon to brief media on FY24 budget negotiations.

Where: Governor's Ceremonial Office, Illinois State Capitol, Springfield.

When: 2:30 pm

Watch: www.illinois.gov/livevideo
This post will be updated.
…Adding… They have two of these signs, one on each side of the lectern…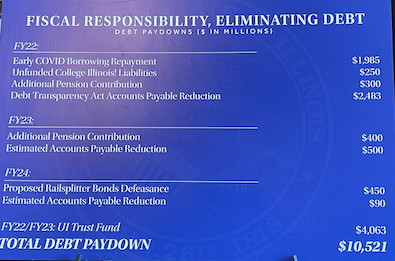 *** UPDATE 1 *** Pritzker…
I'm standing alongside Senate President Don Harmon and House Speaker Chris Welch to announce that we have an agreement on a balanced budget for the coming year.
…Adding… Senate President Harmon thanked all the staff for their hard work and said…
The Senate hopes, we hope to take action tonight to be able to deliver the legislation to the House so that the House can act as soon as Friday, and then send it straight to the governor. I applaud the trust and cooperation we've developed. I'm not sure either chamber in the past would have trusted the other chamber to adopt the budget without an amendment. I appreciate Speaker Welch's commitment.
Please pardon all transcription errors.
…Adding… Speaker Welch…
For the second year in a row, we are increasing funding for the Local Government Distributive Fund to help communities across the state fund essential services and programs like public health, safety, and basic infrastructures. […]

We are looking forward to continuing to cross the t's and dot the i's here in the next couple of hours so that we can get this agreed budget on the board and over to the House.
…Adding… Pritzker on the exploding costs of the healthcare program for undocumented immigrants…
The Senate and the House have agreed to give us the tools to manage the program properly so that it doesn't reach a proportion that you named and instead allows us to provide health care for the people who are on the program now and make sure that we're continuing the program going forward, but in a budget friendly way so that everybody gets the healthcare that they need. […]

We had seven options that we presented that are ways in which the program could be managed. We did not have the tools in law for us to actually be able to do that. And so we asked for those tools, we've been given them and we'll be using any number of those seven.
…Adding… Asked about Invest In Kids, the tax credit program for private school scholarships, Pritzker said…
This is not something that's been covered by the budget agreement. It's something that still has time, potentially, but it's not something that's in the budget agreement.
…Adding… Senate President Harmon was asked about any Republican support…
I'm very hopeful and my next stop is to chat with the Republican Leader.
*** UPDATE 2 *** The one-pager…
Fiscal Year 2024 Budget
The FY 24 budget is a balanced plan with conservative revenue estimates that builds on our fiscal progress while making transformative investments in early childhood and higher education, workforce development, and efforts to fight violence and poverty

Highlights
Fiscal Responsibility – 5th balanced budget

• This budget builds on four years of historic fiscal progress with balanced budgets, eight credit rating upgrades, a Rainy Day Fund set to surpass $2 billion, the elimination of the bill backlog, and $1 trillion in GDP
• $200 million additional pension payment beyond what's required, bringing total pension stabilization investments to $700 million
• $450 million to pay off rail-splitter bond debt – saving the state $60 million in interest and virtually eliminating all short and medium-term debt

Education
• Early Childhood

o Smart Start IL — $250 million to fund the first year of the Governor's early childhood plan with funding increases to eliminate preschool deserts, stabilize the childcare workforce, expand the Early Intervention Program and Home Visiting programs, plus funding to begin the overhaul of the childcare payment management system
o $50 million for early childhood capital improvements

• K-12

o $350 million for K-12 evidence-based funding formula
o $45 million for the first year of a three-year pilot to fill teacher vacancies
o $3 million to expand access to computer science coursework
o $1.6 million to launch Dolly Parton's Imagination Library statewide

• Higher Education

o $100 million in additional MAP grant funding, ensuring everyone at or below the median income can go to community college for free
o $100 million increase for public universities ($80.5 million) and community colleges ($19.4 million) – the highest increases in more than two decades

Fighting Poverty

• HOME ILLINOIS — $85 million increase, bringing state funding to over $350 million, to support homelessness prevention, affordable housing, outreach, and other programs
• $20 million investment in a new Illinois Grocery Initiative to expand grocery access to underserved rural towns and urban neighborhoods

Health and Human Services

• Nearly $75 million increase for DCFS to hire 192 staff, expand training and protection, increase scholarships for youth in care, and improve facilities
• $22.8 million in funding to begin implementing the new Children's Behavioral Health Transformation Initiative
• $18 million increase to support reproductive health initiatives
• $24 million for a rate increase for home workers who assist the elderly, increased outreach to the elderly, and an increase for Adult Day Service
• Continued funding for the $250 million Reimagine Public Safety Act to prevent gun violence and expanded funding for youth employment programs
• $53.5 million to overhaul IDPH disease monitoring IT and prepare for future public health emergencies
• Over $200 million increase to better serve Illinoisans with developmental disabilities

Economic Development

• $400 million to close major economic development deals and attract businesses and jobs to the state
• Expanded workforce development programs to build a pipeline in the industries of the future, like data center, EV, and clean energy
• Taking another step towards phasing out of the franchise tax
• $20 million to Rebuild Illinois Downtowns and Main Streets Capital Program
• $40 million for forgivable loans to launch more social equity cannabis businesses
• $10 million to fund a "one-stop business portal" to foster entrepreneurship
…Adding… ILGOP…
"Governor Pritzker and Illinois Democrats can twist words with the best of them, but the truth is that this budget constitutes a partisan wishlist, not a negotiation. With complete control of government, Illinois Democrats continue to tax and spend, with Illinois ranking at the top of every metric of tax burden on residents and driving away families year over year.

It's time for Governor Pritzker to govern responsibly and stop dreaming about the White House" said Illinois Republican Party Chairman Don Tracy.
…Adding… Leader McCombie…
In response to Democratic leaders announcing a budget agreement, House Minority Leader Tony McCombie released the following statement:

"I have repeatedly said it, but will say it once more:

Republicans and Democrats have shared priorities and past promises that need to be kept. Extension of the Invest in Kids Scholarship & the R&D tax credit, fully phasing out the franchise tax, and making essential changes to the estate tax code - SHARED priorities that should be included in budget discussions. Today we learned from Governor Pritzker and Democratic leaders that our shared priorities are not included. I am incredibly disappointed for Illinois families."
44 Comments



































































































































Sorry, comments for this post are now closed.