* Crain's…
Consider state employee pension funding, the biggest source of fiscal instability in Illinois. Pensions are underfunded by $140 billion, a staggering debt that's consuming an ever-larger share of state revenues. Annual contributions required by state law have climbed to $10 billion, or 20% of the budget. That figure is expected to reach $18 billion over the next couple of decades.
* From the legislature's bipartisan Commission on Government Forecasting and Accountability's projection of pension costs as a percentage of total General Funds…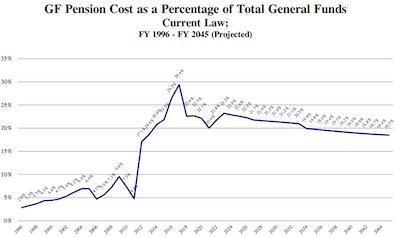 If you look closely at the original chart (page 155), you'll see that the state is currently a few percentage points below where it had been projected to be, avoiding that little spike. We've been at around 20 percent for a few years.
Overall, high cost, but manageable, and, if projections stand, stable.
26 Comments













































































Sorry, comments for this post are now closed.