* Daily Herald op-ed by Rep. Martin McLaughlin (R-Barrington)…
Illinois may be located in the Midwest, but it is home to a surprising and alarming number of deserts. At least that is what the Democrats like to tell us.

Healthcare deserts. Housing deserts. Education deserts. Food deserts. Hospital deserts. Infrastructure deserts. Pharmacy deserts. Transportation deserts. For every problem facing our state, there is an accompanying "desert" associated with it.

And right on queue, there is a measure (SB 850) being considered in the legislature to allow the Department of Commerce and Economic Opportunity to create a Grocery Initiative and to study food deserts in Illinois and provide money to underserved areas. In other words, more government spending

The so-called remedy to these "deserts" is not the cure but is instead the underlying problem. Democrats have had total control of the state for a long time, and at no point has the thought occurred to them that just maybe the aggravating factors contributing to all of these "deserts" is the policies they have implemented. The left loves to talk about systemic problems and yet they ignore the systemic problems their policies have created.

Illinois has "deserts" because there is a climate crisis in our state. No, not global warming. A business climate crisis.
Let's be very clear right up front: There is no doubt that our business climate is subpar, to put it mildly. Just look at the huge difficulties the governor has had while trying to lure an electric vehicle manufacturer here. It's embarrassing.
But these problems aren't confined to Illinois. They are all national issues.
* Let's start with healthcare. ArcGIS…
Hospital Deserts in America

The National Rural Health Association reports that 77% of rural counties are considered "Primary Care Health Professional Shortage Areas"
A team of researchers found that in Los Angeles 89 percent of Black-majority census tracts were situated in trauma deserts; in Chicago, 73 percent; in New York City 14 percent. In Los Angeles County, South Los Angeles with one-million residents and the highest mortality rate in the county, also has the highest rates of disease and premature deaths from preventable conditions: "coronary heart disease, homicide, diabetes, lung cancer, and motor vehicle crashes."
Washington Post…
In Texas alone, 159 of the state's 254 counties have no general surgeons, 121 counties have no medical specialists, and 35 counties have no doctors at all. Thirty more counties are each forced to rely on just a single doctor, like Garner, a family physician by training who by necessity has become so much else: medical director of Culberson County.
* Housing deserts. USA Today…
Among Latinos, 42%, or roughly 21.2 million, lived in a census tract that lacked affordable housing in 2019. Nearly 9 in 10 of the Latino residents in such communities lived in five states: California, Florida, New Jersey, New York and Texas.
And…
Rental deserts make up about 31 percent of all neighborhoods nationally. This amounts to more than 22,000 census tracts where less than 20 percent of the stock is available to renters. Among these, nearly 7,000 are extreme rental deserts where just 10 percent of the stock or less is renter-occupied or vacant for rent. At the other end of the spectrum, high-rental neighborhoods make up just 5 percent of all tracts.

Rental deserts are disproportionately located in the suburbs where restrictive land use regulations and not-in-my-backyard (NIMBY) politics can be common. In fact, suburban neighborhoods in metropolitan areas make up 54 percent of all tracts but account for 68 percent of rental deserts
* Education deserts…
An education desert is defined as a local area where there are either zero or only one public broad-access colleges nearby. […]

Of the nation's 709 commuting zones, 392 are classified as education deserts, and these areas are home to approximately 35 million people (about 10% of the US population). These communities are spread across the country, with many concentrated in rural areas of low population density
* Food deserts. United States Department of Agriculture …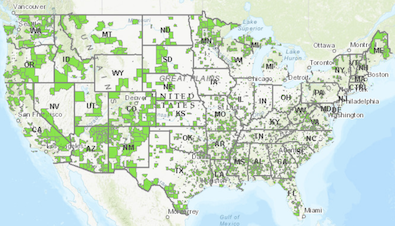 The Conversation…
The U.S. Department of Agriculture estimates that 54.4 million Americans live in low-income areas with poor access to healthy food. For city residents, this means they are more than half a mile from the nearest supermarket.
WUWF…
Northwest Florida is home to 24 food deserts

According to the USDA's most recent food access research report, 12.8% of Americans — more than 39 million people — live in food deserts. A food desert can be defined as a geographic area where residents may have low income and low access to healthy foods.
* Pharmacy deserts. The Leonard D. Schaeffer Center for Health Policy & Economics at the University of Southern California…
Black and Latino neighborhoods in the 30 most populous U.S. cities had fewer pharmacies than white or diverse neighborhoods between 2007-2015, USC research shows, suggesting that 'pharmacy deserts' — like so-called food deserts — may be an overlooked contributor to persistent racial and ethnic health disparities.
* Infrastructure deserts. NBC DFW…
A new study from Southern Methodist University Engineering experts found 62 infrastructure deserts in the City of Dallas.

Civil and Environmental Engineering Professor Barbara Minsker led the research project using public data and aerial maps.

"An infrastructure desert is a low-income area that has very highly deficient infrastructure compared to other areas of the city," Minsker said.
* Transportation deserts. Smithsonian Magazine…
Using GIS-based mapping technology, we recently assessed 52 U.S. cities, from large metropolises like New York City and Los Angeles to smaller cities such as Wichita. We systematically analyzed transportation and demand at the block group level – essentially, by neighborhoods. Then we classified block groups as "transit deserts," with inadequate transportation services compared to demand; "transit oases," with more transportation services than demand; and areas where transit supply meets demand. […]

Transportation deserts were present to varying degrees in all 52 cities in our study. In transit desert block groups, on average, about 43 percent of residents were transit dependent. But surprisingly, even in block groups that have enough transit service to meet demand, 38 percent of the population was transit dependent.
There are more examples and stats out there, but you get the gist.
* Meanwhile…
Governor JB Pritzker, Manner Polymers, and the Illinois Department of Commerce and Economic Opportunity (DCEO) today joined local leaders and partners to announce Manner Polymers' new manufacturing facility in Mount Vernon. Known as an industry manufacturing leader in polymer compounds, Manner Polymers' new state-of-the-art Illinois facility will manufacture a wide array of PVC compounds, including automotive PVC compounds for use in electric vehicles (EVs) and components for solar panels.

The facility will be powered by a 15-acre solar field located on site. Bolstered by a Reimagining Energy and Vehicles in Illinois (REV Illinois) incentive package, Manner Polymers plans to invest $54 million and create more than 60 jobs for the Southern Illinois region.
That's good news, but when the governor goes out of his way to enthusiastically tout the creation of only 60 jobs, there's a problem.
24 Comments







































































Sorry, comments for this post are now closed.