* The Tribune…
Legislation awaiting the governor's signature could prevent situations like the one in which a South Elgin High School student was told to remove a Hispanic academic scholarship stole the day of her commencement ceremony.

State Sen. Cristina Castro, D-Elgin, is the chief co-sponsor of a bill introduced in February that addresses the issue and ensures students have a right to wear stoles, sashes or cords related to their "cultural, ethnic or religious" identities.

The legislation was written and sponsored by Sen. Suzy Glowiak Hilton, D-Oakbrook Terrace, in response to an incident last year in which an Evanston Township High School senior was told he could not wear his Native American regalia at graduation.

If approved, school district dress code policies "shall not prohibit the right of a student to wear or accessorize the student's graduation attire with items associated with the student's cultural, ethnic or religious identity or any other protected characteristic or category identified in the Illinois Human Rights Act."

Items deemed obscene or derogatory toward others are prohibited, according to the bill.
* WTVO…
A bill to suspend an assessment test for future teachers is now one step closer to becoming law.

In Illinois, college students are required to take a teacher performance assessment test known as edTPA to get their license. The assessment has prospective teachers put together video clips of them teaching and design lesson plans. The test costs $300.

Illinois Governor JB Pritzker issued an executive order during the COVID-19 pandemic that waived the testing requirement, but that expired last month. If the bill passes, that requirement would be waived until the end of August 2025. […]

The bill would also create a task force to study different evaluation tests for teachers, as well as look at creating a new one that could be implemented across the state.

That group would have to give a report of its finding to the Board of Education and the General Assembly before August 1, 2024.
* Shaw Local…
Baby steps are to be celebrated. At least they mark some sort of forward momentum. But in the case of efforts to remove polystyrene food containers from the waste stream, last month's efforts by the General Assembly seem too feeble to warrant much applause.

Still, it's something.

The House passed a bill seeking to prohibit state agencies from buying disposable food containers that are made with polystyrene foam (read: Styrofoam) starting in 2025. A year later, state agencies and vendors that sell food on state properties, such as state parks, no longer would be able to use plastic foam containers. […]

It's a tip-of-the-iceberg solution. Food containers served at state facilities make up a small fraction of all of the fast food, carryout and doggie bag containers used in restaurants and food stands in Illinois.
Gong-Gershowitz landed a guppy, but the big fish got away.

She also championed a bill seeking to eradicate single-use plastic foam containers statewide – not just in sectors controlled by the state – but that idea flopped in the Senate.
* Aurora Beacon-News…
After successfully using a drone in the search for the gunman during the mass shooting at Henry Pratt Co. in Aurora in 2019, Aurora police are pleased that legislation recently passed by the General Assembly would allow for greater use of drones for security operations. […]

Aurora police approached state Sen. Linda Holmes, D-Aurora, and state Rep. Barbara Hernandez, D-Aurora, and asked for the change in drone rules in 2021, officials said. Holmes and Hernandez sponsored the bill in Springfield. […]

Under the measure, drones could not be weaponized and facial identity systems could only be used if necessary to prevent "imminent harm to life." The bill sets specific limits on where and how drones can be used, restricts photography and adds reporting and retention constraints. In addition, only events held in public outdoor spaces owned by the state, county or municipality can see the use of the drones, according to the legislation.

"It's another tool in the toolbox to try and prevent a tragedy," Holmes said.
* Center Square…
Gov. J.B. Pritzker could soon modify a diversion program for first-time nonviolent firearms offenses that would give younger defendants probation rather than prison.

Such a measure was first put into House Bill 676 as part of an omnibus gun control measure that never advanced. The policy stands alone in Senate Bill 424 and made it through both chambers with bipartisan support before lawmakers adjourned last month.

State Sen. Ram Villivalam, D-Chicago, said the program that started in 2017 has broad support.

"This legislation has no opposition, has a broad spectrum of support from gun violence prevention groups, criminal justice reform groups, the Illinois State's Attorney Association, the Illinois Association of Police Chiefs," Villivalam said.
* I think Maine is making a solid choice…
Like Illinois, Maine's current state flag consists of the state seal. Like Illinois, they are exploring a change: https://t.co/C3bU1r6lGs

— Brenden Moore (@brendenmoore13) June 7, 2023
* It's an upgrade for sure. The current flag is on top, the former flag is on the bottom…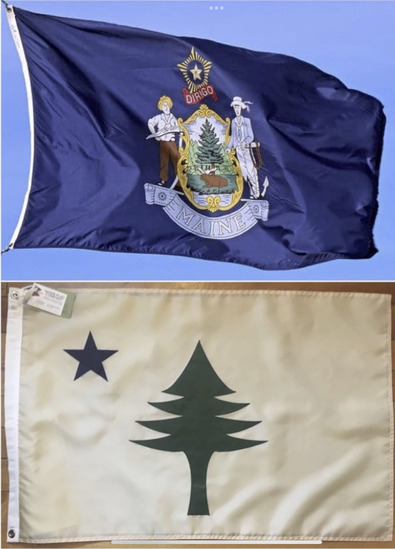 15 Comments












































Sorry, comments for this post are now closed.