* Fox 32…
Chicago Mayor Brandon Johnson's projected budget deficit is a staggering $538 million, far exceeding the $85 million shortfall Lori Lightfoot predicted before being voted out of office.

Just last week, while speaking at the Economic Club of Chicago, Johnson rejected the idea of leaning on property owners to make up the difference.

Ald. Raymond Lopez (15th) believes Johnson may not have a grasp on the complexities of accounting factors and revenue streams that keep city services functioning in Chicago. […]

Lopez says there are currently fully funded programs within former Mayor Lori Lightfoot's final budget that could ostensibly leave Chicago in the black.

"You could literally cancel all of them right now and save about $600 million right now, which happens to be the exact number of the budget deficit," said Lopez
The complete failure to ask an obvious follow-up question intrigued me, so I reached out to Lopez and asked him for the $600 million list of Lightfoot programs. His response…
I have a list of all vacancies built into the 2023 budget.
I asked for that and then asked for the program list. Ald. Lopez never produced a list of programs that could be cut in order to save $600 million.
Click here for the list of vacancies. Lopez said those vacancies account for "roughly $550-600″ million. There are 4,599 total vacancies on that list. At $100K per vacancy, that works out to about $460 million.
But here's the real problem. The Chicago Police Department has 36 percent of those vacancies: 1,669 openings, which is by far the largest. Think a majority of the city council is gonna vote to defund all or even most of those positions?
Next highest? The Department of Public Health, with 500 vacancies.
* Two caveats. 1) This list is a year old. Several positions may have already been filled. 2) Not all of the remainder of those unfilled positions will be filled in the coming year. Likely not even close to all. Local governments everywhere are having a tough time recruiting employees. So, yeah, the proclaimed $538 million city budget deficit is way off the mark (and in more ways than just this).
* Let's move on to another bit of fun with numbers. KSDK TV…
"Illinois begins its ill-advised experiment and it becomes the first state in the nation to completely eliminate cash bail in exchange for a system that promises to be more fair," Sen. Terri Bryant (R-Murphysboro) said in a prepared video statement. "But fair for who? Because it's certainly not fair for our county court systems."

Bryant, who used to work for the state prison system, argued that removing cash bail from the criminal justice system would come with a cost to taxpayers if county boards elect to raise taxes to offset the loss of bond payments.

"Defunding our courts, limiting victim services, and making law abiding citizens pay for criminals bail with their taxes is just not justice," she claimed.

Senate Republican staffers pointed to a Civic Federation task force report that found Illinois county clerks collected a combined $10,248,189 in fees from bond payments in 2021. An additional $28,008,893 in fees collected from bond payments in 2021 were disbursed to various other local government programs, including sheriff's departments, probation offices, prosecutors, specialty courts, and child advocacy programs, according to the report.
* Center Square…
State Sen. Terri Bryant, R-Murphysboro, said the end of cash bail will hurt victims of crimes.

"It's absolutely not fair to the victims of crime," Bryant said. "From restitution payments to victims services, bonds and fees often contribute to vital services to help victims recover from their trauma."

ACLU of Illinois' Ben Ruddell said nothing in the Pretrial Fairness Act takes away the responsibility of someone convicted of a crime to pay restitution that's been ordered by a court.

"We don't take it out of their pocket on the front end, though, when they've been just accused of a crime," Ruddell said. "We wait until they've been proven guilty beyond a reasonable doubt, which is how it ought to work."
* From that Civic Federation task force report…
Based on the most recent 2021 data, the majority of bond payments are used to satisfy the payment of fees and fines, many of which support government functions at the state, local and county level. Across 95 Illinois counties that provided data for 2021 (excluding Cook County and a handful of smaller counties), bond payments processed and disbursed in criminal cases totaled $83.1 million. Just under half of those total bond payments, 48% or $39.5 million, were applied to satisfy court-ordered fees. A smaller portion, approximately 10%, were applied to satisfy court-ordered fines, and another 3% were applied to restitution payments. Approximately 39%, or $32.6 million, were refunded back to the person who posted the bond or paid directly to private attorneys.
Three percent of $83.1 million equals $2.5 million in restitution payments. That's not a heavy local burden. And here are restitution payment numbers for the counties in Sen. Bryant's district…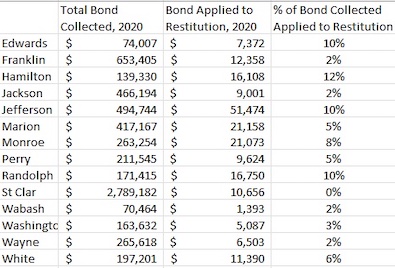 Total restitution for those counties was $199,947 out of $6,377,158, or 3 percent.
15 Comments












































Sorry, comments for this post are now closed.