* Another "Driving While Black" story from WBEZ…
Last year, Black drivers accounted for nearly 30.5% of all traffic stops statewide, even though the state's adult population is only 13.6% Black.

Beyond the number of drivers stopped, the data reveal why police initiate contact in the first place.

Last year, for the first time on record, more than half of Black drivers pulled over by police statewide were stopped for non-moving violations, like talking on the phone, not wearing a seatbelt or expired tags. Conversely, white drivers were stopped mostly for moving violations, like speeding.

Joshua Levin, an attorney with the ACLU of Illinois, said these encounters are rife for potential "pretextual stops," where low-level traffic violations are used as an excuse to make contact with drivers – at the expense of their civil rights – in an effort to identify more serious crimes. Amid a recent surge in traffic stops by Chicago police, the ACLU filed a lawsuit earlier this year alleging that the department's practices racially profile, harass and demean law-abiding citizens.

The data also show a fivefold increase in the number of Black drivers stopped for non-moving violations and let go with a warning. Latino drivers experienced a fourfold increase since the state began collecting the data. White drivers, by comparison, have seen little change in the number of non-moving stops resulting in a warning. […]

Search rates show disparities, too. In 2022, Chicago police were four times more likely to request a "consent search" from Black or Latino drivers compared to white drivers. While infrequent, legal experts say this type of search – where officers ask permission to search a driver, passenger or a car without probable cause – deserves scrutiny because they suggest that officers don't have much evidence of criminal activity.

And Chicago police were more likely to turn up contraband during consent searches involving white drivers, one out of every two consent searches, versus Black drivers, one out of every three.
* I always direct Springfield types to the Klein and Mason facility because not many people seem to know about it…
The Secretary of State Driver and Motor Vehicle Facility (DMV) located at 316 N. Klein St. in Springfield will close temporarily on Friday, September 29, for remodeling, including a complete overall of the plumbing system. The facility is expected to reopen in late January 2024.

"This is an important renovation project, and while it is underway the Springfield Wabash DMV will serve customers from Springfield and nearby communities," said Giannoulias.

The Wabash DMV, located at 1650 Wabash Ave., is an appointment-only facility for select services. Its hours of operation are Monday through Friday, 8 a.m. to 5:30 p.m. and Saturday, 8 a.m. to 12:30 p.m. Appointments are required for REAL ID, driver's license and ID card services, and in-car driving tests. Those seeking vehicle-related services, such as title and registration or renewing their license plate sticker, do not need to make an appointment and can just walk in
* Press release…
Mayor Brandon Johnson and the Chicago Department of Business Affairs and Consumer Protection (BACP) have issued a Request for Proposal (RFP) for the Small Business Storefront Activation Program. Through this RFP, the City will select community and economic development organizations that will be responsible for identifying vacant storefronts in their respective community areas, negotiating short-term leases with landlords, sourcing local small businesses for storefront activations, managing preparation and operations for the space, and providing ongoing support to small businesses operating pop-up stores. These activations will boost local spending and draw additional foot traffic to commercial corridors across all 77 neighborhoods. […]

RFP grantees will negotiate short-term leases for move-in ready vacant storefronts, and partner with local small businesses to launch pop-up stores, community markets, or other commercial activations that support local businesses. The grantees will also assist the businesses with business coaching and support them in managing a storefront.
* I get emails…
In the wake of nationwide UAW strikes and Presidential candidates in Michigan, labor strife continues in Rockford where Mayor Tom McNamara has been the target of the Local 150 rat patrol.

In July, McNamara broke a tie against an amendment requiring a Project-Labor Agreement on a local development deal, angering local trade unions. Adding to the drama was the fact that 6 of 10 Democrats on the Rockford City Council voted against the pro-labor amendment but 3 of 4 Rockford Republicans supported it. Union members have been active in picketing at City Hall since the vote.
Accompanying photo…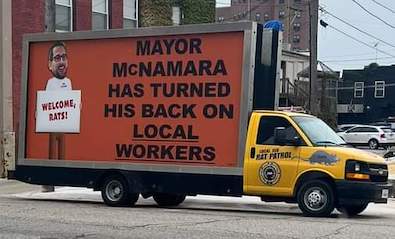 * The White Sox can barely even give tickets away…
We're live at the $1 White Sox Game. Attendance is low. https://t.co/phR0jJDqQY pic.twitter.com/a6obbScrPs

— WBBM Newsradio (@WBBMNewsradio) September 28, 2023
* Isabel's afternoon roundup…
* Injustice Watch | Chicago man becomes first in Illinois to get reduced sentence under new law: On July 19, Patton left Dixon Correctional Center in his wheelchair four years earlier than he expected. The Gulf War combat veteran and music producer, known for his work with Lupe Fiasco and other Chicago hip-hop artists, had served more than 17 years of a 44-year term following his conviction for heroin trafficking. His 2007 conviction relied on testimony from a cooperating witness who later recanted. Still, all his appeals failed, his clemency petition was denied, and he was refused medical release, despite his failing health and paralysis from a serious fall while in prison.

* WGN | 'Violations have continued': Illinois AG alleges Trump Tower underreporting water discharges into Chicago River: "Even after the state of Illinois took steps to hold Trump Tower accountable for violations of state and federal environmental laws, violations have continued — underscoring a disregard for the laws and regulations that are in place to protect our waterways and aquatic life," Raoul said. "I am committed to enforcing our environmental laws and ensuring that all entities are held accountable for violations of those laws."

* WTTW | The Physical and Mental Toll of Living With Long COVID: 'I Feel Like We've Been Abandoned and Forgotten': "People see me, they're like, 'Oh, you don't look like you're in pain,'" said Sasis, who lives in Berwyn. "I act like it because I don't want it to be a burden to anybody else. My life is so much about preparing and planning and then anticipating the consequences." Those consequences can present themselves as debilitating fatigue, muscle pain and memory issues.

* Sun-Times | 2 Chicago cops acquitted of shooting that wounded unarmed man in Pilsen: A Cook County judge on Thursday acquitted two Chicago police officers accused of shooting an unarmed man last summer in Pilsen and then lying about how it happened. Judge Lawrence Flood ruled the officers were within their rights to protect themselves when they opened fire, wounding Miguel Medina twice on July 22 last year.

* Daily Herald | Pat Fitzgerald is close to filing a mega-million lawsuit against Northwestern: Any hint of all's quiet on the Northwestern legal-and-athletics front is about to end. Former football coach Pat Fitzgerald is working toward finalization of a lawsuit against the university alleging breach of contract. The action has an estimated potential gross recovery nearing $100 million. Dan Webb — Fitzgerald's lead attorney and a partner in the Chicago-based Winston & Strawn — will announce the filing. Webb's statement is expected no later than Oct. 14 and could come sooner.

* WICS | EIU suspends men's swim team competition amid hazing investigation for fall 2023 : Eastern Illinois has suspended competition for the men's swim team for the fall 2023 semester for reports of hazing. The University and Intercollegiate Athletics immediately initiated a formal investigation, led by EIU's Office of the Dean of Students.

* Block Club | Portage Park Center Gets $335K From State To Launch Homelessness Outreach Program: The Lutheran Social Services of Illinois received $335,000 to hire four people who will be based out of the nonprofit's Portage Cragin Counseling Center, 4840 W. Byron St. The organization is hiring three full-time outreach case managers and a housing locator who will work with homeless communities in Portage Park, Old Irving Park, Jefferson Park and Belmont Cragin and develop relationships with landlords to increase housing opportunities for those in need.

* WMBD | Union workers express support for CO2 pipeline at Tazewell County Board meeting: Those against the pipeline have concerns about health and safety. Wolf Carbon Solutions has already filed an application with the Illinois Commerce Commission (ICC) in June. Patrick Brierley, VP of Engineering for Wolf Carbon Solutions, said the ICC has to approve each parcel the company crosses. There's more than 600 in Illinois and more than 300 in Iowa.

* Daily Southtown | School bus driver involved in death of Park Forest second grader found guilty of driving with canceled license: Darryl Downs, the school bus driver who struck and killed a second grade student in Park Forest Jan. 20, was found guilty Thursday of a misdemeanor offense and sentenced to 12 months of court supervision.

* Daily Herald | St. Charles seeking court permission to raze Pheasant Run Resort: On Thursday, Judge Bonnie Wheaton appointed a city-suggested receiver, giving him permission to install security fencing, order an environmental conditions report and obtain bids for demolition. The receiver estimates it may cost about $2 million, said Andrew Acker, the city's attorney. "I think everybody is sad to see this institution is going the way of the dodo," Wheaton said at the end of the hearing.

* Capitol B | A Gas Storage Plant and New Pipeline Disrupt Life for This Black Community: Southwest Crossing is an aging community in Houston where nearly 20% of residents are over 65. They know, as it is, the average American is expected to live only a decade after retirement. It's even less for Black people, and much of the disparity concerns the daily stress of racism. […] Residents say they became aware of the plan to build the new pipeline only after noticing company employees surveying their property without permission. Because the pipeline is for gas distribution to CenterPoint customers from a CenterPoint-owned gas facility and not a transmission line between two facilities, it does not require a new operating permit from the state of Texas.

* Alabama Political Reporter | Huntsville library director orders mass relocation of LGBTQ books: APR's review of the list shows 70 titles in the juvenile section that would fall under that order for immediate relocation. That list includes a graphic novel based on the highly popular Avatar: The Last Airbender animated series that has experienced a resurgence after being picked up by Netflix—and which doesn't have any apparent cross-section with any of the parameters that the search seems to be based on. However, the sequel series Legend of Korra includes a lesbian relationship which is shown in the graphic novel, which also appears on the Huntsville list to be moved.

* Peoples Fabric | City Settles Lawsuit Against Ald. Gardiner, CPD For $100K: The lawsuit alleges Sikanich told Gardiner that he had lost his cellphone, but Gardiner directed him to report it as stolen. The two then allegedly went to the man's home, harassed his roommate, and later conspired with Chicago police officers to have George falsely arrested. George was detained overnight, despite one of the officers allegedly saying, "I believe you, and I wasn't going to arrest you. But you pissed off a guy with power and my bosses have bosses!"

* NBC | NFL issues statement in response to placement of its ads on white nationalist Twitter/X pages: One of the accounts belongs to a streaming host who has suggested that Bills safety Damar Hamlin died from a reaction to the COVID vaccine, and that he's currently being portrayed by an actor. That same host has also, per MediaMatters.org, called for the execution of Chiefs tight end Travis Kelce and Taylor Swift over Kelce's recent promotion of the COVID vaccine.
17 Comments


















































Sorry, comments for this post are now closed.