* Another "Driving While Black" story from WBEZ…
Last year, Black drivers accounted for nearly 30.5% of all traffic stops statewide, even though the state's adult population is only 13.6% Black.

Beyond the number of drivers stopped, the data reveal why police initiate contact in the first place.

Last year, for the first time on record, more than half of Black drivers pulled over by police statewide were stopped for non-moving violations, like talking on the phone, not wearing a seatbelt or expired tags. Conversely, white drivers were stopped mostly for moving violations, like speeding.

Joshua Levin, an attorney with the ACLU of Illinois, said these encounters are rife for potential "pretextual stops," where low-level traffic violations are used as an excuse to make contact with drivers – at the expense of their civil rights – in an effort to identify more serious crimes. Amid a recent surge in traffic stops by Chicago police, the ACLU filed a lawsuit earlier this year alleging that the department's practices racially profile, harass and demean law-abiding citizens.

The data also show a fivefold increase in the number of Black drivers stopped for non-moving violations and let go with a warning. Latino drivers experienced a fourfold increase since the state began collecting the data. White drivers, by comparison, have seen little change in the number of non-moving stops resulting in a warning. […]

Search rates show disparities, too. In 2022, Chicago police were four times more likely to request a "consent search" from Black or Latino drivers compared to white drivers. While infrequent, legal experts say this type of search – where officers ask permission to search a driver, passenger or a car without probable cause – deserves scrutiny because they suggest that officers don't have much evidence of criminal activity.

And Chicago police were more likely to turn up contraband during consent searches involving white drivers, one out of every two consent searches, versus Black drivers, one out of every three.
* I always direct Springfield types to the Klein and Mason facility because not many people seem to know about it…
The Secretary of State Driver and Motor Vehicle Facility (DMV) located at 316 N. Klein St. in Springfield will close temporarily on Friday, September 29, for remodeling, including a complete overall of the plumbing system. The facility is expected to reopen in late January 2024.

"This is an important renovation project, and while it is underway the Springfield Wabash DMV will serve customers from Springfield and nearby communities," said Giannoulias.

The Wabash DMV, located at 1650 Wabash Ave., is an appointment-only facility for select services. Its hours of operation are Monday through Friday, 8 a.m. to 5:30 p.m. and Saturday, 8 a.m. to 12:30 p.m. Appointments are required for REAL ID, driver's license and ID card services, and in-car driving tests. Those seeking vehicle-related services, such as title and registration or renewing their license plate sticker, do not need to make an appointment and can just walk in
* Press release…
Mayor Brandon Johnson and the Chicago Department of Business Affairs and Consumer Protection (BACP) have issued a Request for Proposal (RFP) for the Small Business Storefront Activation Program. Through this RFP, the City will select community and economic development organizations that will be responsible for identifying vacant storefronts in their respective community areas, negotiating short-term leases with landlords, sourcing local small businesses for storefront activations, managing preparation and operations for the space, and providing ongoing support to small businesses operating pop-up stores. These activations will boost local spending and draw additional foot traffic to commercial corridors across all 77 neighborhoods. […]

RFP grantees will negotiate short-term leases for move-in ready vacant storefronts, and partner with local small businesses to launch pop-up stores, community markets, or other commercial activations that support local businesses. The grantees will also assist the businesses with business coaching and support them in managing a storefront.
* I get emails…
In the wake of nationwide UAW strikes and Presidential candidates in Michigan, labor strife continues in Rockford where Mayor Tom McNamara has been the target of the Local 150 rat patrol.

In July, McNamara broke a tie against an amendment requiring a Project-Labor Agreement on a local development deal, angering local trade unions. Adding to the drama was the fact that 6 of 10 Democrats on the Rockford City Council voted against the pro-labor amendment but 3 of 4 Rockford Republicans supported it. Union members have been active in picketing at City Hall since the vote.
Accompanying photo…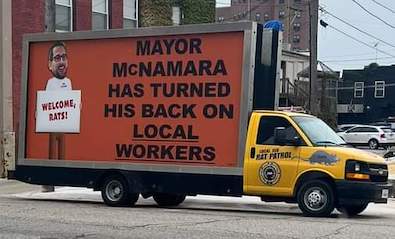 * The White Sox can barely even give tickets away…
We're live at the $1 White Sox Game. Attendance is low. https://t.co/phR0jJDqQY pic.twitter.com/a6obbScrPs

— WBBM Newsradio (@WBBMNewsradio) September 28, 2023
* Isabel's afternoon roundup…
* Injustice Watch | Chicago man becomes first in Illinois to get reduced sentence under new law: On July 19, Patton left Dixon Correctional Center in his wheelchair four years earlier than he expected. The Gulf War combat veteran and music producer, known for his work with Lupe Fiasco and other Chicago hip-hop artists, had served more than 17 years of a 44-year term following his conviction for heroin trafficking. His 2007 conviction relied on testimony from a cooperating witness who later recanted. Still, all his appeals failed, his clemency petition was denied, and he was refused medical release, despite his failing health and paralysis from a serious fall while in prison.

* WGN | 'Violations have continued': Illinois AG alleges Trump Tower underreporting water discharges into Chicago River: "Even after the state of Illinois took steps to hold Trump Tower accountable for violations of state and federal environmental laws, violations have continued — underscoring a disregard for the laws and regulations that are in place to protect our waterways and aquatic life," Raoul said. "I am committed to enforcing our environmental laws and ensuring that all entities are held accountable for violations of those laws."

* WTTW | The Physical and Mental Toll of Living With Long COVID: 'I Feel Like We've Been Abandoned and Forgotten': "People see me, they're like, 'Oh, you don't look like you're in pain,'" said Sasis, who lives in Berwyn. "I act like it because I don't want it to be a burden to anybody else. My life is so much about preparing and planning and then anticipating the consequences." Those consequences can present themselves as debilitating fatigue, muscle pain and memory issues.

* Sun-Times | 2 Chicago cops acquitted of shooting that wounded unarmed man in Pilsen: A Cook County judge on Thursday acquitted two Chicago police officers accused of shooting an unarmed man last summer in Pilsen and then lying about how it happened. Judge Lawrence Flood ruled the officers were within their rights to protect themselves when they opened fire, wounding Miguel Medina twice on July 22 last year.

* Daily Herald | Pat Fitzgerald is close to filing a mega-million lawsuit against Northwestern: Any hint of all's quiet on the Northwestern legal-and-athletics front is about to end. Former football coach Pat Fitzgerald is working toward finalization of a lawsuit against the university alleging breach of contract. The action has an estimated potential gross recovery nearing $100 million. Dan Webb — Fitzgerald's lead attorney and a partner in the Chicago-based Winston & Strawn — will announce the filing. Webb's statement is expected no later than Oct. 14 and could come sooner.

* WICS | EIU suspends men's swim team competition amid hazing investigation for fall 2023 : Eastern Illinois has suspended competition for the men's swim team for the fall 2023 semester for reports of hazing. The University and Intercollegiate Athletics immediately initiated a formal investigation, led by EIU's Office of the Dean of Students.

* Block Club | Portage Park Center Gets $335K From State To Launch Homelessness Outreach Program: The Lutheran Social Services of Illinois received $335,000 to hire four people who will be based out of the nonprofit's Portage Cragin Counseling Center, 4840 W. Byron St. The organization is hiring three full-time outreach case managers and a housing locator who will work with homeless communities in Portage Park, Old Irving Park, Jefferson Park and Belmont Cragin and develop relationships with landlords to increase housing opportunities for those in need.

* WMBD | Union workers express support for CO2 pipeline at Tazewell County Board meeting: Those against the pipeline have concerns about health and safety. Wolf Carbon Solutions has already filed an application with the Illinois Commerce Commission (ICC) in June. Patrick Brierley, VP of Engineering for Wolf Carbon Solutions, said the ICC has to approve each parcel the company crosses. There's more than 600 in Illinois and more than 300 in Iowa.

* Daily Southtown | School bus driver involved in death of Park Forest second grader found guilty of driving with canceled license: Darryl Downs, the school bus driver who struck and killed a second grade student in Park Forest Jan. 20, was found guilty Thursday of a misdemeanor offense and sentenced to 12 months of court supervision.

* Daily Herald | St. Charles seeking court permission to raze Pheasant Run Resort: On Thursday, Judge Bonnie Wheaton appointed a city-suggested receiver, giving him permission to install security fencing, order an environmental conditions report and obtain bids for demolition. The receiver estimates it may cost about $2 million, said Andrew Acker, the city's attorney. "I think everybody is sad to see this institution is going the way of the dodo," Wheaton said at the end of the hearing.

* Capitol B | A Gas Storage Plant and New Pipeline Disrupt Life for This Black Community: Southwest Crossing is an aging community in Houston where nearly 20% of residents are over 65. They know, as it is, the average American is expected to live only a decade after retirement. It's even less for Black people, and much of the disparity concerns the daily stress of racism. […] Residents say they became aware of the plan to build the new pipeline only after noticing company employees surveying their property without permission. Because the pipeline is for gas distribution to CenterPoint customers from a CenterPoint-owned gas facility and not a transmission line between two facilities, it does not require a new operating permit from the state of Texas.

* Alabama Political Reporter | Huntsville library director orders mass relocation of LGBTQ books: APR's review of the list shows 70 titles in the juvenile section that would fall under that order for immediate relocation. That list includes a graphic novel based on the highly popular Avatar: The Last Airbender animated series that has experienced a resurgence after being picked up by Netflix—and which doesn't have any apparent cross-section with any of the parameters that the search seems to be based on. However, the sequel series Legend of Korra includes a lesbian relationship which is shown in the graphic novel, which also appears on the Huntsville list to be moved.

* Peoples Fabric | City Settles Lawsuit Against Ald. Gardiner, CPD For $100K: The lawsuit alleges Sikanich told Gardiner that he had lost his cellphone, but Gardiner directed him to report it as stolen. The two then allegedly went to the man's home, harassed his roommate, and later conspired with Chicago police officers to have George falsely arrested. George was detained overnight, despite one of the officers allegedly saying, "I believe you, and I wasn't going to arrest you. But you pissed off a guy with power and my bosses have bosses!"

* NBC | NFL issues statement in response to placement of its ads on white nationalist Twitter/X pages: One of the accounts belongs to a streaming host who has suggested that Bills safety Damar Hamlin died from a reaction to the COVID vaccine, and that he's currently being portrayed by an actor. That same host has also, per MediaMatters.org, called for the execution of Chiefs tight end Travis Kelce and Taylor Swift over Kelce's recent promotion of the COVID vaccine.
* Votebeat…
In North Carolina, Local Labs wanted obscure voter records that would take weeks, or even months, to prepare. In Georgia, the company requested a copy of every envelope voters used to mail in their ballots. And in dozens of counties across the U.S., Local Labs asked for the address of every midterm voter.

Local election offices across the country are struggling to manage a sharp rise in the number of public records requests, and extensive requests coming from Local Labs in at least five states have stymied election officials, according to a Votebeat review of hundreds of records requests, as well as interviews. The requests are broad and unclear, and the purpose for obtaining the records is often not fully explained, leaving officials wondering in some cases whether they can legally release the records.

Local Labs is known for a massive network of websites that rely mainly on aggregation and automation, blasting out conservative-leaning hyper-local news under names such as the Old North News, in North Carolina, and Peach Tree Times, in Georgia.

Local Labs CEO Brian Timpone told Votebeat the company is using records requests in an attempt to expose election fraud that he is sure exists. The company is sometimes getting paid by GOP-backed clients to do so, Timpone acknowledged, characterizing the work simultaneously as both political research and journalism.
Ugh.
* I reached out to Matt Dietrich at the Illinois State Board of Elections to ask if this was happening here as well…
Illinois election authorities have received many if not all of the same records requests named in that article.

These kinds of requests and others – along with the more general theme of combating election disinformation — were the impetus behind a series of press conferences many central Illinois county clerks and election officials held on Tuesday and Wednesday. John Ackerman, clerk of Tazewell County, organized this and would be a good person to contact if you want some detail on the issue of these kinds of FOIA requests causing work flow problems for local election authorities:
* I wasn't able to reach Ackerman (I'll let you know if he calls me back), but a Capitol News Illinois story on the press conferences didn't mention the FOIA issue. Neither did WCIA, WEEK and the Pantagraph.
So, I watched the press conference online.
* Ackerman told reporters that clerks were being "inundated" with FOIAs (although he said they have tapered off somewhat lately). "It's the exact same message from the exact same person," Ackerman said, without identifying the person. Clerks are being asked for "items we don't have here in Illinois. They're asking for data and for log books that don't exist because they've gotten the information from out of state sources rather than sources within the state."
"I do feel sorry for some of my smaller counties," Ackerman said. "I have staff that can help get that stuff prepared." Many of the smaller counties, he said, only have one or two employees handling the inquiries. "That's really taking a huge amount of their time to answer the same amount of questions as a larger county."
…Adding… I was able to connect with Clerk Ackerman, who told me he hasn't received any FOIA requests that he knows of from Timpone's Local Labs. Most all of the FOIA requests were anonymous, he said, so he couldn't rule it out. His office did receive a request for early voting envelopes, which was denied for being overly broad.
* Greg Sargent at the Washington Post…
Nearly 1,000 tax filers who earn more than $1 million per year have still not filed federal tax returns for at least one year from 2017 to 2020, according to IRS data provided to Senate Finance Committee Chairman Ron Wyden (D-Ore.).

What's more, the 2,000 people who represent the highest-income non-filers in one or more of those years owe a total of more than $900 million in federal taxes, the data shows.
More excerpts from that IRS report…
1,465,067 high-income non-filers for tax years 2017-2020 have not yet satisfied their filing obligations with the IRS. The total amount of unpaid taxes potentially owed by this population is $65.7 billion.

As of May 2023, there were 10,272 high-income non-filers with at least $100,000 balance due looking back to tax year 2017, at least one return reporting adjusted gross income (AGI) of $200,000 or more for Tax Years looking back to 2017, and who had multiple years of unfiled returns between 2015 and 2020. These taxpayers owed $68,658,459,724 in total unpaid assessments (tax, penalties, and interest) as of May 2023. There were 981 high income non-filers in this population with AGI of at least $1 million. These taxpayers owed $34,277,321,852 in total unpaid assessments (tax, penalties, and interest) as of May 2023. There were 58 high income non-filers in this population with AGI of at least $10 million. These taxpayers owed $16,685,980,639 in total unpaid assessments (tax, penalties, and interest) as of May 2023.

SB/SE Collection does not record how many cases have been refereed to DOJ for criminal prosecution, however, we can report that of the 10,272 taxpayers, 154 were under criminal investigation at one time and 31 were in active criminal investigation as of May 2023.

8,729 high-income non-filers for tax years 2017 – 2020 have a potential balance of unpaid taxes in excess of $500,000.

The amount of unpaid taxes owed by the top 100 high-income nonfilers for each tax year 2017 – 2020 (2,000 taxpayers) was $991,124,861 after deducting non-enforcement payments. As noted above, $67,481,404 has been collected, leaving $923,643,457 owed.

Of the top 500 high-income nonfilers for each tax year 2017-2020 (2,000 cases) the IRS has pursued a levy in 27 cases and a lien in 31 cases.
* Gov. Pritzker was asked today about Chicago's highly controversial contract with GardaWorld to house large numbers of asylum seekers in tents over the winter…
I've expressed my concerns about it and we continue to have conversations about it. I think it's something that the city, with a lack of existing buildings to put people in, I know the city has looked at this as one of its options, but I don't think this is the only option.

And again, we're attempting to identify other facilities that are already built where we could house migrants. [cross talk] If we have existing facilities, we ought to use all of those that are willing to do it. Including, by the way if there are federal opportunities to do that, great. There are federal buildings that don't have anybody in them, we haven't identified any yet and the federal government hasn't yet, but we've asked them even if, you know, even if it's something that's a bit inconvenient for the federal government, they need to step up to the plate and I've said that repeatedly to the Department of Homeland Security.
Please pardon all transcription errors.
The state has a contract with GardaWorld that the city is piggy-backing on. Pritzker told reporters today that the state has "not yet used that contract."
* Pritzker was also asked about his conversations with people in the federal government about what he wants them to do…
Well, they have the ability to help us and they've offered to help and so we're going to accept whatever it is that they can offer. I will say that it's not just about money, though. Frankly, we do need reimbursement for the dollars that have already been put forward because we've done an awful lot already without a lot of help from the federal government. [crosstalk] It's not just about money, right? It is also about making sure that we get personnel from the federal government. Because this process. and you can see a little bit of it in New York, we're doing it here in Chicago and organizing it. It involves immigration attorneys. It involves filing paperwork for people that haven't already filed paperwork. It involves making sure that we're identifying peoples' skills and the jobs that they can fulfill when they get the work authorizations. So there's a lot that the federal government can help us with along the way. We're doing it on our own now, but we've asked, I have asked the Department [crosstalk] and the Department of Homeland Security and the White House have both heard from me on this subject.
* One press conference attendee asked why the state wasn't opening up McCormick Place East (Lakeside Center) to the migrants like was done during the pandemic.
What a bizarre question. McCormick Place was shut down during the pandemic. Nobody was going to conventions back then, so they had plenty of room. If you click here, you'll see that McCormick Place Lakeside Center has several scheduled events.
*** UPDATE 1*** Chicago Ald. Carlos Ramirez-Rosa sent me a text in response…
In addition to opening and operating their own state migrant shelters, New York state reimburses NYC for a third to half of all their migrant-related expenses, we wish we were getting that level of support in Chicago. Would help tremendously.
His tweet was more blunt…
This is particularly ludicrous coming from JB given that lack of meaningful support from the State of Illinois has pushed the city in this direction.

New York state has opened multiple migrant shelters. The State of Illinois operates ZERO shelters. ZERO. Open some shelters JB! https://t.co/HTHQDN7JAR

— Carlos Ramirez-Rosa (@CDRosa) September 28, 2023
*** UPDATE 2 *** Pritzker spokesperson Jordan Abudayyeh called to say "We have offered to open shelters," going back to Mayor Lori Lightfoot's tenure. Neither Lightfoot nor Mayor Johnson have taken the state up on the offer, she said, adding that the state has already provided $328 million in state funds.
More in a bit.
*** UPDATE 3 *** Abudayyeh followed up by saying that the city has finally agreed to the state's turn-key shelter plan for a vacant CVS facility in Little Village.
* Henry Haupt called me earlier this month and, for some reason, as soon as I saw his name on my phone I figured he was gonna tell me he was retiring. Sure enough, the longtime Illinois Secretary of State spokesperson was planning to leave. He's going to take it easy for a bit and then check out some other opportunities.
I have known Henry forever. He started out at the SoS as an administrative assistant way back in 1992. He became a deputy press secretary in 2007 and then moved up to press secretary in 2019. The man has an incredible amount of institutional knowledge and is extremely accessible. He's also one of the nicest people around and has always made it abundantly clear that he's always available to talk, day or night. As just one example, I texted him recently at 9:30 at night about something. It wasn't really an urgent matter, but he responded, saying his dad was in the hospital and he'd forward my question to a colleague. I was horrified that I'd interrupted him at such a difficult time and apologized, but he waved it off. I got the info I was looking for.
* Secretary of State Alexi Giannoulias called today and asked if I'd put something on the blog about Henry. I asked him to send me something, but I told him I didn't want a canned statement. I wanted it to be as sincere as what he had just told me on the phone. He said he'd write it himself and here it is…
Henry is not just one of the finest public servants I know, but also one of the finest people. He is flawlessly kind & considerate and is a tirelessly hard worker. I call him at 11 & 12 o'clock at night and he always answers; I call him on Saturdays & Sundays and he always answers (and he's usually in the office when I call!). He is enthusiastic, truly loves the work and has been incredibly valuable to me not just as a colleague & advisor, but also as a dear friend. I'm gonna miss Henry a lot and the state will miss his dedication, deep knowledge and service. Thank you for everything you've done for Illinois, Henry - sorry if I drove you nuts!
* Let's go back in time to this June story from Capitol News Illinois…
(T)he federal government's case against politically connected businessman James Weiss, ended Thursday with a jury convicting Weiss on seven counts, including bribery and lying to the FBI.

Federal sentencing guidelines dictate a maximum of 20 years in prison for the most serious of the charges, though those convicted of public corruption have faced wildly different sentences.
* Now, let's move forward to today in the Sun-Times…
Lawyers for James T. Weiss asked U.S. District Judge Steven Seeger to give him a prison sentence of less than 27 months, arguing in part that the bill Weiss wanted to pass would have generated at least one penny in tax revenue on each transaction on so-called sweepstakes machines. […]

"[Weiss'] unlawful actions were designed to protect his business, the legitimate income that provides for his family, and to institute clear regulation of the sweepstakes industry," [Weiss' attorney Ilia Usharovich] wrote. […]

Weiss, husband of former state Rep. Toni Berrios and son-in-law of former Cook County Assessor Joseph Berrios, is due to be sentenced by Seeger on Oct. 11.

Seeger is the same judge who last year handed a nearly five-year sentence to [Rep. Luis Arroyo], calling him a "dirty politician who was on the take." Ahead of that hearing, Arroyo's defense attorneys argued that sending him to prison would be "no more effective than draining Lake Michigan with a spoon" because it wouldn't end Chicago corruption.

An October 2020 indictment against Arroyo and Weiss alleged that Arroyo served as Weiss' bought-and-paid-for member of the Illinois House of Representatives. In exchange for $32,500 in bribes from Weiss, Arroyo agreed to vote for and promote sweepstakes legislation in Springfield.
* More from the memo…
The Defendant's unlawful actions were designed to protect his business, the legitimate income that provides for his family, and to institute clear regulation of the sweepstakes industry. Part of this regulation required the payment of a "One Cent" tax on all sweepstakes transactions in The State of Illinois. This tax would have benefited the Public with additional tax revenue. The Defendant would have also suffered a determinant in that his business, which was already legal, would be subject to additional taxation and state regulation. There was no actual theft of federal funds, improper transfer of federal funds, and there was no financial loss to the United States or the State of Illinois. […]

As to Defendant, Specific deterrence is not a strong factor. This is because Louis Arroyo and Terry Link are unlikely to hold office again. Also, on 2/1/2023, Rep. Robert "Bob" Rita, who testified at trial, introduced HB1603 which would make Defendant's sweepstake business illegal. On 2/7/2023 SB1504 was introduce by Sen. Bill Cunningham which would also make Defendant's sweepstake business illegal. Finally, introduced on 2/17/2023, by Rep. Cyril Nichols, was HB3850 which would also make Defendant's sweepstakes business illegal. Hence, it is very unlikely Defendant will remain in business or be able to bribe his way back into business ever again. [Emphasis added.]
Hilarious.
* You may recall that Weiss' attorney Ilia Usharovich had a bizarre dustup with Judge Seeger, who scolded Usharovich about his disrespectful behavior in court. And then this happened…
The judge told Weiss' defense team to take five minutes to cool down. But it didn't help. Usharovich tried to explain the reasoning behind their appeal, but Seeger wound up telling him "you may not speak again without permission."

That led to multiple episodes in which Usharovich raised one hand, or both, to signal that he wanted to speak, including once to use the bathroom.

Late in the hearing, Usharovich claimed he'd thrown up into a cup and complained that he'd been restrained unlawfully in the courtroom. He told the judge "here's my vomit in a cup."

When Seeger questioned whether Usharovich had really thrown up, Usharovich insisted to the judge, "Look at the cup!"

Seeger told him that "the transcript will never fully convey the contemptuous air that I'm getting from you, and I don't like it."
[Rich Miller contributed to this post.]
* Background is here and here if you need it. Bloomberg: "Illinois risks budget cuts when pandemic aid ends, report says"…
Twelve states in the US, including some of the country's largest economies, are at risk of cutting or scaling back programs in essential areas like education and public safety when the federal government's historic stimulus package expires in 2026.

California, New York, and Pennsylvania, alongside nine others, used federal stimulus money to cover recurring costs that totaled 2.5% or more of their general fund expenditures in fiscal 2022. They could face budgetary gaps because of that spending, forcing government leaders to rethink certain programs and jobs, according to an analysis of disclosure filings as of July 2022 released Tuesday by The Volcker Alliance, a nonprofit research group. […]

"A lot of states have major issues. Illinois is dealing with refugees and wanting to provide health care for them," said Beverly Bunch, a professor at the University of Illinois Springfield and author of the report. "That's coming at the same time that some of these federally funded programs are being exhausted, and that makes it even more challenging."
So much misinformation. Where to begin? Let's start with an easy one.
* I was under the impression that asylum seekers qualified for a federal healthcare program, so I checked with the governor's office. Jordan Abudayyeh..
Asylum seekers are in the U.S. with documentation and therefore qualify for federal healthcare programs.

The HBIA/S programs that cover healthcare for undocumented people are separate from spending on asylum seekers.

It is unfortunate the reporter used the quote and did not fact-check it to ensure the accuracy of their reporting.
*facepalm*
* OK, let's move on to the budget aspect. From the Volcker Alliance's actual report…
In at least two states—Illinois and New York—the use of SLFRF [Coronavirus State and Local Fiscal Recovery Funds] for operations appears to have freed up own-source recurring revenues that were then applied, at least in part, to one-time purposes: debt repayment (Illinois) and rainy day fund contributions (Illinois and New York). Those states may be able to use those state revenues in the future to cover costs that were temporarily financed with SLFRF.
Emphasis added.
Also, according to the report, Illinois has already allocated all of its federal SLFRF funds. That means the alleged "fiscal cliff" period has already come and gone.
* Back to Abudayyeh…
It's time "budget experts" and the press catch up with the times and stop using the old assumptions that Illinois is on the brink of fiscal calamity at all times.

The Volcker author was using an outdated 2022 report and making assumptions from that about what the state of Illinois could claim in revenue loss, but not what we actually claimed, which was less. Illinois did use $1.8 billion of ARPA recovery funding for revenue replacement as allowed by Congress and federal rules for use of the funds during fiscal year 2022 and fiscal year 2023 – two years that are already in the past. FY24 General Funds budget is balanced and does not use any of these federal recovery dollars in the budget. So Illinois is already beyond the theoretical 'cliff' and the hypothetical situation analyzed by the Volcker report did not occur.

Additionally, Illinois used approximately half of its recovery fund dollars ($4.06 billion) for repayment of Unemployment Insurance trust fund advances – a one-time expenditure to help stabilize this critical fund that was hit hard by the pandemic. Illinois was wise in its use of federal funding, funded one-time expenses, and took fiscally responsible steps during a time that devastated economies worldwide.
Yeah, that's a bit over the top. But when a national news media outlet quotes a proclaimed budget expert getting so much wrong, including about her very own group's report, I'll allow it.
Open thread
Thursday, Sep 28, 2023 - Posted by Isabel Miller
* What's going on with y'all?…
* Here you go…
* Crain's | Pritzker, GOP trade barbs in fight over Gotion's battery plant: With political conservatives and Illinois Republicans stepping up their attacks, Gov. J.B. Pritzker is out with a vigorous defense of the proposed Gotion battery plant in Manteno, charging that its foes are putting "xenophobia" and partisan politics ahead of a $2 billion investment that will create 2,600 well-paying jobs here. Pritzker's statement came in a letter to Illinois Senate GOP Leader John Curran, who with some colleagues had sent Pritzker a letter earlier this week questioning his decision to do business with a Chinese firm and approve $538 million in state incentives for its facility.

* WAND | Illinois lawmakers, health care leaders discuss unreasonable license processing delays: IDFPR officials told lawmakers that they have spent months trying to find a replacement for the state's outdated licensing system. Secretary Mario Treto Jr. said the department recently landed a master contract, but the deal is no longer on the table.

* WTVO | Illinois considering making driving tests mandatory at 79, not 75: Illinois Secretary of State Alexi Giannoulias said Wednesday that the state is recommending making driving tests for seniors mandatory at age 79 instead of the current 75. Giannoulais said Illinois is the only state in the country that requires elderly drivers to be tested on a regular basis.

* 25 News Now | State Rep. Bill Hauter voices stand on CO2 pipeline hours before demonstration at Tazewell County Board: In a long statement sent out to a Facebook group organized around proposing the pipeline, State Rep. Bill Hauter (R - Morton) said he is skeptical large-scale CO2 capture and sequestration will actually mitigate climate change and its effects. "While I have many concerns, I feel the need to tell you that, realistically, I think it will be very hard to stop the transportation of captured CO2 across the district to the Mt. Simon hub," the statement read. "In short, it's not going away."

* Sun-Times | Gov. Pritzker, Mayor Johnson host fundraiser for Chicago Democratic convention host committee: Illinois Gov. J.B. Pritzker and Chicago Mayor Brandon Johnson on Thursday will hold their first joint fundraiser for the Chicago Host Committee, which promised to raise at least $84.7 million for the 2024 Democratic National Convention. The luncheon will be at the United Center. That arena and the McCormick Place complex are the main venues for the convention, scheduled for Aug. 19-24. The fundraising pledge was part of the city's winning bid to land the convention, beating out Atlanta and New York.

* Capitol News Illinois | Welch introduces bill to allow legislative staff to unionize: House Bill 4148, creating the Legislative Employee Labor Relations Act, comes in response to a monthslong effort by Democratic staff in the speaker's office to unionize and negotiate wages, hours and other working conditions. "For a while now, I had some staff approach my office seeking voluntary recognition as a union," Welch said in an interview Wednesday. "And my legal advisors advised me that Illinois law currently specifically prohibits that. So as someone who believes in workers' rights, this legislation is my attempt to create a legal path for them to have that right."

* Sun-Times | New ATF boss in Chicago setting up 'intelligence center' to solve more gun crimes: It's part of a burgeoning ATF effort built on its National Integrated Ballistic Information Network (NIBIN) and eTrace programs, each designed to help law enforcement quickly track the history of firearms used to commit crimes. The Justice Department touted the opening of a similar center in central Ohio just last week. Deputy Attorney General Lisa Monaco said they "have proven to be uniquely effective tools for solving violent crimes, bringing repeat shooters to justice, and reducing the rate of gun violence."

* Chicago Mag | What $500 Means to Zinida Moore: In an experimental program, 5,000 Chicagoans received monthly cash payments from the city for a year, no strings attached. Here's how the money changed one woman's life — and how it didn't.

* Tribune | 27 buses carrying migrants arrive in Chicago since Saturday as city moves forward with tent plan: While the number of buses sent to Chicago by Abbott has ebbed and flowed over the past year, the two buses that arrived from El Paso, Texas, over the weekend — the first from that city since December 2022 — could indicate that border crossings are at one of the highest rates in recent history and the city could see an increase in buses in the coming weeks. "Why can't we send 1,000 people to Chicago?" asked Ruben García, director of Annunciation House, a migrant shelter in El Paso, Texas, where numbers of migrants are also soaring. "Obviously Chicago isn't equipped, but we need to rise to the occasion. … We should be prepared for whatever comes our way."

* Sun-Times | Confirmation for next U.S. attorney in Chicago gets tougher with anonymous senator blocking a vote: The senator or senators who are blocking a confirmation vote for April Perry are not known. Sen. J.D. Vance, R-Ohio, said he would lift his hold on Perry if she got an up-or-down vote.

* WMIX | Judge dismisses tow company's lawsuit against city of Centralia: Judge Staci Yandle said in her ruling that the City of Centralia and its police department's desire to provide effective police services – not perceived as racist or biased – outweighs the interests of Jerry and Sons Towing in symbolizing their "redneck heritage." In 2021, then Centralia Police Chief Greg Dodson announced that due to the placement of a Confederate flag at their home where excess vehicles had been towed, Jerry Patten, owner of Jerry and Sons Towing in Central City, had been advised the company had been removed from the City's tow rotation list.

* WIRED | The Maker of ShotSpotter Is Buying the World's Most Infamous Predictive Policing Tech: PredPol was one of the first, and perhaps the most widely used, predictive policing algorithms in the United States. Its name, a portmanteau of "predictive policing," became synonymous with the practice. The software was developed in 2011 and uses historical crime incident reports to produce daily predictions for where future crime is likely to occur. For years, critics and academics have argued that since the PredPol algorithm relies on historical and unreliable crime data, it reproduces and reinforces biased policing patterns. In December 2021, Gizmodo and The Markup analyzed millions of Geolitica's crime predictions that were discovered on an unsecured server and found that the software disproportionately—and often relentlessly—targeted low-income communities of color for additional patrols.

* WBEZ | A handful of Illinois colleges commit to making costs for students more clear: Chicago State University, Northern Illinois University and Northeastern Illinois University have signed onto a new commitment to standardize financial aid offers so admitted students can more easily compare costs and understand what they will owe after graduation. But three big-name schools in the state – Northwestern University, University of Chicago and University of Illinois Urbana-Champaign – were absent from the list of the more than 300 colleges that have signed onto the College Cost Transparency Initiative, announced Tuesday.

* Tribune | Hyzon Motors, which is building a Bolingbrook hydrogen truck fuel cell plant, agrees to pay $25 million to settle SEC fraud charges: The civil charges and settlement, announced Tuesday by the Securities and Exchange Commission, allege Rochester, New York-based Hyzon misrepresented its potential customers and sales before and after going public through a special purpose acquisition company in July 2021.
* ScribbleLive is still down. Twitter has stopped allowing people to embed list feeds on websites. So, click here or here to follow breaking news.