* On Friday, the City of Chicago revealed that just 16 buses carrying asylum-seekers arrived in Chicago during the previous seven days.
Just a few weeks ago, we were told to expect as many as 25 buses per day.
* So, maybe news outlets like ABC 7 might wanna turn down the hype machine just a wee bit…
Residents in Chicago's Morgan Park neighborhood have been making their concerns known on Sunday as the city discusses a plan to create a migrant shelter there. […]

The people at today's protest said [Ald. Ronnie Mosley] should focus on projects like that instead of this shelter.
The extent of the "protest"…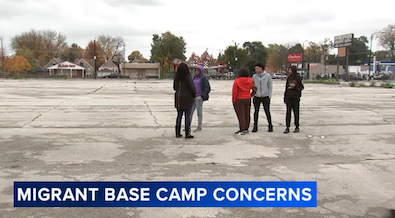 * Back to the story…
"The fact is, in the Roseland community, there's crime, violence, gangs. It's through the roof here," said community activist Patrick Gibbons. "And, we need to protect our own people before we take care of people from the outside."
NBC 5 also quoted "community activist Patrick Gibbons"…
"If you can't take care of your own, then we don't deserve to be a sanctuary city for outsiders," said Gibbons.
"Sanctuary city" hokum debunked here.
* Thanks to an alert commenter, it turns out that the Patrick Gibbons in the above story appears to be the same guy who, until fairly recently, was running for 31st Ward Republican committeeperson on Chicago's Northwest Side - far, far away from the Jewels in Morgan Park/Roseland.
I mean, this Patrick Gibbons?…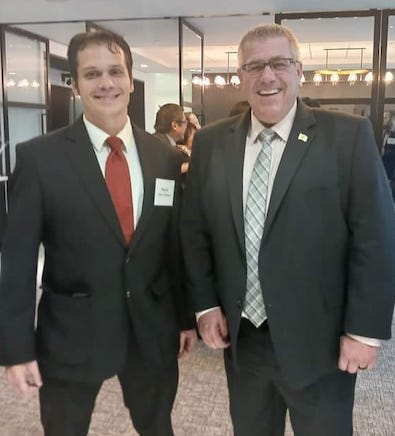 From our commenter…
Would be nice if the Chicago news media would simply check the google machine once in a while to see if the "community activists" they are quoting are from the actual community they are covering.
* And even without the Gibbons stuff, a tiny handful of disgruntled people milling about a giant parking lot is hardly a compelling teevee visual. From NBC 5's wide-shot…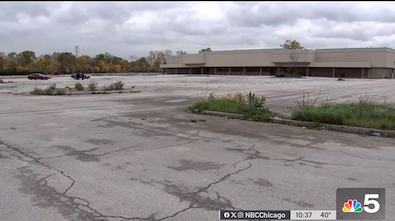 Zoom in…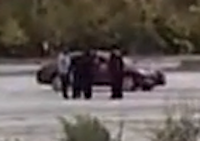 Hilarious.
* More from Isabel…
* Chalkbeat | Amid Chicago's migrant influx, one school is trying to help newcomer students navigate trauma: Concern led Moorhouse to launch the support group at Brighton Park last year after she met a migrant student who was showing signs of trauma. The student, whom Moorhouse met in January, didn't want to be in school and sometimes, the student's body would shake uncontrollably, she said.

* WTTW | Vote Set on Plan to Transform Former Jewel, Parking Lot on Far South Side Into Migrant Shelter: Mayor Brandon Johnson will ask a key City Council panel to purchase the now-vacant Jewel and surrounding parking lot near 115th and Halsted streets and transform it into a shelter for some of the 3,344 men, women and children being forced to sleep on the floors of police stations across the city and at O'Hare Airport.

* Block Club | Ukrainian Village Neighbors Suing Mayor, City Officials To Block Migrant Shelter: In a lawsuit filed Wednesday in Cook County Circuit Court, James Cole and Danielle Roberts argue the city has illegally skirted zoning and building permit regulations to convert a privately owned building at 526 N. Western Ave. into a temporary shelter for asylum seekers.

* Block Club | More Than 3,400 Migrants Have Been Flown Into Chicago Since June, City Data Shows: Most people were flown in from San Antonio, Texas, with a few hundred others coming from Houston, New York City and Denver. The majority of the flights have come to O'Hare, bringing in 2,705 people, according to city data.

* WTTW | With Temperatures Set to Dip Below Freezing, Warming Buses Set to Shelter Migrants: Warming buses will be sent to 16 Chicago police stations to shelter some of the 3,344 men, women and children being forced to sleep on the floors of police stations across the city and at O'Hare Airport, as cold weather settled over the city in earnest and temperatures dipped below freezing, Mayor Brandon Johnson's office said late Sunday.

* The Hill | Tensions rise between new and established migrants: The tension is especially felt in Democratic strongholds such as New York and Chicago, where community leaders and elected officials have spent decades organizing their constituents with limited success. "Mixed-status families, people who have lived here for 10, 20, 25, 30 years, who have been working, paying taxes, sending money back to Mexico, abiding by the laws, laying low — probably being better citizens than most Americans — are frustrated," said Illinois Rep. Jesús "Chuy" García (D).
18 Comments





















































Sorry, comments for this post are now closed.