* Click here for the interactive map…

9am news drop: @ILSenDems have released new Chicago elected school board maps:
- 7 Black majority
- 6 Latino majority
- 5 White majority
No word on future hearings. A vote could come as soon as next week #twill pic.twitter.com/MmUdoHH041

— Ben Szalinski (@BenSzalinski) November 1, 2023
* Senate Democrats press release…
The Illinois Senate Democratic caucus released a new Chicago Elected School Board District map proposal, incorporating numerous suggestions made by the public and advocacy groups, including keeping more communities of interest whole.
 
The draft map is available for review at www.ilsenateredistricting.com, and reflects changes put forth by parents, education advocates and community groups gathered through online map making portals and during multiple public hearings. The public is encouraged to review the latest proposal and provide additional feedback via the website or through email at ChicagoERSBCommittee@senatedem.ilga.gov.
 
The map consists of 20 proposed districts, including seven majority Black districts, six majority Latino districts, five majority White districts and two coalition districts.
 
"This new map better reflects the diversity of Chicago's unique neighborhoods, and we thank the many parents, educators and community members whose guidance helped shape these district boundaries," said Senate Majority Leader Kimberly A. Lightford, Chair of the Special Committee on the Chicago Elected Representative School Board. "Our communities deserve a school board that reflects their shared values, and a learning experience that will help our children thrive."
 
School board districts must be consistent with the Illinois Voting Rights Act, which ensures districts are crafted in a way that preserves clusters of minority voters if they are of size or cohesion to exert collective electoral power.
 
Currently appointed by the mayor, the Chicago Board of Education is scheduled to become fully-elected over the course of a two-year hybrid period. Under existing law, ten members of the Chicago Board of Education will be elected by voters during the November 2024 election, and ten members and the board president will be appointed by the mayor. Elected members will serve four-year terms, while appointed members, including the appointed board president, will serve two-year terms. The board will become fully-elected after the November 2026 general election.
 
While questions have been raised about a number of these provisions, lawmakers are still studying these procedural election issues and the best ways to ensure the 2024 election provides equitable representation for all of Chicago's communities.  Additional public feedback and suggestions on these matters can be submitted via email at ChicagoERSBCommittee@senatedem.ilga.gov.
 
"We are dedicated to putting in place a community-led education system that better serves our families and students" said Sen. Robert Martwick, Vice-Chair of the Special Committee on the Chicago Elected Representative School Board and sponsor of the legislation creating an elected school board in Chicago. "That is achieved when we have local representation, promoting the best interests of the people they were elected to serve."
 
"When our schools succeed, our city succeeds," said Sen. Omar Aquino, Vice-Chair of the Special Committee on the Chicago Elected Representative School Board. "Working together, we are ushering in a brighter future for our children and our communities."
 
* Demographic breakdown…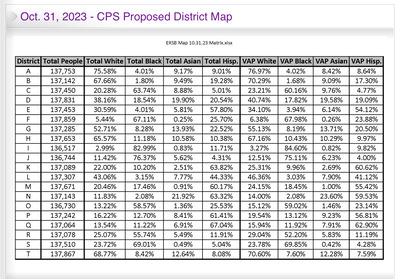 …Adding…Chalkbeat…
The new map has seven majority Black districts, six where Latinos make up 50% or more of the population, and five where the population is 50% or more white. Two districts — one representing Rogers Park on the North Side and the other representing Portage Park and Old Irving Park on the North West side — are plurality white, with Latinos making up the second-largest population. […]

Sen. Robert Martwick, a Democrat representing the North West side of Chicago and west suburbs, said that figuring out how to create 10 districts for the 2024 elections and 20 districts for the 2026 elections has been difficult for legislators. […]

State Rep. Ann Williams, who represents parts of the city's North Side and chairs a special task force of House Democrats working on drawing school board districts, said the transition from 10 districts to 20 is "still under discussion," but the goal is to vote on a map during next week's veto session.

"At some point we have to get a map so that people can start looking at the districts and prepare to run for office," Williams said.
26 Comments













































































Sorry, comments for this post are now closed.