…Adding… The governor's press release is here. It's worth a read.
* Subscribers know more. No direct money to Chicago. These graphics were given to reporters this morning…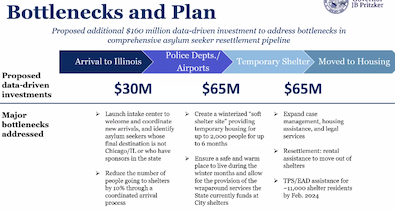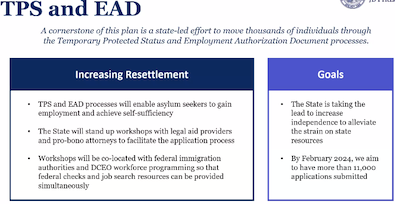 * Crain's…
Gov. J.B. Pritzker announced Thursday the state is providing an additional $160 million to help care for the thousands of migrants arriving in the state and awaiting shelter space in Chicago.

The $160 million will be provided in three buckets: $30 million to create a "large intake and welcome center" at an undisclosed location, $65 million to help Chicago establish a tent base camp to provide shelter for up to 2,000 people at a time and another $65 million to help coordinate the resettlement of migrants, including rental assistance. […]

State officials hope that devoting more resources to the point of entry for buses carrying migrants from border states will provide better coordination for where migrants are sent in Chicago and assist those who have a sponsor, are seeking to go elsewhere or who may have family they are seeking to connect with. […]

Pritzker previously said this fall the state was unlikely to continue providing assistance to Chicago, but state officials said Thursday the $160 million would be taken from the budget of the Illinois Department of Human Services for emergency response and did not require a vote by the General Assembly, which is not set to meet again until January.
* WBEZ…
State lawmakers didn't explicitly authorize this level of funding to handle the flood of new migrants, but Abudayyeh said the state has authority within the Illinois Department of Human Services budget to reallocate dollars.

If additional funding is needed, she said, that could be dealt with when the General Assembly is next scheduled to return to Springfield in mid-January.

Prior to today's $160 million commitment, the state has spent $478 million on the migrant crisis during the past fiscal year and the 2024 fiscal year, which ends next June, she said.
* WTTW…
The plan outlined by state officials calls for $65 million to be used to erect a temporary "soft-sided" shelter that could house some of the more than 2,400 migrants living in police stations across the city and at O'Hare International Airport waiting for a bed to open up in a city shelter, according to city data updated Wednesday morning.

No location has been identified for that shelter, which will house as many as 2,000 people, officials said. […]

Pritzker's announcement came just hours after Mayor Brandon Johnson announced migrants in city shelters will be limited to no more than 60 days in city shelters. In addition, Cook County Board President Toni Preckwinkle asked commissioners to earmark $100 million to help confront the crisis facing Chicago as part of Cook County's 2024 budget, which is set for approval Thursday.

That plan calls for $70 million to be used by the county's health system to care for the migrants, with $20 million set aside for suburbs to care for migrants. Oak Park launched an effort to do that in recent weeks, and officials hope more will follow suit. The remaining $10 million will be held in reserve, in an effort to allow county officials to respond to unanticipated disasters in 2024, officials said.
The governor is speaking now. We'll have updates soon.
…Adding… More…
Illinois lawmakers were recently in session for their veto session, and there was no talk or votes about this funding. The Pritzker administration says it's a humanitarian emergency; budget issues can be dealt with when lawmakers return in January, + IL is running a surplus. https://t.co/qmSUYn2o6N

— Amanda Vinicky (@AmandaVinicky) November 16, 2023
20 Comments



























































Sorry, comments for this post are now closed.