* A commenter asked a good question today…
So how does it work to find new housing [for migrants] after the 60 days in a shelter and 90 days in temp housing with rental assistance if they still can't get work permits? How are they going to pay rent without jobs?
The governor was asked pretty much that same question yesterday…
Well, the good news is that the federal government really has sped up that process. That used to be the case, what you were describing, where it was months and months of waiting for work authorization. They recognized, and I think you'll recall that the mayor and I, Senator Durbin and others had a press conference and we had been communicating for some months about the need to speed up that process. And then the federal government did step in and indeed expanded the ability for TPS folks who come here before July to be able to get work authorizations. Now they've sped up the process for approving those work authorizations. So we believe that by February all the applications will come in and during the time between now and February there will be many people who will already have received word that they are authorized to work.
Also, remember, the clock doesn't start ticking until they're moved out of staging areas, like police stations.
* More from the governor's press release…
A cornerstone of this plan is a State-led effort to move thousands of individuals through the federal Temporary Protect Status (TPS) and Employment Authorization Document (EAD) processes as quickly as possible. This will allow asylum seekers to gain employment and achieve self-sufficiency, thereby alleviating the strain on state resources. In the weeks and months ahead, the State will stand-up large-scale workshops with legal aid providers and pro-bono attorneys to facilitate the application process. Workshops will be co-located with United States Citizenship and Immigration Services (USCIS) and Illinois Department of Commerce and Economic Opportunity (DCEO) workforce programming to provide federal assistance and job search resources simultaneously. By February, the State aims to have submitted the applications of the roughly 11,000 TPS and/or EAD eligible asylum seekers residing in City of Chicago shelters, with thousands more to be completed in the months that follow.
* While we're on this topic, the ILGOP seems to both side with migrants and complain about them in the same press release…
Pritzker, Johnson Driving Migrants Away with Incompetence

CHICAGO — When Governor Pritzker promised to welcome the waves of migrants being bussed from border states to Chicago, he must have been thinking about running for President instead of how to house thousands of immigrants in Illinois.

The city and state's lack of a cohesive, functioning sanctuary plan has become so disastrous that many migrants on their own are packing up to leave. Whether it was the city's lack of jobs, resources, or just the idea of spending winter on Chicago's streets, many are deserting the state, some even going back to their home countries.

Many have risked their lives for the American Dream, and are now rethinking those decisions. That's how badly Governor Pritzker and Mayor Johnson have handled the migrant crisis.

"Gov. Pritzker appears to have put his ambitions for higher office ahead of the good of this state," ILGOP Chairman Don Tracy said. "Like Biden, Pritzker encouraged illegal immigration to score points with open border advocates. Now Illinois taxpayers will have to foot the bill to house, feed, and provide for migrants in a state that is already one of the most taxed in the nation. This state needs a leader, not a politician auditioning to replace Biden."
* This WBEZ story has been overlooked…
Today, more Palestinians live in Cook County than any other county in the nation, according to the U.S. Census Bureau. More than 18,000 Palestinians live in Cook County, and more than 23,000 live in the Chicago metropolitan area, which includes 14 counties in Illinois, Indiana and Wisconsin.

However, experts say the census significantly underestimates the size of the Palestinian population.

Overall, Arab Americans are undercounted in the once-in-a-decade census because there isn't a specific category for people of Middle Eastern or North African (MENA) descent among the choices available to indicate race or ethnicity, said Maya Berry, executive director of the nonprofit Arab American Institute. Illinois is the first state that will require state agencies, starting in 2025, to include a MENA category when collecting information about racial and ethnic identity.

Data on Palestinian ancestry is collected as a write-in response to some census questions, according to the U.S. Census Bureau. But some Palestinians skip the question, or write in something other than "Palestinian" such as "other" or "Arab American," Berry said.
* Some folks received this blast text yesterday…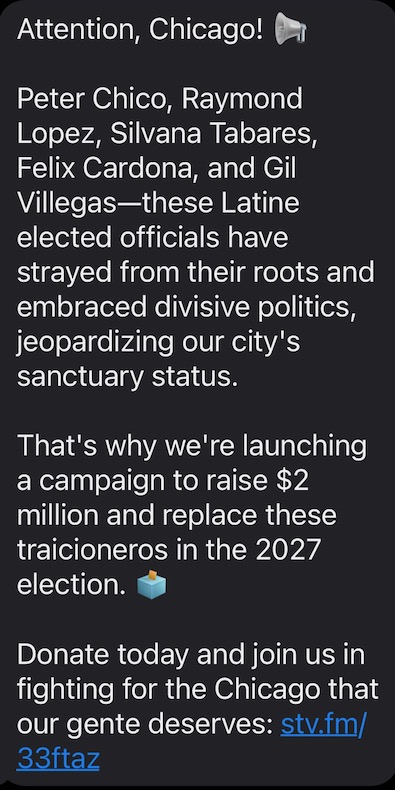 The link goes here. Mijente PAC is a c-4 operation that has spent hundreds of thousands of dollars on campaigns. But the aldermanic elections were last spring, so unless that group is getting involved in ward committeeperson races next year (of the five targets, Raymond Lopez, Silvana Tabares, Felix Cardona and Gil Villegas are committeepersons), I hope folks are thinking before they click that link.
…Adding… Press release…
Today, Governor JB Pritzker took the following bill action:

Bill Number: HB 0351
Description: Creates the Task Force to Review Eligibility to Hold Public Office and exempts notaries from logging notarial acts on specific documents filed by or on behalf of a candidate for public office.
Action: Signed
Effective: Immediately

Bill Number: HB 1358
Description: Sunset extension and effective date package.
Action: Signed
Effective: Immediately

Bill Number: HB 3641
Description: State government omnibus legislation. Provides numerous technical clean up remedies for State agencies and programs.
Action: Signed
Effective: Immediately

Bill Number: SB 0690
Description: Makes changes to the community mental health public questions process and amends the appointment process of a community mental health board in qualifying municipalities.
Action: Signed
Effective: Immediately

Bill Number: SB 0765
Description: Eliminates the Unlimited Catastrophic Aggregate Coverage provision of the Farm Mutual Act for 5 years.
Action: Signed
Effective: Immediately
* Isabel's roundup…
* Tribune | Mayor Brandon Johnson's administration issuing notices it will begin removing migrants from shelters in 60 days: In addition to the new shelter limits, the city will also begin cracking down on what Johnson described as "rogue buses" of migrants and beef up personnel at their initial landing spots to encourage them to go elsewhere, his office said. The exit notices will come in waves, the first one starting Friday for all shelter residents who have been there since last year.

* State Week | Illinois to spend more on helping asylum seekers: Illinois officials said nearly $500 million in state money has already been spent. The latest infusion, pulled from the state Department of Human Services budget, will assist in processing new arrivals, provide case management and develop a base tent camp as winter nears.

* Axios | One-third of U.S. newspapers as of 2005 will be gone by 2024: There are roughly 6,000 newspapers left in America, down from 8,891 in 2005, according to a new report from Northwestern's Medill School of Journalism, Media, Integrated Marketing Communications. "We're almost at a one-third loss now and we'll certainly hit that pace next year," said the report's co-authors — Penelope Muse Abernathy, a visiting professor at Medill, and Sarah Stonbely, director of Medill's State of Local News Project.

* Crain's | Illinois' once-thriving craft brewing scene faces a steep cliff: Craft breweries have not seen traffic return to their taprooms like they hoped. That's bad news for an industry that made 70% of its revenue from taprooms pre-pandemic. Illinois started 2022 with 302 craft breweries. Thirty-one have closed since, said Ray Stout, executive director of the Illinois Craft Brewers Guild. The most recently announced casualty, Metropolitan Brewing, will add to that number when it shutters its Avondale taproom next month.

* Sun-Times | CTA Yellow Line service still suspended after crash injured dozens on North Side: "We are working to restore service as soon as possible," read an alert posted on the CTA's website. "We apologize for the inconvenience and appreciate your understanding." The transit agency urged commuters to allow extra time for travel. Meanwhile, the NTSB has scheduled a media briefing for later Friday to address the many questions surrounding the wreck.

* Tribune | Chicago Police Board votes to fire officer allegedly involved in dragging woman from car at Northwest Side strip mall during 2020 unrest: The board found that CPD officer David Laskus violated several CPD rules — most notably using excessive force and lying to investigators — during and after the tense situation that unfolded on May 26, 2020 at the shopping center near Diversey and Narragansett.

* Crain's | Chicago's average weekly return-to-office numbers grow to 55%: The average percentage of Chicago workers who are back in the office has hit 55%. That's almost as high as Chicago's post-pandemic peak in July of 55.2%. The city's stats are ahead of the nationwide average by 4.5 percentage points. That's according to data from real estate technology firm Kastle Systems, which analyzes building security card swipes and compares current figures to early 2020.

* Daily Herald | McHenry County jail could take in detainees from Lake County under proposed deal: The proposed contract calls for McHenry County taking up to 150 inmates from the Lake County jail. During a recent McHenry County Board finance committee meeting, Sheriff Robb Tadelman said the average daily population at McHenry County Jail was 160 inmates. Sandra Salgado, the McHenry County sheriff's business manager, said the jail population has about 35 to 50 fewer inmates since the SAFE-T Act took effect in September, but the population slowly is increasing.

* Sun-Times | Cyberattack on Rivers Casino leaves data vulnerable for gamblers, workers: Rivers Casino in Des Plaines alerted customers Thursday to the data breach, which happened in mid-August but wasn't discovered until earlier this month. Dates of birth, driver's license numbers and even Social Security numbers "may have been accessed or removed" from the casino's network, among other vital information.

* Sun-Times | 'Your debt to society is not fully paid,' mother tells son's killer after his release on appeal: A Cook County state's attorney's spokeswoman said the decision to make a deal with Davila "was made with a deep sense of responsibility." She said it provides "a measure of justice to those affected, acknowledging the complexities and the passage of time in this case." Ricky Pike, 24, was killed early Aug. 3, 2012, shot because a passenger in his car was wearing a green-and-gold Oakland Athletics baseball cap, prosecutors said during Davila's 2018 trial.

* Crain's | Law firm adding office space, moving to Wacker Drive: Gordon Rees Scully Mansukhani has signed a 10-year deal for 29,839 square feet in the 51-story tower at 1 N. Wacker Drive, a spokesman for the law firm confirmed. GRSM will relocate to the building's 16th floor in August from its longtime office across the street at 1 N. Franklin St., where its lease for 24,182 square feet expires next summer.

* Daily Herald | Attracting, keeping employees a priority in Lake County's $640 million budget: Lake County's property tax levy will increase for the first time in five years to help fund a variety of programs and initiatives in a $640 million budget, including compensation to recruit and retain employees. The county board this week increased the tax levy by the maximum allowed 5%, though supporters said that won't result in a commensurate hike in property tax bills because new growth will account for about half the increase.

* KWQC | Hundreds set to lose their jobs in Bureau Co. after factory announces closure: The Monterey Mushrooms factory has been one of the largest employers in Bureau Co. for decades, and last week they informed workers they will be ending operations in January. Although the closure of the factory may cause a ripple effect through the entire Illinois Valley, there is one town in particular that will likely be hit the hardest.

* Tribune | It's time to pop a Midwest-made pét-nat as Illinois winery embraces ancient sparkling winemaking method: Illinois Sparkling Co. has been producing pét-nats since 2018, when they rolled out their extra-brut Pét Nat Rosé made from the Chambourcin grapes, a French American hybrid grape variety that has found a fit in the Midwest climate despite both temperature and precipitation extremes.

* WTTW | It's Fire Season — On Purpose — In the Region's Forest Preserves. Cook County Has a New Map of Prescribed Burn Sites: "Fire is an important tool in our restoration toolbox," said Erik Neidy, director of natural resources with the Forest Preserve District of DuPage County. Prescribed burns mimic the wildfires that native prairies and woodlands adapted to over millennia. They're used to control invasive species, return nutrients to the soil and promote the growth of native plants and grasses.

* Paul Sullivan | GM Chris Getz gets an early start on dismantling the 2023 Chicago White Sox. Who will be next?: The recent exodus by broadcaster Jason Benetti to the Detroit Tigers booth was just the latest blow, coming off a season so horrible Chairman Jerry Reinsdorf admitted he wouldn't watch the games on his DVR if the Sox lost. The team lost 101 games, so he missed some of Benetti's finest moments.

* Axios | Apple to pause advertising on X after Musk backs antisemitic post: The move follows Musk's endorsement of antisemitic conspiracy theories as well as Apple ads reportedly being placed alongside far-right content. Apple has been a major advertiser on the social media site and its pause follows a similar move by IBM.

* Patch | Pritzker Orders IL Flags Flown At Half-Staff For Fallen Firefighter: "Whereas, a valiant and passionate public servant, Firefighter/EMT Price's dedication to his community was unparalleled, having served with the Chicago Fire Department for more than 13 years," a proclamation regarding the flags reads. The flag order runs through sundown Monday, hours after a funeral service for Price is planned at the Navy Pier Grand Ballroom.
6 Comments

















Sorry, comments for this post are now closed.