* Yesterday, I poked my head into Secretary of State Jesse White's office and it looks like it will be getting a fresh coat of paint before Alexi Giannoulias moves in. White's staff is removing dozens of awards from the walls that White himself put up. Thanks to spokesperson Henry Haupt for these photos of some of Secretary White's walls before they took everything down…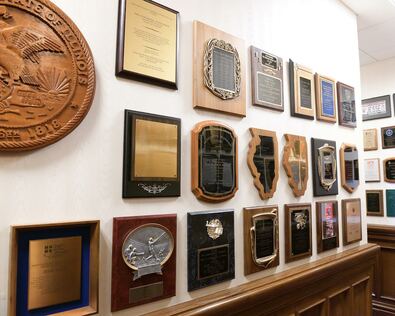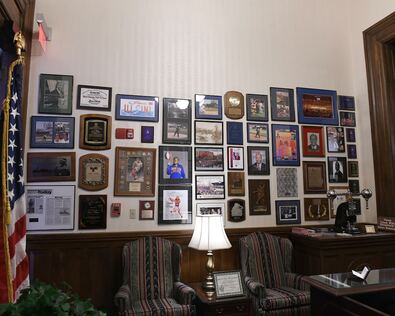 * More…
* Illinois Secretary of State Jesse White Spreads the Warmth With Coat and Sock Giveaway for Those in Need: On Saturday, Dec. 3, 2022, Illinois Secretary of State Jesse White will host his final public appearance with a coat and sock giveaway to those in need at the Jesse White Community Center at 11 a.m. Chicago-based entrepreneur Ann Jhin, CEO of Jinny Beauty Supply, the largest multicultural and ethnic beauty supply distributor in the world, graciously purchased and donated all 500 coats and 200 Bombas socks for this giveaway to the local community. Following the giveaway, there will be a performance by the internationally renowned Jesse White Tumblers, who have been helping impact the lives of thousands of young Illinoisans for more than 60 years.

* WGEM | Retiring Secretary of State Jesse White reflects on his legacy: "We have put in place a process by which individuals can come to the Secretary of State's office and be treated in a highly respectful manner and receive the documents that they're seeking in a timely manner," White said. White noted that a lot has changed in driver services facilities since he first took over the Secretary of State's office. People can now avoid long lines at the DMV by setting up appointments over the phone or online. White said he is glad that his offices have the policy to allow seniors, disabled people, pregnant people and military veterans to get to the front of the line for services.

* WLS | Alexi Giannoulias: "I am Thrilled for What We Are Going to do in the Secretary of State's Office": Alexi Giannoulias, IL Secretary of State Elect, joins the John Howell show. They discuss Giannoulias' win, the state of politics today, and plans for the Secretary of State office. Giannoulias also speaks on the launch of the Rev Up Illinois website, a place for IL residents to give their input as to what they want to see in our state.
18 Comments





















































Sorry, comments for this post are now closed.