* Tribune…
In a stunning decision, a Cook County judge on Thursday acquitted three Chicago police officers of all charges alleging they lied in police reports and conspired to cover up the controversial 2014 police shooting of 17-year-old Laquan McDonald.

The case has been seen as a referendum on a so-called code of silence within the Chicago Police Department designed to protect fellow officers from accountability for wrongdoing.

In her hourlong ruling, Associate Judge Domenica Stephenson blasted the evidence presented by prosecutors as weak, speculative and totally lacking proof of any crime.

Stephenson ripped several key prosecution witnesses — including Officer Dora Fontaine and witness Jose Torres — as unreliable and inconsistent in their testimony.

She said the now-infamous police dashboard camera video showed a completely different perspective than the officers at the scene and that comparing what could be seen on the video with statements and conclusions made in police reports would "disregard the totality of the evidence" in the case.
Um, OK.
* Sun-Times…
As she delivered her findings, it became more and more clear that Stephenson found nothing persuasive in the prosecution's case.

Stephenson called into question the credibility of a key prosecution witness, Officer Dora Fontaine, noting she "tried to minimize" McDonald's behavior before he was shot in 2014 but later admitted she told the FBI, the state's attorney and the inspector general that McDonald was moving closer to police, waving or "swaying" the knife, and making "attacking movements."

A critical dispute between the prosecution and defense was whether McDonald was a dangerous teen who presented a real threat to police or in the end, a victim.

Stephenson made it clear where she landed, saying it was "undisputed and undeniable" that McDonald was an armed offender who continued to walk toward more populous areas the night he was shot.
This case wasn't supposed to be about McDonald, it was supposed to be about why the cops' statements didn't match up to what the videos showed and what else they did afterward.
* I waited to post on this because I wanted to see what mayoral candidate Garry McCarthy had to say, since he was police superintendent at the time…
The judge in this case has spoken. I respect the system and the verdict. From the very beginning I thought this was going to be a very difficult case for prosecutors to prove conspiracy.
* Lori Lightfoot…
"This not guilty verdict is a disappointment and a tragic reminder of the need for accountability and change," said Lightfoot. "What those officers did was a disgrace. They should be ashamed of what they did to facilitate a false narrative about the murder of Laquan McDonald. But more than the actions of a few bad actors, their behavior is indicative of the continued need for substantial cultural change within the Chicago Police Department. This verdict does nothing to legitimize officers in the eyes of the public. As mayor, I will take on this challenge and work to build a Chicago Police Department that will be best in class in the nation.

"I call on Superintendent Johnson to move to terminate any of the three officers who remain on the job. The Police Board must move the pending disciplinary cases along as quickly as possible. I urge the U.S. Attorney's Office to review the case for possible criminal charges."
* Susana Mendoza…
"While today's verdicts are disappointing and heartbreaking, they're not surprising. This is something we've seen happen time and again throughout our country. It's another tragic reminder of the broken culture within the police department and the work we have to do to fix it," Susana Mendoza said. "To keep our neighborhoods safe, we must end the code of silence that for too long has allowed police officers to escape accountability, no matter the evidence at hand. To truly rebuild the trust between law enforcement and the communities they serve, we must make clear that nobody is above the law. While today's verdict is a major setback, I am committed to working with every community throughout Chicago to move our city forward from Laquan McDonald's senseless murder and build a true system of justice that works for all of our families."
* ACLU…
Today's acquittals are a painful reminder of the complete lack of structural accountability for police officers in Chicago. The judge's findings will allow these three officers to escape criminal consequences for their part in covering up the murder of Laquan McDonald. The court's decision does nothing to exonerate a police department so rotten that a teenager can be murdered—on video—by one of its officers and no one in the chain-in-command lifted a finger to do anything about it.

Until we change the structures that govern Chicago police officers, they will feel they have nothing to lose by lying and everything to lose if they tell the truth. The City of Chicago must follow through with the reforms laid out in the proposed consent decree to make real and lasting systemic changes and end the culture of cover-up within the Chicago Police Department. The ACLU of Illinois is committed to working with our clients and partners to ensure the 'code of silence' stops shielding officers from accountability.
* Toni Preckwinkle…
Today's verdict is a devastating step backward. Laquan's murder has become a part of the fabric of our city. The verdict today does not serve justice in wake of the senseless loss of a young life. We cannot improve the safety of our communities if our police force is not held accountable for its actions and the very real culture of the code of silence goes unpunished.

Laquan's death and the resulting trials have forever changed the city of Chicago. Today's verdict is a brutal reminder that considerable work remains in piecing together the shattered trust between the police and Chicago's Black and Brown communities. I remain committed to working with all stakeholders including the young community activists who continue to fight for justice.
…Adding… Mayor Emanuel and Superintendent Johnson…
"While the court process in this case is over, our work to ensure the systemic reform underway at the Chicago Police Department continues. CPD is on the road to reform with no off-ramps. Unlike past reforms, these will stand the test of time. We have entered into an enforceable consent decree with the Illinois Attorney General, equipped all patrol officers with body worn cameras, revised use of force policies, adopted the recommendations of the Community Policing Advisory Panel, and ensured every officer has the best training throughout their careers. We will continue to take concrete steps to restore trust with communities across Chicago, because trust is the best public safety tool we have."
…Adding… Bill Daley…
"We cannot allow this verdict to divide us. We must learn from this situation. It's time to work together to repair the relationship between the police and the community it serves. We can only do this as a united city."
- Posted by Rich Miller 46 Comments


* Press release…
As Gov. JB Pritzker takes the helm in Illinois, horsemen throughout the state, are urging his administration to include horse racing and its enormous contribution to the agribusiness industry when they explore new avenues to expand gaming.

"With more than $1 billion in contributions to the agribusiness economy of our state, horse racing must be included in any conversations about gaming," said Tony Somone, Executive Director of the Illinois Harness Horsemen's Association (IHHA). "Ours is the only segment of the gaming industry that has significant room to grow and provide real and sustainable jobs in agriculture."

Former Governor Jim Edgar who is a part of Governor Pritzker's transition team is aware of the economic impact that horse racing can have in Illinois having raced his own horses for many years. "Horse racing and the thousands of jobs it creates remains an important part of the agricultural economy of our state," former Governor Edgar said. "Ensuring its viability in the overall gaming environment is in the best interests of the state of Illinois."

Studies show that every race horse employs as many as ten workers across Illinois. From grooms and trainers to breeding farms, grain dealers, veterinarians, track officials and many more, horse racing is a solid job creator that has been badly neglected in Illinois in recent years.

"It is true that horse racing is struggling in Illinois because of casinos, but we know that with additional gaming assistance, other states have seen their horse racing industry rebound to previous heights of employment and business," said Marty Engel, President of the IHHA. "We earnestly hope that Gov. Pritzker sees fit to include horse racing in any gaming legislation that emerges in the months ahead. We are one segment of gaming that will more than pay its way through the creation of new and sustainable jobs throughout our economy."

In the last decade, legislation in Illinois has allowed the development of slot machines at taverns and the construction and opening of the 10th casino in Des Plaines. Illinois horsemen have survived despite all of those changes but not without losing thousands of good agribusiness jobs to places like Indiana, Ohio, Pennsylvania, and virtually every other horse racing state that has actively worked to grow the sport.

Engel added, "Make no mistake; horsemen will come back to Illinois to race if the prizes or purses are competitive with other states. And they will bring jobs with them. We have seen it happen throughout the country in states that have boosted their purses with money from slot machines. Those states now offer purses much larger than Illinois and their horse racing industries are booming as a result, adding tens of thousands of jobs."
Historically, the tracks can't agree with each other and the horsemen (they really need to think about changing that moniker, by the way) haven't found a way to agree with the tracks. I mean, why they weren't able to get video gaming terminals when everyone and his brother got one ten years ago still boggles my mind. Truck stops got them, but not the tracks? Ridic.
The last governor to pass a comprehensive gaming bill was George Ryan, who knocked some heads together when sweeteners weren't enough. I've written this so many times in the past that I could probably write it in my sleep, but everybody at the top has to be pulling together as one to complete a gaming deal. We haven't had a governor with the capacity to lead on something like this since Ryan left office. If you're anti-gaming, that's a good thing, I suppose. I prefer progress.
- Posted by Rich Miller 20 Comments


* WGN TV…
A Winter Storm Watch for heavy snow is in effect beginning Friday afternoon along and north of Interstate-80 and Friday evening south of Interstate-80, continuing Friday night into Saturday morning creating dangerous travel conditions across northeast Illinois and northwest Indiana. System snow will then diminish from the northwest during the day and evening Saturday. Snowfall of 4 to 8-inches is expected along with blowing and drifting due to strengthening northwest winds gusting to 25 mph Friday night and well over 30 mph Saturday.

As the low pressure moves off to the east, much colder air will flow into our area, riding the strong northeast winds, producing lake-effect snow showers that will likely add several inches of snow along and inland of the Illinois Lake Michigan Shoreline later Saturday/Saturday night, swinging into northwest Indiana Sunday as winds become more north-northwesterly.
* SJ-R…
Winter Storm Watch in effect from Friday, 6:00 PM CST until Saturday, 6:00 PM CST. Source: U.S. National Weather Service

…WINTER STORM WATCH IN EFFECT FROM FRIDAY EVENING THROUGH
SATURDAY AFTERNOON…

* WHAT…Heavy snow and blowing snow possible. Total snow
accumulations of 4 to 6 inches. Winds could gust as high as 35
mph.

* WHERE…Portions of central, east central and west central
Illinois.

* WHEN…From Friday evening through Saturday afternoon.

* ADDITIONAL DETAILS…Plan on slippery road conditions. Areas
of blowing snow could significantly reduce visibility.

PRECAUTIONARY/PREPAREDNESS ACTIONS…

A Winter Storm Watch means there is potential for significant
snow, sleet or ice accumulations that may impact travel. Continue
to monitor the latest forecasts.
* The Question: Your weekend plans?
- Posted by Rich Miller 49 Comments


* Maybe if Rep. McCombie had filed a bill like this last year, she could've had an impact before it passed by building a bipartisan coalition. But to file it hours after the horse ran through the open barn door is likely too late…
State Representative Tony McCombie (IL-71st) today filed House Bill 367, common sense legislation that will effectively target gun dealers who have proven to be the "bad actors" on the same day Governor Pritzker signed unnecessary legislation into law. Governor Pritzker signing SB337 into law threatens the livelihood of current law abiding gun dealers and does nothing to promote public safety in Illinois.

"We should be focusing our efforts on causes and laws that already exists. My legislation will effectively target gun-dealers who are making it easier for criminals to illegally acquire firearms. I am a protector of the 2nd Amendment and believe we must have rational approaches that will put our safety and the people of Illinois first," said Rep. McCombie. "Last week, Governor Pritzker extended his hand in a show of bipartisanship and I was cautiously optimistic. Legislatively, signing this bill is a bad beginning and will have unintended consequences. Burying the law abiding firearm dealers in paperwork, increasing their fees and taxes may put them out of business and could increase the illegal sales of weapons. This legislation does nothing to create a safer Illinois."

House Bill 367 states, if and only, Senate Bill 337 becomes law, the Firearm Dealer License Certification Act would apply only to Federal Firearm Licensees (FFLs) who have been found by the federal or state government to have three or more firearms used in the commission of criminal offenses sold or transferred by the licensee within 5 years prior to the application for certification.

This legislation would protect law abiding FFLs by concentrating efforts on stopping those that are not adhering to the current laws. According to the 2017 Gun Trace Report, there are two source dealers, Chuck's Gun Shop (Riverdale, IL) and Midwest Sporting Goods (Lyons, IL), who are the retail source of more than one in ten crime guns recovered in Chicago.
- Posted by Rich Miller 9 Comments


* From the BND this week…
"There's a lot of opportunity in . . . turning East St. Louis into a logistics and transportation hub, but we've got to make the right kind infrastructure investments to make that happen," Pritzker said.
* If he's talking about emulating Will County's Intermodal, maybe he should read this New Republic story first…
In a few short years after the Intermodal opened, Elwood became the largest inland port in North America. Billions of dollars in goods flowed through the area annually. The world's most profitable retailers flocked to this stretch of barren country, while the headline unemployment rate plunged. Wal-Mart set up three warehouses in Will County alone, including its two largest national facilities, both located in Elwood. Samsung, Target, Home Depot, IKEA, and others all moved in. Will County is now home to some 300 warehouses. A region once known for its soybeans and cornfields was boxed up with gray facilities, some as large as a million square feet, like some enormous, horizontal equivalent of a game of Tetris. […]

According to the Will County Center for Economic Development, at least 25,000 tractor trailers a day come through the Intermodals. That amounts to three million containers annually, carrying $65 billion worth of goods. A staggering $623 billion worth of freight traversed Will County infrastructure in 2015 alone, roughly equivalent to 3.5 percent of the U.S.'s total GDP.
Sounds great, right?
* Not so much…
But this corporate valhalla turned out to be hell for the community, which suffered a concentrated dose of the indignities and disappointments of late capitalism in the 21st century. Instead of abundant full-time work, a regime of partial, precarious employment set in. Temp agencies flourished, but no restaurants, hotels, or grocery stores ever came, save for the recent addition of a dollar store. Tens of thousands of semis rumbled through Will County every day, wreaking havoc on the infrastructure. And as the town of Elwood scrambled to pave its potholes, its inability to collect taxes from the facilities plunged it into more than $30 million in debt.
* The locals made some huge mistakes…
An opportunity as great as the Intermodal came with a cost. First, to help seal the deal, the town had to offer the developer, CenterPoint, a sweetener: total tax abatement for two decades, until 2022.
* The traffic is a nightmare…
The turmoil has only been exacerbated by changes in the trucking industry, which has pivoted to an owner-operator model, relying on independent contractors over full-time employees. Oftentimes, truckers are paid per load—$50 to $70 to pick up a container from the Intermodal and drop it off at a warehouse. For independent contractors, responsible for their own gas and operating costs, speed is tantamount to profitability. A traffic jam can turn the trip from profit to loss. So truckers often take shortcuts down small residential roads, unequipped for weight and traffic, to shave valuable minutes off their commute. Sometimes they'll get stuck in narrow intersections. "No Trucks" signs are ubiquitous, but they've been of little use as deterrents.
* And the jobs? Lots of temp workers…
The only thing more common in Will County than the "No Trucks" signs are the hiring notices from temp agencies. The county is home to 99 in all—one of the highest concentrations of staffing agencies in the country. They share lofty, aspirational monikers, like Paramount, Accurate, and Elite. Amazon has its own preferred staffing agency: Integrity. […]

While "temp-to-hire" may sound promising, the latter stage of that progression can prove elusive. A full 63 percent of the warehouse workforce in Will County is temp labor or provided by staffing agencies. At a recent hearing in Joliet to deliberate the establishment of two new companies, one group claimed that only 23 of their 147 workers had been placed in permanent full-time jobs. "And that's their own data!" said Roberto Clack, associate director of Warehouse Workers for Justice, a Chicagoland advocacy group. "I'm not sure we believe it's even that high."
* And future prospects for jobs? Not looking good for warehouses…
But when it comes to the long-term prospects for the region, optimism is scarce. Paul Buss's son, who works as a building inspector in Joliet, told his dad there's concern "these companies are gonna come in, they're gonna build these buildings, and they're gonna use them for however long they can get a tax break on them, and then they'll move someplace else." The threat of empty warehouses looms large.

So, too, does the threat of automation. In 2017, it was estimated that 20 percent of the work in any given Amazon warehouse is automated, a figure that is expected to rise. This fall, IKEA opened up a new warehouse, 1.5 million square feet in total. "Fully automated," John Greuling told me, it will have about 200 employees. Incredulous, I counted all the spots in the parking lot: 226.
It's not that Pritzker shouldn't try to do this, it's that he needs to make sure workers and communities are protected from the mayhem and refrain from being too generous with subsidies.
There's so much more to the TNR story so go read the whole thing.
- Posted by Rich Miller 28 Comments


* Press release…
Today, Governor JB Pritzker made the following personnel announcements in his administration:

Sol Flores will serve as Deputy Governor. Flores is the founding Executive Director of La Casa Norte, a non-profit organization established in 2002 that has served more than 30,000 youth and families confronting homelessness. Flores built La Casa Norte from two employees with a $200,000 annual budget to an 80-employee, multi-million-dollar organization that delivers inspiration, hope and critical services to the lives of homeless families, single parents, victims of domestic violence and abandoned youth. She has served on numerous working groups and commissions as a tireless advocate. Flores currently serves on the board of directors at the Latino Policy Forum, The Chicago Low Income Housing Trust Fund, Community Renewal Society, Hispanic Housing Development Corporation and Kuumba Lynx. Flores was raised by a single mother who came to Chicago from Puerto Rico and has been recognized as a national Champion of Change for her work by the Obama White House.

John Kim will serve as Director of the Illinois Environmental Protection Agency (IEPA).* Kim has served in many senior roles during his distinguished 25 years at the department under five governors of both parties. He currently serves as chief legal counsel, where he supervises a legal staff of approximately 40 employees. Kim previously served as director, interim director, ethics officer, deputy general counsel, assistant counsel/special assistant attorney general, and project manager for an IEPA-China pollution prevention project. Kim left the IEPA for just over a year to serve as acting general counsel of the Illinois Department of Agriculture in 2008 and 2009. Before joining IEPA, Kim was an Assistant Attorney General of Illinois and was the general counsel to the Midwest Environmental Enforcement Association. He received his Juris Doctor from Southern Illinois University Carbondale and his Bachelor of Science in industrial engineering from the University of Illinois at Urbana-Champaign.

Jim Bennett will serve as Director of the Illinois Department of Human Rights (IDHR).* Bennett served as the Midwest Regional Director at Lambda Legal, the nation's largest legal organization dedicated to securing the full civil rights of the LGBTQ community and people with HIV. During his 12-year career there, Bennett was a lead strategist in Lambda Legal's Illinois and Iowa marriage campaigns and successfully fought Indiana's RFRA and their discriminatory 'religious refusal' laws. In 2013, he chaired Illinois Unites for Marriage, the statewide coalition that led the successful effort to win marriage equality in Illinois. Prior, Bennett served as acting senior external affairs director at Howard Brown Health, marketing and development director at the Shriver Center, and several roles at the American Red Cross' national and central Illinois regional offices. He was inducted into the City of Chicago's Gay and Lesbian Hall of Fame in 2013 and was the recipient of Equality Illinois' Freedom award in 2018. He received his MBA from the University of Illinois at Springfield and his Bachelor of Science in marketing from Illinois State University.

Michael Kleinik will serve as Director of the Illinois Department of Labor (IDOL).* Kleinik currently serves as executive director of the Medical Cannabis Alliance Of Illinois. He previously served as the executive director of the Chicago Laborers' District Council's Labor-Management Cooperation Committee from 2008 to 2018. Prior, Kleinik served as IDOL's chief of staff and as manager of the department's Conciliation and Mediation Division. He also previously worked for the Midwest Region Laborers' District Council and was elected two terms as Fayette County Sheriff in 1990 and 1994. He began his career as a deputy sheriff in Bond County and then as a Vandalia police officer.

* Appointment pending confirmation by the Illinois Senate.

Previous appointments to the Pritzker administration include:

State agency directors:

John Sullivan, director of the Illinois Department of Agriculture (IDOA)
Janel L. Forde, director of the Illinois Department of Central Management Services (CMS)
Erin Guthrie, director of the Illinois Department of Commerce and Economic Opportunity (DCEO)
Alicia Tate-Nadeau, director of the homeland security and the Illinois Emergency Management Agency (IEMA)
Theresa Eagleson, director of the Illinois Department of Healthcare and Family Services (HFS)
Heidi Mueller, director of the Illinois Department of Juvenile Justice (IDJJ)
David Harris, director of the Illinois Department of Revenue (IDOR)
Alexis Sturm, director of the Governor's Office of Management and Budget (GOMB)
Matt Perez, Illinois Fire Marshal

Office of the Governor:

Anne Caprara, chief of staff
Dan Hynes, deputy governor
Christian Mitchell, deputy governor
Jesse Ruiz, deputy governor
Nikki Budzinski, senior adviser
Ann Spillane, general counsel
Emily Bittner, deputy chief of staff for communications
Jordan Abudayyeh, press secretary
Sean Rapelyea, deputy chief of staff for external affairs
Tiffany Newbern-Johnson, deputy chief of staff for legislative affairs
Thoughts on this round?
- Posted by Rich Miller 46 Comments


* Polling memo…
TO: Interested Parties
FROM: Global Strategy Group
DATE: January 16, 2019
RE: NEW POLL RESULTS: Susana Mendoza solidifies likely run-off win in race for Mayor of Chicago

Recent poll results clearly point to Susana Mendoza as a frontrunner in the crowded field for Mayor. Toni Preckwinkle has seen a significant dip in favorability and a clear drop in vote share, while Bill Daley has failed to move his vote share in both the multi-candidate and head-to-head ballots. Given Mendoza's name ID advantage, top vote-getting status in a multi-candidate race, and significant lead in run-off scenarios with either Preckwinkle or Daley, Mendoza continues to be well-positioned to become the next Mayor of Chicago.

Key findings from a recent citywide survey of 600 likely 2019 municipal voters conducted by Global Strategy Group are as follows.

KEY FINDINGS:

• Voters' opinions of Preckwinkle have taken a negative turn. Since December, Preckwinkle's net favorability has dropped 26 points. Once +16 (December 2018: 47% favorable/31% unfavorable, 78% familiar), she is now underwater at -10 (January 2019: 36% fav/46% unfav, 82% fam).

• Preckwinkle's support has dwindled along with her favorability. In December, Preckwinkle held the lead in the multi-candidate race with 19% of the vote, with Mendoza in second with 11%. But Preckwinkle has lost her edge and is now tied with Mendoza for the top spot at 11%. Daley remains in third place with 9%, seeing little change in his vote share since December (Dec. 2018: Daley 8%), despite a significant investment in advertising. The remaining eight candidates trail him.

• Mendoza surges past Preckwinkle in a head-to-head. In a run-off scenario, Mendoza leads Preckwinkle by 13 points (Jan. 2019: Mendoza 43%/Preckwinkle 30%), significantly increasing her slight December lead (Dec. 2018: Mendoza 39%/Preckwinkle 38%).

• Mendoza continues to top Daley. Daley's multi-candidate margin has yet to improve since December, and he has been unable to gain any ground against Mendoza in a head-to-head. Mendoza's December lead (Dec. 2018: Mendoza 46%/Daley 31%) is virtually unchanged (Jan 2018: Mendoza 45%/Daley 30%).
So, it's not that Mendoza has boosted her own first round numbers, it's that Preckwinkle appears to be dropping like a rock.
* Methodology…
Global Strategy Group conducted two citywide surveys between December 10th and December 13th, 2018 and between January 11th and January 15th, 2019 among 600 likely 2019 Chicago Municipal Election voters. Both surveys have a margin of error of +/-4.0%. Care has been taken to ensure the geographic and demographic divisions of the expected electorate are properly represented in both polls based on past voter turnout statistics.
54 percent of respondents were reached via their mobile phones.
The headline is a bit of a joke, but, to be clear, this is a well-respected firm. Global Strategy Group has been used by JB Pritzker, Planned Parenthood Illinois Action PAC, Nancy Rotering, Anita Alvarez, Pat Quinn and Rahm Emanuel, among others. Pritzker paid the firm a whopping $2.9 million since getting into the race, so they must have something going for them.
- Posted by Rich Miller 41 Comments


* Rep. Dave McSweeney (R-Barrington Hills)…
"You can't be for big government, big taxes, and big bureaucracy and still be for the little guy." -Ronald Reagan

The most recent election night was not kind to Republicans in Illinois. Former Governor Bruce Rauner, who didn't accomplish anything as Governor and presided over a massive tax hike and more out of control spending, was defeated in a landslide. The election was not a repudiation of Republican ideas – it was a repudiation of Raunerism.

The Democrats led by Governor Pritzker may be pushing Illinois to become the California of the Midwest, but we are still a long way from that. There is a path to victory for Republicans in Illinois.

The Republican Party will always lose statewide in Illinois if it doesn't give voters a clear choice on economic issues. The Republican Party must stand united for lower taxes, less spending and real reform.

Republicans have made significant gains in the rural parts of Illinois. Districts that were once Democrat strongholds are becoming Republican districts, but the gains in downstate are not enough to overcome big losses in the suburbs. If the Republican Party is going to turn its election fortunes around, the party must be able to win in both downstate Illinois and in the suburbs.

Republicans must first focus on advancing a positive agenda for Illinois. Only talking about House Speaker Michael Madigan is not a cohesive message. The best way to weaken Speaker Madigan is for Republicans to pick up legislative seats. Republicans must make the case that big government and high taxes are hurting, not helping, regular people.

We must show how these taxes are hurting real families and make an appeal to stop driving families out of Illinois by continuing to raise taxes. Republicans must go on the offensive.

The progressive income tax, the linchpin of the Pritzker plan, wouldn't hurt the wealthy a lot - they can easily move out of Illinois. It would harm the middle class. There is a reason we do not see a tax rate schedule from those supporting the progressive income tax. They do not want voters to see exactly who the progressive income tax will affect. Do you really trust Illinois career politicians to set your tax rates?

The Illinois Republican Party also needs to stand united for cutting property taxes. Specifically, the General Assembly should extend the statewide property tax cap (PTELL) to all units of government (including home rule units of government) and then mandate a 10 percent cut in property taxes levies over two years (5 percent per year). Property tax would then be permanently frozen unless local voters approve an increase.

Local governments would be forced to cut administrative expenses and make hard spending decisions just like Illinois families are required to do every day. Illinois has 7,000 units of local government. The key to long-term lower property taxes is to give voters the right to consolidate many local governments.

Republicans must oppose tax increases and offer solutions to reduce the cost of government. The most meaningful way to reduce spending is to enact meaningful pension reform. Arizona, like Illinois, has a Constitution that makes changing pension benefits very difficult. The best path for Illinois is to follow the Arizona model and, as part of an overall negotiation with unions on other issues, pass a constitutional amendment to limit annual benefit increases. Also, all new state workers should participate in a 401(k) plan.

Another important way to reduce Illinois spending is to do a much better job of managing the state's Medicaid program. In addition to eliminating Medicaid waste and fraud, Illinois should be actively pursuing multiple innovative waivers that would save money and make the program more efficient. We should also be aggressively fighting to increase the federal government's unfairly low 50 percent Medicaid matching percentage for Illinois. Many other states are receiving a far higher percentage of federal support.

In addition, Republicans need to present a positive agenda on health care. Republicans must strongly make the case for keeping coverage for pre-existing conditions at the state and national levels. Republicans must promote cost savings ideas such as allowing health care to be purchased on a national basis, providing vouchers for low income families to purchase health insurance and enacting meaningful medical malpractice reforms.

Finally, Illinois Republicans must recruit better candidates to run and that recruiting process must begin now – not later. Republicans must look for candidates who can connect with voters and offer fresh ideas. These candidates must be inclusive and must be diverse and most importantly must stand for something. Republicans Party leaders must also focus on better integrating the use of technology and vote by mail programs in their campaign strategies. Most importantly, Republican candidates need to work harder to keep up with their well-organized Democratic opponents.

Illinois Republicans must rally around lower taxes and meaningful reforms as the only way to save the middle class and stop the mass exodus from Illinois. As Ronald Reagan said, "Simple fairness dictates that government must not raise taxes on families struggling to pay their bills."

It is time for Republicans to rally around the message of standing up for the people of Illinois by supporting sound economic policies that can turn our state around. If we do that, we can win again.
Discuss.
- Posted by Rich Miller 73 Comments


* It's always interesting to watch administration's spin the monthly unemployment numbers. Gov. Rauner's administration did its best to point out how bad things were until it was time to run for reelection. Here's the first IDES press release from the new regime…
The Illinois Department of Employment Security (IDES) announced today that the unemployment rate rose to 4.3 percent in December and nonfarm payrolls increased by +13,600 jobs over-the-month, based on preliminary data provided by the U.S. Bureau of Labor Statistics (BLS) and released by IDES. The November jobs gain was revised upward from the preliminary report (from +5,900 jobs to +8,000 jobs).

Job growth was stronger during the October to December period posting an average monthly change of +9,500 jobs, an improvement over the prior month when the three-month average change was +5,500 jobs.

"It's clear there is room to both grow the Illinois economy and create opportunity for working families," said Deputy Governor Dan Hynes. "That's why Governor Pritzker has taken action in his first days in office to protect and raise the wages of Illinois workers and strengthen workforce development training in growing industries. The governor looks forward to continuing to work with stakeholders, business leaders, and workers to create jobs statewide and ensure all of our communities can thrive."

In December, the three industry sectors with the largest over-the-month gains in employment were: Government (+6,300), Leisure and Hospitality (+4,600) and Trade, Transportation and Utilities (+2,800). The industry sectors with payroll declines were: Information (-1,000) Financial Activities (-700) and Construction (-600).

Over-the-year, nonfarm payroll employment increased by +71,000 jobs with the largest gains in these industry sectors in December: Government (+24,700); Education and Health Services (+11,200) and Leisure and Hospitality (+10,200). The industry sectors with over-the-year declines were: Information (-3,900) and Other Services (-300). Illinois nonfarm payrolls were up +1.2 percent over-the-year as compared to the nation's +1.8 percent over-the-year gain in December.

The state's unemployment rate is +0.4 percentage points higher than the national unemployment rate reported for December 2018, which rose to 3.9 percent. The Illinois unemployment rate is down -0.6 percentage points from a year ago when it was 4.9 percent.

The number of unemployed workers increased +1.3 percent from the prior month to 277,500 but down -12.2 percent over the same month for the prior year. The labor force was about unchanged over-the-month and over-the-year. The unemployment rate identifies those individuals who are out of work and are seeking employment.
Looks like Deputy Governor Hynes is overseeing IDES, too.
* Also…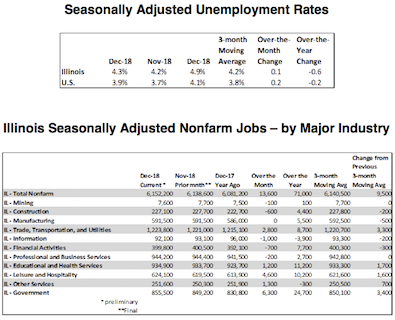 Your thoughts on this?
- Posted by Rich Miller 5 Comments


* Forbes…
According to Truth in Accounting, Chicago has debts of $42 billion. That includes pension, bonds, and other liabilities. Of this total, $28 billion is the net unfunded pension liability discounted back at the expected investment return rate, and $800 million, unfunded retiree healthcare. That means that roughly 70% of the city's liabilities are in the form of pension underfunding.

Detroit, at the time of its bankruptcy, had debts of over $18 billion, which included a much smaller fraction of pension liabilities - $6.9 billion - but a much larger liability for retiree healthcare, $5.7 - $6.4 billion (the data source, the Huffington Post, doesn't explain why they provide a range rather than a single point liability). That works out to a proportion of 50% of the city's total debt.

Put another way, Chicago has a population of 2.7 million. Detroit's population as of the time of its bankruptcy was 700,000. If Detroit's debt were prorated to reflect Chicago's population, it would have been $72.5 billion, or 75% higher than Chicago's present debt. If Detroit's pension liabilities alone were prorated to reflect Chicago's population, they'd have been $35.5 billion, or 25% higher than Chicago's present debt.
Not to mention that Chicago is a much wealthier city than Detroit was when it declared bankruptcy. And its residential property taxes are currently pretty low compared with the rest of the state.
- Posted by Rich Miller 41 Comments


* From August of 2017, shortly after the end of the two-year Illinois government impasse…
Polly Poskin, executive director of Illinois Coalition Against Sexual Assault (ICASA), said she's "cautiously optimistic" about receiving funding for the next fiscal year.

"Having experienced this, one would always then have that memory — that anything can go wrong, will go wrong," Poskin said. "I'm confident that our elected officials never want to put our state through that again. I'm going to operate on the premise that lessons were learned and difficult decisions had to be made."

Currently, 29 rape crisis centers fall under ICASA's support. Agencies, including ICASA, were forced to take out credit or use their reserves to keep the bare minimum of services available, she said.

Since ICASA owns its building, they used it for credit in fiscal year 2016 and borrowed nearly $1.5 million to distribute to the centers since most don't own property, she said. That came with an interest of $700,000.
* Today…
Illinois' crisis centers for sexual violence survivors are starting to feel the effects of the partial government shutdown—now in its fourth week. Funding for services will soon stop coming in.

The Justice Department has given organizations until January 18, when it will stop processing funding requests. […]

Carrie Ward, executive director of the Illinois Coalition Against Sexual Assault — a network of 30 rape crisis centers across the state — said the group hopes to minimize the impact. The centers mobilized to get their refund requests processed by the deadline. Now, Ward said, all they can do is wait for a resolution to the shutdown and try to keep the centers open.

"But there's only so much money available, and because these dollars are so specifically for counselors and advocates, my greatest concern would be that eventually there would have to be fewer counselors and advocates that are providing the services," she said.

Ward said federal money makes up about 60 percent of the organization's overall funding, which also includes some state dollars. She said victims should know services are still available 24/7 and efforts will focus on keeping centers open.
Ugh. Just… ugh.
- Posted by Rich Miller 20 Comments


* This is happening as I'm putting together this post…
Gov. J.B. Pritzker plans to sign a bill Thursday that would give the state more oversight over Illinois gun dealers, after Democrats kept the paperwork off former Republican Gov. Bruce Rauner's desk in order to avoid a veto during his administration's final days.

The proposal would require firearm stores to get state licenses, a move that supporters contend could reduce gun violence because federal regulators are stretched too thin to adequately handle all the shops operating in Illinois.

Pritzker is set to sign it into law at a Chicago elementary school Thursday morning. Lawmakers approved it last year in the wake of the killing of Chicago police Cmdr. Paul Bauer and the high school shooting in Parkland, Fla.

"This is a common-sense piece of legislation, so when I introduced it a decade and a half ago, I thought we would be celebrating this day much sooner," Democratic state Sen. Don Harmon of Oak Park, the proposal's sponsor, said. "But important causes are worth fighting for, and I am proud to stand with the countless advocates and supporters who have stuck with us for all these years."
* Illinois State Rifle Association…
The state licenses for gun dealers measure was passed in the previous General Assembly but was never sent to Governor Rauner because 2nd Amendment rights opponents knew he would veto it. Political gamesmanship like this is just a typical day in Illinois politics. The Illinois State Rifle Association is deeply disappointed in the action taken today, but is certainly not surprised.

The federal government already licenses gun dealers. There is no need to add yet another layer of bureaucracy on gun dealers. The only thing this measure is going to do is make it cost more money for gun dealers to do business in Illinois, which is going to hurt the smaller dealers.

The action taken today is another assault on our 2nd Amendment rights. Nothing in this bill is going to enhance public safety in Illinois. The only thing that is being accomplished here is the creation of a bureaucratic nightmare for gun dealers. Rest assured, we will be challenging this new law in court.
* GPAC sent this out in advance…
Today Governor JB Pritzker signed SB 337, the Combating Illegal Gun Trafficking Act, as one of his first official acts in office. With that signature, families of victims killed by illegally obtained guns can find peace of mind knowing that lives will be saved by SB 337 becoming the law of the land in Illinois.

The bill gives state authorities and law enforcement the tools to require better business practices among federally licensed gun dealers and hold corrupt dealers accountable in the state to keep guns away from criminals. The signing comes after Governor Rauner recently vetoed a similar bill even after lawmakers and the overwhelming majority of residents across the state called for him to approve it.

"We are thrilled that Governor Pritzker fulfilled his promise to protect children and families in Illinois from gun violence by signing SB 337 into law," said Kathleen Sances, President and CEO of the Illinois Gun Violence Prevention PAC (G-PAC). "Members of the Illinois Gun Violence Prevention Coalition, especially the parents who have found the strength to turn their unimaginable grief into action, worked tirelessly to fight for its passage. We are grateful to our legislators, notably our bill sponsors Sen. Don Harmon and State Representative Kathleen Willis, who came together in support of this effort. Our streets, communities and families will be safer now that SB 377 is now the law of the land."

In 2015, as a result of the increasing number of people being killed by gun violence, G-PAC and Giffords joined forces with a broad, statewide, bi-partisan coalition of organizations, advocates and elected officials around a common goal: to help rid Illinois of hundreds of illegal guns that each year end up on our streets and in the hands of those looking to do harm.

G-PAC and the Coalition were responsible for the Our One Job campaign: a historic strategic and targeted social media campaign developed to educate the public about gun violence in Illinois. The campaign reached 4.1 million people and engaged over 62,000 individuals. It was responsible for tens of thousands of contacts — phone calls, emails, petition signatures, social media shares and in-person visits to lawmakers. It was the first time that gun violence prevention contacts outnumbered contacts from gun lobby groups into lawmaker offices.

From 2013 to 2016, 40 percent of guns used in crimes in Chicago came from negligent gun dealers within Illinois, according to the 2017 Gun Trace Report. The new measure will require the Illinois State Police to certify dealers and enacts provisions to better record and track private sales. Several key provisions are:

· Requiring criminal background checks for gun dealer employees
· Training and education for gun dealer employees so our criminal background check system can work better
· Giving Law enforcement the authority to inspect inventories, ensuring gun dealers are held accountable for missing firearms
· Increasing security and public safety by requiring video surveillance for brick and mortar, gun dealer locations
This post will be updated.
…Adding… Governor's office…
Surrounded by gun violence survivors, prevention advocates, community leaders and elected officials who have worked for years to require licenses for gun dealers, today Governor JB Pritzker signed SB 337 to combat the scourge of illegal gun trafficking, finally making Illinois the 16th state to require gun dealers to be certified by the state after more than a decade of work.

"Gun violence isn't an issue facing one city, or one region, or one group of people — it affects us all, and I want to thank all those tireless advocates who didn't rest until our state took commonsense action to prevent gun trafficking," said Governor JB Pritzker. "This bipartisan law is a long-overdue step to do more to prevent gun violence, to make sure guns don't fall into the wrong hands, to make sure that we license gun shops just like restaurant and other businesses, and deter straw purchases, so that we can prevent someone from buying a gun for someone who is not legally allowed to own a gun."

The gun violence prevention measure is the second bill Gov. Pritzker signed into law since taking office Monday. SB 337 creates two acts that allow the state to regulate gun dealers and gather information on private sales and illegal gun transfers.

The Firearm Dealer License Certification Act requires any gun dealer in the State of Illinois be certified by the Illinois State Police (ISP). State-licensed dealers are required to provide annual training to employees, have video surveillance in gun stores, and be open for inspection by ISP and local law enforcement.

The Gun Trafficking Information Act requires ISP to publish key information related to crime-related firearms and imposes penalties on individuals who fail to maintain a record of a private sale.

With the federal government failing to effectively regulate gun dealers, state licensing will hold gun dealers responsible while the state takes action to reduce the tragic gun violence that affects so many communities.

"Thank you, Governor Pritzker, for taking action to stop the gun violence," said Delphine Cherry, a mother of two victims of gun violence. "27 years ago today, I lost my daughter Tyesa to gun violence committed by a 14-year-old who had an illegal gun. Twenty years later, my son Tyler was murdered three days before Christmas. Since I lost Tyesa and Tyler to gun violence, I have made it my mission to make sure no other parent has to join the worst club that I belong to: the club of parents who have lost their children to gun violence. This bill will make sure gun dealers are held accountable and stop them from illegally selling guns like the one used to kill my daughter."

"It only took Governor Pritzker four days - not four years - to realize that if the state can license a barber shop or a liquor store, we can license gun dealers," said Chicago Mayor Rahm Emanuel. "I commend Governor Pritzker for prioritizing this important public safety measure that will reduce the number of illegal guns on our streets and allow the Chicago police to further crack down crime."

"Gun violence is a complex problem, and no one law will solve it," said Sen. Don Harmon (D-39th), who sponsored the measure in the Illinois Senate. "But we know that other states that have enacted similar laws to this one have seen a reduction in guns used in crimes. I am grateful to Gov. Pritzker for signing this legislation into law."

"This bipartisan law will not harm any gun dealer that operates in good faith, but it does ensure accountability for dealers that fail to make efforts to keep guns from falling into the hands of criminals," said Rep. Kathleen Willis (D-77th), who sponsored the measure in the Illinois House. "I would like to thank my colleagues on both sides of the aisle and Governor Pritzker for their support on this important measure."

"As one of his first official acts to sign the gun dealer licensing bill, this speaks volumes about the Governor's commitment and passion to help Chicago reduce gun violence," said Chicago Police Department Superintendent Eddie Johnson. "The tools provided in this legislation to state and local police will significantly help our ability to regulate gun dealers and monitor and interdict the illegal flow of guns into cities like Chicago."

"Gun violence is prevalent in too many neighborhoods and communities throughout the state, my own included. We must take a comprehensive approach to addressing the level of violence in Illinois, and that includes stopping the flow of guns trafficked into Illinois," said Attorney General Kwame Raoul. "I would like to thank Governor Pritzker for making commonsense licensing one of the first new laws he enacts as governor."

"In 2018, the most prosecuted offense by the Cook County State's Attorney's Office was the unlawful use of a weapon," said Cook County State's Attorney Kim Foxx. "It is past time that we do more to keep illegal firearms off of our streets and today's signing of SB 337 is a step in the right direction. I look forward to a continued partnership with the Illinois General Assembly and Governor Pritzker on sensible legislation to make Cook County safer."

"It's time to consider our moral obligation to our communities," said Broadview Mayor Katrina Thompson. "Our highest priority must be keeping our children free of gun violence. Senate Bill 337 puts that extra layer of protection in place to keep us all safe."
* Senate sponsor…
Sixteen years after State Senator Don Harmon (D-Oak Park) first introduced similar legislation, Gov. JB Pritzker today signed his measure requiring gun dealers to be certified by the state.

"When I first introduced a version of this bill in 2003, I thought we would be having this celebration a little sooner," Harmon said. "This bill will help, but there's more work to be done. I ask all of our dedicated supporters to remain in this fight."

The Combating Illegal Gun Trafficking Act contains provisions to better record and track private gun sales. It treats all firearm licensees the same, regardless of their size. It requires the Illinois State Police, rather than the state agency that regulates professions and occupations, to certify gun dealers.
Additional provisions in the bipartisan proposal include:

· requiring gun dealers to safely store firearms at all times,

· requiring gun dealers to make copies of FOID cards or IDs and attach them to documentation detailing each gun sale,

· requiring employees to undergo annual training about the law and responsible business practices, and

· requiring gun dealers to open their place of business for inspection by state and local police.

Harmon's district includes portions of the West Side of Chicago, an area that has been plagued with gun violence for years. As of Dec. 23, the Chicago Police Department reported 555 homicides in Chicago in 2018.

"Gun violence is a complex problem, and no one law will solve it," Harmon said. "But we know that other states that have enacted similar laws to this one have seen a reduction in guns used in crimes. I am grateful to Gov. Pritzker for signing this legislation into law."
* The Illinois chapter of Moms Demand Action for Gun Sense in America…
"This is an important step forward for Illinois," said Lauren Quinn, volunteer chapter leader with the Illinois chapter of Moms Demand Action for Gun Sense in America. "These are smart, focused measures to prevent gun trafficking - and do so while respecting the rights of responsible gun owners and sellers. I'm deeply grateful to everyone who worked to make this possible, particularly Sen. Harmon, Rep. Willis, Gov. Pritzker and the Illinois Gun Violence Prevention Coalition."
- Posted by Rich Miller 97 Comments


* Wirepoints…
So much for "embracing hard choices," as Gov. J.B. Pritzker promised he'd do in his inaugural speech.

His first act as governor granted pay raises to thousands of state AFSCME workers, which will cost the state as much as $200 million a year. And when Pritzker relents on the back-pay Rauner blocked, that will create another $400 to $500 million in costs.

It was an easy choice for Pritzker to reward the government unions who backed him during his campaign – all at the expense of taxpayers.
Yeah, he didn't do it because of two appellate court rulings or an ILRB order. Or because he campaigned on his support for collective bargaining rights. He did it because unions endorsed his campaign, which he self-funded.
Also, the union claims the annual costs are essentially covered because longer-term unionized employees who retire or leave their jobs are paid more than the people hired to replace them - and this state hasn't done a lot of hiring over the years except to fill vacancies.
It would've helped, however, if Pritzker had tried to explain the costs this week. That's part of the job. Do better.
* The decisions by Rauner to stop the increases and by Pritzker to get out of the way have human consequences. From "HangingOn" (who's been commenting here since 2015) this past Tuesday after Pritzker announced he was lifting Rauner's illegal blockade of the step increases…
I am about in tears. Would be nice to know when the step raises will happen, but knowing they will is a relief. As it is I have been worrying that next week I can either pay for my child's 8th grade graduation gown or her school lunches but not both. And being she's special needs the graduation is a big deal to us. Maybe with the raise coming the school will wait for the lunch money.
Several readers reached out to me asking if they could help.
* She turns out to be a Downstate office associate earning a modest salary. Her name is on the GoFundMe page that I encouraged her to create…
I am a State Employee and the mother of an incredible teenager with Special Needs. For the last 3 years I have not gotten my contracted raises due to actions by the previous governor. The new governor is supposedly going to follow the courts decision and pay the raises, but I don't know how long that will take. I am owed around $7200 in back pay, am behind on my daughter's lunch account, and I can't afford the tassel and shirt she wants for her 8th grade graduation.

Luckily the school found a gown that fits her from last year so she will at least have that, but she has had so much trouble getting this far in school. She survived brain cancer (ependymoma) at age 3 but was left with issues due to the surgeries and radiation to remove it. Thanks to her Special Needs teachers she has made a lot of progress, but after another student tried to stab her with a pencil last year she refused to go to school, and the school and I had to teach her school was a safe place so she would attend again. She fights anxiety every day but has been going and getting A's. It's a miracle that they say she will graduate 8th grade this year after all that.

Since I am behind on her lunch account she can't have breakfast at school and she gets nauseous if she eats before the car ride so she has been missing out in the mornings, plus she can't participate in some activities at school until it is paid up. Also, since I'm not the best cook in the world (I can make scrambled eggs and SOS pretty well, but most else is iffy lol) the hot lunches at school give her some variety and fill her up better than a sandwich from home.

It would be amazing if I could at least reach the low goal I have set and get her caught up and get her the graduation items she wants. It would make our lives a lot brighter and easier to have 1 less thing to worry about. Any extra will go toward future school things and catching up in general. And maybe a sketch pad. She is phenomenal at art! :)
Her goal is only $100. I will match that $100 when the goal is met. Click here.
- Posted by Rich Miller 68 Comments


* You think Illinois is broke now? Check out this historical tidbit from Amanda Vinicky's latest story…
But there was a time – just before the [Illinois] constitution was adopted [in 1970], in fact – that Illinois had no income tax at all.

"We have no money," John McCarter, who ran the newly formed budget bureau Ogilvie created, remembers the state's comptroller telling him at the time. So little, there wasn't enough to cut employee paychecks.
Whew.
* Ogilvie was the father of Illinois' modern state government. It started when he pushed through a state income tax to pay for it…
The Illinois Environmental Protection Agency was born under Ogilvie, and the state's prison and juvenile justice systems were modernized.

High-ranking members of the Ogilvie administration, including McCarter (Ogilvie's budget director), Paula Wolff (policy work, which was, at the time, rare for a woman) and Peter Bensinger (the first director of the department of corrections created under Ogilvie), say lessons from the past can serve to inform Illinois' politicians today.

"He was interested in doing the right thing, putting the right policy in place and those policies have been sustained over time," Wolff said. "The important thing in thinking about the continuum of governors is that governors who stand up for the policy things they care about, who are willing to do what they think is right, are the governors who have made the lasting contribution in Illinois."
And then Ogilvie paid for all that by losing his next election to Dan Walker, who bashed Ogilvie but then spent every dollar from the new income tax that he possibly could.
* Coincidentally, Amanda found this poster while cleaning out her Statehouse office…
Illinois pols will spend a lot of time debating the income tax in the months and years ahead. Fifty years ago when Gov. Ogilvie was inaugurated (no Maroon5) IL had NO income tax.
Are there lessons for @GovPritzker from his audacious move to institute one?https://t.co/YVDs1KTKUk pic.twitter.com/rYwFhQCZcA

— Amanda Vinicky (@AmandaVinicky) January 17, 2019
- Posted by Rich Miller 43 Comments


* Illinois State Police…
On January 12, 2019, at approximately 4:45 p.m., Trooper Christopher Lambert was on the scene of a three-vehicle traffic crash in the left lane on Interstate 294 near Willow Road. While handling that crash, another vehicle in traffic failed to stop and struck Trooper Lambert while he was outside of his patrol car. Trooper Lambert sustained serious injuries and was transported to Glenbrook Hospital. At approximately 7:24 p.m., Trooper Lambert succumbed to his injuries.

Trooper Christopher Lambert grew up in Dayton, Ohio, where he attended Allen Elementary and Middletown Madison High School. He loved baseball and was an avid Chicago Blackhawks fan. Trooper Lambert began his career with the ISP in 2013 as a member of Cadet Class 123. Upon his graduation from the ISP Academy, he was assigned to District 15 in Downers Grove. At the time of his passing, he was assigned to the District 15 Criminal Patrol Team. Throughout his career with the ISP, Trooper Lambert was recognized for his hard work, criminal interdiction efforts, and for being a rising leader amongst his peers. Trooper Lambert served honorably in the United States Army for eight years.

Trooper Christopher Lambert is survived by his wife, one-year-old daughter, and parents. The ISP would like to thank the public for their support and condolences during this difficult time.
* From the governor…
Flags will fly at half staff in honor of Trooper Christopher Lambert, who lost his life in service of protecting the people of Illinois. I spoke with his wife on Sunday to express my deepest sympathy for her family and sincerest gratitude for his service.

— Governor JB Pritzker (@GovPritzker) January 15, 2019
* Visitation is today…
Thousands are expected to attend memorial events for Illinois State Trooper Christopher Lambert, which begin Thursday afternoon with a visitation at Willow Creek Community Church. […]

His family released a statement Wednesday saying Lambert "left this world in the way in which he lived: putting the well-being and happiness of those around him before his own."

"The family of Trooper Christopher Lambert mourns the loss of our son, husband, father and friend. We would like to thank the law enforcement community and the thousands of others who have expressed their love and concern," the statement said. "We will always remember his devotion to his wife and daughter, his dedication to his career and community, and the love and laughter that he shared with us."
- Posted by Rich Miller 10 Comments