* Click here for the A-1 showing the contribution from the state's richest person.
That contribution puts Harold at just over $2.2 million raised in October, compared to Kwame Raoul's $1.4 million.
Griffin also gave Harold $200K back in September. Today's is his largest contribution of the year by a half million bucks. Griffin contributed $1 million to House GOP Leader Jim Durkin's committee earlier this month. He gave Senate Republican Leader Bill Brady $500K the day before.
And click here for the Jennifer Pritzker contribution. Pritzker is a longtime Republican and a retired US Army lieutenant colonel. Nice get, though.
* Also today: Ford helps Dodge.
- Posted by Rich Miller 14 Comments


* More from the Belleville News-Democrat…
Despite being down in the polls, including a poll showing Pritzker leading 49 percent to 27 percent, Rauner remained confident, at least publicly.

"Those polls are absolutely wrong. Those are by registered voters. Democrats outnumber Republicans by a lot," Rauner said. "When you look at who's actually going to vote, we're very close."
Um, the last Reuters/Ipsos poll was of 968 likely voters. It had Pritzker ahead by 20 points.
The Simon Poll surveyed 715 likely voters and it had Pritzker ahead by 22 points.
- Posted by Rich Miller 55 Comments


* Belleville News-Democrat…
Rauner and Durkin kept the attack on Democrat J.B. Pritzker, bringing up his property tax issues in Chicago where Pritzker is now paying back $330,000 in property tax benefits he received after a mansion he owned had its toilets removed and was deemed uninhabitable. The inspector general called the removal of the toilets a "scheme to defraud taxpayers."

"That's stealing money from all of the people of Illinois, all of you. When his property taxes go down, Chicago schools have to get their money so the rest of us chip in through our income taxes to make up the difference. That's fraud, that's stealing."
Um, what?
The schools do have to "get their money," but that means the tax burden is shifted to other property taxpayers, not statewide income taxpayers.
He has to know this, right?
Sounds to me like classic Rauner. It's a twofer. He blasts Pritzker for "stealing" and makes Downstate folks think they're paying Chicago's freight.
- Posted by Rich Miller 23 Comments


* Let's circle back to the Tribune's endorsement of Gov. Bruce Rauner…
Then ask whether a second-term Rauner would do exactly what he has tried to do in his first term: deprive those Democratic leaders of their wretched excesses in spending and taxing.

That answer to that is yes, as the Democrats know.

They loathe Rauner. He often stalemates them. Armed only with a veto pen and a bully pulpit, he blocks their exclusive dominion over lawmaking.

Which is precisely why we endorse Bruce Rauner, and urge you to re-elect him governor of Illinois.
* That message is about the same as this week's Tribune op-ed by the Illinois Policy Institute's John Tillman…
Yet, if Gov. Bruce Rauner wins re-election, it's likely Illinois will have another four years of political rancor and disagreement over the state budget. That's mostly because the governor was unwilling to back down when sent a deficit-spending budget forced through the General Assembly at the last minute.

Rauner's most important policy position is a demonstrated commitment to blocking tax hikes and restraining spending rather than increasing it faster than taxpayer incomes.
* The Daily Herald editorial board is about as rib-rocked Republican as you can get, but they've had enough…
But the reality is, under Rauner, not only has progress not been made, but problems have gotten worse.

It's not the desire or the will Rauner lacks, but the skill and the understanding of how to make government work.

A year ago, the conservative National Review put him on its cover with the headline, "The Worst Republican Governor in America." Unfortunately, Rauner has shown no indication that he has learned from his first dismal term.

We can't afford another four years of confrontation and stalemate.
* The National Review story referenced above was published in December of 2017 and it had Tillman's fingerprints on it…
On June 20, the governor announced that he'd accept an increase to the state income tax, raising it from 3.75 percent to 4.95 percent. Madigan pounced. Democrats drew up a budget that raised taxes in precisely this way, offered none of Rauner's proposed reforms, and passed it with the votes of impatient Republicans. Rauner vetoed the bill, but a bipartisan supermajority overrode him. Conservatives were flabbergasted. "The 'Turnaround Agenda' went from 44 reforms to none," says John Tillman, the CEO of the Illinois Policy Institute. "Rauner once talked about reducing the income tax to 3 percent. Instead, he opened the door to the biggest income-tax hike in state history."
I guess Rauner wasn't so bad after all?
…Adding… From February…
Assuming that's because Diana won't allow him to donate to us. Regardless, we wouldn't accept his donation. Our members believe in balanced budgets, responsible gov't and reducing taxes on Illinois' middle class – all of which @GovRauner has failed to achieve since taking office

— John Tillman (@JohnMTillman) February 8, 2018
He should be more concerned with his 26% approval rating. Illinoisans are clearly troubled by what they've seen from his failed administration.

— John Tillman (@JohnMTillman) February 8, 2018
- Posted by Rich Miller 17 Comments


* More than a grain of truth here…
The average human being is exposed to 4000+ ads a day and JB Pritzker appears in all of them

— Rif (@Riffs33) October 16, 2018
* The Question: What's your favorite political ad of the season so far?
- Posted by Rich Miller 41 Comments


* From the Sun-Times endorsement of Comptroller Susana Mendoza…
State agencies, Mendoza discovered, were allowed to sit on bills for a year or longer before turning them over to the comptroller. That was something nobody would tolerate with mortgage or credit card payments, she reasoned, and it wasn't doing the state of Illinois any good, either.

To fix the problem, Mendoza spearheaded passage of the Debt Transparency Act, gathering support for the bill from both Democrats and Republicans. Then, after Gov. Bruce Rauner vetoed the bill, she went around the state to champion the bill with newspaper editorial boards.

The final result: The General Assembly overrode Rauner's veto, and now the comptroller's office receives monthly reports on all bills. There is a more full and honest accounting.
The other result is that after Rauner's foolish veto, Mendoza had a built-in excuse to visit editorial boards across the state to ask them to help override him. They were impressed and they sided with her against Rauner. It was an important moment because lots of editorial boards were soft on Rauner until then.
* Her effort has paid off well so far. Chicago Tribune…
With the state's budget impasse in full swing, Mendoza grabbed her bullhorn and launched an impassioned effort to reset the bill-paying priorities for a state in crisis. In a flash, she became one of the governor's most vocal critics. We like her gusto.

We asked Mendoza about rumors of a potential Chicago mayoral run. She demurred, but she also wouldn't pledge to stay in her state job for a full four years if she wins. Even if the comptroller job proves a steppingstone for Mendoza, though, she has plunged into the state's finances with impressive fervor. She pushed Rauner to borrow $6 billion to start paying down the state's massive backlog of unpaid bills. She advocated for the Debt Transparency Act, which requires state agencies to file monthly reports on unpaid bills, and successfully lobbied lawmakers to override Rauner's veto of the bill. She also fought for passage of two other laws aimed at improving the bill-paying process — one authorizing the treasurer to use special funds to accelerate vendor payments (and avoid late fees) and one that requires increased disclosure from certain financial institutions working with the state. These three new laws are helping Illinois rebuild its standing with creditors, even as credit agencies such as Moody's note that it will take far more than this legislation to correct the state's financial mess.
* Quincy Herald Whig…
In no small part, Mendoza's success was due to the six terms she spent representing the 1st District in the House. That gave her the working knowledge of the legislative process necessary to pass this bill and more.

Earlier this year, she also helped shepherd the Truth in Hiring Act through the legislature, again with overwhelming support. This measure ends the gubernatorial practice of paying salaries for that office from the budgets of other agencies, a practice that had gone on for far too long. Facing overwhelming support for the bill, Rauner wisely signed it in July. […]

We heartily endorse her re-election.
* State Journal-Register…
Mendoza's first two years in office saw the implementation of long-overdue reforms that keep Illinoisans better informed, and came after a tumultuous time in which she was the third comptroller in two years. Stability also would be a good thing for the state. Imagine how much more transparent government could be if Mendoza has another four years in office to continue to advocate for the everyday people she represents. Mendoza is endorsed.
* All mentioned the possibility that she could run for mayor after winning statewide. Champaign News-Gazette…
Unfortunately, there's no guarantee that, if elected, Mendoza will stick around. She's pointedly refused to rule out a run next year for mayor of Chicago. Indeed, she is actively considering it, even though it's, at best, a long shot.

That kind of me-first approach to public office is a little hard to swallow. Nonetheless, Mendoza has been an effective comptroller who has earned a second term in office.
- Posted by Rich Miller 20 Comments


* Press release…
Stand for Children Illinois, a non-partisan, equity-focused education advocacy non-profit, announced the release of its report, "STOP ILLINOIS BRAIN DRAIN: Building Pathways to Prosperity for High School Students." The report proposes state- and district-level policy changes and practices that will quickly have a positive impact in helping high schools graduate more students who are ready for college, career training, or careers.

"An alarming number of high school graduates are leaving the Prairie State. Only New Jersey has worse brain drain," said Mimi Rodman, Executive Director of Stand for Children Illinois. "Our high school graduates are voting with their feet and going to out-of-state colleges, which is another example of the toll that the state budget crises took on education. Strengthening our high schools is critical for those who go onto college, and those who choose career training or join the workforce after high school. A critical component to setting Illinois high schoolers up for success is breaking down the silos between Illinois high schools on the one hand, and colleges, career centers, and workplace experiences, on the other."

The facts are stark.

* More than one-third of Illinois high schools do not offer Calculus, a course that students considering careers in engineering and other advanced STEM fields should be able to access.
* Statewide, Illinois has a counselor-to-student ratio of 1:664 — a far cry from the recommended ratio of one counselor for every 250 students.
* Manufacturing, energy, and health sciences represent about half of the jobs in Illinois, yet only 12% of career and technical education students enroll in classes in these sectors.

"From the moment students start high school, school should be setting them up well for their next phase of life, not just for their next class. Students should be immersed in career possibilities and supported to understand how to achieve their career goals," said Rodman.

The report points to a number of structural improvements in place in the state that can be leveraged to reduce brain drain. These include increasing college and career counseling support, better aligning career education enrollment with labor market trends, creating statewide dual credit opportunities, and funding innovative competency-based learning programs. The state must ensure that high school students in every corner of the state have access to enriching pathways that lead to prosperity. The implications are enduring and state-wide.

The recommendations in Stand's report fall into four categories:

* Open More Doors to Individualized Coursework
* Provide Practical Workplace Experiences
* Modernize the Approach for Supporting Students
* Adequately Fund Education and Spend Wisely

Collectively, these recommendations present Illinois with an achievable, impactful pathway for policymakers and advocates to make prosperity a reality for Illinois high school students.

The report caps off a year of study and discussions with leaders in the field by Stand's 2017-18 Class of Illinois Policy Fellows.
The full report is here.
- Posted by Rich Miller 18 Comments


* ISRA Executive Director Richard Pearson told WJPF this morning that his group will be endorsing Gov. Bruce Rauner today. Rauner has a southern Illinois press conference this morning. I'll update when I receive a press release.
"We think he is by far the best candidate for governor, particularly for gun owners," Pearson told host Tom Miller.
With this nod, Rauner continues running a Republican primary campaign in October. Sam McCann's candidacy must have him spooked but good. Either that or he's trying to ease his drag on Downstate Republican candidates.
- Posted by Rich Miller 15 Comments


* DCCC…
In yet another clear sign of Democratic momentum, FEC filing reports show that all four Illinois Democratic congressional challengers in DCCC-targeted districts raised significantly more money than their incumbent opponents in the third financial quarter. These Democrats head into the final stretch with the necessary resources to deliver their message. In all but one district, Democratic challengers out-raised their Republican opponents by a 2-1 margin, and the only exception, Sean Casten, still out-raised incumbent Rep. Peter Roskam by more than $1 million.

"Democratic candidates across Illinois are benefitting from widespread grassroots support and a wave of high energy and voter enthusiasm. They have eliminated the cash advantages incumbents usually have and will head into the final stretch with the resources to deliver their powerful messages and respond to the nasty, misleading attacks from their Republican opponents and the special interest groups that support them," said DCCC spokesperson Sean Savett.

IL-06:

Sean Casten raised just shy of $2.7 million, nearly double Peter Roskam's $1.4 million haul. Meanwhile, Casten has widened his lead in recent polling to 5 points, the Cook Political Report moved IL-06 to its "Lean Democrat" column, and rumors abound that national Republicans are considering cutting Roskam off.

IL-12:

Brendan Kelly raised more than $1.1 million, twice as much as Mike Bost, who raised only $552k. Kelly's Q3 total is the most amount of money EVER raised by a candidate for Congress in IL-12, and he has now outraised the incumbent Bost in all five quarters he has been in the race. Kelly is also safely within the margin of error in polling, trailing Bost by 1 point in three straight polls.

IL-13:

Betsy Dirksen Londrigan raised nearly $1.7 million in Q3 from over 10,000 individual contributions. That's roughly $1 million more than Rodney Davis, who raised only $700k, and has now had his cash on hand advantage virtually erased. Recent polling shows Londrigan trails by just 1 point, making it one of the closest races in the country.

IL-14:

Lauren Underwood raised more than $2 million, more than 4 times Randy Hultgren's total of $455k. This is the third consecutive filing period Underwood has out-raised her Republican incumbent opponent, and she now has an approximately $600k cash on hand advantage heading into the final stretch.
- Posted by Rich Miller 32 Comments


* Press release…
Grammy Award-winner and Chicago activist Chance the Rapper today endorsed Amara Enyia for Mayor of Chicago and announced plans to co-campaign with a new vision to empower all Chicagoans — from Rogers Park to Austin to Hegewisch — and lead with progressive values. During the City Hall event Enyia and Chance announced plans to:

Push for a more equitable public school funding formula that doesn't punish low-population schools and reimagines a school system with more equitable programming, capital investments, and the restoration of arts, libraries and social / emotional learning initiatives.

Create bold economic reform that shores up city finances, creates a public bank as a vital part of our economy, invests in small business through cooperative ownership and explores community land trusts that promote local ownership and expands affordable housing.

Build on Enyia's history in workforce development to expand high-value sectors of the economy such as advanced manufacturing, information technology, healthcare and other STEM fields with a focus on the South and West Side. (Enyia has been working on programs of this nature through Blue 1647 for several years.)

"Amara and I share values and a vision for Chicago that includes equitable education for our kids, reforming our criminal justice system, and bringing new kinds of economic opportunities to our communities without causing displacement. I am proud to stand with her as we work toward bringing new leadership to City Hall.''

Chance donated $1 million dollars to Chicago Public Schools in 2016 and recently donated another million to local mental health services. He started the non-profit Socialworks helping elementary school students learn through music, has worked to reduce gun violence, and has been a tireless advocate of reform in his hometown.

"Chicago is in serious need of reform, but this election is about more than just Chicago. It holds national significance and we can lead the nation in new visions that work for the people,'' Enyia said. "This belief and this movement represent the future of Chicago and we are both dedicated to building the Chicago we deserve.''

Enyia and Chance will host a forum, "Creating the Growth Economy of the 21st Century'' with economic development experts, labor groups — including former Treasure Island employees — on Oct. 22.

Enyia, a resident of Garfield Park, runs her own public policy business consulting governmental bodies around the world, serves as the executive director of the Austin Chamber of Commerce, has worked as a Chicago City Hall policy analyst, and founded the Institute for Cooperative Economics. She holds a master's degree in education, a law degree, and a Ph.D in education policy.
…Adding… From Toni Preckwinkle…
When I decided to run for Mayor, one of my first calls was to Ken Bennett. Having known him since my days in City Council, I've seen first-hand his commitment to our city, his dedication to those he believes can make a difference and his drive to build the coalitions that turn ideas into reality.

I'm honored to have Ken as an advisor and chair of my campaign. Ken has served in the Harold Washington administration, helped elect Barack Obama as Senator and President, and served in the Obama White House. I'm grateful to be among those whom have benefitted from Ken's incomparable experience and unfailing commitment.

Ken is a dedicated and loving husband and father who has clearly passed on his love for his city and his value in public service and advocacy. I respect his son's commitment to our city, his eagerness to engage in the issues impacting our communities and his willingness to use his platform to express his opinion.
…Adding… Chance's father Ken Bennett…
I'm immensely proud of my son Chance, not only for pursuing his success with a clear, individual point of view but for continuing to use his success to advocate for his City. We may have different views on this race, but we share an unshakable love for each other and this city.
I continue to support Toni Preckwinkle for Mayor of the City of Chicago. I first met her when she was representing the South Side in the City Council. I saw in her a humble, fearless, no-nonsense approach to service and leadership. I knew then that she would one day be our answer for reform. Reform that would challenge and change a system of government and politics that has perpetuated inequities throughout its history. I'm honored to serve as an advisor and chair of her campaign. There is no one else who has the experience, expertise and work ethic to bring real reform to our City.

I have had amazing opportunities to work with historic leaders, such as Harold Washington and Barack Obama, who have had vision, determination, drive and compassion. They have not only impacted me, but my family.
* Meanwhile, from Chicago City Treasurer Kurt Summers…
Serving as Treasurer of the City of Chicago over the last four years has been one of the great honors of my life. This experience has given me an opportunity to truly lead with the values that I hold dear - integrity, transparency, and a strong belief in equity for all Chicagoans. We've strengthened the financial position of our city, while still leading the charge on investing with impact, holding institutions accountable and creating opportunities for every neighborhood.

We are at a critical time in our city and in need of better leadership and a new direction from our future mayor, elected officials, and other leaders in our community. For the last several weeks, I've contemplated how I can best continue to serve the people of Chicago. I've connected with folks from across the 77 neighborhoods of our city and heard directly your views on what Chicago needs. I've spent time with family, friends, and supporters to determine how I could best contribute to shaping the future of Our Chicago.

After careful consideration with my family and loved ones, I have decided not to seek re-election as City Treasurer or to run for Mayor. I've had so many great examples of service in my life, starting with my grandfather. Over time I've learned from him and others that there are many ways to serve your community and often the greatest contributions come from those not holding public office. I believe the best opportunity for me to serve in this next chapter will be outside of elected office; however, my focus on serving Chicago and addressing issues of economic disinvestment and lack of capital access will continue to be at the forefront of my work. As I continue to serve as your City Treasurer over these next seven months, I look forward to driving more value and more investment for all Chicagoans and doing my part to shape the future of our city for the years to come.
- Posted by Rich Miller 21 Comments


* OK, let's try this again. I mistakenly published this post yesterday before the embargo was lifted. Sorry about that.
Anyway, the Illinois Policy Institute has come up with its own "guesstimate" of JB Pritzker's revenue needs based on what he's said and what's on his website…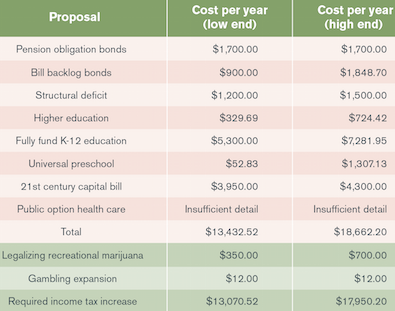 I think they're way too high.
Pritzker has backed off his pension bonding plan. He did kinda push the plan forward again during a recent debate, but he's not settling on it as of yet. You can go either way here.
The low-end bill backlog bonding guesstimate was mine. The high end is theirs. I doubt we'll need to bond that much.
The structural deficit is $1.2 billion. But it might go as high as $1.5 billion. So, OK, I suppose.
The $5.3 billion for K-12 is mine, but those numbers were admittedly based on somewhat old data. I don't know what theirs is based on.
* Where we really differ is their cost estimate for a capital bill. They have the range of infrastructure needs correct. But they assume the state will pay 100 percent of the costs. Practically speaking, there's just no way in heck that the state will do this if it has to shoulder the entire burden, or even anywhere near it. So, that guesstimate alone is about, hmmm, say $3 to 3.5 billion a year too high.
- Posted by Rich Miller 33 Comments


* The danger of just looking at quarterly reports is that money is still coming in. So, while this chart makes it look like Erika Harold is running on fumes, she's raised almost $2.5 million $542,000 this month, while Kwame Raoul has raised about $4.2 million $1.4 million [Ugh! I entered the wrong dates in the search]. From Reform for Illinois…

* More…
During the third fundraising quarter, Raoul gathered more than $2.8 million, much of which has come from unions, including the Illinois Federation of Teachers and the LiUNA Chicago Laborers' District Council PAC, and other Democratic lawmakers. One of Raoul's largest individual donors is Michael Sacks, CEO of global investment firm GCM Grosvenor and a former Emanuel donor. He made a $150,000 donation last month and has supplied Raoul with a total of $250,000 since June. But Raoul's biggest financial supporter is Pritzker, who made two $500,000 transfers to Raoul's campaign during the fundraising quarter. In total, Raoul has received nearly $1.9 million from Pritzker, which is 20 percent of the $7.5 million he has raised this election cycle.

Raoul's campaign spent more than $2.8 million during the third fundraising quarter. Approximately 87 percent of his expenditures, $2.5 million, went to advertising paid to Adelstein & Associates' Chicago office. He had $653,311 on hand on September 30.

Harold, a Champaign County-based attorney, raised about $1.9 million between July and September. Some of her largest donations include $200,000 from Ken Griffin; $100,000 from Patrick Ryan, CEO of insurance solutions provider Ryan Specialty Group; and $50,000 from Todd Ricketts, co-owner of the Chicago Cubs. Harold's largest donor during the fundraising quarter, however, was Rauner, who made a $1 million contribution in August. In total, Rauner has supplied Harold with $1.8 million since March, which is 52 percent of the nearly $3.5 million she has raised this election cycle.

Harold spent $1.95 million between July and September, with $1.8 million, 94 percent of her campaign expenditures, going to advertising. She had $174,593 on hand on September 30.
- Posted by Rich Miller 6 Comments


* Quarterly summary from Reform for Illinois…

* More…
Pritzker's campaign spent $24.9 million in advertising between July and September, $17.7 million of which was paid to Shorr Johnson Magnus Strategic Media, a Philadelphia-based political and strategic consulting firm. Over the course of his campaign, Pritzker has paid the company nearly $56 million. Meanwhile, Rauner spent $16.7 million on advertising, including $2.6 million on online advertising. […]

Pritzker's campaign fund grew by more than $42 million from July through September, mainly from two $20 million donations from his own bank account. Meanwhile, Rauner collected slightly less than $2.2 million during the same period. The Republican incumbent has largely relied on $50 million from his personal fortune, contributed in late 2016, and a $20 million donation in May 2017 from Ken Griffin, CEO and founder of hedge fund firm Citadel and reportedly the richest man in Illinois.

One trademark of the current gubernatorial election (the most expensive in Illinois history) is the role the candidates are playing in party building. This quarter alone, Pritzker poured $9.4 million into other Democratic party and candidate committees at the state and local levels. Some of his largest transfers were $2 million to the Democratic Majority, $1 million to the Illinois Democratic Party of Illinois, $1 million to the Senate Democratic Victory Fund, and $1 million to the Illinois Democratic Heartland Committee. Pritzker also transferred $1 million to State Sen. Kwame Raoul, the Democratic candidate for attorney general.

Similarly, Rauner filled the coffers of state Republican groups, transferring a total of $7.3 million to other committees. His transfers included $6 million to the Republican House Organization, which then transferred $1.75 million to the Illinois Republican Party during the last fundraising quarter. The governor also gave $1 million to Erika Harold, the GOP candidate for attorney general.
* Sun-Times…
Pritzker spent $47.41 million, including $3.183 million to OTG Strategies for "strategic field consulting." He paid a whopping $17.265 million to Shorr, Johnson, Magnus Strategic Media for television ads, in addition to money spent on production of those ads. He also spent $6.8 million on media ads to Pier 91 Media, a Washington, D.C., based firm. […]

The Republican governor's campaign spent $26.7 million, with television ads and other advertising topping that list. He spent $11.59 million on media buys with Target Enterprises LLC. He also spent $2.3 million to Advictory LLC for online advertising.

At the end of the quarter, Rauner still had $7.19 million in cash in his campaign fund.
- Posted by Rich Miller 16 Comments


* Click that link and tell us what you find…
Today, Governor Rauner is releasing his 2017 tax information. Click here and see below for details. The governor is releasing his tax information this year as he has the past three years in office.

After JB Pritzker did not pay state income taxes in 2014 and used a "scheme to defraud" Illinois taxpayers, the Rauner campaign is now calling on Pritzker to release his tax information.

Below are details on Governor Rauner's taxes:

Total Income on Federal Return: $52,983,842
Adjusted Gross Income on Federal Return: $52,681,342
Taxable Income on Federal Return: $40,872,748
Federal Income Taxes Paid: $13,946,017
Federal Effective Tax Rate on Adjusted Gross Income: 26.5%
Federal Effective Tax Rate on Taxable Income: 34.1%
Illinois Taxable Income on State Return: $54,162,372
Illinois Income Taxes Paid: $2,154,870
*** UPDATE *** Well, that was quick. From the Pritzker campaign…
Reporters – please see attached for JB Pritzker's 2017 tax returns where he paid federal taxes at a rate of 36.2%.
…Adding… Tina's headline is priceless…
J.B. Pritzker and Bruce Rauner still rich, tax returns show https://t.co/RJUAdP3UtG via @suntimes

— Tina Sfondeles (@TinaSfon) October 16, 2018
- Posted by Rich Miller 43 Comments