* Background is here. As noted at that link, the governor's campaign eventually said Rauner "believes that David Duke is a racist," but Duke either didn't get the memo or ignored it…
Former KKK Grand Wizard David Duke is thanking Bruce Rauner for not calling him a racist. Duke posted audio and the following image on his website:

Around the 19-minute mark, Duke says: "I think that's what happened to the Governor of Illinois. Probably at some point, he's heard about David Duke a million times, he's in politics, he goes to DavidDuke.com, he's read some of the things I say, and deep down in his soul, deep down something's happened inside of him, and he knows that I'm not really a racist."

"While Bruce Rauner doesn't have too many people in his corner as of late, he just picked up a new supporter: Former KKK Grand Wizard David Duke," said Pritzker campaign communications director Galia Slayen. "With one of the most avowed white supremacists by his side, perhaps Rauner would like to try out a different talking point on whether or not Duke is a racist."
* I was actually listening to the Duke broadcast when the press release came through (a GOP buddy of mine sent me a link). Duke also said this…
But it's very interesting that the governor wouldn't do it. And I think in the course of discussions, in the course of a conversation, sometimes the truth is kinda blurted out, or the truth is stated sometimes in absentia because he wouldn't call Trump a racist and he wouldn't call me a racist specifically. The quotation is pretty amazing about what happened here. So he had a black guy interviewing him and a white guy interviewing him and said, 'well is Trump or not racist? You won't call Trump a racist? Will you call David Duke a racist?' And he didn't answer it. He answered in general terms: 'Well, we have racism in this country.'
Governor, the next time Charles Thomas pitches you a softball, please, just swing at it.
…Adding… I stopped listening after just a few minutes, but someone else I know kept at it. Duke did address the campaign statement about him being a racist…
And of course the governor, after this happened, of course all of his probably Jewish advisors, they said quote 'The governor believes that David Duke is a racist.' He just didn't say so in the interview because it wasn't scripted then.
Ugh.
*** UPDATE *** Rauner campaign spokesman Will Allison…
Governor Rauner believes that David Duke is a racist and it's shameful that Duke is blatantly making things up for his website. JB Pritzker should be ashamed that he is providing David Duke a platform by promoting his lies.
- Posted by Rich Miller 36 Comments


* Press release…
Gov. Bruce Rauner is building on his efforts to improve outcomes for individuals who are incarcerated in Illinois.

He toured Logan Correctional Center, the female inmate facility in Lincoln, just before signing House Bill 1479 and solidifying the creation of a new women's division within the Illinois Department of Corrections (IDOC).

House Bill 1479 comes on the heels of passage of House Bill 3904, the Women's Correctional Services Act. These historic pieces of legislation require the IDOC to appoint a chief administrator for the women's division, incorporate gender-responsive programming, and address the specific challenges that female offenders face.

"Men and women respond to incarceration differently. It's time we adjust our strategies and find solutions that set women up for success when they leave prison," Rauner said. "Many of these women are mothers. If we don't take steps to help put them on a better path, we will see their sons and daughters cycle through the prison system. We can't have that."

The department jump-started its efforts to restructure its operations for female offenders in 2015, after the Commission on Criminal Justice and Sentencing Reform suggested it implement gender-responsive and trauma-informed treatment programs.

Now, incarcerated women are participating in courses tailored to help them overcome any physical, sexual or emotional abuse they may have experienced and get on a path to healing.

These pieces of legislation ensure IDOC staff is trained to work collaboratively with women to address their unique needs and improve safety and wellness throughout all women's correctional facilities.

"We recognize that making real change also means investing in our staff, giving them tools that help keep them safe on the job," said IDOC Director John Baldwin. "We're teaching them how to use their authority effectively, how to understand the needs of female offenders, and how to help the women restructure their thinking about challenging situations. Our staff had never received these types of training before 2015."

"As chief sponsor of this national model legislation, I was proud to work with the Illinois Department of Corrections and The Women's Justice Initiative on such an unprecedented effort to improve safety and outcomes for justice-involved women in prisons and our communities," said state Rep. Julianna Stratton, D-Chicago. "I commend my colleagues and the administration for coming together in such a bipartisan manner on behalf of this long overlooked population, which disproportionately impacts communities of color, and hope they will continue to be supportive throughout the implementation process."

"Incarcerated women face a unique set of challenges, including higher rates of mental illness, histories of abuse, generational poverty and discrimination," said state Sen. Toi Hutchinson, D-Chicago Heights, who was the chief sponsor of the bill in the Senate. "Putting an increased focus on these challenges eliminates antiquated policy that for too long has failed to ensure women receive the rehabilitation needed to become successful members of our society."

"The creation of a women's division within the Department of Corrections is a major step forward for our state," said Rep. Tim Butler, R-Springfield. "This division will focus resources to address the specific needs of women who are incarcerated and will make Illinois a leader on trauma-informed services specific to the female population in our correctional system. I applaud my colleagues who championed this legislation and Gov. Rauner for his commitment to reforming our criminal justice system."

Criminal Justice Reform has been a staple of the Rauner administration. Rauner has worked with the General Assembly to remove barriers that prevented people convicted of crimes from receiving their professional licenses in healthcare industries and cosmetology. And, men and women who leave prison now have access to their birth certificates and state identification, making it easier to secure housing, find employment and open a bank account.

Within weeks of taking office, Rauner announced his goal of reducing the prison population by 25 percent by the year 2025. When Rauner was inaugurated in January 2015, the IDOC population stood at 48,214. As of mid-January of this year, the number is 41,050, a 14.8 percent drop.
* Related…
* Rauner tours Lincoln prison, touts reforms helping female inmates

* Rauner signs law creating IDOC women's division at Logan prison
- Posted by Rich Miller 8 Comments


* Tribune…
A judge has ordered Illinois officials to add intractable pain as a qualifying condition for medical marijuana, a ruling that could greatly expand access to the drug.

The Illinois Department of Public Health had rejected intractable pain — defined as pain that's resistant to treatment — but Cook County Judge Raymond Mitchell ordered the agency to add the condition.

A health department spokeswoman said Tuesday the agency will appeal the ruling. The change is expected to be put on hold while the appeal is pursued. […]

Mednick had previously petitioned the state to put intractable pain on the marijuana treatment access list, and the now-defunct Illinois Medical Cannabis Advisory Board agreed it should be on the list, voting 10-0 to recommend adding the condition.

But the health department's director, Dr. Nirav Shah, denied the recommendation in January 2016, citing a "lack of high-quality data" from clinical trials to establish that the benefits outweighed the risks.
* This isn't the first time Director Shah has lost in court. He ought to give up…
- Posted by Rich Miller 29 Comments


* Pritzker campaign…
Hi there–

Bruce Rauner announced this month that he is in favor of imposing work requirements for Medicaid eligibility. His decision comes after the Trump administration released new guidelines supporting these work requirements, in yet another display of Rauner standing with Donald Trump instead of working families in Illinois.

Tell Bruce Rauner that these requirements are bad for Illinois.

Imposing these work requirements hurts the people of our state. The requirements could cause thousands of Illinoisans to lose their health insurance, decreasing their chances of ever becoming healthy enough to work. In addition, a great deal of time and resources would be needed to check every recipient's eligibility. This would result in high administrative costs that would inevitably be passed on to taxpayers.

We need a governor who fights to make sure all Illinoisans have access to quality healthcare. Rather than try to kick people off Medicaid, my healthcare plan, IllinoisCares, is a public option allowing anyone to buy into a state healthcare plan.This would give Illinoisans a lower-cost option when faced with rising premiums, at no additional cost to taxpayers.

Healthcare is a right, not a privilege. The leader of this state should understand that, and work hard to ensure that all Illinoisans are covered. Instead, Bruce Rauner is cowering to Donald Trump and supporting policies that could result in thousands losing their healthcare.

Help put an end to Rauner's harmful policies by calling and making your voice heard.

Thanks for your help—
JB
* But it's not that simple…
"I do support a work requirement for able-bodied adults in Medicaid and our administration is working on that," Rauner said at a news conference after speaking to small business owners at Bradley University's Peoria Next Innovation Center. […]

In Illinois, though, Rauner said "our first challenge is to make sure we've got jobs — good jobs — available for everyone.

"We don't have jobs available for everyone and that's got to be our priority, because trying to force people to work but if there's no work opportunity, that's not going to succeed," he added.

Asked if he would push for a work requirement during the upcoming legislative session, Rauner, who is seeking re-election in the fall, reiterated a laundry list of other items he said he would prioritize first: reforming regulatory burdens, dropping the income tax rate and giving local governments more control over addressing property tax burdens.
- Posted by Rich Miller 20 Comments


* Fritz Kaegi campaign fundraising e-mail…
Friend:

Team Fritz is growing! With the endorsements of State Representative Will Guzzardi and Chicago's City Council Progressive Reform Caucus Chair Ald. Scott Waguespack, we're adding to the growing list of endorsements from some of the County's most progressive leaders. They know that, together, we can take a stand against pay-to-play, partisan politics.

Join Rep. Guzzardi, Ald. Waguespack, and other progressive leaders on Team Fritz by chipping in $5+ today:
* Cook County Assessor Joe Berrios' campaign…
Fritz Kaegi continues to deny his close ties to Republicans but the donations to his campaign tell a different story. He has accepted tens of thousands of dollars from Republican donors, who have also contributed to Republican Governor Bruce Rauner.

Kaegi has raised in excess of $20,000 in campaign contributions from the same donors that contribute to Bruce Rauner. Right-wing conservative Charles McQuaid not only contributed to Kaegi and Rauner but he also contributed to the Liberty Principles PAC, the Illinois Liberty PAC and the Chicago Young Republicans. It is also of note that he also contributed to the Illinois Citizens for Life PAC.

Shame on Kaegi for running away from his association with Wall Street Republicans, who played a reckless role in the financial collapse of our economy and also profit off the private prison system that disproportionately hurts working families, African Americans, and Latinos.
The attached document is here.
- Posted by Rich Miller 11 Comments


* Mike Florio…
Plenty of Steelers fans currently are upset with the performance of coach Mike Tomlin, given the team's inability to get back to the Super Bowl or, more specifically, to get past the Patriots. (And now the Jaguars.) A small group of Steelers fans who own pieces of the franchise's equity are particularly miffed with Tomlin — sufficiently miffed that they want to see a change get made.

Per a source with knowledge of the situation, some of the team's limited partners intend to lobby owner Art Rooney to fire of Tomlin and to hire a new coach.

The limited partners, who became involved nearly a decade ago as member of the Rooney family sold their interest in the team after acquiring gaming interests that violate league policy, have no authority over the management of the team, but they have a pipeline to owner Art Rooney. Per the source, they plan to utilize it.

The group of limited partners includes Rob Citrone, Paul Evanson, Larry Paul, Stephen Paul, Bruce Rauner, Paul Sams, John Stallworh, Benjamin Statler, Scott Swank, David Tepper, Thomas Tull, Peter Varischetti, and Mike Wilkins.
Um, OK.
* From Pritzker's campaign manager, who is a huge Philadelphia Eagles fan…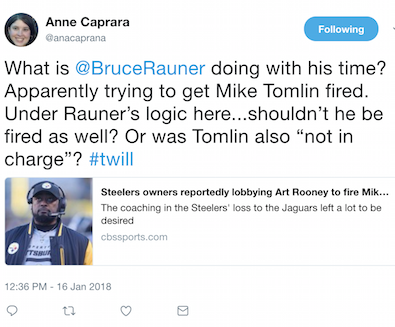 Thoughts?
- Posted by Rich Miller 56 Comments


* The Better Government Association and Politifact Illinois take a look at Gov. Rauner's attempt to blame the media for misreporting the dangers at the Quincy veterans' home…
Rauner insists his administration did not drop the ball, and recently spent seven days living at the home to make a public show that it was safe.

He also took aim at the media for casting blame his way without telling the whole story.

In an interview with the editorial board of the Joliet Herald-News, Rauner said news reports failed to explain that the source of the disease is basically everywhere.

"The reality is, and this is what's not getting into the reports, the Legionella bacteria is in most water systems in Illinois," Rauner told the paper. "There were just two infections of Legionnaires at Northwestern Hospital, which is not even an old facility and I think is regarded as a really well-run facility. These things happen."
* Conclusion…
The governor's statement glosses over the reality that any such contamination is likely present at low and non-threatening levels. The use of the word "most" is also questionable since there's no real quantifiable evidence. The CDC avoids quantifying the presence of the bacteria, which thrives on slime in poorly maintained internal water systems.

The governor has a point that the bacteria lurks in a number of water systems. But his statement makes an unprovable claim about the extent of the contamination.

The governor's claim is overbroad and lacking in context. We rate it Half True.
- Posted by Rich Miller 14 Comments


* Let's go back to the governor's amendatory veto of SB444…
As written, the Act requires non-public schools to be "recognized" by the Illinois State Board of Education (ISBE) [in order to qualify to receive Invest in Kids scholarships]. This language creates an eligibility mandate from what is otherwise a voluntary distinction for which schools may apply. Eligibility should be expanded to also include schools that are registered with ISBE, a necessary precursor to becoming "recognized." While it is prudent to require compliance with ISBE measures that protect the health, safety and well-being of students, the current timelines to become recognized will exclude at least 36 schools that are still in the process of registering for and moving toward recognition; the ramifications of this initial exclusion could potentially last for two years. The students attending or looking to attend these schools deserve the same access to Invest in Kids scholarships as those in already recognized schools. Their educational opportunities cannot wait for years.

By including those who have registered with ISBE as well as those already recognized, the law will better maximize the number of schools and therefore the number of children who can benefit from this promising new program.
The problem that's being overlooked is that there are far more than 36 schools which could benefit from the governor's proposed changed. Right now, in order to qualify for the scholarship program, schools have to be "recognized" by the ISBE. And that means several hoops must first be cleared…
That term — "recognized" — sounds bland. But it's kind of a big deal. It's the stamp of approval the State Board of Education gives to schools that meet a 17-page list of standards for curriculum, health and safety. For example, a school has to prove students are immunized, and that staff members have passed criminal background checks. Then all that information is verified by investigators who visit the facility.
* Under the governor's amendatory veto, non-public schools would merely have to file some registration paperwork with the State Board of Education by February 15th and they would qualify for the new scholarship program…
Registration requires a simple 5-page form pledging "assurances," and it's on the honor system. No site visit required.
* With that in mind…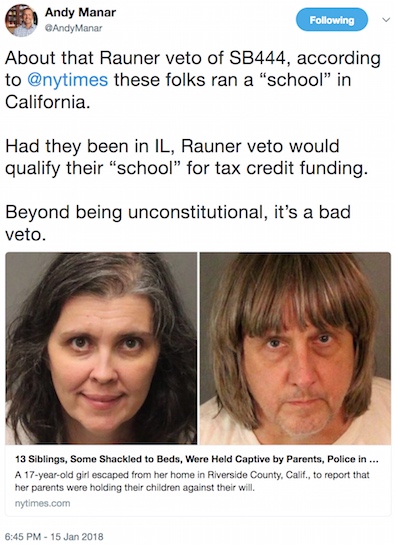 …Adding… From Patty Schuh…
From the ISBE website: "Please note that for purposes of registration, a nonpublic school is any nonprofit, non-home-based, and nonpublic elementary or secondary school (Section 2-3.25o(e)) of the Illinois School Code) that is in compliance with Title VI of the Civil Rights Act of 1964 and attendance at which satisfies the requirements of Section 26-1 of the Illinois School Code. Only such schools can register and re-register.
- Posted by Rich Miller 22 Comments


* NBC 5…
Gubernatorial candidate Chris Kennedy left the stage during a forum on Monday after Republican State Rep. Jeanne Ives argued the solution to gun violence in Illinois was having "more fathers in the home."

Kennedy, a Democrat, replied by pointing out he had grown up without a father before standing up and walking out of the venue. […]

"It hit a very special nerve for me," Kennedy said in an interview with NBC 5. "I lost my father to someone with a gun. For someone to say simply the solution is to have a father-in-law – I don't know. How shall I react? What should my family have done?"

Kathleen Murphy, a spokesperson for Ives, said in a statement Monday night that the representative did not mean to offend Mr. Kennedy during the forum.

However, Murphy also reiterated the importance of fathers in domestic life, citing "similar statements" like President Barack Obama's 2008 Father's Day speech at the Apostolic Church of God on Chicago's South Side. In his speech, the then-candidate said, "too many fathers also are is missing — missing from too many lives and too many homes."

"Those are President Obama's words, and that was what she was echoing today," Murphy said. "She certainly meant no offense to Mr. Kennedy."
Nobody doubts the importance of fathers. But that's not what Rep. Ives said at the event. She claimed that putting fathers in the home was the actual solution…
"The problem is the gun violence in this city of Chicago, predominantly. And you know how you're going to solve it? Fathers in the home," she said. As the audience booed and shouted, she repeated, "Fathers in the home."
* More…
A Democratic rival for the nomination, J.B. Pritzker, who lost his father to a heart attack at age 7, said of Kennedy's response to Ives, "I think (there are) too many people unfortunately losing family members to gun violence. I don't know what was going through Chris' head other than I can only imagine the grief that he feels when he thinks of his father's death."

As for Ives' solution for gun crimes, Pritzker said, "It's not just an issue about how many parents are in the home. It's about quality education. It's about health care. It's about jobs. If you want to avoid violence in a community, provide real economic opportunity. She doesn't understand any of that."
* Meanwhile, from a Monday press release…
When Does the #MeToo Reckoning Come to Springfield?

Today, State Representative Jeanne Ives, a conservative reform Republican for Governor, and whistleblower Denise Rotheimer held a joint press conference during which Ives called on both parties to end their bipartisan protection racket and take the complaints of sexual harassment seriously. She demanded that:

(1) The Legislative Ethics Committee should invite Denise Rotheimer to testify to her claims against State Sen. Ira Silverstein at their next hearing.

(2) The 27 other complaints that were ignored for as long as three years should be immediately released to the public with the names of the accusers redacted.

We have elections in March and November. It is because of the failures of legislative leaders, the ethics committee and the governor that we're at this point. They failed to do their job and ensure that a Legislative Inspector General was in place and that complaints were handled in a timely manner. The voters shouldn't have to pay the price. Given the political gamesmanship, it is appropriate to give these complaints the opportunities to be adjudicated in the court of public opinion in addition to, where appropriate, public hearings and/or courts of law.

Let me be clear, I don't know the names or party affiliations of the other legislators against whom claims have been filed. And I don't care who they are.
We either have a system that checks the abuses of those in power or we have a system where those in power abuse.

Rotheimer's testimony illustrated the bipartisan nature of the sexual harassment crisis in Springfield. She noted that she turned to Senate President John Cullerton and House Minority Leader Jim Durkin. Neither came to her aide. Both brushed off her complaints with lip-service, instead of action.

Rotheimer added that she is supporting Jeanne Ives in the Governor's Race because of her independence as a State Representative saying, "Jeanne Ives is the type of leader we need in the Governor's Office. Jeanne Ives will be in charge. She has already taken charge by using her leadership position to confront the culture of corruption in Springfield and to challenge the policies that enable it to exist."
The video of the Rotheimer and Ives event is here.
- Posted by Rich Miller 82 Comments


* From the CEO of the Illinois Association of School Business Officials…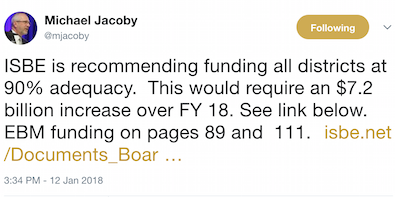 Whoa.
* From the ISBE…
The design of [Evidence-Based Funding] is to calculate an individual Adequacy Target for each Organizational Unit in the state. (In most cases, "Organizational Unit" refers to school districts.) That Adequacy Target is based on 34 individual cost factors, which include additional supports based on Organizational Units' populations of low-income children and English Learners. Additional supports for students with special needs are provided based on the overall enrollment of the Organizational Unit. These students and their needs are further protected by the statutory requirement that each Organizational Unit provide a spending plan for the EBF it receives with specific detail regarding the expenditure of funds attributable to low-income children, students with special needs, and English Learners.

EBF has provided a more equitable distribution formula and a path toward adequacy. The fact remains that the primary funding source for education in the State of Illinois is the property tax system. At this point in time, the state has not fulfilled its constitutional mandate to assume the primary responsibility for financing the system of public education. Without that commitment from the state, there is a wide variance in what school districts can commit locally, with an inequitable result for students. As previously stated, preliminary Adequacy Target calculations show that Organizational Units in Illinois range from having 46 percent to having 284 percent of the resources necessary to provide a quality education to students. Federal funds support our highest-needs children and families and on average make up 10 percent of funds provided to districts, so we believe "primary responsibility" constitutes ensuring that every district can meet at least 90 percent of its individual Adequacy Target through a combination of state and local funding support.

The Superintendent is recommending $13,884,200,000 for FY 2019 to meet this 90 percent threshold and ensure adequate supports for all children in the State of Illinois based upon the singular definition of adequacy provided for in statute. The recommended appropriation level is preliminary and will be refined when FY 2018 EBF calculations are finalized later in the spring.
* Meanwhile, over in higher education…
A rift has emerged as education leaders debate how aggressively to push lawmakers for state aid. At the heart of the issue is how to finance the state's public universities following two years of almost non-existent state funding.

Presidents of the state's nine public universities wrote a letter openly opposing the budget that the state higher education board presented at its meeting in December. In unusually blunt terms, the presidents told the board its request to state lawmakers was too conservative and would "place further burdens on public universities" after "two years of financial calamity." […]

The [Illinois Board of Higher Education's] funding proposal seeks about $3.47 billion for public universities, community colleges, grants and various higher education divisions for 2018-19. It would be a $254 million increase over current funding, according to the board report.

The share for public universities would be a little more than $1.1 billion, a $24.1 million increase from this year.

That isn't enough for the school presidents. They want the board to request $1.2 billion from the state, matching the allocation for public universities in 2015, the last year there was a budget before the impasse began.
* Finke on Gov. Rauner's pledge to balance the budget and roll back the tax hike…
"We will introduce a plan to repeal the Madigan tax hike and require the budget to be truly balanced. No balanced budget — no pay for legislators," said another Twitter entry.

If this is going to be a legitimate effort at repealing last summer's income tax hike, then Rauner will include in his plan just how the state will cope with that loss in revenue. One way would be to once again let the bill backlog balloon to ridiculous amounts and put the state's bond rating in jeopardy. That's probably not the preferable approach, which makes it essential for the person or persons who propose getting rid of the tax hike to explain how the state will deal with it.

Somehow, though, that never seems to be part of the proposal.

The first six months of the state's fiscal year are in the books and guess what? Income tax collections are up by about $2.2 billion over a year ago. As well they should be, given the income tax increase passed in July.

Plus, the amount of money from the feds grew by $2.5 billion because the state borrowed money and paid off Medicaid bills with it.

Still, the bill backlog was at $8.75 billion as of Friday. Worth remembering as the campaign season heats up and more people call for cutting state taxes.
Gonna be tough enough to do all that even without the aforementioned public pressures to increase spending.
- Posted by Rich Miller 25 Comments


* WVON's Charles Thomas asked Gov. Bruce Rauner yesterday what he is currently doing to change the dynamic of black unemployment in Illinois (which, Rauner noted, is the highest in the country). The governor's response…
Here's the simple fact. We used to be the Land of Lincoln. Now, we're the Land of Madigan. We used to be the land of opportunity, now we're the land of unemployment and high property taxes. We used to be the land of achievement, now we're the land of corruption.

What we've got to do together, Democrats and Republicans have got to unite to change the system, get Madigan and his crew out of power.
Except on January 3rd, the governor admitted that Madigan isn't "gonna go anywhere."
- Posted by Rich Miller 45 Comments


* I told you last week that the University of Illinois' African-American enrollment fell while Chris Kennedy was chairman of the board of trustees. WCIA's Mark Maxwell followed up with the candidate…
In his campaign speeches, Kennedy holds up higher education as the life boat to help rescue people from an island of poverty. But while he was Chairman of the Board at the University of Illinois, he repeatedly increased the cost of tuition while African American student enrollment suffered.

"When you have a 27 percent increase of tuition between 2009-2014 for in-state residents, you are talking about at least $2,500 extra in money," said Gus Wood, an African American Studies Ph.D. student at the Urbana-Champaign campus. "I tie the rising of tuition directly to the pricing out and the lack of African-American people on the campus," Wood said.

[Evan F. Moore, an adjunct journalism professor for Chicago's DePaul University who has written extensively on education, violence and Chicago culture] said, "When the school raises tuition, that pushes out students, especially poor students. There is definitely a correlation there."

The year before Kennedy became board chairman, African American enrollment was at 2,596 students, which made up 6.44 percent of the total student population according to data compiled by the Division of Management Information. The university raised tuition by 9.5 percent in 2010, 6.9 percent in 2011, 4.8 percent in 2012 and 1.7 percent in 2013.

In 2009, African American enrollment slipped slightly down to 2,572 students before a significant dropoff down to 2,276 in 2010. Black student enrollment eroded each consecutive year Kennedy was in charge for a total decline of nearly 15 percent until the admissions office reported a slight uptick in 2015, his final year on the board.

Kennedy denied there was a correlation between rising cost of tuition and the broadening diversity gap on campus during an interview with WCIA on Monday morning.

"No, I don't think that is what occurred," Kennedy said, suggesting the problems were already set in motion before he took the job. "I think the major decline in African American enrollment at the University of Illinois occurred between 2009 and 2010 before anything the new board did could have possibly affected those outcomes.
- Posted by Rich Miller 19 Comments


* My weekly syndicated newspaper column…
When a dramatic new element is introduced into a political campaign, it's always instructive to watch how the targeted candidate responds. Did the candidate appear ready for the new turn of events, or was s/he caught flat-footed?

The JB Pritzker campaign appeared to pass that test last week when Gov. Bruce Rauner's campaign unexpectedly (for some of us) launched a new TV attack ad against it.

It turns out, the Pritzker campaign already had a response ad in the can, just waiting for whatever might come. So, when the Rauner campaign's new TV ad featuring an FBI-wiretapped conversation between Pritzker and Rod Blagojevich was leaked online last week, the Pritzker folks unveiled their counter-assault within minutes.

"It's no surprise Bruce Rauner is already on TV attacking me," Pritzker says to the camera in his 30-second response ad. "He'd rather play politics in the Democratic primary than defend his own record."

Another 60-second ad — which looks like it may have initially been intended only for online use because the quality wasn't as high — featured TV news clips designed to whack Rauner over the ongoing problems at the Quincy veterans' home, where 13 residents have died since 2015 after contracting Legionnaires' disease. Rauner last week finally formed a task force in an attempt to prevent more deaths.

This is the first time in memory that a sitting Illinois governor has openly played in a rival's opposing party primary campaign. We've seen this sort of thing in other states, but not here. Several Illinois unions did dump a bunch of money into the 2014 Republican primary to prevent Rauner's nomination, so the governor can be forgiven for wanting a bit of payback against the unions' candidate (Pritzker) this time around.

The Rauner folks have gone back and forth for months about which candidate they'd rather not face. Pritzker has unlimited money, but he has some opposition research issues (like Blagojevich, his ties to Speaker Madigan and his now-infamous decision to rip the toilets out of a vacant mansion to lower his property taxes). Chris Kennedy has had trouble raising money, but he does have a famous name, not many opposition research issues and is successfully positioning himself as an independent.

More likely, I think, somebody upstairs may have just decided that it was time to put the wood to Pritzker, who has been having a lot of fun attacking Rauner for months. And since other Democratic candidates don't have the cash to do it, Rauner will.

The Pritzker campaign's current ad buy is substantially larger than Rauner's, I'm told, and they're willing to increase that amount if need be. They're also reportedly readying some more response ads.
* But there's more to this angle. Sun-Times…
Patti Blagojevich hit the local television news circuit Friday to slam Gov. Bruce Rauner's campaign for using her husband's FBI-wiretapped phone conversation in a political attack ad against Democratic primary frontrunner J.B. Pritzker.

"There is a federal court order not allowing these tapes to see the light of day," Patti Blagojevich said in a sit-down interview with WFLD-Fox 32, one of at least four interviews she gave on Friday. "We fought so hard in court to try to get tapes just like this." […]

"Somebody from the US Attorney's Office (or one of their former employees) and Rauner's Campaign should be criminally charged for breaking the still standing court order sealing the tapes," Patti Blagojevich wrote in a Facebook post. "This is clearly a case of someone from the US Attorney's office playing partisan politics, while they did everything they could to make sure we could not play the tapes that vindicated Rod."

Rauner campaign spokesman Will Allison said they used the recordings that were included in the Tribune story. A representative for the U.S. attorney's office could not immediately be reached for comment.

"This is a perfectly legal conversation between my husband and J.B. talking about different things that he wanted to accomplish with regards to President Obama's Senate seat . . . These are all things we wanted heard at trial," Patti Blagojevich told Fox 32.
* WGN TV…
"We've been fighting for five years to get those tapes heard. And now somebody leaks them and now they're in a political attack ad."

She says while she feels bad for Pritzker, the audio proves her husband isn't guilty.

"One thing my husband loves to do is he loves to talk. And he loves to talk with his advisors, his lawyers. And all these people and do this war gaming. What if we do this? What if we do that? How about if we do this? How about if we do that? And unfortunately, what you saw in the trial was just one side of all those conversations."
* NBC 5…
A sub-current of the Rauner ad controversy involves questions over how the un-played tapes were leaked. The portion used in the commercial was part of an 11 minute montage featured by the Tribune last year.

How the Tribune got those tapes, is not entirely clear.

"That particular tape was never played at trial," Joe Fitzpatrick, a spokesman for the U.S. Attorney's office confirmed. "We are working on it also—we want to know who gave it out."

Fitzpatrick said it did not come from anyone in the U.S. Attorney's office, and noted that copies had been distributed to all legal teams involved in the two Blagojevich trials.

"And that includes paralegals, their investigators, a lot of people get their hands on these," he said.
Yikes.
* Mary Ann Ahern…
The new ads feature taped conversations between Pritzker and Blagojevich, recorded during the time that the FBI was investigating the then-governor. In an exclusive interview with NBC 5, the candidate himself commented on the interview conducted by the FBI about the conversation.

"They just wanted to know more about the conversation, if there was more that I could tell them about the conversation," he said.

Pritzker says that he was telling Blagojevich on the tapes that he would be interested in being the state's treasurer, not that he would be interested in the Senate seat vacated by former President Barack Obama.

"It's not surprising that looking to do more public service is something I was interested in," he said. "Who knew that he was doing things that were against the interests of the people?"
Who knew? Lots of people. C'mon, man.
…Adding… I never noticed it in the original Tribune story last May, but Pritzker's campaign has already admitted he talked to the FBI back in the day…
Pritzker did not directly ask for the Senate appointment on the calls the Tribune obtained. The Pritzker campaign acknowledged late Wednesday that "J.B. had one short interview with" the FBI as part of the Blagojevich investigation. Federal authorities did not call Pritzker as a witness at either of Blagojevich's two trials, nor did they accuse him of any wrongdoing.
…Adding… Rauner campaign…
JB Pritzker Lies to Cover Up Ties to Blagojevich

JB Pritzker answered questions on Friday surrounding Citizens for Rauner's new Pritzker-Blagojevich TV ad. Pritzker claims that he didn't know Blagojevich was facing FBI investigations at the time of the wiretaps, which occurred just one month before the former governor was arrested.

Pritzker specifically says that "nobody knew that the FBI was investigating the man." He goes on to say, "Who knew, you know, that it was, that he was actually doing things that were against the interests of the people." Watch HERE.

As NBC Chicago reporter Mary Ann Ahern explains, it was "widely believed" at the time that the FBI was investigating Blagojevich.

Not only is Pritzker making a patently false claim – his own words on the FBI tapes show that he knew, at the time, that Blagojevich was being investigated and was facing legal trouble. In a conversation between Pritzker and Blagojevich towards the end of the tapes released by the Chicago Tribune, Pritzker specifically cites Blagojevich's "legal problems" and says "we gotta get the legal thing behind you."

This conversation, combined with years of well-publicized media reports, makes crystal clear that JB Pritzker knew Rod Blagojevich was under federal investigation, contrary to what he is now claiming.

TRANSCRIPT:
BLAGOJEVICH: If you can do for me what you did for [Lisa Madigan] before the end of the year, can you think about that?

PRITZKER: Well I can't, uh, not while everything's up in the air. But I hear ya. Yeah I, I hear ya.

BLAGOJEVICH: Yeah. But anyways, if we go in that direction though, if that does happen, I mean there's some other people who can help us that you know.

PRITZKER: Sure.

BLAGOJEVICH: If you feel skittish about that, which I believe you shouldn't. But go ahead.

PRITZKER: Yeah, I don't think we should even talk about it, but I understand what you're saying. Assuming no legal problems, that you, you know, your pitch is going to be, with all the other crap that you could say here, I've done real things.

BLAGOJEVICH: Right.

PRITZKER: And so, I think you've got a lot to run on. It's just, we gotta get the legal thing behind you.

BLAGOJEVICH: Right.

PRITZKER: That's for sure.

BLAGOJEVICH: Yeah but there's statutes of limitations and things, and those dates are running. And those things will come and go long before there's a re-election.

PRITZKER: Is that right? Soon?

BLAGOJEVICH: Yeah, and then.

PRITZKER: Okay.

BLAGOJEVICH: It'll just fade away.
- Posted by Rich Miller 20 Comments


* Daily Herald…
Charging gas taxes based on how many miles people drive instead of how much fuel they burn could pump up revenues to help fix Illinois' roads and bridges, Democratic candidate for governor J.B. Pritzker told the Daily Herald editorial board.

Called a vehicle miles traveled or VMT tax, it's an idea worth exploring, the billionaire Hyatt hotel heir said in a Thursday interview where he also pushed for a graduated income tax, but gave few specifics.

"We have to invest in infrastructure — it's been too many years since we had a capital bill," said the 52-year old Chicagoan, one of six candidates in the March 20 Democratic primary.

His plan would focus "on rebuilding roads, bridges and waterways and in my view we need statewide broadband internet access," Pritzker said.

But with more fuel-efficient vehicles, traditional gas tax income is shrinking, Pritzker noted.

"In some states (such as Oregon) they have done tests recently for a VMT tax because we have more and more electric cars on the road, more and more hybrids, and because gas mileage is rising. It's only fair if you're on a road and traveling on that road that you should pay your fair share," he said.

A VMT tax "is something we should look at … we have to careful how it gets implemented and that's why it should only be a test at this point."
Local 150 of the Operating Engineers, one of Pritzker's earliest labor endorsers, is the top proponent of the VMT idea in Illinois.
* From the Republican Governors Association…
Illinois Democrat gubernatorial candidate and billionaire heir to the Hyatt hotel fortune J.B. Pritzker is already on record supporting a bevy of tax increases, including a major hike in the state income tax. Now, he's proposing yet another tax – and this one could lead to an unprecedented government invasion of privacy.

The Daily Herald reported over the weekend that Pritzker is open to a new gas tax that would require the government to track how many miles people drive. Pritzker says that the tax and government tracking scheme is "an idea worth exploring."

A similar tax was proposed by Illinois Democrats last year, and was rapidly shelved after "public outrage." The proposal required a "tracking device to monitor mileage."

J.B. Pritzker's willingness to let the government install tracking devices in people's vehicles underscores just how out of touch the Hyatt heir is with the concerns of voters.
- Posted by Rich Miller 71 Comments


* CBS 2…
Gov. Rauner said there was "no place in our political conversation" for vulgar language reportedly used by President Trump in a meeting on immigration, but would not call the president racist.

The governor, who was appearing on WVON radio on Monday, was asked about Trump's description of places like Haiti, El Salvador, and African nations as "sh*tholes." The president made those comments in a meeting to discuss a bipartisan agreement on immigration, according to Sen. Dick Durbin. Trump denies he used that language.

Rauner was asked directly by WVON's morning show host Maze Jackson if Trump was a racist and Rauner wouldn't answer, saying again that such language as no place in politics.

Co-host Charles Thomas pressed the governor again, saying "you won't call him a racist?"

"You know what? We have racists in our society," Rauner said. "We have got to come together to change the system in Illinois. Illinois is broken. Our system is broken. African-American families are suffering in Illinois. It's worse than anywhere with unemployment. We have got to change our system."
That's not all Charles asked.
* From the transcript…
MAZE JACKSON: "The President of the United States used language that we've never heard before, we call – we said he said 'shitolee' on this show. You heard his comments. Is Donald Trump racist? Is he a racist?"

RAUNER: "I'll say this. That language has no place in our political conversation."

JACKSON: "But is he a racist?"

RAUNER: "That language has no place in our political conversation."

JACKSON: "But we've got it. We heard it. He said it. So it's in the universe. So, to a – to the Haitians that live in this city, in the state – what's up with Donald Trump? How do you respond to that?"

RAUNER: "That language has no place in our political conversation."

CHARLES THOMAS: "But you won't call him a racist?"

RAUNER: "No place."

THOMAS: "Is David Duke a racist? I mean, is… what about Donald Trump?

RAUNER: "You know what? We have racists in our society. We have got to come together to change the system in Illinois. Illinois is broken. Our system is broken. African American families are suffering in Illinois. It's worse than anywhere with unemployment. We have got to change our system."
* Video…
* Pritzker campaign…
"Donald Trump built his political career on pitting our communities against each other and now spews vile, hateful language from the White House on a daily basis," said JB Pritzker. "From casual private conversation to tweets seen around the world, Trump's racist views and words sadly represent our country. Strong state leaders have pushed back and defended the communities that are under attack by this president, but Bruce Rauner is sitting on the sidelines. To have the governor of this state remain silent and refuse to call Trump what he clearly is — a racist — is an embarrassing insult to communities across Illinois. Bruce Rauner's corrupt pact with Trump, ratified by his silence, must end."
…Adding… Sun-Times…
Meanwhile, Republican Gov. Bruce Rauner refused in a morning interview on WVON 1690 AM to apply the "racist" label not only to Trump, but to former Ku Klux Klan leader David Duke. The campaign of J.B. Pritzker, a Democrat running to challenge Rauner, quickly pounced.

"The governor believes that David Duke is a racist," Justin Giorgio, a spokesman for
Rauner's campaign, said later in an email. "As he stated in his interview this morning, the governor is working to bring all Illinoisans together to overcome the racism that exists in our society."
…Adding… Pritzker campaign…
During a WVON interview yesterday, Bruce Rauner refused to call former KKK leader David Duke a racist.

Rauner fell back on his favorite talking point, "our system is broken," to avoid criticizing the notorious white supremacist. While a spokesman later attempted to clean up Rauner's dodge, Rauner failed to answer a simple question about one of the country's foremost bigots.

"It is abundantly clear that former KKK Grand Wizard David Duke is racist and it is inexcusable that Bruce Rauner would rather mince words than answer a simple question," said Pritzker campaign spokeswoman Jordan Abudayyeh. "Instead of having a spine and standing up for what's right, Rauner dodges even the most basic of questions to avoid giving Illinoisans the answers they deserve."
* Sen. Kwame Raoul…
Gov. Rauner's refusal to call former KKK Grand Wizard David Duke a racist on Martin Luther King, Jr. Day is flat out Trumpian.

Martin Luther King, Jr. taught us that our lives begin to end the day we become silent about things that matter and Bruce Rauner's inability to clearly state that David Duke is a racist is pretty damning.

In the spirit of MLK, I'm asking that we all speak out against the injustices that are taking place in our communities and across the state. We must speak a little bit louder against hate. We must speak a little bit louder against fear. And we must unabashedly speak louder against those who try to divide us!
…Adding… DGA…
Like clockwork, Governor Bruce Rauner was in the news again for failing to take a strong moral stand on an easy-to-call situation. Yesterday, during an interview with WVON, Governor Bruce Rauner was pressed on President Donald Trump's most recent and outrageous comments on immigrants. Rauner fell back on talking points, refused to address the substance on Trump's comments, and would not condemn David Duke as "racist."

Rauner's campaign later clarified that, of course, he believed David Duke was racist. But the WVON interview is another example, just in the past six months, of Rauner's reluctance to show real leadership on moral issues:

Charlottesville and Terrorism: Rauner initially refused to use the term "terrorism" to describe the Neo-Nazi attacks in Charlottesville. Rauner had to be shamed into clarifying his language later that day.

Charlottesville and Trump: Rauner waited days to addressed President Trump's "both sides" comments on Charlottesville, and only after Trump repeated his comments. Rauner was questioned by reporters why he initially didn't use Trump's name in his condemnation of his language.

Illinois Policy Institute Cartoon: Rauner infamously refused to look at a cartoon denounced by the Illinois legislature, but drawn by his close allies at the IPI. A week-long saga would eventually result in Rauner's office issuing a statement that said, "as a white male", he had nothing to add. Multiple communications staffers were fired.

Anthem Protests: Despite his tepidity to address pretty much any issue spurred by Trump, Rauner jumped into the debate on protests at football games, siding with the President.

The pattern is getting hard to ignore.

"Bruce Rauner's wait-and-see approach to leadership really clarifies who he's looking out for, and it's not Illinois residents," said DGA Illinois Communications Director Sam Salustro. "Time after time, Rauner has had to be shamed into taking a moral stand on issues offensive or upsetting to Illinoisans. Rauner's reluctance to take on President Trump is only hurting Illinois families."
- Posted by Rich Miller 43 Comments