* Background is here. From the script of a new JB Pritzker TV ad that I'm told will be airing tomorrow…
Across the country, Democratic and Republican Governors spoke out against their state supporting Trump and keeping children away from their parents.

Rauner wasn't giving it a thought and now we learn why.

Rauner has been profiting on Donald Trump's policy.

Rauner is the owner of this company which is paid millions to keep children from their parents.

Bruce Rauner, that's a disgrace.
OK, first of all, Rauner officially retired from GTCR in October of 2012. GTCR didn't invest in Correct Care Solutions until 2014. GTCR co-owns the company with two other companies, Audax Private Equity and Frazier Healthcare. As I told you earlier today, Rauner hasn't yet directly made any money off that GTCR investment. Audax Private Equity lists its own investment as "Unrealized." And, despite what the Pritzker ad says, Rauner has spoken out against the family separation policy.
* But most importantly, this is what Correct Care Solutions actually does…
We provide medical and behavioral health services for nearly 250,000 patients located in state hospitals, forensic treatment and civil commitment centers, as well as local, state and federal correctional facilities.
The company provides healthcare. It's not "paid millions to keep children from their parents."
* Like many of you, I've lost sleep at night over this absolutely obscene federal debacle. This tweet has been open in a browser tab all week and I find myself looking at it multiple times a day with the same disbelief and shock as the first time I saw it…
14 month old boy separated from immigrant parents at the border, was returned after 85 days, covered with lice, had apparently not been bathed - part of lawsuits filed by states against Trump administration @LisaDNews reports @NewsHour tonight

— Judy Woodruff (@JudyWoodruff) July 5, 2018
I just want to scream at somebody about this whole Kafkaesque nightmare.
And, for sure, this new Pritzker ad will strike a chord out there with people who will never know the whole story. It's definitely a "get tough on Rauner" spot.
But it's also dishonest.
*** UPDATE 1 *** Here's the ad…
*** UPDATE 2 *** Rauner campaign spokesman Alex Browning…
Pritzker's latest ad intentionally misrepresents the facts of an unsubstantiated story to weave a false and deceitful narrative. The Pritzker campaign should immediately take down this dishonest and shameful ad.
*** UPDATE 3 *** Bernie…
Galia Slayen, spokeswoman for Pritzker, stood by the ad. She called it "disgraceful and disgusting" that Rauner is "an owner of a company that has been paid to keep children separated from their families."
Gonna be a long summer and fall. I hope the Pritzker campaign doesn't whine when they are lied about because I'm gonna bring that quote right back up.
- Posted by Rich Miller 60 Comments


* From the Illinois Policy Institute…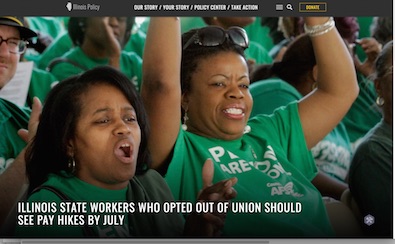 * According to AFSCME, the woman on the left is Darneice Cooper, a casework manager with the Illinois Department of Human Services and the president of AFSCME Local 2806…
"People e-mailed me and said, 'You know your picture is on the web site of the Illinois Policy Institute,'" Cooper relates. "I'm like, 'What? You've got to be kidding me.' So I went on there and sure enough my picture was right there [next to a headline encouraging state workers to quit the union]. Like I'm supporting that caption that they have under my name! I was appalled. I was very upset."
* Cooper sent the Illinois Policy Institute a letter…
To whom it may concern:

I was shocked and dismayed to discover recently that you are using my photo on your website as part of your effort to get employees to drop out of our union. This is a really a form of identity theft—using my image to promote something that is completely wrong in my eyes.

I am a proud AFSCME member, I support my union, and I will never quit standing with my fellow workers.

I was outraged by the Supreme Court's decision in the Janus case. Five conservative justices sided with the billionaires and corporate special interests who funded this case – and who fund your organization. They ruled against not just those of us who work in public service, but those we serve every day.

I help make sure some of Illinois's most vulnerable seniors get the care they deserve. I don't do what I do to get rich, like our billionaire governor or your corporate donors.

Like my coworkers, I'm in public service because I care about my community. Being in a union gives us a voice and allows us to fight for the resources we need to serve the people of Illinois.

Please remove my photo from your website immediately.
The photo is still there as I write this.
Cooper also appeared in a video. Click here.
I've asked the Illinois Policy Institute for comment.
*** UPDATE *** Illinois Policy Institute response…
Rich:

This photo is licensed through the Associated Press and has been available since May 23, 2012. It was a photo taken by an AP photographer at a public political rally at the Illinois State Capitol. Any concerns about the photograph should be directed to the Associated Press.
…Adding… Heh…
.@illinoispolicy: people shouldn't be forced to support a political agenda

also @illinoispolicy: people can't stop us from using their photo to support our political agenda

got it, cool cool#twillhttps://t.co/ZTgPM6xZUE

— Illinois Working Together (@IllinoisWorking) July 10, 2018
* Related…
* It's time to opt in - After the Supreme Court ruling, a message to my fellow former fair-sharers: Two very nice union representatives knocked on my door last week. Anticipating an unfavorable ruling in Janus v. AFSCME, they asked me, a "fair share" state employee, to join the union. I didn't have to think twice. Sign me up, I told them. I'm with you.
- Posted by Rich Miller 25 Comments


* Personal PAC press release…
With Roe v. Wade on the verge of being overturned, it is now more important than ever that we have a governor who's a committed defender of a woman's right to choose — someone who can be trusted on this issue.

Bruce Rauner has played politics with HB 40 and women's lives for far too long. One day he is promising pro-choice voters he supports HB 40 and the next day he's telling anti-choice extremists he's opposed to HB 40. He lied to me, he lied to Personal PAC, he lied to Jeanne Ives, he lied to the Illinois Family Institute, and then he lied to the Cardinal. That's quite an accomplishment.

The truth is, if re-elected, Bruce Rauner has proven he can't be trusted to protect legal abortion in Illinois, unless the voters of Illinois have a written promise—this written promise—that if re-elected he won't do anything to repeal, diminish or amend HB 40.

With the Supreme Court now on the verge of overturning Roe v. Wade, Bruce Rauner's refusal to sign this pledge by the June 22nd deadline puts Governor Rauner squarely on the same page with Donald Trump in counting the hours until abortion becomes illegal in Illinois. Prior to Roe, Cook County Hospital had an entire 17 bed ward called the "Septic Abortion Ward" where women were admitted with massive infections, hemorrhaging and dying from botched illegal abortions. That septic abortion ward closed on January 22, 1973 when Roe was decided.

If Governor Rauner does not commit to protecting HB 40, the re-opening of septic abortion wards is Bruce Rauner's promise to the women of Illinois.
* Greg Hinz…
At a Chicago press conference, a group of Democratic officials and a staunchly pro-choice group allied with Democratic nominee J.B. Pritzker called on GOP incumbent Bruce Rauner to publicly pledge not to sign any legislation that "repeals, modifies or in any way diminishes H.B. 40 . . . (and) continue to support H.B. 40 as the law of the state." […]

With a newly conservative Supreme Court, abortion rights will "suffer death by a thousand cuts," as lawmakers consider a bill to enact waiting periods, hospital-like medical standards, and spousal approval, said state Rep. Sara Feigenholtz, D-Chicago, noting that Republicans some day could regain control of the Legislature.

But reporters at the session kept asking whether the call for a public promise wasn't more about politics than protecting abortion rights, given that Rauner already signed H.B. 40 into law. And if Rauner "has shown his dishonesty" by "lying" to the cardinal and Ives, what use is getting him to sign a statement that would provoke conservatives and that he could walk away from later?

"You do the best you can to make sure," answered Sen. Heather Steans, D-Chicago.
* From Will Allison at the Rauner campaign…
Hey, all-

Personal PAC held a press conference this morning about HB40 — a bill that Governor Rauner already signed into law.

Please see this quote from Rauner campaign manager Betsy Ankney:

"Governor Rauner supports a woman's right to choose and he signed legislation that protects that right in Illinois, regardless of what happens at the federal level. This is pure politics from a group and politicians aligned with Pritzker seeking to scare women. Democrats need to stop playing politics with this critical issue."

NOTE: JB Pritzker has donated $407,200 to Personal PAC.

Additionally, many of those who attended the press conference this morning praised Governor Rauner last year when he signed the bill into law.

Heather Steans: "I am thrilled that the governor decided to honor his commitment and protect women's reproductive rights in Illinois by signing House Bill 40."

Sara Feigenholtz: "I am grateful that Governor Rauner has finally realized how important this legislation is to women in the current political climate. Governor Rauner has decided to stick to his original promise, and his decision will help ensure women continue to have access to all reproductive care."

Kelly Cassidy: Chicago Sun-Times Interview
QUESTION: Please list three of Gov. Bruce Rauner's principles, or decisions he has made, with which you agree. Also please list three of the governor's principles, or decisions he has made, with which you disagree.

ANSWER: "I agree with the Governor's eventual stance on HB40, some aspects of criminal justice reform, and the TRUST act. He kept his campaign promise to keep abortion services legal and accessible in Illinois, which is a deeply personal issue for me."
* Cosgrove's response to reporters…
With all due respect to the questions about the need for the pledge to protect HB 40, you could easily answer the question of whether Governor Rauner would veto any bill that comes to his desk which would repeal, modify or in any way diminish HB 40 by simply asking him to reply "yes" or "no" to that question. I anxiously await your asking him and hearing his answer to that very simple question.
*** UPDATE 1 *** I didn't see the governor's quote in the Sun-Times…
Rauner, too, accused Democrats of "trying to play politics with this issue."

"I want to make clear that I signed legislation here in the state of Illinois so that women's reproductive rights are protected regardless of what happens at the federal level," the governor said.
*** UPDATE 2 *** Pritzker campaign…
In a tweet last night, Bruce Rauner hailed Donald Trump's Supreme Court nominee, Brett Kavanaugh, calling for a "fair hearing and swift vote."

Rauner applauded the nomination despite troubling threats to women's rights, affordable healthcare, and Kavanaugh's expressed opinion that a sitting president is above criminal prosecution. The praise comes as Rauner refused to sign a pledge guaranteeing a woman's right to choose, claimed pro-choice groups were "seeking to scare women" with the pledge, and has bragged about being the "strongest supporter" of anti-choice candidates.

"Donald Trump is remaking the court in his own image and leading an all-out assault on affordable healthcare, basic rights for women, and the rule of law as Bruce Rauner cheers him on," said Pritzker campaign spokeswoman Jordan Abudayyeh. "Illinoisans can't afford to have a failed governor who puts politics before people and joins in on Trump's attacks on fundamental rights."
*** UPDATE 3 *** Illinois News Network…
Illinois taxpayers paid for nearly four times more abortions in the first six months of 2018 than the year before and one state lawmakers expects the total number to eventually be much larger.

Records of the number of abortion reimbursement requests Illinois News Network obtained through an open records request from the Illinois Department of Health and Family Services showed 84 abortions from January to June last year. The same time period this year, there were 314 abortions.
- Posted by Rich Miller 32 Comments


* The impact of a budget impasse lasting two and a half years cannot be instantly cured. It's going to take a while longer...
The Illinois State Dental Society said as of last week, the state still owed dental practices $50 million.

In November 2017, they said the state was $150 million behind in payments.

Dr. Albert Capati said the state payments are coming in more regularly now compared to this time last year. […]

"During the impasse, the state was about 15 months behind in paying," Capati said. "Prior to the impasse, it took about three months to get paid and now we're at about six months."
* And this is will be a problem for perhaps years to come…
"We're happy to have a state budget but what many people don't realize is that the budget impasse effects continue to be felt," said Andrea Durbin, CEO of the Illinois Collaboration on Youth. "This year's budget didn't address the backlog of bills."
* From Fitch…
Illinois' lingering structural issues include a lack of progress in addressing its sizable accounts payable backlog and questions around $400 million in unpaid step-pay increases. Nonetheless, "enacting an on-time budget with bipartisan support allows Illinois to enter the new year with a clear fiscal plan and clarity for the state's key fiscal partners," said Porter.
* AP…
A year after Illinois lawmakers ended a historic state budget impasse, social service agencies and other providers hardest hit by funding cuts say they're just starting to recover.

The providers say some rate increases approved in fiscal 2018 and 2019 isn't enough to undo all the damage.

Judith Gethner is executive director of Chicago-based Illinois Partners for Human Service. She says the impasse led to layoffs and those positions haven't been filled.

Gethner says the crisis has made it a challenge for many nonprofits to recruit qualified professionals willing to work in such an environment.
…Adding… DGA's Sam Salustro…
Good afternoon reporters –

Today, as Governor Bruce Rauner visits WINGS Program, a non-profit serving victim of domestic violence, Rauner has yet to answer for the damage his policies have done to the state's domestic violence programs. Due to Bruce Rauner's budget crisis, payments to domestic violence shelters were delayed or cut, resulting in many agencies reducing staff hours, laying people off, and taking out lines of credit. One advocacy group reported that 7,800 people seeking shelter were turned away in 2016.

Did the failed governor ask providers how they felt about the fact that he vetoed all funding for their programs twice?

Thank you,

Sam
- Posted by Rich Miller 30 Comments


* I've been able to confirm that Rep. Christian Mitchell (D-Chicago) has been named the interim executive director of the Democratic Party of Illinois. He'll serve through the fall campaign, and then a new search for a permanent director will commence. The position became vacant when Tim Mapes was forced out as Speaker Madigan's right hand man over a #MeToo controversy.
Mitchell has plenty of campaign experience, not only in a couple of his own hard-fought primaries, but also working for President Obama's Midwest operation and Tammy Duckworth's Senate campaign. He worked for The Strategy Group, so you can see the rest of his bio by clicking here. I think he'll have the chops to do this job.
Rep. Mitchell was also an early supporter of JB Pritzker's campaign, so this appointment shows yet again that the Pritzker folks are not going to just sit back and let Speaker Madigan run the entire show. DPI's search committee for a new executive director was co-chaired by Rep. Juliana Stratton, Pritzker's running mate.
* And speaking of Pritzker, expect an announcement sometime today from Rep. Mitchell about a new $1 million voter registration project funded by Pritzker and run by the DPI. It will reportedly focus on flippable districts.
DPI has long been criticized for focusing exclusively on Speaker Madigan's House priorities. Those days may be over, but Madigan is still the party chairman, so we'll see. Last month, the party named longtime Madigan loyalist Mary Morrissey as Chief Operating Officer and promoted DPI staffer Emily Wurth to the job of Chief Financial Officer.
…Adding… Rep. Litesa Wallace (D-Rockford) had been interested in the job (she gave up her seat to run as Daniel Biss' running mate) and she's not exactly ecstatic…
Although there was no clear application, submission, or selection process for individuals who were interested in the position of Executive Director of the Democratic Party of Illinois to participate in, an individual has been selected. I would like to wish my colleague Rep. Christian Mitchell all the best in his new role as Executive Director of our party. I will continue efforts to move our party forward, which means ridding ourselves of the issues of power and oppression inherent to systemic racism and sexism, even as we work to elect candidates that value the rights of all.
…Adding… Press release…
Today, members of the Democratic Party of Illinois Search Committee announced State Representative Christian Mitchell as the new Interim Executive Director of the state party, Mary Morrissey as the Chief Operating Officer, and Emily Wurth as the Chief Financial Officer. The historic announcement will make Mitchell the first African-American to serve in the role.

Representative Mitchell currently serves as state representative for the 26th District and brings his background as a grassroots organizer and communications professional to the role. As state representative, Mitchell has played an instrumental role in standing up for women's rights, fighting for criminal justice reform, and advocating for Illinois' working families. Prior to serving as state representative, Mitchell served as the Midwest Director of Paid Media and Polling for Obama for America, senior advisor for Tammy Duckworth's U.S. Senate campaign, Director of External Affairs for Cook County government, and as a community organizer on the South Side of Chicago.

The committee's announcement comes after making their selection and with the support of Chairman Madigan, the JB Pritzker campaign, and other Democratic leaders across the state.

"I am so proud to announce State Representative Christian Mitchell has been selected as the Interim Executive Director of the Democratic Party of Illinois," said search committee co-chair Juliana Stratton. "As a community organizer, Christian is part of a new generation of leaders who know how to build grassroots movements and win campaigns. As a state representative, Christian was critical in the fight to pass the ERA and has a strong record of protecting a woman's right to choose, standing up for our working families, and building a more inclusive economy. And as the first African-American Executive Director in the history of the Democratic Party of Illinois, I am confident he will play an essential role in building a party that reflects the diversity of our state and helps us win up and down the ticket, in every corner of Illinois."
Notice that the press release not only was issued by Stratton, she's the only one quoted. I'm not yet sure if Speaker Madigan will issue his own release. Stay tuned.
*** UPDATE 1 *** From Rep. Mitchell…
Today, State Representative Christian Mitchell was historically selected as the new interim Executive Director of the Democratic Party of Illinois and released the following statement:

"I'm honored to accept the role of interim Executive Director of the Democratic Party of Illinois," said State Rep. Christian Mitchell. "I look forward to doing the work necessary to assure Democratic victories up and down the ticket and charting a new and inclusive path forward for our party. Together, I know we can build a party that represents the diversity of our state, listens to our young people, and relentlessly fights for the values that make Illinois strong.

"In my work in Democratic politics, I've seen the power of bringing people together and building from the grassroots up to win – and that is exactly what we'll do in November. To that end, I'm excited to announce that my first action as interim Executive Director is to launch a new voter registration initiative in partnership with the JB Pritzker for Governor campaign. This $1 million initiative will help us reach voters in districts where a strong Democratic turnout from new or unregistered voters could flip seats and lead Democrats to victory up and down the ballot. We're going to win in November and move our communities forward. I'm so proud to help lead that fight."
*** UPDATE 2 *** From the Illinois Legislative Black Caucus Chair Sen. Kimberly Lightford…
"We are so proud of today's historic announcement naming our colleague, State Representative Christian Mitchell, as the next interim executive director of the Democratic Party of Illinois. We believe it is essential that our party reflects the diversity that makes our state great, and today's announcement shows the Democratic Party shares that commitment. With Christian's background building grassroots campaigns and fighting for working families, we know he is the right person to chart the way forward for the Democratic party and help us win up and down the ticket, in every community."
*** UPDATE 3 *** Pearson…
The choice of a man by the all-women panel was somewhat unexpected because the fallout from the #MeToo movement has plagued Democrats under Madigan, who also serves as the party's chairman. […]

"People tried to make the best decision going through the election," said Lauren Beth Gash, Democratic state central committeewoman for the 10th Congressional District and a former state lawmaker. "There are many people who would be qualified, but Christian's experience in this arena is unique." […]

Additionally, the choice of Mitchell and the involvement of Pritzker's campaign team may represent a broadening of the state Democratic Party's role into down-ballot contests across the state.

"I would like to see that," Gash said. "I believe that (Mitchell's appointment) does that."
*** UPDATE 4 *** Interesting…
So proud of my friend, @cljmitchell! Also grateful that he's the one friend I can count on to talk about soccer with while I'm at the World Cup. You're going to kill it this cycle 🙂 https://t.co/odAeWJZACU

— Alaina Hampton (@alainaxhampton) July 10, 2018
*** UPDATE 5 *** And now Kelly Cassidy. Another MJM critic…
Congrats to my pal ⁦@cljmitchell⁩ on this new role. I don't know a more thoughtful, strategic or relentlessly focused campaigner. Looking forward to working towards dem wins statewide together. I'll bring the blondies buddy! https://t.co/1y2qrd5lQY

— Rep. Kelly Cassidy (@RepKellyCassidy) July 10, 2018
- Posted by Rich Miller 31 Comments