* Commenter Southside Markie received a robocall from Newt Gingrich today asking him to vote for Gov. Rauner. It takes a few seconds to get started…
I suppose the idea here is to help shore up Rauner's conservative base. But is anyone even answering their phones in this state right now? Is Team Rauner worried or just being careful not to miss a trick? I suppose we'll find out tomorrow.
…Adding… Good point in comments…
Is Newt Gingrich really the best he could get?
…Adding… This. All this…
Wow! If this were 1995, that would be huge.

— John Neuenkirchen (@JohnNeuenkir) March 19, 2018
…Adding… Gingrich got 8 percent of the vote here in the 2012 Illinois presidential primary. Heavy hitter indeed.
…Adding… The fun never ends…
Hey @newtgingrich someone is leaving crazy voice mails saying that your're supporting failed Governor and tax raiser Bruce Rauner. Rauner HATES @realDonaldTrump so much that he wouldn't endorse @realDonaldTrump over Hillary Clinton. @JohnCabello @JeanneIves @DanProft @NRO

— Rep. David McSweeney (@1980reagan) March 20, 2018
* Script…
Hi. This is Newt Gingrich. Calling to remind you to vote on Tuesday, March 20th in the Republican primary.

Bruce Rauner is leading a revolution against the corruption in Springfield. Mike Madigan has been in power for far too long and Bruce Rauner is the only one who can win the fight against the Madigan machine. That's why it's so important you vote for Bruce Rauner on Tuesday, March 20th.
* Meanwhile…
When asked to account for his own spending against Democratic candidates in the midst of his own primary, Rauner replied that "meddling ain't the word for what the DGA is doing."

"You haven't heard me say, 'hey, Biss is too liberal,' you haven't seen me say "vote Kennedy," Rauner told reporters. "You hear the Democratic Governors Association coming in and supporting my opponent."

In the course of the press conference, Rauner also accused Pritzker several times of hiding his wealth in offshore accounts to avoid property taxes — something Rauner may also be guilty of, according to the Chicago Tribune, pointing out that Rauner's name had been posted as an investor in a pool registered in the Cayman Islands through his private equity firm GTCR.
* And…
"We have got to fight back against Madigan, and she has specifically said she wouldn't push back on his income tax hike that they passed over my veto last summer," Rauner said. "And she specifically has voted against property tax relief."

Ives said Rauner is telling desperate lies: "It is Rauner and the DGA who share the same policy positions on abortion, sanctuary state, Chicago bailouts and the like."
* And…
Outside of @JeanneIves Trump Tower newser, it appears @GovRauner Campaign sends someone outside but in view of Press holding enlarged check from DGA, drawing more attention to adds calling Ives the true conservative #ILGov pic.twitter.com/2GkgiOwVvx

— Mary Ann Ahern (@MaryAnnAhernNBC) March 19, 2018
- Posted by Rich Miller 18 Comments


* "Voter shaming" letters were a big thing two years ago. They appear to be back and even more blatant. From a subscriber…
Lots of folks in the neighborhood [are upset] about this today — we're getting a ton of calls and visits to the [redacted] about it. It's a letter from an outfit called the "Illinois State Voter Program" that looks suspiciously like the earlier mail sent out by that Lipinski front group, United for Progress. (Although there are no "paid for" disclaimers on this piece.)

Looks like a curious effort to guilt folks into voting tomorrow by implying they'll be exposed to their neighbors as a non-voter if they don't. The addresses listed and redacted in the attached letter are the mail recipient's neighbors.

We did some checking and it turns out the letter is only being sent to "Leaners" — we know of no Hard D's or Hard R's who had it mailed to them. Looks like an attempt to get middle-of-the-road voters to show up tomorrow — assuming they'll pull a Dem ballot and vote for Lipinski.

Like the earlier United for Progress piece, the "Illinois State Voter Program" uses a Lockport P.O. Box as its return address.
* The letter…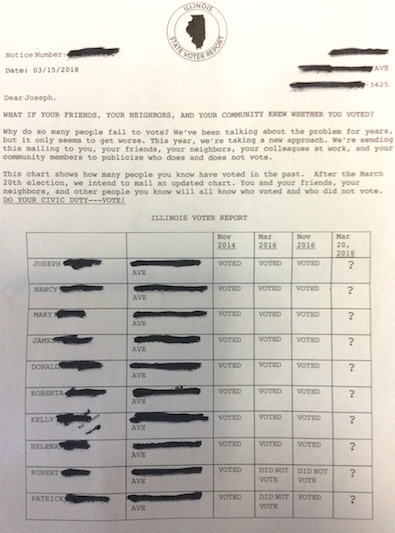 There's a better copy of the letter here.
* The subscriber followed up later…
Just heard from a guy from [redacted] who got the letter. In addition to listing the neighbors on his block, they listed two of his Facebook friends — one who lives in Oak Lawn and another who lives in Garfield Ridge. Pretty sophisticated data dive.
…Adding… The "group" even has a website. Click here. It was created March 9th. But check out what happens once you input your info…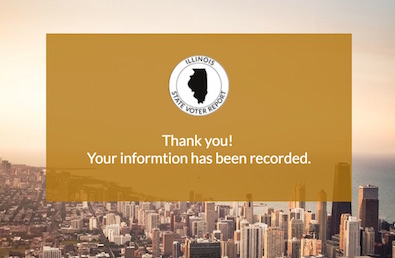 They need a spell-checker.
* Moving right along…
I received this very ominous (and very unsolicited) text with a link to the attached anti-Rauner video from what I assume is a @JeanneIves text-banking campaign. Worth noting that I'm a strong Dem voter. pic.twitter.com/kaRR3EHV8h

— marydifino (@marydifino) March 19, 2018
* And the Shenanigans! meme spread to CNN today…
[The DGA's new TV ads are] hardly the kind of thing that would turn off conservatives ahead of a primary. In a statement, Rauner's campaign said the Democratic Governors Association launched it because it feared the incumbent.

"That's why they've decided to overtly attempt to influence the outcome of the Republican primary in favor of a candidate who is simply unelectable in Illinois," said Rauner communications director Will Allison.

The Democratic Governors Association denies engaging in any such shenanigans.
*** UPDATE 1 *** Fake news alert! There is no such outfit in Illinois.
🚨SHOCK POLL🚨

Rauner 48%

Ives 45%

Land of Lincoln Polling, March 15-18

— Don Walker (@DC__Don) March 19, 2018
*** UPDATE 2 *** Interesting…
Election-eve Rally has @ChuyForCongress saying "don't waste your vote; don't vote for Biss, vote for Kennedy" @KennedyforIL rally #ILGov pic.twitter.com/PYMly50pBC

— Mary Ann Ahern (@MaryAnnAhernNBC) March 19, 2018
And Tahman reported early today that Tio Hardiman told his supporters they can vote for Kennedy as well. https://t.co/lyw1MEaT2q

— Ben Bradley (@BenBradleyTV) March 19, 2018
*** UPDATE 3 *** Sun-Times…
Cook County Commissioner Richard Boykin, D-Oak Park, has called on the Illinois Board of Elections to investigate several hundred phony campaign signs that popped up across his district over the weekend, just days before the primary election.

The signs ask voters to "un-elect" Boykin and refer to the first-term commissioner as a Republican. Boykin's 1st District covers much of Chicago's West Side and the near western suburbs. […]

Boykin said he saw between 300 and 400 of the signs across the district over the weekend.
- Posted by Rich Miller 26 Comments


Tomorrow is Primary Day and a crucial day for the pro-family movement in Illinois.

We must elect Jeanne Ives to be the GOP candidate for Governor and defeat the modern day King Herod, Bruce Rauner, who has broken every promise he has made to the voters. […]

Thanks to David Smith, Illinois Family Action, Ralph Rivera, Illinois Citizens for Life Pac, Reverend Bob whose radio ads you have been hearing, and all the other pro-life and pro-family leaders. Family-Pac has been proud to fight by your side in this important campaign.
* In case you're not up on your history…
Herod also appears in the Christian Gospel of Matthew as the ruler of Judea who orders the Massacre of the Innocents at the time of the birth of Jesus.
And that radio ad mentioned above is a truly despicable move. I'm not gonna post it. Period. It's not a shenanigan, it's reprehensible.
* Meanwhile, the governor is still focusing attention on those devious DGA TV ads…
Today, at a campaign event in Hanover Park, Governor Rauner addressed the Democratic Governors Association running TV ads in support of his primary opponent. At the event, Governor Rauner made the following statement in response to Washington Democrats throwing their support behind an unelectable candidate like Jeanne Ives:

"The Democratic Governors Association, supported by JB Pritzker, are running ads trying to boost Ives in our primary. They know they can beat Ives and they want Ives to win. We need everybody to know it, and we need everybody to get to the polls. Don't let the Democratic Governors Association and Washington Democrats influence the outcome of the Republican primary in the state of Illinois. Republicans: get to the polls and vote for Rauner and Sanguinetti." – Governor Bruce Rauner
Ordering voters around in the third person is an interesting tactic.
* Speaking of that presser, the Pritzker campaign says the governor had a melt-down today. I'm not kidding…
Manic Monday: Rauner Melts Down Before Election Day

Chicago, IL – In a bizarre press conference this morning, Rauner stumbled and laughed through questions as he closed out his flailing primary campaign with desperate attacks on Democrats.

After conservative media outlets have fueled Jeanne Ives' rise, Rauner begged Republican primary voters not to support his insurgent challenger at the last-ditch presser. Rauner hypocritically railed on Democrats for running ads in another party's primary, while dodging questions on his qualifications and accomplishments, nervously laughing nearly half a dozen times during Q&A.

"While Jeanne Ives continues to surge just hours ahead of Election Day, Bruce Rauner is manically melting down," said Pritzker communications director Galia Slayen. "Rauner is sounding the alarm on his own sinking campaign as Illinoisans are preparing to vote in the primary he once took for granted."
* A couple of people have sent me pics like this today. Dan Proft is mailing out the latest edition of one of his papers…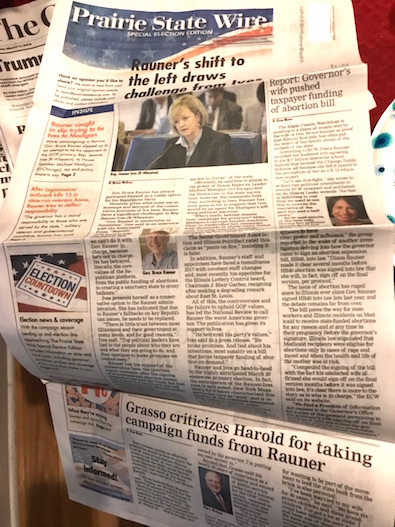 I received one, too, by the way. It's basically just "Ives, Ives, Ives" for several pages.
* Democratic House candidate David Bonner has been getting big bucks from Statehouse interest types, but he's also being hit in the mailboxes…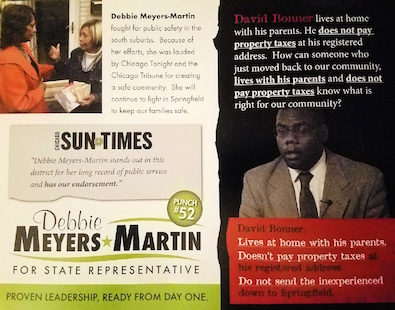 Ouch.
Debbie Meyers-Martin has only reported having about $21K in cash, so I'm not sure where she's getting money for a 4-5 piece mail program unless it's a limited list and/or she's getting a bunch of small-dollar contributions.
*** UPDATE *** From the Skokie Patch…
House Deputy Majority Leader Lou Lang (D-Skokie) said Saturday a false mailer written by Sen. Ira Silverstein (D-Chicago) means he can no longer remain neutral in the 8th District Democratic senate primary. Lang said the campaign brochure claimed that he had endorsed Silverstein when he had not. In response, he endorsed Ram Villivalam. […]

Silverstein told Patch Lang had not previously indicated that he would remain neutral:

1) It never crossed my mind that after 18 plus years of my constant support for Rep Lang that he would not assist and support me. In fact, we passed his nominating petitions.

2) He mentioned a conversation with me. In terms of that conversation, I heard that Rep Lang must be neutral until my matter before his committee was adjudicated. I respected that need for objectivity and ability to consider the matter fully. In that matter he showed great integrity. But once I was cleared by the Inspector General of the charges, and his committee's responsibilities correctly discharged and the matter no longer before him, I thought our relationship would revert to the usual. Mutual support.
- Posted by Rich Miller 29 Comments


* From a Proft paper, so no matter how deliciously possible it may seem, just keep in mind that it's the day before an election…
Gov. Bruce Rauner says he'll fight for Illinoisans. But only if he wins re-election.

If he loses, Rauner's wife, Diana, says she and Bruce are out of here.

"Bruce and I are moving to Italy," a source says she flippantly told a group of "mostly Democrat" women from DuPage County last Thursday.
* The DGA then used the Proft paper story to troll the Rauners in its latest press release, which ends…
The Rauners would fit right in – they're already wine connoisseurs of the highest degree.

Diana Rauner's response came from a question about Illinois' out-migration problem. Under Bruce Rauner, the problem has only gotten worse.

Is Bruce next?

"Given his rock-bottom approval ratings, it's not surprising that Bruce Rauner is already planning his escape," said DGA Illinois Communications Director Sam Salustro. "And frankly, Italy's a great choice. Illinois is worse under Bruce Rauner, so it's no wonder he'd want to escape the mess he created. This year, Illinois voters are going to be saying – Ciao, Bruce!"
And they helpfully included this pic…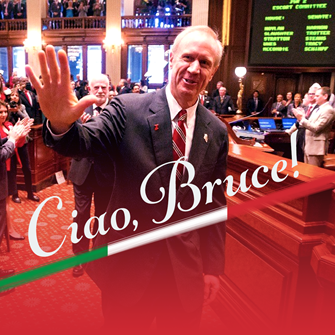 Weird times.
*** UPDATE *** The governor was actually asked about the story today and he dodged the question…
Rauner was asked whether he would stick around Illinois should he lose. He laughed, then said, "That's a whole 'nother subject. Let me be clear. We aren't going to lose. I'm a fighter. I never give up and I have fought hard for six years. I've lost 20 pounds, most of my hair."

— Tina Sfondeles (@TinaSfon) March 19, 2018
Not a bright thing to say. Also, there's that laugh again.
[ *** End Of Update *** ]
* Congressman LaHood has said he is staying out of the Republican primary battle, so this was an interesting photo…
Dropped by the Sterling Family Diner in Peoria with Rep. Darin LaHood this morning! It was great to meet everyone! #twill #ILGov pic.twitter.com/jqTpCPc0qR

— Bruce Rauner (@BruceRauner) March 18, 2018
* She got the congressman's name wrong (Ray is the father), but it's Twitter and we're all tired, so no big deal…
Ives campaign says Cong Ray Lahood told them he was at a public event of elected officials and not endorsing @GovRauner even tho Rauner spox said Gov & Lahood were campaigning together today in Peoria #ILGov @JeanneIves

— Mary Ann Ahern (@MaryAnnAhernNBC) March 18, 2018
* The Ives campaign sent me this text message exchange with Mary Ann about Congressman Ray LaHood…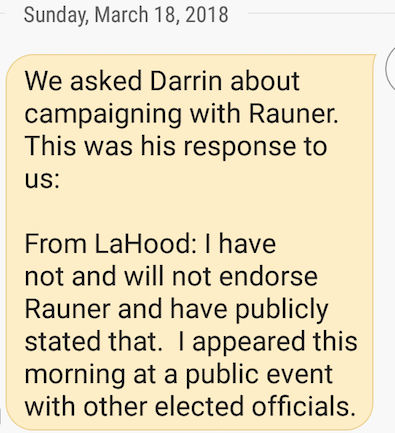 * And here's a text I received last night from Democratic House candidate Curtis Tarver's campaign…
Hey, Rich. Loving the shenanigans posts. We have one from today: One of our interns caught a guy putting our signs in a garbage can.
Tarver is running in a crowded primary to replace retiring House Majority Leader Barbara Flynn Currie.
* Pics of the alleged act (which could very well be someone throwing away a sign planted in the public way, making this a Tarver campaign shenanigan)…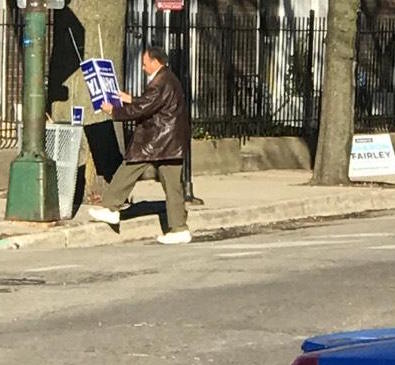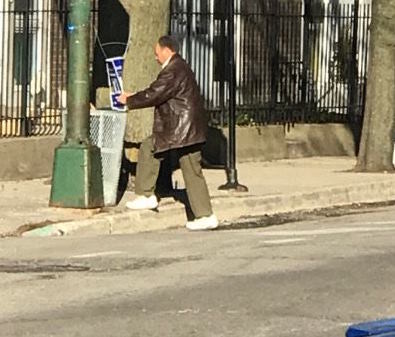 They sent a third pic of the guy behind the wheel showing his license plate that I'm not going to post. But the plate of the alleged perp was a variation on the word "enchanting." I told you that so you could understand the joke they texted: "Well, we're definitely enchanted."
- Posted by Rich Miller 38 Comments


* Front pages of a couple of recent Bruce Rauner campaign mailers, with thanks to my mom…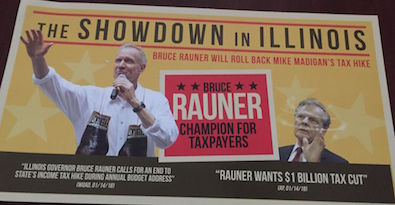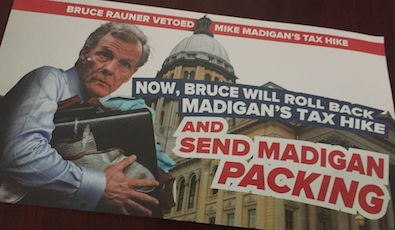 * And while we're at it, here's Finke…
After Rauner said he'd be moving back to the mansion in May, a reporter asked about a discrepancy in fundraising efforts. Money was raised to repair the mansion, but efforts to raise private money to repair buildings on the state fairgrounds haven't been as successful since Rauner created a fair foundation in 2016.

"What we have found is that because Madigan and his legislators have resisted it and have fought against a fair foundation, there's some reluctance among some donors to fund it, because they're worried Madigan will somehow end-run it or block it in the future," Rauner said. "His resistance to a fair foundation has inhibited donors and it's frankly terrible."

Yeah, that's the only possible explanation.
*** UPDATE *** With a hat tip to a commenter, if you go to the Illinois State Fairgrounds Foundation's website, you'll see this…

But if you click on either of the two "donate" buttons, you get this message…
A critical error has occurred. Please check the Event Viewer for further details.
"Mike Madigan and the fairgrounds foundation websites he controls!"
- Posted by Rich Miller 54 Comments