* Hilarious…
Former Illinois Gov. Pat Quinn holds press conference to say he will not run for mayor and hasn't decided who to endorse. So there's that

— Gregory Pratt (@royalpratt) November 17, 2022
* Sabato's Crystal Ball…
Supreme court races were a relative bright spot for Republicans on Election Night.

In North Carolina, Republicans swept both contested seats on the court, flipping it to 5-2 GOP control, a near reversal of the 6-1 edge the Democrats held just before the 2020 election. This is a crucial shift, not only for resolving myriad policy questions in a state with a Democratic governor and a Republican legislature, but also because of redistricting.

The midterm election produced a 7-7 Democratic split in the U.S. House for North Carolina, not far from the 50%-49% Trump-Biden breakdown in the state in 2020. But with help from a Republican-friendly court, the GOP might be able to squeeze Democrats out of several congressional seats they just won — which would be a big deal in what promises to be a closely divided House chamber.

The other big Republican supreme court victories came in Ohio, where Republicans prevailed in all 3 seats that were being contested this year. The GOP came into the election with a 4-3 edge on the court, but their fourth vote, Chief Justice Maureen O'Connor, often sided with Democrats on redistricting. The makeup of the court remains 4-3 Republican, but O'Connor will not be on the court anymore. […]

That said, Democrats fared better in supreme court races outside of North Carolina and Ohio.

In Illinois, the Democrats swept the 2 seats that were up for grabs, following the first redistricting of the state's supreme court districts in more than 50 years. With a stronger top-of-the-ticket lineup, the Republicans would have had a shot at flipping the court. But the GOP's up-ballot nominees were weak, which dragged down the otherwise credible supreme court candidates. With their twin victories, the Democrats now have a 5-2 majority that could last a decade.
Mark Curran was surely weak and not credible at all, but he had significant financial backing. Justice Michael Burke was seen as the early favorite, but Justice Mary K. O'Brien ran a very strong campaign.
* More on outgoing Rep. Avery Bourne…
During her pregnancy, Bourne, who identifies as pro-life, was outspoken in the legislative debate concerning abortion.[…]

Bourne's foil in the debate was state Rep. Kelly Cassidy, D-Chicago.

"They (Republicans) picked the right quarterback to carry the ball and it just set up this clash of the titans," Cassidy said. "And it was so appropriate… this was a great way to give the topic the dignity it deserved." […]

"We have a really solid friendship, which for some folks, might be confusing. She's someone I've watched grow as a legislator, and she's someone I really like. So it wasn't, 'I'm debating a pregnant woman.' It was, 'I'm debating a colleague with a solid understanding of her perspective of the issue.'"
* Subscribers know more about this, but it's getting weirder by the day…
A statement from Deanne Mazzochi regarding DuPage County Clerk Jean Kaczmarek's pending motion before the Illinois Supreme Court. pic.twitter.com/L4bYbTMx9D

— Deanne Mazzochi (@deannemazzochi) November 17, 2022
The long and short of it is that Rep. Mazzochi is relying on an outdated legal loophole that was apparently left open by mistake. But it's still on the books, so I dunno.
* Pretty cool story from the governor's chief of staff…
A quick story. In 2016, after Trump had won & so many of us were trying to figure out what to do about it all, my sister @Missy4PA called me to say she wanted to get more involved in politics. https://t.co/jWaUwFTjkn

— Anne Caprara (@anacaprana) November 16, 2022
Here's the rest…
She went to the Women's March. She attended local school board and Democratic Party meetings. She helped @RepHanbidge get elected in 2018 and then went to work for her.

And then this past spring, Mel called and told me she was being recruited to run in PA's 151st House District. It was a hard decision - she had to give up her job & half her family's income to do it. I thought she might decide against it.

But she called me back after a day and said she was going to run. "If I don't step up when I'm asked then who will?" she told me that day. From the day forward, Mel was all in.

Today, after days of counting and by just a handful of votes, she's flipping the PA state house for Democrats. I know the last few years has been full of so many hopeless moments for so many - but don't let anyone tell you the fight isn't worth it. @Missy4PA is proof that it is.
* Isabel's roundup…
* Daily Southtown | Will County Sheriff Mike Kelley, Treasurer Tim Brophy apparent victors in close races; county board split 50-50: In the race for sheriff, incumbent Democrat Mike Kelley now has a 2,144 vote lead over Republican Jim Reilly. Unofficial results show Kelley with 50.47% and Reilly 49.53% of the votes with 226,756 votes cast.

* Pantagraph | Q&A with incoming Illinois House Republican Leader Tony McCombie: She is the first woman to lead an Illinois House caucus. And she is the first downstate House leader since 1983. And she has quite the challenge ahead of her. She will lead a House Republican caucus that is its smallest since the Cutback Amendment slashed the size of the chamber from 177 members to 118 in 1981.

* Fox Illinois | Illinois Senate approves divestment in Russia over Ukraine war: The Illinois Senate on Wednesday unanimously approved withdrawing state investments in Russia to protest its nearly nine-month war against Ukraine. The 50-0 vote on President Don Harmon's legislation requires divestment of money in Russian banks and companies and prohibits future investments. It's a pledge the Oak Park Democrat made with Gov. J.B. Pritzker and House Speaker Emanuel "Chris" Welch within three weeks of Russia's Feb. 24 invasion.

* Daily Beast | Shady Crypto Cash Fueled Their Campaigns. Will They Keep It?: Two recipients of Bankman-Fried's campaign cash, Sen. Dick Durbin (D-IL) and Rep. Chuy Garcia (D-IL), confirmed to The Daily Beast that they would donate the $2,900 they received from him to charities.

* Fox Business | Maxine Waters dodges question on FTX, Democrat ties and claims 'both sides' got money:Names of Democratic candidates that have received political contributions from FTX include Rep. Jesus Garcia, D-Ill., and Reps.-elect Morgan McGarvey of Kentucky, Maxwell Frost of Florida, Sydney Kamlager of California, Jonathan Jackson of Illinois, Nikki Budzinski of Illinois, Jared Moskowitz of Florida and Rob Menendez Jr. of New Jersey.

* Patch | 'Difficult Choices' After Failed Frankfort Park District Referendum: The park district had asked voters to raise its portion of property taxes in order to raise additional funds to keep the level of park maintenance and recreational services. According to unofficial election results, 3,078 people voted yes to the referendum, while 4,832 voted no.

* NBC 5 | Some Chicago Starbucks Workers Plan to Join Strikes Across US on Busy Red Cup Day: The walkouts are scheduled to coincide with Starbucks' annual Red Cup Day, when the company gives free reusable cups to customers who order a holiday drink. Instead, workers say they'll be handed out "Starbucks Workers United" branded cups outside stores where strikes are taking place. Workers say it's often one of the busiest days of the year. Starbucks declined to say how many red cups it plans to distribute.

* Axios | Violent crime has plunged in Illinois over last 30 years: The FBI released its latest national crime report last month, but recent trends are still unclear due to incomplete data from local police departments that still haven't mastered new reporting software. Yes, but: If you take a three-decade view of violent crime in Illinois, it's clear that the state is much safer than it was 30 years ago.
* IDES…
The Illinois Department of Employment Security (IDES) announced today that the unemployment rate increased +0.1 percentage point to 4.6 percent, while nonfarm payrolls increased by +3,600 in October, based on preliminary data provided by the U.S. Bureau of Labor Statistics (BLS) and released by IDES. The September monthly change in payrolls was revised from the preliminary report, from +14,500 to +14,100 jobs. The September unemployment rate was unchanged from the preliminary report, remaining at 4.5 percent. The October payroll jobs estimate and unemployment rate reflect activity for the week including the 12th.

In October, the industry sectors with the largest over-the-month gains in employment include: Trade, Transportation and Utilities (+2,800), Leisure and Hospitality (+2,300), Manufacturing (+1,800), and Professional and Business Services (+1,800). The industry sectors that reported monthly payroll declines included: Government (-8,100) and Information (-100).

"Job growth throughout the state has remained strong for nearly a year and a half, and the most recent data is evidence that workers are engaged in the growing labor market," said Deputy Governor Andy Manar. "IDES is committed to providing jobseekers and employers with the resources necessary to take advantage of the many newly created jobs across industries."

"Over the past year, Illinois has continued to exhibit positive long-term employment trends, with considerable improvement in the state's unemployment rate, and the addition of nearly 192,000 new jobs," said DCEO Director Sylvia I. Garcia. "DCEO continues to support economic recovery throughout the state through marquee economic development programs that attract job creators, help Illinois businesses grow, and support job-seekers through statewide resources and programs."

The state's unemployment rate was +0.9 percentage point higher than the national unemployment rate reported for October, which was 3.7 percent, up +0.2 percentage point from the previous month. The Illinois unemployment rate was down -0.7 percentage point from a year ago when it was at 5.3 percent.

Compared to a year ago, nonfarm payroll employment increased by +191,900 jobs, with gains across nearly all major industries. The industry groups with the largest jobs increases include: Trade, Transportation and Utilities (+46,400), Leisure and Hospitality (+43,700), and Professional and Business Services (+35,500). The Mining sector reported a small decrease in payroll employment (-200). In October, total nonfarm payrolls were up +3.3 percent over-the-year in Illinois and up +3.6 percent in the nation.

The number of unemployed workers rose from the prior month, a +2.6 percent increase to 298,200 and was down -10.9 percent over the same month one year ago. The labor force was down slightly (-0.2 percent) over-the-month and up +1.5 percent over-the-year. The unemployment rate identifies those individuals who are out of work and seeking employment. An individual who exhausts or is ineligible for benefits is still reflected in the unemployment rate if they actively seek work.

In May 2020, Governor Pritzker launched Get Hired Illinois, a new one-stop-shop website to help connect job seekers with hiring employers in real time. The site features virtual job fairs, no-cost virtual training, and includes IllinoisJobLink.com (IJL), the state's largest job search engine, which recently showed 48,975 posted resumes with 141,403 available jobs.
Deets…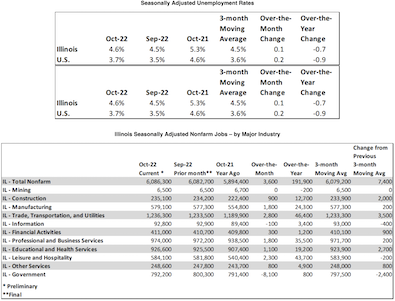 From Monday…
Illinois has reached six consecutive months of record-low unemployment claims, according to the Illinois Department of Employment Security (IDES).

The most recent data shows that Illinois has stayed below the 70,000 claims threshold for 26 consecutive weeks with a little more than 57,000 continued claims as of last week.

The IDES said Illinois has seen payroll job growth for 16 consecutive months.

"I'm not surprised at all because you can go to any business right now and they have one thing in common, they're all looking for help," said Mike Murphy, CEO of the Springfield Chamber of Commerce.
* Meanwhile…
Attorney General Kwame Raoul today announced charges against a Cook County man who allegedly collected government assistance using stolen identities during the COVID-19 pandemic. The charges are the most recent resulting from the Attorney General's Task Force on Unemployment Insurance Benefits Fraud's monthslong investigation into unemployment insurance benefits fraud. Working closely with state and federal agencies, Raoul's office previously charged several individuals throughout Illinois for fraudulently collecting government assistance, including state unemployment benefits and loans from the U.S. Small Business Administration (SBA).

"Thousands of struggling Illinois residents and small businesses were forced to rely on unemployment benefits and loans from the SBA during the height of the pandemic," Raoul said. "Those who used the crisis to commit fraud and steal from the government also slowed the processing of legitimate claims. These charges are the result of months of tireless investigation by the Task Force on Unemployment Insurance Benefits Fraud and our partner agencies. I am committed to the continued work of the task force to ensure individuals are held accountable for their theft at a time when many Americans desperately needed help."

"It's appalling and disappointing the lengths to which individuals were willing to go to defraud the vital resources and funds meant for vulnerable workers who were displaced during the pandemic," said Illinois Department of Employment Security Director Kristin Richards. "IDES is thankful to the Task Force on Unemployment Insurance Benefits Fraud for the tireless work they've done to position prosecutors to bring charges against these individuals."

Kaquanice Larry, 27, of Mt. Prospect, was arraigned today in Will County after being arrested Wednesday, Nov. 16. Raoul's office previously charged Whitney Flowers, 22, of Glen Ellyn, who, along with Larry, allegedly filed for unemployment benefits with the state of Illinois using identifying information they stole from three victims. Raoul alleges the pair obtained approximately $75,000 in fraudulent unemployment benefits. Raoul's office is also alleging Larry filed for Paycheck Protection Program (PPP) loans in the name of a fictitious company. He received two loans of approximately $20,000 each, and both PPP loans were forgiven by the SBA.
* The Alton Telegraph with lawmaker reaction…
Amazon could relieve 10,000 employees of their jobs as soon as this week, according to a report by the New York Times.

Cuts could come in areas such as devices, retail and human resources, the report says. However, the total layoff number reportedly remains fluid, yet the Times piece says 10,000 would represent 3% of the corporate employees and less than 1% of the global workforce. […]

Amazon has 14 fulfillment facilities in Illinois alone, and two in Missouri (both in the St. Louis area), according to an August 2022 report by Tinuiti. The St. Louis region of Missouri and Illinois has four total fulfillment centers. The facility in Edwardsville, Illinois made national news near the end of 2021 after it was destroyed by a December tornado — six people were killed.

Illinois State Senator Steve McClure, who represents the 50th district, which includes northern parts of St. Louis' Metro East, said he finds the announcement odd as the busy Christmas season approaches.

"I'm just hopeful that it's not going to affect the state of Illinois because what an awful time to lose a job, right before the holidays," he said Monday. "Maybe it's a sign of issues with the larger economy? Obviously, there are issues with inflation and everything else right now, but certainly, it's troubling."
The cuts are mostly corporate staff, according to the WSJ
* According to Good Jobs First, since 2016 Amazon has been handed $731,973,199 in state and (mostly) local subsidies in Illinois alone. WBEZ reported in 2020 that Amazon's warehouses came with high taxpayer assistance…
The Condor pitchman, developer Mark Goode, promised a new, $150 million warehouse that would bring 800 jobs to the cash-strapped, predominantly African American suburb 20 miles south of Chicago. But there was a catch. Several catches.

First, trustees had to keep the identity of the company behind the project a secret, at least until the deal was sealed. Second, they had to promise more than $100 million in future tax revenues to help pay for it.

And third, they had to ram through a vote on the deal to meet the project's construction timeline, which put the first shovel in the ground just weeks later on April 1. It was a demand that prompted trustees to bypass their practice that spreads such big decisions over three meetings to give the public a chance to have its say. […]

Amazon has been quietly cutting such deals in and around Chicago since 2015, winning tax breaks and public incentives to build 36 warehouses as part of its nationwide effort to expand its own distribution system, cut its dependence on rival shippers like the U.S. Postal Service and bolster its famous promises of next-day delivery.To help pay for its vast expansion, the company and its developers have won at least $741 million in taxpayer-funded incentives in northeast Illinois alone, according to a Better Government Association/WBEZ investigation.

An examination of public records from more than two dozen municipalities provides new details in Amazon's six-year effort, revealing a patchwork of nondisclosure agreements, a lack of transparency during negotiations and suburbs pitted against each other to secure the most favorable deal.
* Good Jobs First press release…
Amazon.com, Inc. has squeezed more than $5.1 billion from U.S. states and localities in economic development subsidies. This is according to subsidy watchdog Good Jobs First, which posted recent tax-break data at its Amazon Tracker  database documenting hundreds of incentive deals given to the retail giant.
 
Amazon has also continued to reap subsidies around the world, as first documented  by Good Jobs First last February. While the costs of those non-U.S. deals are less-well disclosed, Good Jobs First noted likely new subsidies since February given to the company in Germany, Sweden, and the United Kingdom.
 
Good Jobs First released the new findings as part of the global "Make Amazon Pay" campaign featuring events in many nations on Black Friday (November 25). 
 
Most of the U.S. subsidy packages are for warehouses, even though Amazon's rapid-delivery Prime business model compels it to build hundreds of such facilities close to affluent communities. Amazon also recently announced it will lay off thousands of workers and cancel some of its distribution expansion plans, admitting it overbuilt. While the company has failed to sign its first collective bargaining agreement with warehouse workers who have voted to unionize, Amazon founder Jeff Bezos is scrubbing his image with charitable-giving announcements. 
 
"Governments are wasting huge sums subsidizing Amazon even as the pandemic drove record growth for the company, and repeated exposés have shown the deplorable working conditions of its warehouse workers and the power it has to drive small businesses out of the marketplace," said Good Jobs First Senior Research Analyst Kasia Tarczynska, who maintains Amazon Tracker. "Amazon must stop squeezing communities."

* Explore the database: goodjobsfirst.org/amazon-tracker
 
"Working families want justice, not charity, from Amazon," said Greg LeRoy, Good Jobs First's executive director. "That means paying taxes like everyone else — with no subsidy tax breaks — and recognizing workers with a bona fide union contract." 
 
Within the last two years: 
 

* Amazon received one of its biggest packages ever in Niagara County, New York. In exchange for $124 million, Amazon promised to create 950 jobs paying roughly the county's minimum wage when the warehouse opens: $15 an hour. The jobs, per the agreement, can be part-time or contract workers employed by temp agencies. 

* Blount County, Tennessee, committed $12 million for road improvements necessitated by an Amazon warehouse. Amazon will make payments for that work via a Payment in Lieu of Taxes (PILOT) agreement over the next 20 years, instead of paying property taxes that would have gone to educate kids, maintain parks, help veterans, or beef up workforce development. (The county did not disclose Amazon as the beneficiary of this deal until after approval, and local development officials erroneously claimed Amazon was getting no subsidies).

* A developer that will house an Amazon warehouse is benefiting from a tax increment financing (TIF) deal that will lower its costs by $1.8 million in Charlton, Massachusetts. Per the state, "TIF benefits are expected to be passed through to Amazon who will be creating 1,000 jobs." The through-payment, which means Amazon is likely paying reduced rent, is another common, back-door tactic used by Amazon. 

* Not content with Morrow County, Oregon's lack of sales tax, its cheap power, and bountiful water and land, Amazon got over $51 million for data centers there in 2022. Cloud-computing server farms produce very few permanent jobs. Yet since 2015, Good Jobs First has documented over $224 million in Amazon data center subsidies in Morrow County (voters rejected a school bond in spring 2022, in part because of resentment by voters who felt they were subsidizing Amazon's free ride, the Oregonian reported).

* Somewhere in Pennsylvania (poor transparency means the public doesn't know where), Amazon got nearly $4.5 million in  film subsidies. Expect more of these now in the wake of its acquisition of MGM.

 
Instead of Amazon squeezing workers, the company should pay living wages and stop its aggressive, even potentially illegal responses to organizing efforts. 
 
Instead of squeezing the planet – its carbon dioxide emissions in 2021 were the equivalent of 180 gas-powered plants, the Verge reported - Amazon must work to take meaningful action on climate change.
 
And instead of squeezing communities for every dime, Amazon should pay them when it arrives, for roads, schools, parks, environmental mitigation and everything else other residents and other businesses already pay for.
 
Bottom line: Instead of celebrating a man's dubious pledge to cherry-pick charitable causes, let's work to build an economy that properly rewards workers and their support systems for the riches they create and enable.
* WTTW…
Former prosecutor John Curran, who on Tuesday night was elected by Senate Republicans as their next leader, said Republicans have not been part of those [SAFE-T Act] talks.

"We continue to be frozen out of this process. I am in regular communication with the state's attorneys that are at the negotiating table and involved, as well as the chief of police representative and the sheriff representative," Curran said. "It sounds like it's been a very uneven process that's taken place behind closed doors. If they open that process up I think we can get a lot of these issues resolved."

Democrats outnumber Republicans nearly 2-1.

Curran said he knows that Democrats therefore have the numbers to go it alone.

"What we know is the go-it-alone path is going to produce results that are not meeting the needs of working families in Illinois. They are at the point, they're not going to be able to handle their base if they go it alone," Curran said. "They need Republicans participating in the process in a meaningful manner in order to moderate and bring balance to what we do as policy makers for all Illinoisians. So we play an incredible, important role. Democrats would be foolish not to respect that and invite that in."
What Sen. Curran appears to be offering is a way for Senate President Don Harmon to get around the Black Caucus and the progressives and run a more law enforcement-friendly trailer bill.
* The Question: Should Senate and House Democratic leadership take Sen. Curran up on his apparent offer? Explain.
* A question that came up near the end of the governor's race was if challenger Sen. Darren Bailey had passed enough legislation. Well…
Is this anti-trans bill, which will obviously not advance any further, Bailey's token gesture to the nutters at Awake Illinois who supported him and Devore's failed campaigns? https://t.co/rFLD8cEkHm

— The People's Fabric (@peoplesfabric) November 16, 2022
The bill was filed during Transgender Awareness Week and currently has no co-sponsors. Synopsis…
Amends the School Code. Provides that, for interscholastic athletic programs or comparable programs supported from school district funds, a student's sex shall be the student's biological gender assigned at birth. Provides that, in determining a student's biological gender, a statement of a student's biological sex on the student's official birth certificate is considered to have correctly stated the student's biological sex at birth if the statement was filed at or near the time of the student's birth. Amends the Board of Higher Education Act. Provides that interscholastic athletic teams or sports that are operated by a public university must be expressly designated based on the biological sex at birth of team members. Provides that a statement of a student's biological sex on the student's official birth certificate is considered to have correctly stated the student's biological sex at birth if the statement was filed at or near the time of the student's birth. Provides that an athletic team or sport designated for females, women, or girls may not be open to students of the male sex. Provides that an athletic team or sport designated for males, men, or boys may be open to students of the female sex. Amends the Public Community College Act.
PBS…
At least 32 transgender and gender-nonconforming people have been killed in the United States in 2022, the Human Rights Campaign announced Wednesday in its annual report ahead of the Transgender Day of Remembrance. […]

Shoshana Goldberg, public education and research director for the HRC Foundation, said this year's report comes amid the largest recorded wave of anti-trans legislation at the state level, which she said has largely been fueled by disinformation and stigma.

Some bills sought to limit discussion of LGBTQ topics in schools, restrict gender-affirming health care, and prevent transgender children from playing on sports teams or using bathrooms that align with their gender identities.

Such bills, she said, fuel anti-LGBTQ sentiment by painting queer and transgender people as a risk to children and communities.
* In other news, here's WCIA…
Jazmine was laid off during the pandemic and needed money to pay her rent. So she got a loan from a pawn shop using her cameras and Macbook Air as collateral.

"Not only did they give me $800, but they also low balled me because I had to come back two days later, and I got another loan, both of them high APR rates of 150%, which I had no knowledge of, they never broke down what would happen," Jazmine, a social media influencer and digital content creator, said.

In 2021, the state passed the Predatory Loan Prevention Act (PLPA), which caps the interest rate on consumer loans at 36%. But the law doesn't apply to pawn shops.

After the PLPA passed, pawn brokers asked the courts for an injunction so that the law wouldn't apply to them and they received one. […]

Now, lawmakers are considering legislation to close the loophole and it's what brought Jazmine to the State Capitol.

Pawn shops are accused of giving high interest rates to active duty service members. Despite the injunction, federal law is supposed to cap interest rates for members of the military and every store is supposed to ask customers if they serve.
An e-mail to Rich…
On behalf of Senator Collins, I wanted to bring the attached exchange to your attention.

To put it in context, in January 2021, Senator Collins spearheaded the passage of the Predatory Loan Prevention Act (PLPA), which established an interest rate cap of 36% on consumer loans. The pawnbroker industry sued the Illinois Department of Financial and Professional Regulation claiming that the PLPA did not apply to them. Judge Raylene DeWitte Grischow of the Sangamon County Circuit Court granted the pawnbrokers' request for an injunction. The injunction permitted the pawnbrokers to continue to charge interest rates as high as 243%.

Senator Collins filed a bill (SB 4241) last week to close this loophole. At the same time, she continued researching pawn loan interest rates in other states. She sent requests for information to neighboring states and to the National Pawnbrokers Association (NPA). Chris Stone was copied on the request for information to the NPA.

The email he sent to Senator Collins yesterday was a response to Senator Collins's request.
The exchange…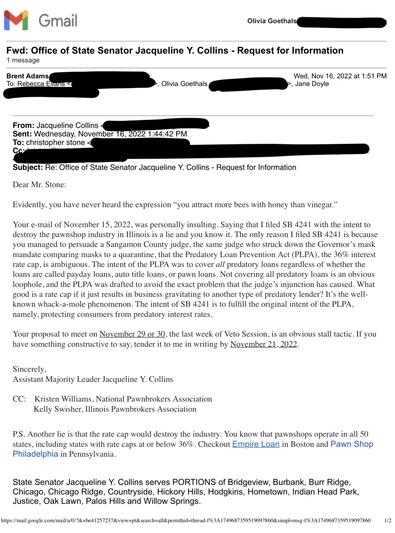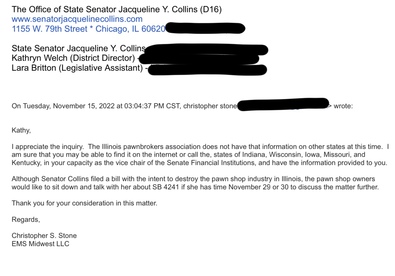 * SJ-R…
With opioid-related overdoses rising nationally and in Illinois, two state legislators announced new legislation that would target dealers of fentanyl-laced opioids and other medications with increased penalties.

Republican state Sens. Sally Turner and Sue Rezin introduced Senate Bill 4221 during a Tuesday press conference at the Capitol. They hope the bill sees some action during the six-day veto session that started Tuesday.

According to the Illinois Department of Public Health, more than 2,650 Illinoisans died from synthetic opioid overdoses last year. That number is up from 87 in 2013. Rezin said not enough attention is being given to the issue.

"In less than a decade, the state of Illinois saw nearly a 3,000-percent increase in synthetic opioid overdose deaths," the Morris Republican deputy leader said, adding that last year's total was greater than the combined sum of homicides and suicides in the state.
* NBC Chicago…
After the terrifying mass shooting at Highland Park's Fourth of July parade, many noted the irony that the incident occurred in one of the few cities in Illinois where assault weapons are banned by local law.

But few have noted that today, no other Illinois community can put such an ordinance on the books, barred from doing so by a bizarre act of the Illinois General Assembly in May of 2013, which briefly allowed towns like Highland Park to act.

It all happened in the aftermath of the massacre at the Sandy Hook elementary school in December 2012, and a failed effort to enact an assault weapons ban here in Illinois.

"I was very disappointed," former Gov. Pat Quinn said of those days more than nine years ago. "Some of the Democrats who I thought would vote yes on the legislation all of a sudden were saying, 'People in my district aren't for it.'" […]

While most observers believe it's a tough legislative hill to climb, gun safety advocates say they plan a renewed push for such a ban statewide when the legislature reconvenes in 2023. But in the absence of any such ban, some Highland Park victims are taking a different route, suing the accused gunman, his father, the gun manufacturer and the store that sold the weapon used in the Fourth of July attack.
…Adding…Center Square…
Parents of students from across the state involved with the state's Invest In Kids school choice pilot program are lobbying Illinois lawmakers to make it permanent.

The program allows donors to get a 75% income tax credit toward donations to fund school choice scholarships for qualified families throughout the state. Scholarship Granting Organizations are approved to administer the program, which is set to sunset Jan. 1, 2024. As lawmakers return, parents are looking for an extension. […]

Opponents of the measure say the tax credit to fund the school choice program with private donations takes resources away from the state's public schools.  Cynthia Riseman Lund, who represented the state's public schools teachers' unions, expressed her opposition to the program during a House Revenue and Finance Committee meeting last month.

"[The teachers' unions] support elimination of the Invest In Kids program. It is set to sunset … and we will call for the elimination of the program even sooner," Lund said.
* Tribune editorial…
Before the SAFE-T Act, if someone was trespassing on your property, you could call police and have them arrested on a misdemeanor charge. Under the new law, the most police can do is hand the offender a ticket, if that person doesn't pose a threat to the community. There's no mechanism to get the offender to leave.
False.
* From ChicagoTribune.com…
One claim often misrepresented is that as of Jan. 1, police will no longer be able to arrest someone for trespassing on a residential front porch, backyard shed, business or other private property. Many falsely claim that police will only be able to write a ticket and that the law would prevent officers from arresting a trespasser.

"We're fearful that many of these events will end up in a physical altercation," Glotz said in the video message. Homeowners will have to fend for themselves against violent perpetrators as law enforcement helplessly stands down, in other words.

Numerous nonpartisan groups have debunked the claim.

"Police officers still have the discretion to arrest someone if they determine that they threaten public safety," InjusticeWatch reported Sept. 15.

Contrary to claims by Glotz, Pekau and others, the SAFE-T Act does not prevent police officers from arresting someone for trespassing, the State Journal-Register reported Monday.

"The bill's only explicit mention of trespassing refers to trespass of vehicles, but still applies due to the degree of the crime," the newspaper reported. "Typically listed as a Class B misdemeanor, a charge for criminal trespassing can lead up to six months in jail or a $1,500 fine."
* Civic Federation…
The law does not prohibit police officers from arresting and removing criminal trespassers from private property if the person poses a threat to the community, any person, or their own safety. Police officers will continue to be able to use their discretion about what constitutes a public safety risk in these instances. For example, see this flow chart for guidance on citation procedures.
From that flow chart, which was produced by the Illinois Supreme Court's Implementation Task Force…
Law enforcement organizations do have discretion to remove the person from the location of the alleged criminal activity, and then cite and release the person from another location.
* From a column I wrote more than a month ago…
Hinsdale Village President Tom Cauley recently said, according to the Hinsdale Patch, "I guarantee you that we're going to find ourselves with people just camped out in parks, and we cannot ask them to leave. They may be in your backyard or in your shed living there."

Nonsense.

The Illinois Supreme Court's Implementation Task Force has officially advised law enforcement they "do have discretion to remove the person from the location of the alleged criminal activity, and then cite and release the person from another location." Repeated refusals to comply could then easily be interpreted as being a threat, which would allow an arrest.

It just seems to me that tightening up the law's language to fully reflect the task force's guidance and resulting inference about arrests would be a no-brainer response to the question about changes [Gov. Pritzker] wants to make.
And Amdor explains what activists are actually saying…
Advocates have been and continue to be willing to support clarifications to the law needed to offset the millions spent to smear the SAFE-T Act. What we won't support (and what in my estimation doesn't have the votes to pass) are rollbacks. https://t.co/Rg8S4RzLwH

— John Amdor (@JohnAmdor) November 16, 2022
* Personal PAC has been right up there with organized labor as the Democratic Party's most important ally. Love him or hate him, the indefatigable Terry Cosgrove has been a major driving force in Illinois politics and government for decades, so this is important news for those of us who follow these things…
Personal PAC has hired political strategist Sarah Garza Resnick as President & CEO. Current President and CEO Terry Cosgrove recently announced his departure to coincide with the conclusion of the 2022 mid-term election. Garza Resnick's appointment will be effective in January. She is the second CEO and will be the first woman of color to lead the organization in its more than 30-year history.

Sarah has been a life-long advocate for reproductive rights, a campaign strategist who has elected leaders across all levels of government, and is a change management expert who knows how to merge policy, politics, and people together to build political power.

"The need to advance reproductive freedom is more important than ever," said Garza Resnick. "The midterm elections show that organizing builds wins and creates historic change. Our new post-Roe world means putting our values front-and-center to protect the rights of the vulnerable and create a more just world. It's not enough for us to say we believe in reproductive rights and women's health. We have to build coalitions to protect those beliefs."

Garza Resnick has worked on mayoral and Congressional campaigns across the country and managed State House Caucus efforts in New Hampshire. As a leader, she has built successful political campaigns through her passion for fundraising and her training as an organizer.

Personal PAC Board Chair Natalie Federle stated, "Sarah's hire is reflective of Personal PAC's evolution to meet the challenges of this political environment. Her life in public service, along with her belief that advocacy must be paired with political power meets the needs of this moment. Her experience, background, and collaborative style will serve the organization well, especially as we continue our vital work protecting and advancing reproductive freedom in Illinois."

Resnick takes the reins from Cosgrove, who has led the organization since 1989, and has called serving Personal PAC "the opportunity of a lifetime." With the mid-term election results one of the best election results in Personal PAC's history, solidifying pro-choice leaders in critical offices across Illinois, he leaves the organization well positioned for the future. He called Sarah Garza Resnick "the perfect choice to lead the organization in these changing and challenging times."

Garza Resnick's most recent professional accomplishments were as Chief of Staff at the Cook County Assessor's Office where she led the office's transition team and executed a vision of reform. Under Sarah's leadership, the Assessor's Office became an award-winning example of ethics, transparency, and fairness. Sarah was also Chief of Staff to Cook County Clerk David Orr and served as an Assistant Cook County Public Defender, where she was elected Secretary of AFSCME Local 3315, and the Executive Director of First Defense Legal Aid in Chicago. She is a graduate of Cardozo School of Law and received her undergraduate degree in Political Science & Economics from Brandeis University, and she has a master's degree in Political Sociology from the London School of Economics. She lives in Cook County with her husband and two sons.
* Not too shabby…
My first time in the makeshift Illinois Senate chambers in the Howlett Building. The Senate will meet here through 2024 as renovations continue on the north wing of the state Capitol. It's actually pretty nice. Still has that "new Senate chamber smell." #twill pic.twitter.com/lLCMRBwapn

— Brenden Moore (@brendenmoore13) November 16, 2022
* Here's a quick roundup to start your day…
* Capitol News Illinois | Technical SAFE-T Act changes could happen, nothing certain in last 3 days of session: "I will say, when it came to the idea of gutting it, that was a bipartisan thing that was real, and I will acknowledge that," Sen. Robert Peters, D-Chicago, said at a news conference Tuesday. "But what I will say is that, after Tuesday, the main thing is to make sure it's technical and we can implement it the right way."

* WTVO | Illinois lawmaker files amendment to SAFE-T Act: The controversial criminal justice law was a major talking point during the election. Illinois State Senator Scott Bennett filed an amendment on behalf of the state's attorney association that would clarify. […] Bennett's proposal is still the only one officially filed in the capitol so far. The legislature is expected to come to a new compromise on the law before it goes into effect January 1.

* Daily Herald | New leader hopes to bring balance to state House GOP:State Rep. Tony McCombie said Wednesday that her top priority when she becomes the next House minority leader will be to rebuild the GOP caucus following last week's elections that were, for Republicans, a disappointment. "The top priority is to bring balance to the Republican Party," she told reporters during her first Statehouse news conference since being elected leader. "I mean, we need some numbers, seriously. We need to collaborate on our messages. We need to bring our caucus all together to have opinions."

* Sun-Times | New state Senate GOP leader welcomes billionaires' bucks but warns party must 'diversify our fundraising': "We have to broaden that appeal because we're getting heavily outspent in all our races all across the state," new state Senate Minority Leader John Curran said.

* Quad | City Times | Q&A with incoming Illinois House Republican Leader Tony McCombie: Q: You've worked on many bills over the past few years — some of the DCFS bills, for instance, that featured bipartisanship. How important is it to have that moving forward? A: "You know, as leader, I might actually get that bill passed now. So, we've been fighting for Pam Knight for a long time. We've done it in the House and it died in the Senate. Again, with the tragic loss we had (of DCFS worker Deidre Silas) here in Springfield, we thought we were going to get that through with the Senate and the House again, and we did not. Common sense legislation should be easy. And my conversations and relationships, I hope, will bring those issues around."

* WGNTV | Illinois State Senate unanimously approves legislation banning state investment in Russia: The Illinois State Senate unanimously approved legislation prohibiting the investment of state funds in Russia Wednesday. The proposed law, House Bill 1293, would require the state to divest or withdraw any existing investments in Russian banks and companies and prohibit such investments moving forward on top of several other stipulations.

* WCIA | Lawmakers considering legislation to close interest rate loophole for pawn shops: In 2021, the state passed the Predatory Loan Prevention Act (PLPA), which caps the interest rate on consumer loans at 36%. But the law doesn't apply to pawn shops. After the PLPA passed, pawn brokers asked the courts for an injunction so that the law wouldn't apply to them and they received one.

* Ted Slowik | Rural counties vote to break from Illinois. Here's what they should do instead: The growing movement by dozens of Downstate counties to break away from the rest of Illinois to form a new state shows how toxic politics has distorted our reality. I wish politicians who represent red parts of the state would offer their constituents more realistic solutions to address concerns. I have visited Cairo and other small towns ravaged by blight. I have seen similar conditions in south suburban Harvey, Dixmoor and Robbins.

* WREX | Illinois Native Americans Gathered in Springfield to Ask for Inclusion and State Recognition: A group of Native Americans gathered in Springfield to ask for inclusion and state recognition. The Chicago American Indian community collaborative held a Native American summit today at the state capitol, and at the top of the agenda, was an effort to introduce legislation requiring native American history in Illinois public schools starting next year.

* Crain's | What do Lightfoot's ads tell us about the state of the mayoral race: Rolling out three video ads in two days, it's a sign that Mayor Lightfoot has some money to spend—and quite probably it's an indication that she has reason for political worry.

* Tribune | Mayor Lori Lightfoot chastises security detail for parking in a bike lane while she picked up doughnuts: Following an uproar on social media, Chicago Mayor Lori Lightfoot chastised her security detail for parking in a bike lane while she picked up doughnuts. The controversy began on Twitter after @bikelaneuprise posted photos Nov. 9 showing Lightfoot's security detail parked in the street outside Roeser's Bakery on North Avenue while she was inside picking up doughnuts.

* Block Club Chicago | Weed Dispensary Green Rose, Owned By Phil Stefani, Former Police Commander, Opens In River North: Green Rose is owned by GRI Holdings and qualified for the state's social equity license by having members of the management and ownership team who are Black, Latino, veteran and part of the LGBTQ+ community. In addition to Stefani, former police Cmdr. Thomas Wheeler, former CTA executive John Trotta and veteran Dana Oswald are owners, according to the Chicago Tribune. Ownership is "diverse and includes Black, Latinx, veteran and females," a company representative said.

* Sun-Times | Village of Oak Lawn approves $10 million settlement in 2019 hit-and-run accident involving then-village manager: Mark Berkshire was hospitalized for months after he was hit by Larry Deetjen's car in nearby Chicago Ridge in 2019, according to a lawyer for Berkshire. He is still unable to walk and requires around-the-clock care, according to attorney Victor Henderson. Deetjin was charged with leaving the scene of an accident, failing to render aid, failure to give information after striking a person, failure to reduce speed to avoid an accident and failure to exercise due caution.

* Politico | GOP civil war spreads to Georgia runoff: But Senate Republican infighting isn't the only dispute affecting the Peach State race. Georgia GOP activists are worried about the potential effect of Donald Trump launching his 2024 run on Tuesday, an announcement that local party leaders fear could depress turnout among moderate Republicans — votes that Walker needs to beat Democratic Sen. Raphael Warnock, who finished just ahead of him in last week's election. Despite even some of Trump's own allies urging him to delay an announcement until after the runoff election, Trump declined to wait.

* Illinois Times | The next chapter for Avery Bourne: "I don't want a eulogy written. People keep coming up to me with a sad look in their eyes and saying, 'You had such a wonderful career.'" At age 30, state Rep. Avery Bourne, R-Morrisonville, says she has plenty of career still ahead of her. She is leaving the General Assembly in January after an unsuccessful bid for the Republican nomination for lieutenant governor.
More to come!
Open thread
Thursday, Nov 17, 2022 - Posted by Isabel Miller
* Howdy, have you heard about anything interesting going on in Illinois?