* IDES…
The unemployment rate decreased in all fourteen Illinois metropolitan areas in January according to preliminary data released today by the U.S. Bureau of Labor Statistics (BLS) and the Illinois Department of Employment Security (IDES). Jobs were up in all metro areas except one. […]

The metro areas which had the largest over-the-year percentage increases in total nonfarm jobs were the Peoria MSA (4.2%, +6,900), the Springfield MSA (+3.6%, +3,800) and the Rockford MSA (+3.5%, +4,900). Total nonfarm jobs in the Chicago Metropolitan Division were up +2.7% or +99,300. Total nonfarm jobs were down slightly in the Illinois section of the St. Louis MSA (-0.3%, -800). Industries that saw job growth in a majority of metro areas included: Leisure and Hospitality (fourteen areas); Mining and Construction and Education and Health Services (thirteen areas each); Other Services (twelve areas); Manufacturing, Wholesale Trade and Transportation, Warehousing and Utilities (eleven areas each); and Government (nine areas).

The metro areas with the largest unemployment rate decreases were in the Rockford MSA (-2.5 points to 5.8%), the Decatur MSA (-1.6 points to 5.4%), and the Carbondale-Marion MSA (-1.1 points to 4.3%). The Chicago Metropolitan Division unemployment rate decreased -0.5 point to 4.7%. The unemployment rate decreased over-the-year in 98 counties, increased in 3 and was unchanged in 1.
* Capitol News Illinois…
Officials with the state's largest transit agencies met with lawmakers on Tuesday to sound the alarm for what Regional Transportation Authority Executive Director Leanne Redden called a "looming operational crisis."

"By 2026, the region will face an annual budget deficit of nearly $730 million per year," Redden told lawmakers. "That's nearly 20 percent of our operating revenue." […]

The number of passenger trips on the three Chicagoland transit systems was down last year to 50.5 percent of what it was in 2019, according to data from RTA. […]

State law requires that approximately half of the RTA's revenues come from rider fares, but in recent years the agency has gotten statutory exemptions due to the COVID-19 pandemic. Redden told lawmakers that since 2020, fares have only made up "about 20 percent" of the needed revenue to operate the system."

The RTA eventually will need a change in state law that stops the requirement that 50 percent of revenues come from fares," RTA Board Chair Kirk Dillard said. "It's an unsustainable funding model post-COVID."
* Capitol News Illinois solicited Republican leadership responses to Gov. Pritzker's suggestion that if revenues are deemed stable, tax cuts could be possible…
"To hear the governor mention any tax cuts is an exciting prospect for families across our state. At the first meeting I had with Gov. Pritzker, we discussed the cumbersome franchise tax on small businesses and high estate taxes that unfairly target family farms," [House Minority Leader Tony McCombie] said. "The governor recognizing conversations with Democrats and Republicans gives me hope that we will reinstitute the bipartisan budget working group with our budgeteers and appropriation teams leading the way." […]

Senate Minority Leader John Curran, R-Downers Grove, referred to business-related tax incentives that Pritzker and lawmakers approved on bipartisan lines in 2019 but which Democrats froze in future budget years.

"Initial discussions on tax relief have been receptive," Curran said in a statement. "We will continue to call for implementing the business incentives that the governor agreed to in the Blue Collar Jobs Act, along with additional tax relief for Illinois families and small businesses."

He said the Senate GOP is hopeful Pritzker will "include Republicans at the table of substantive budget meetings," and they are "willing to negotiate in good faith."
* WAND…
A group of Illinois House Republicans say too many businesses are leaving the state. The House GOP members are now renewing calls for the General Assembly to discuss common sense business reforms.

Two representatives from the Rockford region explained Wednesday that people in their districts are struggling to get by after a Jeep assembly plant shut down indefinitely. That announcement came the same day Stellantis announced thousands of new jobs opening at a plant in Indiana. […]

Rep. John Cabello (R-Machesney Park) noted that the state should also have protections for workers who lose their job when a company like Akorn announces an immediate closure. Cabello said state lawmakers should act as a safety net for workers of any business that shuts down in order to help rebuild a strong business environment.

"We don't have to be smart about this at all," Cabello said. "We can just take what Indiana has done in the last 10 years, take all the bills that they have passed in Indiana, implement them here, and we're going to be already in a different trajectory. The General Assembly is failing at their job."
* More, please…
Governor JB Pritzker and the Illinois Department of Public Health (IDPH) announced today that the state is launching a $29.6 million program to distribute more than 60,000 HEPA (High Efficiency Particulate Air) purifiers to Illinois schools to help reduce the transmission of respiratory viruses, including COVID-19.

IDPH is coordinating the program with the Illinois State Board of Education (ISBE). The program is funded by the CDC through the American Rescue Plan Act of 2021 and is targeted for school districts that serve lower income communities and counties that have elevated air pollution counts. IDPH estimates almost 3,000 schools will be eligible for the program, covering 68 percent of school districts in the state. It will cover schools throughout the state, including Cook County, with the exception of Chicago, which has received a separate federal grant.
We could use some of those in the Capitol Complex hearing rooms, too, btw.
* Pro-gunners win another battle. Here's AG Raoul…
Attorney General Kwame Raoul, as part of a coalition of attorneys general from across the nation, today condemned four of the world's largest credit card companies – Visa, American Express, Mastercard and Discover – for walking back their commitment to implement a new merchant code for gun sales that would help prevent mass shootings and curb gun violence.

In October, Raoul expressed support after Visa, American Express and Mastercard publicly announced plans to add a new merchant code for gun retailers to the hundreds already used to categorize merchant sales. The creation of the new code had been approved in September by the Switzerland-based International Organization for Standardization to allow financial institutions to better detect and report suspicious activities related to the purchase of firearms and ammunition at standalone gun retail stores. In February 2023, Discover announced that it too would begin using the new code.

But in an abrupt about-face last week, all four companies announced they would not implement the code, citing legislation in several states seeking to bar or limit the use of the voluntary code as a supposed incursion on Second Amendment rights. In a letter sent to the chief executives of Visa, American Express, Mastercard and Discover today, Raoul and 14 attorneys general accused the companies of capitulating to political pressure cloaked in specious legal arguments and amorphous veiled threats from certain state attorneys general.

"As state attorneys general, we are committed to enhancing public safety, and we welcomed Visa, American Express, Mastercard and Discover to that effort when the companies announced plans to add a new merchant code for gun retailers. Doing so would have given law enforcement an important new tool in addressing gun violence," Raoul said. "I am disappointed that these same companies are now caving to political pressure and reversing course. I urge them to follow through with a merchant category for gun stores – which already exist for numerous everyday items – to help law enforcement identify unlawful transactions." […]

The letter points out that enabling financial institutions to detect and flag threatening patterns and potential criminal activity for law enforcement is nothing new, as they have been doing it for decades. For instance, federal law requires Suspicious Activity Reports when banks "detect a known or suspected violation of Federal law or a suspicious transaction related to a money laundering activity or a violation of the Bank Secrecy Act," the letter states. The letter asserts that state and federal law enforcement agencies often request evidence relating to firearms or other investigations. However, the ability of financial institutions or law enforcement to take steps against criminal gun purchases is hampered by the lack of a dedicated code for firearm and ammunition retailers.
* The governor was in Joliet today…
Today, Governor JB Pritzker joined Lt. Governor Juliana Stratton, state officials, and community leaders at Joliet Community College (JCC) to highlight his proposed investments in higher education. The Governor's FY24 budget calls for the largest increase for community colleges in over two decades and historic investments in financial aid, putting Illinois on track to guarantee every student has access to the education and training they need to thrive.
Nobody asked him any questions…
* Do you ever do these brackets?…
Finished my brackets just in time for #MarchMadness. Who do you have winning it all this year? pic.twitter.com/P6gFe8FZfA

— Governor JB Pritzker (@GovPritzker) March 16, 2023
* Isabel's roundup…
* WBEZ | Illinois educators try to tackle pandemic learning loss with high-impact tutoring: One educator compared the learning disruption caused by the pandemic to water freezing in cracked pavement, deepening the divide.

* WGLT | At Walgreens, a CEO caught in the Venn diagram of medicine, politics and profits: Walgreens has since adjusted its language surrounding its plans, now saying it will distribute this drug in states where it is legal to do so. But the pressure is still on the company and on its CEO — arguably more so because of her gender. Reproductive justice advocates have said that, as a woman, Brewer should be more of an activist-leader and fight for women's choices.

* Tribune | Second former state lawmaker tells jury about Madigan's power as testimony in 'ComEd Four' trial continues: A second former state representative testified at the "ComEd Four" trial Thursday that he never passed another bill after he refused to vote to reinstall House Speaker Michael Madigan at the beginning of a new term. Ex-Rep. Scott Drury, a Democrat from Highwood, said he also was denied a chance to be a committee chairman once he started his own third, two-year term, a practice that Madigan had generally followed for years.

* Block Club | Eric Carter Taking Over Chicago Police Department As Interim Superintendent After David Brown Quietly Leaves: Carter previously led the department's Bureau of Counterterrorism and Special Operations and has worked in other divisions. He spent the majority of his career in patrol and investigative positions and has worked on the FBI and DEA federal task forces, according to the city.

* TPM | Founder of Voter Roll Maintenance Program Leaves Board After Onslaught of Far-Right Conspiracy Theories: David Becker, an election law advocate who helped create the Electronic Registration Information Center (ERIC), is vacating his position on its board as a flurry of far-right conspiracy theories about the voter roll maintenance program prompted a handful of red states to withdraw from its services.

* Center Square | Illinois legislators push for access to fentanyl testing strips, stricter punishments for dealers: "The first is [House Bill 3203], which allows pharmacies and retailers to sell potentially life-saving fentanyl testing strips," McCombie said. "This bill will help save lives. Fentanyl is a deadly drug that is taking far too many lives, and as we continue to take steps to address the opioid epidemic affecting Illinois families, our priority with this legislation is to single out fentanyl."

* Center Square | Illinois sportsbooks set record handle for January: The Illinois Gaming Board reports that Illinois sportsbooks set a record for handle in January and topped $1 billion for the fourth consecutive month. Illinois is just the fourth state to post four consecutive months of billion-dollar handle. The others are New York, New Jersey and Nevada.

* Daily Herald | Arlington Heights budget surplus could mean $50 tax savings for average homeowner: The $12.4 million budget surplus is being divvied up eight ways, in a proposed transfer of funds recommended by Finance Director Tom Kuehne and endorsed by the village board this week. A formal budget amendment will be voted on at a board meeting next Monday.

* SJ-R | Springfield man charged with stealing winning lottery tickets: Illinois Attorney General Kwame Raoul said that Dean F. Derrick, 57, an employee of the lottery, was charged with four counts of theft of government property greater than $500 but less than $10,000, seven counts of official misconduct and three counts of wire fraud. His partner, Frazier R. Mack, 24, was charged with two counts of theft of government property.

* Sun-Times | Parents accuse CPS teacher of physically, mentally abusing students with disabilities at Far South Side elementary school: A Chicago Public School teacher is accused of mentally and physically abusing young students with disabilities at Whistler Elementary School on the Far Southwest Side, often telling them, "The longer you cry, the longer I will hit you."

* Block Club | Lyrical Lemonade Leaves Douglass Park For Suburbs; 2nd Fest To Relocate After Pushback From West Siders: Neighbors protested last year after Riot Fest, Summer Smash and Heatwave took over much of the park. Heatwave is moving to Northerly Island this year.

* Block Club | Shedd Aquarium Could Lose Millions Because Of NASCAR Race, Officials Worry As They Ask For Answers: Officials don't know how road closures will impact access to the Shedd during what's usually one of its busiest weekends. Leaders say they are still waiting for key information from NASCAR so they can plan.
* SB 1232 now has a March 24 deadline. WICS…
State Senator Neil Anderson (R-Andalusia) filed Senate Bill 1232 which would allow outdoorsmen and women the ability to renew their hunting and fishing licenses every three years instead of every year.

Additionally, the legislation provides the ability to obtain one combined license for the two. […]

Currently, a person can only buy a one-year or lifetime license with no option in between.

The bill would also allow Gold Star Families the ability to obtain a free hunting or fishing license.
* Dave Dahl…
Illinois might go for "ranked choice voting" in the next presidential primaries – in which you can name follow-up choices if your favorite candidate drops out.

The Illinois House Ethics and Elections Committee brought in Fair Vote's Terrance Carroll, who says this promotes issues, as candidates "tend to be more positive and tend to focus more on issues, because they know they want someone else to mark them as their second or third choice. It also helps promote more viable candidates, so it tends to mitigate against the most extreme candidates in both parties." […]

An opponent's argument was 180 degrees from McReynolds and Carroll's.

"Ranked choice voting is a scheme to disconnect elections from issues and allows candidates with marginal support to win," said Andy Bakker of the Illinois Opportunity Project.

The committee chair, State Rep. Maurice West (D-Rockford), is sponsoring a bill for ranked choice voting in the 2024 Illinois presidential primary but said after the hearing he wants to learn more about it before deciding how hard to push it.
* HB2221 was re-referred to Rules. Here's WCIA…
A bill being pushed by the National Fire Sprinkler Association would let homeowners who add a fire sprinkler to their house be reimbursed half of the cost of the system on their state income taxes, up to $10,000. The bill is sponsored by Rep. Mary Flowers (D-Chicago) and Sen. Rob Martwick (D-Chicago).

NSFA officials estimate the median cost for a home sprinkler system is $7,200, which would leave the state responsible for $3,600 per unit under the proposed bill.

Officials from the organization argue the fire sprinklers save lives. Since 2007, no one in the U.S. has died from a residential fire in a building with a sprinkler system, compared to 967 fatalities in homes without fire sprinklers. […]

According to Erik Hoffer, executive director of the Northern Illinois Fire Sprinkler Advisory Board, 110 municipalities in northern Illinois are required to include fire sprinklers in all new homes.
* Waste Dive…
The legislation, HB 1616, would allow a pyrolysis or gasification facility "pilot project" to begin construction by June 2027 in in either Will County or Grundy County. It updates a previous bill, passed in 2019, that required the project to begin by June 2025. […]

The Illinois Environmental Council, the Alliance for the Great Lakes and the Ocean Conservancy spoke against the bill during a press call on Wednesday. The groups generally oppose the reclassification of chemical recycling as manufacturing, saying it's a way for facilities to skirt certain environmental permitting requirements. They see the deadline extension as setting a bad precedent for companies if they are not able to meet existing requirements and timelines. Others opposing the bill include the Natural Resources Defense Council, the Environmental Law and Policy Center and various environmental groups. […]

Yet Biel said in an email that environmental groups want to take advantage of the facility's business delays to "reverse the intent of Illinois' elected officials" who voted for the 2019 bill. The project is an important way to "keep plastics in the economy and out of the environment," he said. Other supporters include the Recyclers Coalition of Illinois, the Illinois Manufacturers' Association, Illinois State Chamber of Commerce and several unions.

The bill has passed through relevant House committees and is expected to come up for a full House vote soon. All House bills must meet a third reading deadline of March 24 to move forward.
* HB3098 was re-referred to Rules Committee. Dan Savickas from the Taxpayers Protection Alliance…
The Illinois Legislature is planning movement on legislation that would address the supposed monopoly power of app store giants Apple and Google. The legislation — HB 3098 — would nominally limit these companies' ability to require use of their own payment processing systems. What it would actually do is inhibit Apple, Google and other software store providers from honoring commitments to customers and safeguarding digital financial transactions. It is based on flawed assumptions and would have consequences for the state's economy.

HB 3098 — as well as similar bills at the state and federal level — rests on the assumption that app developers are unfairly disadvantaged because they do not have sufficient options beyond the big two app store providers. However, this entirely misunderstands the space. Politicians at all levels of government have been defining the market to include only mobile, hand-held devices like smartphones. […]

HB 3098 would weaken this trust unnecessarily. Currently, consumers on the Apple App Store or Google Play Store do not have to worry about whether or not their purchase is protected. These businesses have created a carefully curated system to market third-party software to its users and have become a trusted source for said purchases. Creating a digital Wild West of payment systems would erode trust and damage the profitability of so many third-party app developers in the process.

Weakening these safeguards would lead to a host of other issues that are already on the minds of many users. For example, the Federal Trade Commission is looking into certain app developers and the prevalence of accidental and reckless purchases by children. There have been over 1 million complaints to Visa and Mastercard about such purchases.
Hundreds of bills sailed out of committee last week. Here's a small sampling of some interesting, important and silly bills working their way through the Illinois General Assembly: […]

- Senate Bill 1470, filed by state Sen. Tom Bennett, R-Gibson City, would allow a school district to use remote learning days instead of emergency days for up to five days per school year. It would also allow schools to utilize remote learning if selected as a polling place. It passed unanimously. […]

- Senate Bill 1907, sponsored by state Sen. Celina Villanueva, D-Chicago, would require all public colleges, universities and community colleges to offer emergency contraceptives at a reduced price via at least one vending machine-type kiosk on campus. It passed committee 9-3. […]

- House Bill 2840, sponsored by state Rep. Sharon Chung, D-Bloomington, would designate the black walnut as the official state nut of Illinois.

- House Bill 3817, filed by state Rep. Matt Hanson, D-Aurora, would designate the soybean as the official state bean of Illinois.
* CBS Chicago…
The legislation, House Bill 3768, passed the State Government Administration Committee. It will go to the House floor for a vote, and then the Senate for a final vote.

If passed into law, the bill would add a category called Middle Eastern or North African (MENA) to the Uniform Racial Classification Act. Whenever a state agency is required by law to compile or report statistical data using racial or ethnic classification, the amended law says they must use MENA in addition to white, Black or African American, American Indian or Alaska Native, Asian, Native Hawaiian or Other Pacific Islander. […]

There are 243 proponents of the bill, which include community organizations and coalitions. No one opposed it. The legislation moved on to the next step with a unanimous 9-0 vote.
* Tribune…
A long-discussed proposal for a new Chicago-area airport in the south suburbs is again gaining traction, now with a focus on air cargo as e-commerce warehouses and logistics facilities have flourished in the area.

Proponents envision an airport that could take advantage of demand for quick delivery and the proliferation of Amazon warehouses, train facilities and highways in Will County. At least one developer is already interested in building out the airport and nearby warehouses, a project that would mark the culmination of the decadeslong effort to get an airport built near Peotone. […]

A bill pending in the Illinois legislature intends to get the ball rolling on the project by directing the state to start the process of soliciting proposals from developers. The goal is to determine the viability to build the airport, state Rep. Will Davis, a Democrat from Homewood who sponsored the bill, said during a hearing on the concept Wednesday. […]

The concept has also garnered support from both Chicago mayoral candidates. Brandon Johnson said during a candidate forum Thursday that transportation could serve as an anchor for an economic hub for the South Side of the city and the south suburbs, and Paul Vallas said it should be paired with expanded transit and connected to the central business district.
* Rep. Davis' bill is on Second Reading…
Defines cargo-oriented development as the development of places that are both multimodal nodes of freight transportation and centers of employment in logistics and manufacturing businesses. Provides that the Department of Transportation shall (instead of may) establish a process for prequalification of offerors. Requires the Department to commence the prequalification process within 6 months after the effective date of the amendatory Act
* Ted Slowik…
Decades ago, planners pitched Peotone as a passenger facility and Chicago fought the plan to preserve interests at O'Hare and Midway.

In recent years, however, Amazon and others have driven demand for a cargo airport. O'Hare and Midway lack airspace capacity to handle additional flights, proponents say, and Rockford is too far away. Gary, Indiana, poses the biggest competitive threat to the South Suburban Airport.

[Reggie Greenwood, executive director of the Chicago Southland Economic Development Corporation] and other boosters have publicly said investors are seriously interested in building runways and other improvements on state-owned land. The Davis bill seeks to force the state to solicit development proposals.
* WGN…
"Let's see who has the capacity do it," State Rep. Will Davis (D-30th District, East Hazel Crest) said of the intent of his bill. "If no one responds then no one responds." […]

"We think there are some developers out there that do have the capacity and they're ready to put pen to paper to show they have the capacity, the wherewithal and the financing to do it," Davis said.
* Gov. Pritzker was asked about this earlier in the month…
What you don't want is 'if you build it, they will come.' Right, just building the thing and hoping that people will show up to essentially pay for the airport having been built. You need to make sure that you're building it because you have interests from cargo carriers who aren't committing to make that a cargo airport. So if we can get that all put together, and I've said that from the beginning, and by the way, there's about 10% of the property that still needs to be acquired. There's not enough property that the state owns.

But all of that is part of a plan. But you've got to do the plan. That can't be like, we're going to just open an airport and then hope that Amazon or somebody else is going to make that a center. We have a terrific airport also in Rockford. I do not believe these things are competitive with one another. There are committed cargo carriers that are at Rockford, which is the fastest growing cargo airport in the world. And it means that cargo can be managed in another area that's outside of that zone in the south suburbs of Chicago. And we'll be able to sustain those companies but they have to make the commitments and the people who are putting the airport project together need to go obtain those commitments.
* The Question: Do you agree with Rep. Davis' bill requiring the state to solicit development proposals on the proposed third airport? Take the poll and then explain your answer in comments, please.
* This is from Paul Vallas' speech at a March 14, 2021 campaign rally for some suburban school district candidates demanding that schools be reopened. It's the rally where he says Awake Illinois' Shannon Adcock should run for governor. We ran the Facebook video through Otter and then cleaned it up the best we could, but please pardon all transcription errors. Anyway, if you thought Mayor Lightfoot could be bluntly confrontational, check this out..
First of all, it's such an honor to have been invited to this event and to see this great turn out so give yourselves a round of applause. After listening to Shannon Adcock's speech, I think she should run for governor.

The only way your children stop becoming hostages is if you have a voice on the school board. The April 6th election is critical. You got to get representatives. Even if you don't get control of a board, if you have a voice on that board, they can force it or have transparency. They can force that board to answer questions. And it's important that you all support yourself and close ranks around social media because they will attack you and they will demagogue you.

This is not about bashing teachers. There have been four teachers in my household. There have been six first responders, there have been six veterans. This is not about attacking teachers. They want you to think about attacking teachers. This is about attacking the union leaders.

On the other hand if you're a teacher, and you are silent, then you are complicit by your silence.

At the end of the day, if you are silent then you're part of the problem. […]

The only way we free the hostages is by getting people elected to the school board, or we advocate for kids. It's as simple as that. That's where the rubber meets the road. Close ranks get individuals elected because this will happen again. We know this.

When you can literally say, we don't want to test this year. When you literally can say, no more accountability. When you can literally short the school day or short even the remote structure. Actually, the unions forced them to go full remote and then complained that a four-hour remote learning day was too long and they needed another hour off. If you do that, and get away and still get paid and still keep bonuses, and still get your pay increases, and still get vacations days, and still get your time off, what's to prevent you from doing it again?

This is not only about reopening the schools or fully reopening the schools. But this is about making sure that this never happens again.

The city council should not be sitting idle while those things are going on in the schools. 75% of your property taxes are going to schools. What are the council people doing? What are the local mayors doing?

So, repeat after me, Never again! [Crowd chants] Never again! Never again! Never again!

Bring back your schools! God bless.
Darren Bailey also spoke at the event.
* Vallas rolled out more endorsements early this morning…
Probably not a huge surprise to most, but Chicago Fire Fighters Union Local 2 has endorsed Paul Vallas pic.twitter.com/l0CREd84wN

— Capitol Fax (@capitolfax) March 16, 2023
And… pic.twitter.com/FxwXBceNtU

— Capitol Fax (@capitolfax) March 16, 2023
* But one of Vallas' previous endorsers, Ja'mal Green, was unaware of Vallas' comments on race…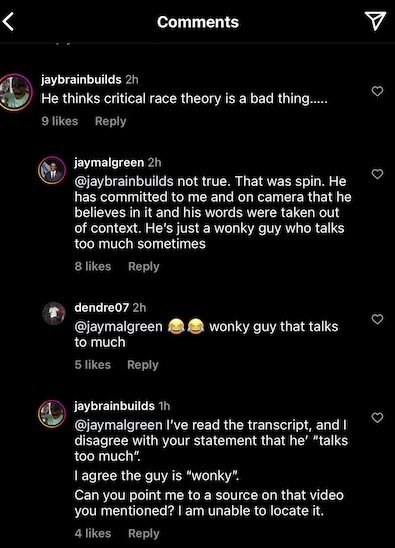 Wirepoints: Yeah, Paul, I often wonder if you're a Black kid, why wouldn't you become a criminal if you're hearing this stuff in school? It's everybody with white skin is an oppressor, if you have black skin, you're the oppressed. That makes it pretty easy to justify pretty bad conduct in my opinion.

Vallas: You're absolutely right. But what you're also doing, you know, you're giving people an excuse for bad behavior.
* Meanwhile…
Bernie Sanders endorses Brandon Johnson for Mayor. This is likely to give some energy to Johnson's campaign — but also encompasses a big part of what is already his base.

— Gregory Pratt (@royalpratt) March 16, 2023
* We've known this was happening for a while…
Rep. Jim Clyburn (S.C.), the assistant House Democratic leader, announced Thursday that he is endorsing Brandon Johnson for mayor of Chicago.

Clyburn's blessing is a major coup for Johnson, a Black and progressive Cook County commissioner, running against Paul Vallas, a white centrist and former CEO of Chicago Public Schools. Specifically, the nod from Clyburn, a staunch moderate with a national profile, stands to help Johnson consolidate the support of Black voters, including those older Black voters who might otherwise be skeptical of Johnson's left-wing views on policing and taxation.
As we've already discussed, Johnson sharply criticized Clyburn over Clyburn's opposition to defunding the police.
* Isabel's Chicago roundup…
* Crain's | More endorsements and big cash roll in to mayoral runoff: Among the contributions reported by Johnson's campaign Wednesday is $25,000 from SNC Consulting & Management. On the other side of the race, Vallas' campaign reported a big collection of contributions on Wednesday, totaling over $270,000. That includes $100,000 from Brian Miller, co-founder and managing partner of health care-focused private-equity firm Linden Capital Partners. Miller previously donated $50,000 to the Vallas campaign in February ahead of the first round of voting.

* Sun-Times | City Council OKs more video surveillance — and more automated tickets: A new batch of cameras will be mounted on CTA buses and other public transit vehicles. Drivers caught impeding traffic flow in bus and bike lanes and loading zones will be fined automatically after one warning.

* ABC Chicago | 25th Ward alderman Byron Sigcho-Lopez's press conference crashed by defeated opponent: A supporter of Aida Flores pulled the microphone away and handed it over to Flores, who then made unfounded claims of voter suppression. Election results show that Sigcho-Lopez defeated Flores with 53% of the vote. Immigrant rights activist Elvira Arellano tried to shout down Flores, eventually grabbing the microphone back.

* WBEZ | The new board of Chicago's main union for cops has 27 elected members, but just one African American: Since 2014, Black officers have run for the Fraternal Order of Police board 28 times but have failed to win except for once, WBEZ has found.

* Sun-Times | Chicago-area expressway shootings increasingly caused by road rage, state police say: In 2022, road rage was reported in about 40% of the 140 Chicago-area expressway shootings handled by Illinois State Police. That is up from 12% in 2021, ISP says.

* WGN | Chicago's top cop checks out early: WGN Investigates has learned Chicago's top cop checked-out earlier than his announced exit, originally scheduled for Thursday. Sources say Brown cleaned-out his corner office and is leaving town without the usual pomp and circumstance usually afforded a police leader. He declined all interview requests.

* WTTW | What Will Policing, Public Safety Look Like Under Chicago's Next Mayor?: "The bottom line is — I've talked about it over and over again in columns, etc. — is to restore proactive policing and proactive policing that is consistent with the consent decree, and I've said that over and over and over again," Vallas said. It's a sentiment that one former officer agrees with. Peter Koconis is a retired police sergeant who served as a special assistant to Chicago police Superintendent Jody Weiss. "When I came out and I worked on the tactical team, we were proactive," Koconis said. "Now, when I had a tactical team and a gang team in my last assignment, we were more reactive, and I think that hurts you in a way."

* Fox News | As crime ravages Chicago, pastor puts faith in pro-police candidate to turn it around: "Paul Vallas will be better for the city of Chicago," Pastor Corey Brooks told Fox News. "We need someone who's going to focus not just on the crime on the South Side and West Side, but also someone who can build back the relationships with businesses on the Magnificent Mile and on State Street."

* Block Club | City Council Accepts $20 Million From State To Support Migrants After Fierce Pushback From South Side Leaders: The $20 million appropriation from the state of Illinois will be used to help migrants who have been bused to Chicago mostly from Texas. Council members voted 32-15 to accept the funding. Ald. Gil Villegas (36th) was out of the chamber during the vote but later said he supports accepting the money.

* Fox Chicago | Tensions flare at Chicago City Council meeting over Lightfoot's handling of migrant crisis: "The administration dropped the ball with telling folks where these camps will be. And so now that they're closing, we're getting more people in the community. So the one in Maria Hadden's community closed, and those migrants were sent to of course Wadsworth which is a closed school. So with all due respect, there should have been a conversation with us. As a matter of fact, this was a conversation I asked for back in October and I'm confused how we're here again trying to pass something without having a conversation," said 20th Ward Alderwoman Jeannette Taylor.

* WGN | Little Village discount mall vendors plan caravan to avoid eviction: The 25th alderman plans to lead a group of vendors to Novak Construction, demanding a new agreement is made to avoid them from being evicted from the discount mall. Sources told WGN there will be 70 vehicles apart of the caravan and it will include street vendors as well as those who rent from the discount mall in Little Village.

* WGN | Is decision day finally near for third Chicago airport?: "You never say never," Will County Executive Jennifer Bertino-Tarrant told WGN Investigates. "I think the numbers and the interest should play a role. We don't want to start along this road and realize there's no need for it."

* Sun-Times | Northwestern begins transplant trial for stage 4 lung cancer patients who have run out of traditional treatment options: The trial is called DREAM, for double lung replacement and multidisciplinary care, and is aimed at some of the most "hopeless patients," the hospital says.
Defense attorneys for the four defendants painted a consistent picture: the defendants were doing their jobs. They were very good at their jobs and never crossed any legal lines.

Attorneys said the evidence will show the government's focus on taking down Madigan led them to pick and choose the evidence that fits their theories.

The defense stressed to jurors that lobbying isn't illegal and all defendants were engaged in what's considered standard practice in Springfield.
Cotter, representing McClain, called the case the product of an "exceptionally focused, goal-driven investigation" aimed at the former speaker.

"I didn't count how many times Mr. Madigan — who isn't here — was mentioned during the government's opening," Cotter said. "I didn't count. But it was a lot."

Cotter insisted to the jury that they will "hear no words" linking a job recommendation from Madigan with any piece of legislation. Nor, he said, will jurors hear any discussion of Madigan helping pass a piece of ComEd legislation.

"No connection to legislation, no bribe," Cotter said.

Cotter explained that ComEd — despite allegedly bribing Madigan — invested in a massive lobbying effort to try to get the legislation passed, and that Madigan's staff still forced the utility into concessions worth millions. […]

[Gabrielle Sansonetti, Jay Doherty's attorney] also told jurors that there is little evidence to prove the government's argument that those subcontracted lobbyists did little to no work, arguing that some lobbyists are hired so they're not snatched up by a competing firm, or just in case an issue pops up. Others are paid on a retainer. And lobbyists frequently attend dinners, charity events and political events that aren't necessarily tracked by their employers, she told jurors.
Cotter said that it was clear that federal prosecutors and the FBI developed an "exceptionally focused, goal-driven investigation" that was targeting Madigan from the beginning. In their overzealousness, he said, the government "began to see what they wanted to see."

"When you're too focused on getting the big target, everything begins to look like a crime," he said.

Pramaggiore's lawyer, Scott Lassar, described his client as a "wonderful woman," a "Girl Scout" who rescued ComEd from tumultuous times.

He said she "knew that Mike Madigan was only concerned with one thing, and that was staying in power, staying speaker of the House," and that he "never lifted a finger" to help pass any legislation on the company's behalf.

"He was never a friend to ComEd, never was and never would be," Lassar said. "And she was right."
"[Pramagiorre] never asked Madigan for help in passing any ComEd legislation," [Former U.S. Attorney Scott Lassar said].
After federal agents approached Marquez in early 2019 with some preliminary evidence they had found when looking into lobbying subcontracts under Doherty, Marquez agreed to cooperate and wear a wire, which continued for months. But Jacobson said Marquez took the government's deal after learning he could face years in prison "even though he didn't think he'd done anything illegal."

"Marquez took the sure thing, the get-out-of-jail-free card," Jacobson said. "Marquez is a man who lies to benefit himself."

Doherty's attorney, Gabrielle Sansonetti, took that theory further, acknowledging to the jury that "there should've been more oversight" on the lobbying subcontracts – not from Doherty himself, but ComEd.

"The one guy responsible for all this oversight? You might have already guessed: Fidel Marquez," Sansonetti said, claiming that when the feds discovered Marquez failed to do his oversight job, "he passed the buck, he became an informant."
Scott Lassar, Pramaggiore's defense attorney, told the jury that his client was well aware that Madigan was only concerned with his political well-being.

"Anne knew, and others knew at ComEd, that Mike Madigan was only concerned with one thing, and that was staying in power, staying the Speaker of the House, staying has head of the Democratic Party," Lassar said. "Anne knew that Mike Madigan was not a friend of ComEd, never was and never would be. And she was right."

Jacqueline Jacobson, Hooker's attorney, told jurors: "John never conspired or agreed with anyone to bribe Madigan in connection with ComEd legislation or to falsify the internal books and records of ComEd. Because John never, never had any corrupt intent."

Sansonetti said Doherty hired four subcontractors — which prosecutors have said was a bribe to please Madigan — at the direction of Fidel Marquez, a former ComEd executive who wore a wire and is cooperating with the government.
McClain's defense attorney Patrick Cotter framed his client's actions as nothing more than legal lobbying.

"When you have a problem that you need to resolve with your elected representative, … it might make sense, if you can, to hire somebody to help you do that," Cotter said. "It's not a crime, and it's not a conspiracy, and you know what, it's not even suspicious." […]

Cotter accused prosecutors of zeroing in their investigation on Madigan — who is not charged in this case, but faces a separate racketeering and bribery trial next year — and claimed they began to "see what they wanted to see" — that the defendants "somehow were part of some nefarious conspiracy."

"The government's theory is wrong," Cotter said. "It's too simple."
* I wanted to highlight some excellent courtroom reporting today. Let's start with Jon Seidel and Tina Sfondeles…
Assistant U.S. Attorney Sarah Streicker began Wednesday with commentary that lasted roughly 90 minutes. She started with McClain's own words, caught on one of the many recordings jurors will hear: "We had to hire these guys because Mike Madigan came to us."

"In short, Madigan wanted, the defendants gave, and the defendants got," Streicker told the jury. "It's that simple." […]

She described McClain's close relationship with Madigan to jurors. And she said job recommendations made by Madigan — typically through McClain — were treated as demands. By way of example, she described a recorded conversation McClain had with a senior ComEd employee.

"He told this employee that ComEd must immediately handle requests from Madigan, and that ComEd must understand that, when McClain sends over a resume, it's not a request. It's a demand to hire someone," Streicker said.
Streicker alleged ComEd poured $1.3 million into payments funneled to ghost "subcontractors" who were actually Madigan's cronies, put a Madigan-backed person on the ComEd board, and gave coveted internships to families in his 13th Ward, all part of an elaborate scheme to keep the speaker happy.

And, it worked, Streicker said, because over the eight years of the scheme, Madigan helped ComEd win three lucrative pieces of legislation, including the "Smart Grid" bill in 2011 and another bill in 2016 that held a rate structure in place and extended the life of two of the company's nuclear plants.

"Mike Madigan was the most powerful person in the Illinois General Assembly," Streicker said. "He (could) wield that power to make or break a piece of legislation. The defendants bribed him, and they did so by paying Madigan's associates through jobs and contracts at ComEd." […]

"Madigan exercised enormous power," she said, saying his "power and control made him critical to ComEd's success" because he could help or hurt ComEd's agenda in Springfield.

"This is why defendants sought to corruptly influence Madigan," Streicker said.
But the government's opening arguments – and their initial questioning of former State Rep. Carol Sente, D-Vernon Hills – sought to illustrate for the jury the amount of power Madigan wielded, not just as speaker of the Illinois House, but also as chair of the Democratic Party of Illinois and a prolific fundraiser for Democrats.

"In short, if Madigan wanted to stop a piece of legislation, he could kill it in any number of ways," Streicker said. "At the same time…he controlled the purse strings for Democrats. They needed him to get elected and get re-elected…He held enormous power over the other legislators."

As for McClain, Streicker called him a "double agent" on behalf of both ComEd and Madigan, who infamously did not own a cell phone or use email.

"When you heard something from McClain, you know it came from Madigan," Streicker said.
According to prosecutors, Madigan did not own a cellphone and didn't use email, but instead used McClain as a mouthpiece to make his demands known. For instance, when an intern's resume was presented to ComEd by McClain for consideration, it wasn't a request, "it's a demand," Streicker said.

"These were not mere recommendations," she said. "The evidence will prove that these were demands and the defendants acted on them."
* Sam Charles, Erik Runge and Julian Crews…
"The defendants sought to bribe Mike Madigan in order to influence his actions in the General Assembly, to ensure that he didn't take action to hurt the company in the General Assembly and to reward past beneficial conduct to ComEd in the general assembly with legislation that was worth hundreds of millions of dollars," Streicker told jurors. […]

The prosecution's first witness, former north suburban State Rep. Carol Sente, was called to testify at the end of the day, and the first questions posed to her concerned the legislative process in the Illinois state capitol.

Asked to characterize Madigan's control over the Illinois House of Representatives, Sente said it was "extremely firm."
Much of the evidence is expected to come from ComEd's former vice president of external communications, Fidel Marquez. He will be testifying in an attempt to reduce his own sentence.

Marquez took over for defendant John Hooker. His phone was among those tapped by federal authorities.

The prosecution said he will deliver an "insider's view" of the crimes. In particular, he is expected to testify about the company's use of sub-contractors, people who did little if any work, but were paid upwards of $4,500 dollars a month allegedly at the request of Madigan intermediaries. The jobs, prosecutors say, were used as political rewards.

The money was allegedly funneled through Dougherty's lobbying firm. At one point, the government said, payments totalled more than $37,000 dollars a month.
The trial resumes today at 10. Follow along by clicking here.
*** UPDATE *** As noted above, former Democratic Rep. Carol Sente is the federal government's first witness. She's supposed to give jurors a look at how the legislative process operates. The part about Madigan controlling the Rules Committee is true, but as Hannah then points out, the part about the committee meeting in private is just plain false. Not sure how the heck the feds allowed that to happen…
Sente is telling jurors about one of the sources of Madgain's control: The Rules Committee. "If you wanted a bill to move or not move the rules commitee would take that into serious account," she says. Their meetings are in private, and Madigan controlled everything there.

— Jason Meisner (@jmetr22b) March 16, 2023
Former Rep. Sente just testified that members of the public can't attend meetings of the House Rules Committee, and that Rules Cmte meetings are held in private, but that's not true; though these meetings are quick and rote (resulting from prior decisions), I've attended many.

— Hannah Meisel (@hannahmeisel) March 16, 2023
* Meanwhile…
Attorney for Mike McClain is trying to block release of recordings featuring McClain talking to Rep. Bob Rita about gaming legislation. Rita will testify early next week for the government, which they think will show McClain was acting as an agent of Madigan.

— TinaSfon (@TinaSfon) March 16, 2023
* Illinois Board of Higher Education Chair John Atkinson delivered some extraordinary remarks to the board yesterday. Whether you agree with him or not, I thought his speech was worth sharing in full because it was so unusual…
When attacks on diversity and equity are ramping up in various states across the country, we should all be relieved and proud that, in Illinois, everyday we're taking steps toward a more diverse and equitable state.

In no other state are these attacks more blatant and destructive than in Florida. Florida's Governor Ron DeSantis has resorted to implementing a hateful agenda across the state's education system.

DeSantis' Stop WOKE Act prohibits diversity initiatives in the workplace and limits school curriculum that celebrates Black culture. This racist Act is forcing educators to remove books from classroom and library bookshelves for fear of facing retaliation.

DeSantis has also forced the College Board to whitewash its Advanced Placement Black Studies curriculum — removing books by contemporary thought leaders like Nikole Hannah-Jones and Ta-Nehisi Coates and topics like the Black Lives Matter movement. The updated curriculum does not prohibit teaching about slavery, so the apparent message to students is that it is okay to study racism if we pretend it no longer exists.

DeSantis is bent on taking us backwards. It is not too long ago when segregation in schools in this country was allowed. It is not too long ago when Black and white people couldn't drink from the same water fountains. At a time when all leaders should be making a serious and concerted effort to foster a more just country for everyone, DeSantis is leaning into racist practices of the past, stoking fears, and division for political purposes.

But, we can't pretend that racism is a thing of the past. Not only is it a lie, but it's also just wrong to tell people who experience discrimination because of the color of their skin that what they're experiencing isn't real.

What's more disappointing and frightening is that DeSantis isn't acting alone. He has the support of many Florida state legislators. A few weeks ago, Florida State Rep. Robert Alexander Andrade introduced House Bill 999.

This bill would place the public higher education system under extraordinary state control and out of the hands of educators. In fact, he just appointed a majority board of trustees to Florida's New College, and according to the conservative magazine the National Review, Desantis' Chief of Staff said that they hoped, and I quote "New College would become the Hillsdale of the South", a reference to a fundamentalist Christian School in Michigan.

This is simply outrageous and in fact highlights the hateful and intolerant views that are seeping into the mainstream of our culture. Our higher education system should serve as a buffer against, rather than a catalyst for this throwback agenda.

HB 999 would prohibit public colleges from funding any projects that "espouse diversity, equity, and inclusion or Critical Race Theory rhetoric" no matter the funding source and put faculty hiring into the hands of trustees. This is an egregious attack on academic freedom and the long held principle of shared governance.

The bill also directs trustees to remove from their institutions majors and minors "in Critical Race Theory, Gender Studies, or Intersectionality, or any derivative major or minor of these belief systems."

In the land of the free and home of the brave, DeSantis has made his state less free for teachers, for women, people of color and LGBTQ people. It appears Florida is home of the brave but not land of the free.

Florida is not alone on this attack on higher education and academic freedom: Oklahoma Governor, Kevin Stitt singled out the state's two largest public universities: "Because when we send our kids to college, we expect our tuition to pay for their education, not their indoctrination," Stitt said. "I want our universities to have less DEI officers and more career placement counselors."

Well I have news for both Governors, career success, business success and DEI are not mutually exclusive, and in fact business leaders know, that the opposite is true. Diverse teams produce better outcomes. Numerous studies show this to be fact. A recent study by McKinsey of over 1000 companies found that organizations in the top quartile outperformed those in the fourth by 36% in 2017 and these trends are similar when considering both gender and multi-cultural diversity.

A diverse, equitable Illinois is a thriving Illinois. Diverse, inclusive teams make faster, better decisions and those decisions yield better results for employers. Diversity and equity are good for companies and our economy. But above all else – it is a moral imperative.

We all benefit from a diverse workforce. And to ensure a diverse workforce, we must deliver equitable educational experiences to all students.

We know that inclusive curriculums and classrooms make for better student outcomes, and successful students make our state and our nation flourish.

In Illinois, we understand the value of diversity. We understand the importance of an equitable system of higher education. That's why our higher education strategic plan explicitly promotes equity in education, and Governor Pritzker has not only made historical investments in this work year after year, but his charge to myself and this board when we were appointed in 2019 was to be focused on equity so that every student in our state can Thrive.

And guess what? It's working!

We've seen Black and Latino student enrollment increase at record levels in Illinois when it has decreased nationwide. The governor has increased MAP funding in the FY24 budget to make college more affordable, especially for students from low-income households. The governor also increased funding for the MTI scholarship to recruit and retain teachers of color. All of these are deliberate investments to make progress toward equity.

Inviting students to wrestle with colonialism and slavery in American history is important for the development and advancement of our society. Our students must learn the reality of systemic racism in our society so they can be equipped to extinguish it forever.

We cannot and will not allow the evils of the past to reign again. We have a responsibility for producing educated citizens that are so vital to a healthy democratic society.

We are standing at a dangerous precipice as a nation as certain kinds of political dogma steeped in racism, homophobia and sexism continue to infiltrate all forms of public education systems across the country.

We cannot, and will not, as a state or here at the IBHE tolerate any attempt to strip anyone of their identity or to erase the complicated and sometimes inconvenient history of our great nation.
Thoughts?
Open thread
Thursday, Mar 16, 2023 - Posted by Isabel Miller
* Happy Thursday! How's everyone doing?…
* Here you go!
* Capitol News Illinois | Transit agencies look to the state for help making up projected $730 million budget gap: Officials with the state's largest transit agencies met with lawmakers on Tuesday to sound the alarm for what Regional Transportation Authority Executive Director Leanne Redden called a "looming operational crisis."

* Sun-Times | Over 100 FBI recordings will be played at ComEd trial, but defense claims jurors will hear no hard evidence of bribery: The opening statements Wednesday kicked off the highly anticipated trial of Madigan confidant Michael McClain, ex-ComEd CEO Anne Pramaggiore, former ComEd lobbyist John Hooker and onetime City Club President Jay Doherty.

* Center Square | Prosecutors object to proposed defense expert on lobbying in ComEd bribery case: "The focus of Drutman's proposed testimony – the basics of lobbying – resembles the principles taught in a high school civics class," prosecutors argued in a motion that seeks to exclude or limit the testimony. "The jury will be familiar with the general notion of how a bill becomes a law and how various political and non-political actors influence that process based on the government's fact witnesses, which will include current and former legislators and lobbyists."

* ABC Chicago | ComEd bribery trial against Mike Madigan's political cronies kicks off with opening statements: Streicker kicked off with a direct quote attributed to defendant and close Madigan confidant, Mike McClain, in which he is alleged to have said: "It's that simple. We have to hire these guys because Mike Madigan came to us."

* WTTW | 'We Had To Hire These Guys Because Mike Madigan Came to Us': Opening Statements in 'ComEd Four' Trial Underway: According to Streicker, jurors will hear from the defendants "in their own voice carrying out the bribery scheme in real time and when they thought no one was listening." These wiretapped phone calls — more than 100 of which are expected to be played at trial — will also include conversations between the defendants and Madigan himself.

* Sun-Times | Railroad merger OK blasted by suburban mayors, Illinois lawmakers: The merger could further tie up commuters using Metra's Milwaukee District-West Line as regulators expect the number of daily freight trains to increase from three to 11. "To say we're disappointed is a gross understatement," said Frank DeSimone, village president of Bensenville. "They approved a 400% increase in freight traffic in our community."

* Capitol News Illinois | Pritzker: Tax cuts on the table if state revenues continue to exceed expectations: The governor did not say whether tax cuts would be permanent or which taxes he and lawmakers are considering cutting. And tax cuts were one of several potential uses of excess revenues the governor said he would like to consider. Others include contributions to the state's "rainy day" fund and added payments beyond required amounts to the state's pension system.

* Vandalia Radio | Illinois State Board of Education discusses increased spending with House committee: Board Chair Steven Isoye and other board members met with the Illinois House Appropriations Committee and requested an extra $350 million towards the state's Evidence-Based Funding formula.

* Sun-Times | DEA's new Chicago boss Sheila Lyons: Will target fentanyl, an 'awful, terrible challenge': Lyons, the first woman to hold the post, says she'll target Mexico's Sinaloa Cartel and Jalisco New Generation Cartel, saying the fentanyl they supply is "like nothing I've ever seen in my 30 years in law enforcement."

* WAND | Illinois House Republicans demand reforms to attract businesses: Two representatives from the Rockford region explained Wednesday that people in their districts are struggling to get by after a Jeep assembly plant shut down indefinitely. That announcement came the same day Stellantis announced thousands of new jobs opening at a plant in Indiana.

* Sun-Times | How a gun violence spike in 2016 created a movement of Chicagoans that is still building: Over the last six years, support for community-based violence prevention has swelled in Chicago. It started with a "really shocking and enormous" increase in shootings.

* AP | Warnock's campaign chief sees lessons from Dems in Georgia: Fulks, who has also worked for Illinois Gov. J.B. Pritzker and is now on a politics fellowship at the Harvard Kennedy School, deflected questions about a possible Biden gig. But allies tout him as more than ready for a national campaign.

* USA Today | Texas judge hears arguments in lawsuit that could force major abortion pill off market nationwide: U.S. District Judge Matthew Kacsmaryk gave both sides two hours to make their arguments in a case that could dramatically alter access to medication abortion, which makes up well over half of all abortions, by targeting the decadeslong FDA approval of the drug mifepristone.

* Tribune | Goats found wandering on South Side brought to Chicago Animal Care and Control: The three beauties were brought in as strays by a worker to the animal control facility at 2741 S. Western Ave. They were found near 6000 S. Wood St., and officials said they were very friendly and eating normally. One of the agency's partners supplied goat feed for them during their short stay.

* Tribune | Rev. Wheeler Parker was there in the bedroom when Emmett Till was abducted. His memoir recounts the 70-year push for federal charges: There's a haunting moment in Parker's new memoir, "A Few Days Full of Trouble: Revelations on the Journey to Justice for My Cousin and Best Friend, Emmett Till" (written with Northwestern University journalism professor Christopher Benson), in which he wonders what Till was thinking as he was led to his death. The story has been told often: In 1955, Bryant alleged that Emmett Till, a Black teenager from Chicago visiting his relatives, wolf-whistled at her in a grocery store. Four days later, in the middle of the night, there was a knock on the door of the home where Till slept. Two men, J.W. Milam and Roy Bryant, Carolyn's husband, carrying guns and flashlights, ordered Till to dress and drove off with him. Till was tortured, lynched and shot in the head. His death served as a catalyst for the nascent civil rights movement.

* AP | TikTok dismisses calls for Chinese owners to sell stakes: The company was responding to a report in The Wall Street Journal that said the Committee on Foreign Investment in the U.S., part of the Treasury Department, was threatening a U.S. ban on the app unless its owners, Beijing-based ByteDance Ltd., divested.