* Gov. Rauner told reporters this at a Quincy press conference today about the veterans home…
To be clear, there was absolutely no delay in doing what was critical, and that is keeping the veterans safe, treating them, evaluating the health of every veteran, every staff member, communicating with the vets and the staff and to any of their families to report any veteran who was showing any symptoms. That's what was done. That was done day one.
* Let's start with a family member…
"That's what makes me sick. Do they think we're all stupid? Here they are, not telling us for six days, and our family members are in there. We could've had a choice, people. We could have took our fathers and others out. We could have gotten them other help, and they have the audacity not to tell us for six days?"
* Staff…
Gov. Bruce Rauner's own administration formally rebuked the state agency overseeing the Quincy veterans' home for how it told staffers about the fatal Legionnaires' disease outbreak after workers there got sick in 2015. […]

But the Aug. 22, 2015 mass email to Quincy workers — which Jeffries has pointed to as proof the home's workforce was informed early about the outbreak — downplayed the severity of the epidemic and failed to alert staff that two Legionnaires' cases had already been confirmed by that time.

The email, sent by an infectious disease nursing supervisor to nearly 140 staff members, emphasized with all capital letters that there had been "an UNCONFIRMED diagnosis" of Legionnaires'. The correspondence admonished workers not to talk about the case with residents because "the last thing we need is for the residents to get worried and upset." […]

In fact, 19 hours before that first message went out to Quincy workers, top state health officials already knew that a 90-year-old man and an 89-year-old woman had tested positive for Legionnaires' disease, according to another email circulated to Public Health Director Nirav Shah and the former administrator of the Illinois Veterans Home. Shah would later acknowledge that by Aug. 21, 2015 — the day before the first note went out to Quincy's front-line staff — the state knew it was dealing with "the beginning of an epidemic."
* To the timeline…
July 24: Earliest known case of Legionnaires' disease at the Illinois Veterans' Home in Quincy, according to a report issued later by the Centers for Disease Control (CDC).

August 21: Illinois Department of Veterans Affairs Director Erica Jeffries later claims that on this date, her department "shut down the water, we removed aerators from all the showers, we shut down our fountains, we started issuing bottled water" because of the outbreak.

August 21: Public Health Director Nirav Shah acknowledges later that on this day the state knew it was dealing with "the beginning of an epidemic."

August 21: Illinois Veterans' Home resident Melvin Tucker develops a fever. He is given Tylenol.

August 22: (E)mail, sent by an infectious disease nursing supervisor to nearly 140 staff members, emphasized with all capital letters that there had been "an UNCONFIRMED diagnosis" of Legionnaires'. The correspondence admonished workers not to talk about the case with residents because "the last thing we need is for the residents to get worried and upset."

August 23: Illinois Department of Public Health notifies CDC of "five laboratory-confirmed cases of Legionnaires' disease among residents and staff."

August 24: Adams County Health Department Director of Clinical and Environmental Services Shay Drummond claims this is the date when "environmental control and mediation" actually starts

August 24: In an email, a state Veterans' Affairs spokesman alerted the governor's press staff about the Legionnaires' test results, saying, "We have a situation at the Quincy home." The spokesman went on to say he did not intend to publicize details of the test results that day unless "directed or in the case of wide media interest."

August 25: Rauner does media event with Veterans' Affairs Director Erica Jeffries at Springfield airport. No public mention of Quincy.

Aug. 25: Rauner's press secretary at the time, Lindsay Walters, directed press aides in the Illinois Department of Veterans' Affairs and Illinois Department of Public Health not to issue a public statement about the growing Legionnaires' threat at the home, documents show. "I do not think we need to issue a statement to the media. Let's hold and see if we receive any reporter inquiries," she said.

Aug. 26: There are now 28 Legionnaires' disease onsets, the CDC reports later.

August 26: Three days after CDC was first notified of the Legionnaires' disease outbreak, and 2-4 days after remediation efforts began, Gerald Kuhn, 90, is given Tylenol for a fever that reaches 104 degrees. Kuhn asks to go to the hospital and tests positive there for Legionella.
The veterans' home didn't test Gerald Kuhn. He had to ask to go to the hospital to be tested. So much for "evaluating the health" of all the veterans.
* More…
August 26: Last day Dolores French is seen alive. Her military veteran husband lives in another section of the complex.

August 27: "The Illinois Department of Veterans' Affairs (IDVA) and the Illinois Department of Public Health (IDPH) today announced eight confirmed cases of Legionnaires' disease in residents at the Illinois Veterans' Home - Quincy. There have been no known deaths related to this outbreak."

August 27: After six days with a fever, Melvin Tucker is still not on any kind of antibiotic and hasn't yet been tested for Legionnaires', despite the CDC being notified four days earlier of an outbreak and the state announcing eight confirmed cases that same day.
So, Mr. Tucker still wasn't on any medication six days into the breakout even though he was showing clear signs of danger. He wasn't being protected. He was being ignored.
* Back to the timeline for the disheartening conclusion…
August 28: "Two residents of an Illinois veterans home have died of Legionnaires' disease, the Illinois Department of Public Health said Friday…. [both] had underlying medical conditions. Both were among 23 residents of the facility who had earlier been diagnosed with the disease."

August 29: Dolores French is found dead and her body was decomposed. Her only underlying medical condition was deafness.

August 30: IDPH formally requests Epidemiologic Assistance (Epi-Aid) from the CDC.

August 31: Melvin Tucker and Gerald Kuhn die, bringing the death total to four.

August 31: Three CDC Epidemic Intelligence Service Officers and one environmental health specialist arrive at the veterans' home.

September 1: "The Illinois Department of Veterans' Affairs (IDVA) and the Illinois Department of Public Health (IDPH) today announced the deaths of a total of seven residents at the Illinois Veterans' Home-Quincy. The seven residents, all of whom had underlying medical conditions, were among the 39 individuals who had been diagnosed with Legionnaires' disease to date." [Dolores French's only underlying medical condition was deafness.]

September 1: E-mail to Illinois Department of Public Health Director Nirav Shah: I received a voice message from Ann Irving with AFSCME asking about the remediation plan at Quincy vets home. She would like to know at what point we can say the systems that present the greatest risk of spreading Legionella bacteria have been cleaned. When can we say that any additional cases are due to the 2 week incubation period and not due to current exposure?

September 2: E-mail from IDPH spokesperson to administrative group: Can you help me? Let them know I'm not the one who should be responding. I fight enough with the media. I don't went to fight with the union too.

September 2: E-mail from Director Nirav Shah: I think we should refer them to the Gov Office. There are several other sensitivities here. Or as Craig suggests, to DOL. I agree that weighing in here is not our job.

September 9: Adams County health officials report 2 more deaths.

September 14: Another resident dies, bringing the death toll to 12 out of 54 who have by now contracted the disease.
No matter how many times I read that timeline, my blood still boils. And the constant lies just make it worse.
- Posted by Rich Miller 45 Comments


* My bank shut down my debit card last month because somebody tried to withdraw money from my account in Portland, Oregon. I've always wanted to go to Portland, but never have. Some of my money did, though. They successfully withdrew $88 from an ATM machine and then the bank locked down my card. The bank told me the fraudsters somehow had my pin number, which I never share and don't even have written down.
Credit card fraud is at an all-time high. That's according to the Federal Trade Commission's latest Consumer Sentinel Data Book, which tracks and summarizes consumer complaints about fraud, identity theft, and other consumer concerns. In 2017, there were 133,015 reports of credit card fraud across the United States—nearly a 7 percent increase over the year prior. This trend corresponds with a simultaneous sharp rise in data breaches where personal information was compromised. According to the Identity Theft Resource Center, 2017 represented an all-time high of 1,579 data breaches—a nearly 48 percent increase over 2016's 1,091.

The Federal Bureau of Investigation defines credit card fraud as the "unauthorized use of a credit or debit card, or similar payment tool (ACH, EFT, recurring charge, etc.), to fraudulently obtain money or property." Interestingly, the Federal Trade Commission categorizes credit card fraud as a type of identity theft, since it can only be accomplished by stealing credit card numbers, usually by means of an identity theft scheme.
* More…
The risk to individuals isn't spread evenly across states. Instances of credit card fraud range from a low of 17 per 100,000 residents in Mississippi to a high of 81 per 100,000 residents in Washington D.C. The average across all states is just under 33 per 100,000 residents.

There is a slight positive correlation between median household income and instances of credit card fraud per 100,000 residents. This suggests that higher-income states are potentially more attractive to scammers, representing a better chance of "striking gold."

Median household income is also positively correlated with the percentage of identity theft cases that are credit card fraud. In other words, credit card fraud appears to be occurring more frequently relative to other types of identity theft in higher-income states. This again might be due to the high payout attached to a successful scheme on a wealthy resident. This trend could also be explained by lower credit card approval rates in states with higher levels of poverty.

Higher levels of poverty also correspond to lower rates of credit card fraud. This may be attributable to lower credit card approval rates, ownership, and credit limits in less wealthy states.
* As the headline says, Illinois ranked 6th…
Credit card fraud complaints: 48 per 100,000 residents
Total identity theft complaints: 130 per 100,000 residents
Credit card fraud percent of total ID theft complaints: 39%
Household median income: $60,960
Percent below poverty level: 13%
Thoughts?
- Posted by Rich Miller 15 Comments


* Bill Cameron at WLS-AM…
In the race for governor, opponents are ganging up on Bruce Rauner today.

No less than three press events dumped on Rauner.

One about his handling of the deadly Legionaries disease at the Quincy Veterans Home, another about him equating the undocumented with crime and a third claiming he's breaking the law by not paying state workers their step increases, which the governor's office denies.

State Comptroller Susana Mendoza was at that last one saying that the state will have pay 7% late payment interest on those step increases, and she added this about Rauner, "This is just his personal grievance with state employees. It's his obsession with right-to-work, and ya know, I think the governor has a right to work, just someplace else!"
* Everybody is doing their best to get the other side off their game. The governor is holding a 3 o'clock press conference in Quincy (I'll update with whatever I get), and his campaign just sent this out to his supporters to urge them to watch the debate…
You can expect Governor Rauner to hold JB Pritzker accountable for his "scheme to defraud" taxpayers out of $330,000. Pritzker wants to raise taxes on every single Illinoisan, but he won't even pay his own taxes. That means hardworking Illinois families just like yours have to pick up the tab.

Governor Rauner is going to speak the truth tonight. He's standing up for taxpayers and fighting corruption in state government. This is the most important election of our lifetime. Be sure to tune in to see Bruce fight for our state's future!
Click here to watch the debate, which begins at 7 pm. We'll have a live coverage post.
* Pritzker campaign…
As the son and grandson of Veterans, I have so much respect for the sacrifices brave men and women make for our country. So I was especially moved when I heard the story of Illinoisan Eugene Miller, who, when he turned 17, went to serve in the United States Army in Germany. Eugene was proud of his military career. That's why, when he started to get older, the choice to move into the Quincy Veterans' Home, surrounded by his fellow service members, was clear. But one day, Eugene's family got a call saying he had fallen ill. In the next few days he continued to get sicker and within a week he had died.

His son Tim found out later that the state knew that there was a Legionnaires' outbreak at the Quincy Veterans' Home and had chosen to keep that information concealed from the public and even from family members. "At that moment my dad needed for the state to honor him and serve him the way that he served his country." Instead, Bruce Rauner let down Eugene and 13 other Veterans and their spouses, who died after getting sick with Legionnaires' at the Quincy Veterans Home.

Rauner has failed Illinoisans in many ways. But his handling of the Legionnaires' disease outbreak at the Quincy Veterans' Home is one of the most egregious things he's done while in office.
* The campaign also released some raw footage of Tim Miller talking about his dad. As we've already discussed, Miller appears in Pritzker's new TV ad…
Heroes

As the son and grandson of Veterans, I've seen the sacrifice brave men and women make for our country. That's one reason why it was so heartbreaking to hear the story of Eugene Miller, a Veteran who tragically died at the Quincy Veterans' Home during the Legionnaires' outbreak. Eugene, his family, and Veterans across Illinois deserve better than Bruce Rauner. We need a governor that will honor Veterans and work to provide them with vital resources, not one that will turn their back on the needs of our nation's heroes.

Posted by JB Pritzker on Thursday, October 11, 2018
- Posted by Rich Miller 25 Comments


* Let's return to ProPublica's story on the attorney general's public access office (PAC), which handles FOIA disputes…
"Here's what they need to do: Pull the plug on the PAC's office," said Bruce Rushton, a staff writer for the Illinois Times newspaper who has written about delays and inaction from the office. Rushton argued that the attorney general's office is too politicized to oversee disputes involving other politicians and government bodies, including state agencies it's charged with representing in court.

"Only a fool would put an elected official in Illinois in charge of riding herd on other elected officials," Rushton said. "But that's what we've done."

Madigan was not available for an interview, according to a spokeswoman. But other officials in her office said the PAC has helped thousands of people access government information while leading a shift in the culture of the state toward more transparency.

"We started from scratch and created this, and I think we really do help people every day," said Ann Spillane, the attorney general's chief of staff.

"We have areas where we need to improve," she acknowledged. But in addition to its rulings, Spillane stressed that the office provides education to the public on open-government laws, including through a hotline. "We're one of the rare places in government where you can pick up the phone and talk to a lawyer."
* The Question: Should the public access counselor's office be removed from the attorney general and set up as an independent office? Take the poll and then explain your answer in comments, please. And if you vote "Yes," tell us how you would set it up.
survey software
- Posted by Rich Miller 24 Comments


* ProPublica takes a look at the attorney general's public access counselor, known as the PAC…
The PAC's heavy caseload is one reason the office rarely uses its full authority to order compliance with the transparency acts. Under the laws, the PAC has 60 days to issue a binding opinion. If the case is too complicated to make that deadline, or if the PAC's attorneys aren't able to move faster, the most the office can do is issue an opinion that's nonbinding.

And binding opinions are rare. While closing 26,000 cases through mid-August, the PAC only used the weight of the law to issue binding opinions in 127 of them — less than half of one percent of the total. And four of those opinions sided with government bodies blocking the public from information.

Officials in the attorney general's office said they issue binding opinions on issues of broad public interest, and each one is researched to ensure it could withstand a court challenge.

"Our binding opinions in particular we've been exceedingly careful about," [Ann Spillane, the attorney general's chief of staff] said. "We've only been overturned once. We thought it would be a devastating blow to our credibility if we didn't have success with the courts." […]

Spillane said the office has "struggled" to decide the best way to deal with public agencies that ignore requests or PAC opinions, opting in most cases for the "ask again and again and again" approach. But the office has started to respond more forcefully with binding opinions, she said.
Go read the whole thing. It's a well-written, informative story.
* The attorney general issued one of those rare binding opinions this week…
The state attorney general has found the governor violated the Freedom of Information Act by refusing to turn over emails on his decision-making process on government appointments to One Illinois.

The office of Attorney General Lisa Madigan ordered Gov. Rauner in a binding opinion issued Tuesday to turn over 1,783 identified emails on appointments to various state boards and other bodies.

One Illinois first made the request in June for emails from either Rauner or his wife, Diana Rauner, on a series of issues. Told by the Governor's Office that there were none applicable for the governor, One Illinois narrowed the scope of the request in July and focused instead on emails to or from seven current or former state employees on appointments to 13 state boards, councils, and commissions, and narrowed the scope additionally after that.

The Governor's Office nonetheless replied that was "unduly burdensome," and that it could not identify specific search terms to narrow the focus, even though there's nothing in state FOIA law requiring adequate terms for a search. […]

At that point, on Aug. 10, One Illinois asked the Office of the Attorney General to review the FOIA process. The Public Access Bureau asked the Governor's Office for an explanation, a request that at first was ignored entirely. On Aug. 29, the bureau repeated the request, and eventually the Governor's Office revealed it had found 44,536 "potentially responsive emails," but that narrowing the focus with the search term "appoint" had produced 1,783 emails, which it still found unduly burdensome and not of sufficient public interest to merit the work required to redact and otherwise process them.
The binding opinion is here. The governor can challenge the order, but he'll have to sue the attorney general to do it.
* This One Illinois explainer video is very good. The FOIA basically focuses on Mrs. Rauner's impact on the appointment process in the wake of the governor's hiring of several Illinois Policy Institute staffers…
- Posted by Rich Miller 20 Comments


* Background is here and here. From the Tribune…
Rauner also bristled when asked about his personal and family foundation investments in offshore tax havens following a Tribune report Wednesday dealing with the financial holdings of the governor and Pritzker. The Tribune found that Rauner's family foundation invested more than $10 million in a Cayman Islands fund after he became governor, that he has personal investments in three offshore funds, and that his former private equity firm was a "top client" of a major law firm that provides offshore legal services.

Asked if it was hypocritical to attack Pritzker's offshore holdings while also having money parked offshore, Rauner sought to distance his "tiny" financial dealings from Pritzker's more extensive investments.

Rauner defended his personal offshore investments, which includes two funds registered at the Ugland House in Grand Cayman, the listed address for thousands of companies and investment funds. Former President Barack Obama once criticized the place as a tax haven.

"I have investments all over the world, but mostly in America, and what I don't do is cheat on my taxes," Rauner said.

Pritzker has said money from the offshore trusts goes to his charity, the Pritzker Family Foundation. He also has said his trusts have paid tens of millions of dollars in state and federal taxes.
- Posted by Rich Miller 30 Comments


* The Sean Casten campaign sent along a few news clips today. New York Times…
In a tactical retreat, Republican groups have already withdrawn some or all funding from a few embattled incumbents, mainly in suburbs where President Trump is unpopular, including Representatives Kevin Yoder of Kansas, Mike Coffman of Colorado and Mike Bishop of Michigan. They have abandoned more than half a dozen seats where Republican lawmakers are not running for re-election, including most recently the Tucson, Ariz.-based seat of Representative Martha McSally, who left to run for Senate.

Party strategists said several other incumbents must recover quickly or risk losing funding, including Representatives Peter Roskam of Illinois and Mimi Walters of California, who represent white-collar suburbs near Chicago and Los Angeles, respectively. […]

Former Representative Thomas M. Davis III of Virginia, a former chairman of the National Republican Congressional Committee, said … "This is the kind of year where Republican are going to have to give up on some races and they're going to have to make some hard choices."
* WaPo…
The same dynamic is taking place outside Chicago, where veteran Rep. Peter J. Roskam (R-Ill.) is in the fight of his life against Sean Casten. A clean-energy entrepreneur, Casten has reserved $4.6 million worth of ads, well ahead of Roskam's $2 million in ads. […]

This energy among liberal donors has forced Republicans into making hard choices about where to spend their dollars. At the moment, the NRCC has no money reserved to defend Roskam, a former member of Republican leadership.
Of the 31 seats rated a "tossup" by the nonpartisan Cook Report, the NRCC is only playing in 14 of them. That means teetering Republicans like Reps. Mimi Walters, in Orange County, Calif.; Peter Roskam, in Illinois' Chicago suburbs; and Dave Brat, in Virginia's Richmond suburbs, aren't receiving air cover from the NRCC's independent expenditure unit; neither are Reps. Andy Barr, R-Ky., Bruce Poliquin, R-Maine, or Rep. David Young, R-Iowa.
* But…
But the NRCC believes its strategy, while counterintuitive, is paying dividends. By forcing Democrats to spend in Colorado 6 and Virginia 10, there is less money to throw against other endangered Republicans who aren't as well known or battle tested as Coffman and Comstock. Essentially, the two are being used as cover to distract Democrats from easier targets. Additionally, some incumbents, like Roskam, are to begin benefiting from NRCC advertising in the form of "hybrid" ads that are coordinated with the candidate.
So, Roskam may be getting some money after all. We'll see.
* Meanwhile…
The League of Conservation Voters Victory Fund is launching a digital campaign targeting GOP Rep. Peter Roskam in IL-06 over the environment. The $291,000 campaign features two ads saying "polluters heart Peter Roskam" and that the "polluter in chief" Donald Trump can count on Roskam's vote.
* And Roskam's new TV ad goes heavy on the Madigan angle…
* Script…
Sleazy Illinois politicians Mike Madigan and Sean Casten. Madigan and Casten are two sides of the same coin.

Madigan supported a state budget that would raise taxes on our families. So did shady Sean Casten. Madigan opposed the property tax freeze. Casten also opposed it. Higher gas taxes? Madigan supports those. And you guessed it, Sean Casten supported them too.

Mike Madigan and Sean Casten, shady Illinois politicians who'd make you pay more.
*** UPDATE *** Looks like that NRCC hybrid money is coming through…
According to Roskam's campaign, the National Republican Congressional Committee, the party's House campaign committee, just committed $1.5 million to a new TV ad buy in the expensive Chicago media market, $702,000 of which will go out the door in the next week.
Not enough, though.
- Posted by Rich Miller 12 Comments


* Rep. Avery Bourne (R-Raymond) and her opponent Dillon Clark (D-Litchfield) posted these pics a day apart on their respective Facebook pages…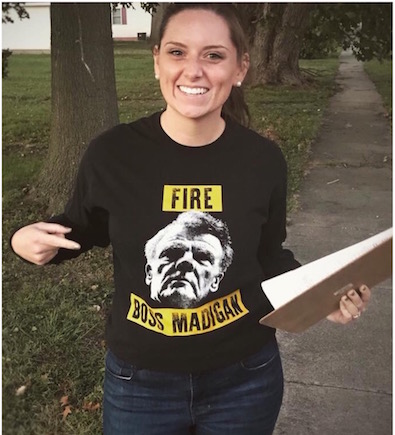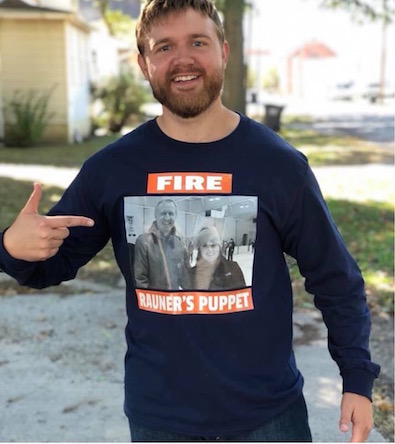 - Posted by Rich Miller 32 Comments


* I was wondering when they were gonna get around to this, partly because I heard about a polling question on the topic several days ago. A new CLF Super PAC ad…
Liberal Betsy Londrigan is out of touch.

Londrigan belongs to an exclusive yacht club that costs thousands of dollars to join…

…but opposes middle-class tax cuts that are saving $2,000 a year for families like you.

Liberal Londrigan is so far adrift…

…her radical health care plan could cost $32 trillion – and drown us in debt.

Liberal Betsy Londrigan. Too expensive for Illinois.
Her husband Tom is an avid sailor (his family sails competitively), so, yes, they're members.
And for the record, I live on Lake Springfield and I belong to that club. It's very nice and I know Tom.
Also, the "radical health care plan" stuff has been debunked.
* On to Bernie…
The Illinois Republican Party has been sending out fliers backing U.S. Rep. RODNEY DAVIS, R-Taylorville, and attacking his opponent, Democrat BETSY DIRKSEN LONDRIGAN.

Among descriptions of Londrigan on fliers is the word "lobbyist."

Turns out that in 2013, when Londrigan was a consultant to the Abraham Lincoln Presidential Library Foundation, she registered as a lobbyist for the foundation for just that year.

CARLA KNOROWSKI, CEO of the foundation, also registered that year, as the foundation — which purchased the Taper collection years earlier, including a purported Lincoln top hat — was seeking state funding help to supplement private funding. Knorowski said there were "a handful of meetings that Betsy helped me as a staff member, but I was basically the one making the presentations."

She said no state money resulted from those meetings, which included officials like Senate President JOHN CULLERTON, state Sen. ANDY MANAR, and perhaps representatives of other legislative leaders. Knorowski also said as she and Londrigan weren't paid as lobbyists, they didn't have to register, but did so to be "abundantly cautious."
I'm told that Davis has a new TV ad about the allegedly fake hat, but I haven't seen it yet.
…Adding… Here's that hat ad…
And with that ad, all four embattled Republican congressional incumbents are using Mike Madigan to attack their opponents.
* This story is based on a tweet that cut off part of the polling memo. I tried getting more info from the CLF Super PAC yesterday, but never heard back, so I didn't post it. Also, the poll is old (September 29 through October 1), and was released shortly after Londrigan released a poll showing her down by a point, making it a bit suspect. And it was released ahead of the Vice President's trip to the district. Anway…
Two days after Democrat Betsy Dirksen Londrigan's campaign released a poll showing her running neck-and-neck with GOP Rep. Rodney Davis, a top Republican polling firm has released its own poll showing Davis with a comfortable lead going into the final month of the election.

The poll released Wednesday shows Davis with a 50 percent to 37 percent lead on Londrigan in the race for the 13th Congressional District, with 9 percent undecided. It also shows Davis leading among independents, 45 percent to 38 percent, and independent women, 40 percent to 35 percent.
* Let's turn to the Veep…
Vice President Mike Pence is coming to Springfield Friday for a fundraiser for U.S. Rep. Rodney Davis, R-Taylorville.

According to the Sangamon County Republican Party's calendar, Pence will be special guest at the luncheon at Panther Creek Golf Course.
Wait. Isn't Panther Creek Golf Course an "exclusive" club "that costs thousands of dollars to join"? Why, yes, it is. /s
* From the Rodney Davis campaign…
Today, Rodney Davis called on his opponent's supporter, EMILY's List/Women Vote, to remove a negative TV ad featuring his children. The ad says Davis wants to gut protections for people with pre-existing conditions and features their three children. Davis' wife Shannon has a genetic form of colon cancer that could also be passed down to their children.

"In my book, kids are off limits in politics and it's appalling to me that this outside group, who is spending nearly a million dollars in support of my opponent, would use my children in a negative TV ad against me," said Davis. "My opponent has spoken about her son several times throughout this campaign and I would never use him, nor condone an outside group using him, in a negative way to make a political point. Lying about my voting record over and over again and using scare-tactics to do it is bad enough, but bringing my kids into it is a new low. At some point enough is enough in politics."
Click here to view the ad. It uses footage of Davis' own ad which features his kids. And since this is an independent expenditure, Londrigan can't do much about it either way. We'll see if the media picks up on it or if Davis uses this in an ad.
Also, it's clear that Congressman Davis has voted to undermine preexisting condition protections. That's the bill the late US Sen. John McCain killed with his dramatic thumbs-down.
* Jaylyn Cook…
Republican leaders on Wednesday said they were "appalled" to learn of Democratic gubernatorial candidate J.B. Pritzker's efforts to get property tax breaks on his Chicago home, and contended that he shouldn't be elected as a result of the findings.

Lt. Gov. Evelyn Sanguinetti, U.S. Rep. Rodney Davis of Taylorville and Dan Caulkins, the Republican state representative candidate for the 101st District, criticized Pritzker and rallied support for Gov. Bruce Rauner's re-election campaign during a joint news conference at the Macon County Republican Party headquarters, 445 N. Franklin St. […]

On Wednesday, Davis said he hopes that the U.S. Attorney's Office is working to initiate an investigation, and said that the calls for it to move forward will not stop.

"Let this sink in: The Cook County inspector general accused the Democrat gubernatorial candidate in the state of Illinois of committing a 'scheme to defraud' the taxpayers of the same state that he wishes to represent," Davis said.
- Posted by Rich Miller 38 Comments


* The Sun-Times website has been a plague on its own readers for years. I spend an unnecessarily large chunk of my days trying to deal with it. So, thank you, Edwin Eisendrath from the bottom of my tiny little heart…
The Chicago Sun-Times will launch a completely redesigned website early next year on a platform powered by digital publisher Vox Media, the news organizations announced Thursday.

It's Vox Media's first licensing agreement with a newspaper to use Chorus, the publishing technology behind the company's roster of seven editorial brands, including Vox, Eater, Curbed and SB Nation.

Sun-Times management says it will fix once and for all the series of clunky website overhauls in recent years that have caused headaches for readers, reporters and editors alike.

"It's going to be cleaner, it's going to be less clutter, it's going to be less popups," Sun-Times CEO Edwin Eisendrath said. "It's going to be easier to get to the stories that people care about."

Vox Media began licensing the company's content-management system last year with the sports and pop-culture website The Ringer and earlier this year with the comedy site Funny or Die, but the Sun-Times will be the company's first traditional daily news media partner.
Vox Media runs clean, accessible websites. That would be a welcomed change at the CS-T. Now, if I could just get them to always remember to put my weekly column on their state politics page I'd be thrilled.
- Posted by Rich Miller 14 Comments


* As early voting, no-excuse absentee voting and same-day registration/voting become more commonplace and understood, the usage rates naturally rise. So, it may not be accurate to assume this year's big surge in mail-in ballot requests automatically means a surge in interest. But it's still pretty interesting because the Pritzker campaign and the state's Democratic Party have put lots of effort into this mail-in push…
Requests for mail-in ballots in Illinois have surpassed 2014 numbers, and they're outpacing ballot requests from two years ago, too — remarkable given that was a presidential election year. And there are still three weeks left to apply for a ballot.

In Chicago, mail-in requests are expected to overtake the all-time record set in 1944, a presidential year. That's when the city had "tens of thousands" of voters serving in Europe and the South Pacific during World War II, Chicago Board of Elections spokesman Jim Allen told POLITICO. That year, Chicago handled 116,117 mail-in applications. Fast-forward to Illinois removing the rule that voters needed an excuse to vote by mail. In 2014, there were 38,982 requests for mail-in ballots, and in 2016, 93,518. For this year's midterms, Chicago has seen about 80,000 mail-ballot applications. "With three weeks to go, we haven't hit our heaviest period," Allen said.

Statewide, there have been 310,532 requests so far for mail-in ballots. That's up from 2014, when 268,218 requests were made, and it's expected to exceed the 370,740 requests made in 2016, according to the Illinois State Board of Elections.

In Cook County, 75,688 mail-ballot applications have been requested–so far. That compares with 108,000 in 2016. "We're going to come close, and that would be significant," Cook County Clerk David Orr told POLITICO. In 2014, 62,000 early voting ballots were sent out.
I prefer to wait until election day to vote. Part of it is my own tradition, but one excuse I've used for a few cycles is that scandals have a tendency to break in the final weeks and I prefer not to cast my ballot until all the oppo is in.
- Posted by Rich Miller 29 Comments


* Bloomberg's Elizabeth Campbell talked to bond investors about the gubernatorial campaign. At the top of their list, they don't want another budget impasse. More…
"We don't care if it's a Democrat or Republican, we just want to make sure that whoever is in the office knows how much new taxes and revenue increases are needed to make those hard decisions of trying to deal with pensions," said Dora Lee, vice president at Belle Haven Investments, which manages about $7.5 billion in municipal bonds, including Illinois debt. "We just need someone who has the vision and the political capital to make those hard choices because time is kind of running out." […]

Even though Rauner pushed for fiscal reforms that would have cut costs, none of those were enacted, said John Miller, head of municipals at Nuveen, which holds more than $140 billion in state and local debt, including Illinois bonds.

"The concept that there could be a better, maybe a more productive dialogue where you could actually pass some fiscal changes that require legislation, that's got to be considered better than gridlock," Miller said. "I actually think the bond market would respond more positively to a change," said Miller, who noted that his comments were from a revenue, expenses and budgeting point of view and not a political perspective. […]

"If there's unified government, whether you view that favorably or unfavorably, it does mitigate appropriation risk and decreases the chance of a government shutdown, and it also mitigates the risk of not having a budget passed," said Dennis Derby, a portfolio manager at Wells Fargo Asset Management, which holds $39 billion of municipal debt, including Illinois bonds. "No matter who wins, going forward, we would want to see balanced budgets, attempts at pension reform and a reduction in the payables backlog."
Not too hard to read between those lines.
- Posted by Rich Miller 35 Comments


* Maze Jackson's WVON interview of Gov. Bruce Rauner is a treasure trove…
JACKSON: Let me stop you right there because you talked about unemployment and crime. And the put it on the front page of the paper that you said that part of this was illegal immigration. Talk to me about illegal immigration, how it impacts crime, and how it impact unemployment in our community, the black community specifically.

RAUNER: So here's what I said that got spun incorrectly in the media. What I said is violence in part is driven by unemployment. That's just a fact. When a young person doesn't see a future for themselves, sees massive unemployment in their communities, no way to get an income, when the gangs call and says "Hey join us, we can get you some money, we can get you a gun, some protection" a lot of the kids say "Okay." I mean it's not an unreasonable decision for a young person to make if they don't see another alternative, join a gang. And the gang violence is horrific. We've got to have more economic growth. 79th St. here should be booming. It should be an economic mecca like it was 40, 50 years ago. We can do this, and it won't take 2-3 years. But it's the unemployment that drives so much of the violence and the crime because it's the despair, the lack of seeing a future for our young people.

JACKSON: Well governor as I drive down 79th St. and I am going to be honest with you. You know maybe the media spins it, but I am going to say it. For the black community when we look at illegal immigration and we see working on 79th St., and 87th St., King Dr. King Dr., and they are undocumented immigrants, illegal aliens, not illegal aliens that's hate speech, undocumented immigrants, and our party pushes to the forefront the issues of noncitizens before citizens it is a real issue. If we say what about the people who are already citizens it seems like we are being skipped over.

RAUNER: Totally, you're right. So this is what I was trying to say. It's politically unpopular and the media attacks me but I just try to speak the truth and sometimes I get bopped for it but I got to speak the truth. If an economy is booming and there's more than enough jobs for everybody illegal immigration, what it does is not cause unemployment, what it does is hold down wages because when companies have to compete to higher people they raise wages up. So wages don't grow as fast if there is illegal immigration in that case. But if there's not enough jobs and there's already unemployment, if there's illegal immigration, unemployment gets worse. That's what's happened in Chicago. That's one of the reasons. We have hundreds of thousands of illegal immigrants here the jobs they're working, they're here because they got a job, that could be a job for a Chicago citizen, and American citizen. This is just true. People get mad at me. People criticize, but it's the truth. And when we make a sanctuary city in Chicago, which we have, so illegal immigrants can come here and be protected here that takes away jobs from citizens of America in Chicago. It's just true. It's not debatable.
I don't think the media spun it at all. All the stories that I read correctly reported what Rauner said.
* Rick Pearson took a look at Rauner's actual claims…
In September of last year, the president of the American Action Forum, a center-right policy group, told The Washington Post there was no proof that immigration — legal or illegal — "squeezes out native-born workers in any systematic way."

Douglas Holtz-Eakin, who was senior policy adviser to the late Sen. John McCain's 2008 presidential campaign and a former director of the Congressional Budget Office who leads the group, said, "We've experienced waves of immigration and still, on average, reached full employment."

Additionally, the Marshall Project reported in March that while the number of immigrants — including those living here illegally — overall in Chicago rose by 73 percent from 1980 to 2016, the city's violent crime rate fell by 14 percent during the time period.

Rauner has sought to heal a divide among the GOP's social conservative base over his signature on laws that expanded immigrant, abortion and transgender rights. Those conservatives have supported President Donald Trump's push for tougher border protections and actions against those in the country illegally.
He ran as a moderate in the primary and barely won and is running as a Trump-like conservative in the general and is currently getting thumped. Dude has it all backwards.
…Adding… Not a bad point…
Yeah, um, so - according to @brucerauner, undocumented immigrants hold down wages which leads to violent crime.

Also, Rauner opposes raising the minimum wage.

Also, Rauner wants to repeal the prevailing wage, to reduce wages.

I really need some clarification @capitolfax https://t.co/k1LKh0ELsW

— Dave Clarkin (@daveclarkin) October 11, 2018
Clarkin forgot "right to work."
- Posted by Rich Miller 37 Comments


* NBC 5…
Democratic candidate for Illinois governor J.B. Pritzker has repaid the $330,000 he received in property tax breaks after removing five toilets from one of his Gold Coast mansions, according to a spokeswoman Wednesday.

Las week, Cook County's inspector general said in a report that Pritzker had engaged in a "scheme to defraud" in order to receive more than $330,000 in property tax breaks on his mansion in Chicago's Gold Coast neighborhood.

According to the spokeswoman, the check was mailed to the Cook County Treasurer's office last week.
* Rauner campaign…
Yesterday, JB Pritzker cut a $330,000 check to try and make his "scheme to defraud" Illinois taxpayers go away. Illinoisans aren't fooled by Pritzker's attempt to buy his way out of his potentially criminal activity.

Rauner campaign Communications Director Will Allison released the following statement in response:

"A bank robber who gives the money back is still a bank robber. Pritzker paying back the money he conned out of Illinois taxpayers is nothing less than an admission of guilt that he committed fraud." -Will Allison, Rauner Campaign Communications Director
- Posted by Rich Miller 19 Comments


* More from Gov. Rauner's Maze Jackson interview…
JACKSON: Governor, I've heard it, you know, I go places and people tell me "Bruce Rauner is an enemy of black people." Why do people say, are you an enemy of black people? And why is that the perception?

RAUNER: Again political false baloney. The spin is, because we had a budget fight for two years and some human services got hurt and cut, that somehow I wanted to hurt, and some of those hurt the black community. And that's true. But you know what? I was working to try to get a balanced budget, I proposed a balanced budget, that would have funded human services and funded Chicago State. Mike Madigan had the super majority. He could have passed any budget he wanted at any time he wanted to for those two years, with or without my support. He wanted, he wanted the crisis. What's Mike Madigan, and his unions, his union buddies, what's they're track record in the black community? It is horrible. How many African-Americans are working on the construction sites on the South Side of Chicago? Virtually none. How many African-Americans are in apprentice programs with Madigan's union buddies? Virtually none. They were happy to see the black community suffer during the budget impasse. They were happy to do that. They had no problems with it. It was breaking my heart. And then they have the gall to turn around and say it was my fault? I'm sorry, that's a bunch of horse manure. It's not my fault. They caused it. They did it.
Rauner has admitted in the past few weeks that he was at least partly to blame for the impasse. Apparently, those days are over. "It's not my fault!"
* Rauner also took on the Legislative Black Caucus yesterday, and they responded this morning…
Governor Rauner spouted off lies about his failed record during an interview with Maze Jackson, stealing others' credit as his own while struggling to survive on the campaign trail.

In one interview, Rauner once again claimed to be the best governor for the black community, took credit for a school funding he vetoed twice, and undermined the work of the Legislative Black Caucus. After being asked about reforms the Black Caucus championed, Rauner said, "I created the taskforce that drove all that. They could have done that any time. They didn't. I did." It's simply a fallacy and desperate move to draw votes from the African American community when we all know he's failed us.

The truth is under the Rauner administration minority contracting requirements have been waived and the percent of state business going to minority businesses has actually plummeted by 22 percent. And African-American unemployment in Illinois remains among the highest in the nation under Rauner's failed leadership. That's after Rauner put child care funding in jeopardy, decimated funding for social services like summer programs and Teen Reach, and jeopardized the MAP Grant Program.

"Governor Rauner says he's done more for the black community than anyone, but that's news to black communities across the state who are hurting from his years of failed leadership," said Sen. Kimberly A. Lightford. "The truth is that this governor slashed funding for gun violence prevention programs and social services, blocked funding for schools while insulting teachers, vetoed a minimum wage increase, and sent black unemployment skyrocketing. We deserve better than a governor who shamelessly takes credit from others and spews empty rhetoric and then leaves our communities behind when it really matters."
* Back to the Maze interview…
JACKSON: Governor, have you made any black millionaires?

RAUNER: Oh, we're sure helping a lot of black entrepreneurs and black business owners. [Reaches for paper] So, so, I knew you were gonna ask, so I brought a list.

JACKSON: You brought papers?

RAUNER: I brought papers.

JACKSON: Cause you know how I feel about papers.

RAUNER: Cause I got names for it. So, how we're gettin' contracts. So Dr. Willie Wilson is a good personal friend of mine. I love him. He's a man with a good heart, and I worship with him and I work with him. He's a self-made businessman who's become a millionaire just from his own hard work. He's overcome discrimination and a lot of hurdles in his life, and he didn't come from a background of anything other than just hard work and wanting to give back to the community.

JACKSON: Well he was a millionaire already, man. You didn't make him. You helped him.

RAUNER: No I did not say, no no. I'm saying he made his own…

JACKSON: Okay.

RAUNER: But he and I are working together cause we both care about creating more black millionaires. That's what we're trying to do. Dr. Wilson is my friend and my ally, and I appointed him to be chairman of the fair state contract task force. He is doing it, and we now are demanding that more black businesses get state contracts. It used to be lip service by the Democrats. I'm doing it as a Republican. And so here, what have we done? RGB Properties, Angela Shumpert. Okay, $31.9 million potential contract.

JACKSON: Angela?

RAUNER: Angela, go Angela.

JACKSON: You need a consultant?

RAUNER: Logsdon Stationers, Ian Brown. We got a contract for him, $446,000 from CMS. Annasha Corporation, Robert Bellamy, $3.3 million for a temporary services management project. Carepaks Health Services, $413,000, home health care services.
He "brought papers"?
- Posted by Rich Miller 45 Comments


* Gov. Rauner was on Maze Jackson's WVON show yesterday and said this about the Quincy veterans' home…
First of all it's heartbreaking that Legionella bacteria got into an ancient Veterans' Home in Quincy. It breaks my heart 'cause I'm an advocate for veterans. And we've done everything humanly possible to protect our veterans there. But this investigation by Lisa Madigan is a fraud, it's phony. She declared this investigation started 24 hours after her ally, Pritzker, got accused and found to have committed criminal fraud. She said 'Oh, let's distract the media. Let's distract all the discussion. Let's trump up a phony investigation of criminal fraud.' The Quincy tragedy of infection has been reviewed by the legislature. It's been reviewed by the press. We've had testimony. All our emails. And there's been no evidence of criminal behavior whatsoever in the Quincy Veterans' Home. None.
* Pritzker campaign…
Ahead of the final gubernatorial debate in Quincy, the Pritzker campaign released a new TV ad, "Heroes," featuring Tim Miller, the son of Eugene Miller who died after contracting Legionnaires' disease at the Quincy Veterans' Home.

In the ad, Tim Miller recounts visiting his father at the hospital during his final days and talks about how his family wasn't told about the Legionnaires' crisis even while the state was emailing back and forth about the outbreak, concerned about public relations. While Bruce Rauner continues to maintain "our team did exactly what they should have done, exactly when they should have done it," Tim Miller sees things differently, saying "Governor Rauner was more interested in protecting his image than he was the heroes who served our country."

"Eugene Miller and 13 others lost their lives too soon because Bruce Rauner cared more about headlines than our heroes," said JB Pritzker. "This failed governor chose to manage his public image instead of managing a health crisis. The Rauner administration waited six days to tell families why their loved ones were sick, six days when treatment could have started and families could've helped keep their loved ones safe. Bruce Rauner's fatal mismanagement and his cover-up is callous, baffling, and frankly, it's criminal. Eugene Miller deserved better, all of our nation's heroes deserve better, and as governor, my administration will serve our Veterans just as they served our country."
* This is a sixty-second spot…
* Script…
Tim Miller: I met my dad at the ER, and when I walked into that room, he was laying in a fetal position, unresponsive. He just looked like he was about to die. It was not the dad that I saw before.

On screen: For six days the state of Illinois knew of a Legionnaires' Disease outbreak and said nothing.

Tim Miller: At that moment, my dad needed for the state to honor him and serve him the way that he honored and served his country. Nothing was said about Legionnaires'. While the state was sending back emails about PR and different things, my dad was dying.

On screen: Emails paint a sad, cold reaction to crisis

Bruce Rauner: Our team did exactly what they should have done, exactly when they should have done it.

Tim Miller: My question to Governor Rauner is: If it were your parents who were living at that home, would you have handled it differently? Would the response time have been quicker?

On screen: Eugene Miller was one of 14 people who died after getting sick with Legionnaires' Disease.

Tim Miller: I looked up to my dad a lot and I loved him, and whatever life he had left on this earth, it was his, and Governor Rauner was more interested in protecting his image than he was the heroes who served our country.
Tonight's debate is in Quincy, so this sets it up pretty well.
* Related…
* Hugs, Handshakes, And Anger: Before Debate, Quincy Legionnaires' Families Gather To Reflect: "That's what makes me sick. Do they think we're all stupid? Here they are, not telling us for six days, and our family members are in there. We could've had a choice, people. We could have took our fathers and others out. We could have gotten them other help, and they have the audacity not to tell us for six days?"
- Posted by Rich Miller 29 Comments