* Recruit a candidate to run against a popular sitting congressman and stuff like this can happen…
NEW: IL GOP Conservative members of the State Central Committee from the 16th District, who supported Jeanne Ives and James Marter are told NOT to run again, questioning their "judgment and political acumen" pic.twitter.com/7dM697saIy

— Mary Ann Ahern (@MaryAnnAhernNBC) April 15, 2018
* From one of Dan Proft's papers…
Illinois Governor Bruce Rauner is publicly preaching party unity on the campaign trail.

But behind the scenes, Rauner is quietly leading an effort to purge conservatives from the Illinois Republican State Central Committee, which governs the party.

At issue: the re-election of current Illinois GOP Chairman Timothy O. Schneider of Bartlett, a close ally of Rauner and a sharp critic of State Rep. Jeanne Ives (R-Wheaton) in the recent gubernatorial primary.

"He's in trouble," a source close to the situation told Prairie State Wire.

Lake County GOP Chairman Mark Shaw is mounting a strong challenge to Schneider, sources say.

Republican precinct committeemen gather at their county conventions this Wed. to nominate and elect eighteen State Central Committee members, or one from each Illinois congressional district.

State Central Committee members will meet in May to select the state party chairman.
* Meanwhile, Gov. Rauner called Rep. Ives a "fringe" candidate last December and then continued to dismiss her for months on end. The Republican Governors Association's communications director predicted the day before the March 20th primary that Rauner would "win easily." In the days leading up to the primary, Rauner himself compared his race to the one Gov. Jim Edgar faced before winning a second term - but Edgar won that GOP primary by 50 points.
So, he deserves most of what he's getting these days…
Rauner won election over hapless Pat Quinn by less than 5 percentage points. He'll need every vote he can touch to have a chance against Pritzker.

"There have been some tough conversations in private between the governor and legislators and activists," said a Rauner campaign official. "And maybe they don't agree with the governor on this issue or that issue, but at the end of the day people will recognize the stakes of this election are very high. We're trying to build bridges."

Bridges are nice. But right now, Illinois Republicans need to deal with that wall, particularly its base.
The problem for Rauner is the primary is over and he needs to be pivoting toward the center. Appeasing "fringe" (his word) elements of his "base" is counter-productive. And trying to use the "Because… Madigan!" argument doesn't work so well at the moment because he used it so blatantly (and falsely) against Ives.
Any ideas?
- Posted by Rich Miller 32 Comments


* Tribune editorial…
If you ask Illinois public university leaders why so many top high schoolers bolt for out-of-state colleges, you'll hear a chorus of excuses … er, reasons. Many boil down to: We want more money. Few of those leaders acknowledge reality: Illinois' public colleges are selling a product that progressively fewer students want to buy.
* But…
Between 2000 and 2015, Illinois cut nearly $1.4 billion from General Fund appropriations to Higher Education—even before the ongoing budget crisis, which has cost Illinois colleges and universities over a billion addition dollars.
That CTBA analysis was published in January of 2017, months before the budget and tax hike overrides.
It's not that the rest of the Trib's editorial has bad ideas. Some are good. But sweeping aside the harsh reality of all too real funding cuts and not even mentioning the devastation done to higher ed budgets by the impasse is just willfull ignorance, particularly since that editorial board repeatedly cheered on the impasse. In other words, they pushed hard to squeeze the higher ed beast and now mock the battered shell for pleading poverty.
* Check out the U of I's funding, for instance...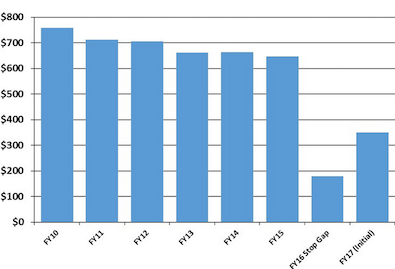 Notice anything?
* In other higher education news…
After Thursday's vote against a plan to shift more money from SIUC to SIUE, a state lawmaker with ties to Edwardsville wants to split the two campuses.

State Rep. Jay Hoffman (D-Belleville) has suggested the idea several times over the past couple decades, but he still feels the effort could win approval, especially in light of this week's events.

Hoffman said he feels like SIUE doesn't benefit much from being in the SIU system. He also feels like the two universities have different missions, and having different governing boards for each one will allow both to thrive. […]

"I would provide money to adequately fund the university systems, which would, I believe, not end up with SIU Carbondale losing money but both the universities would actually see an increase in the money," Hoffman said.
* More…
Hoffman introduced similar bills to split the SIU system in 2003 and 2013, and Rep. Thomas Holbrook, D-Belleville, pushed such legislation in 2005.

Hoffman said he filed the bill this week because he believes SIUC and SIUE have two different missions.

"It seems that if you were simply to have separate boards that could focus on the needs and the strengths of each individual campus, it would make more sense and they would both flourish," Hoffman said.
* Related…
* Why Would the Government Stop States From Helping Student Borrowers?
- Posted by Rich Miller 40 Comments


* AFSCME press release…
Responding to a wave of assaults on state employees including child protection workers, mental health caregivers, juvenile justice specialists and correctional officers, the largest state workers' union—the American Federation of State, County and Municipal Employees, AFSCME—is backing new legislation to require state government to track and report employee injuries and related lost work days.

Recent high‐profile incidents—including the murder of a DCFS investigator and the stabbing of a supervisor, staff badly beaten at Chester Mental Health Center, and violence in prisons and juvenile justice facilities—have turned the spotlight on worker safety in four state agencies: Children & Family Services, Corrections, Human Services and Juvenile Justice.

Sponsored by Senator Mike Hastings, Senate Bill 3075 would provide data to help the General Assembly and other policymakers discern the scope of the problem and develop ways to reduce violence. Companion legislation (House Bill 4895) has been introduced by Rep. Mike Halpin.

State workers who have been injured on the job will testify along with AFSCME officials when the Hastings bill is heard in committee tomorrow (Tuesday, April 17).
* Speaking of that murdered DCFS investigator…
A state bill aimed at delivering a harsher punishment for battering a Department of Children and Family Services or Adult Protective Services worker isn't likely to be heard by legislators this year.

House Bill 4586 was introduced in February by state Rep. Tony McCombie, R-Savanna, in response to an attack on veteran DCFS worker Pamela Knight, 59, of Dixon in September.

The bill ups the battery charge to felony aggravated battery, punishable by four to 15 years in prison if the batterer, using anything other than a firearm, knowingly attacks a DCFS worker who's performing his or her official duties, batters a worker to prevent the performance of those duties, or batters a worker in retaliation for performing those duties, causing great bodily harm or disfigurement. […]

This week, the bill was referred to the Judiciary Criminal Committee before being funneled to the Sentencing, Penalties and Criminal Procedure Subcommittee, where McCombie said it unfairly will be buried without consideration for the rest of the year.
As subscribers know, the Dems killed the bill last Friday because it enhanced penalties, and they're quietly killing lots of those bills this year.
* Local editorial…
We believe McCombie's bill is a common-sense response to the horrible attack on Pam Knight.

That's not how the Democratic majority on the Judicial-Criminal Committee saw it.

Politics most certainly played a hand in the bill's defeat. Had the victim lived in a Democratic district close to or in the city of Chicago, the drumbeat for lawmakers to act would have been resounding.

But because the brutal beating occurred in far-off Northwestern Illinois, the Democratic majority found it easier to look the other way.
* Other bills…
- Posted by Rich Miller 5 Comments


* Mark Maxwell…
Governor Bruce Rauner's administration is pushing back forcefully against what it considers misconceptions and misunderstandings around a fatal 2015 outbreak of Legionnaires' disease at a veterans home in Quincy. […]

A 35-page report crafted by Rauner's staff sets out to "correct those inaccuracies" with a detailed timeline of events explaining specific steps they took to remedy what the report calls a tragic, unprecedented outbreak. WCIA obtained a copy of the report that was sent to each of the four top legislative leaders last week.

In it, the administration details a specific timeline of events which seeks to exonerate the agency heads who have come under fire at committee hearings. The report claims the Illinois Department of Public Health responded with specific instructions within 27 minutes after learning of a second confirmed case. The report also claims the staff at the veterans home began implementing IDPH's instructions, including informing families, within 15 hours of learning of a second case of Legionnaires.

The report also seeks to correct a series of accusations made in a House Resolution, including one claim which said the administration had not made this outbreak a top priority, and it says former governors and the General Assembly share in the blame for ignoring requests for maintenance upgrades and allowing the facility to fall into disrepair.

During a Capitol Connection interview, Rauner's new project manager at the veterans home Mike Hoffman set out to correct what he called a "false narrative." Hoffman said this new report will show the Rauner administration took swift action during a chaotic situation. He says the administration has documentation to verify each claim made in the report.
The report is here.
* Pritzker campaign…
Bruce Rauner's administration is continuing to defend his fatal mismanagement of the Quincy Veterans' Home while stonewalling legislators investigating the Legionnaires' crisis.

In a 35-page report made public yesterday, the Rauner administration sought to correct "misconceptions around perceived notification delays," but failed to address the "mind-boggling…inexcusable" six days it waited to publicize the Legionnaires' outbreak. The administration tried and failed to downplay the delay, noting one IDPH official described the situation as a "possible outbreak" even though they later noted it as "the beginning of an epidemic."

"While Bruce Rauner refuses to release the emails documenting his fatal mismanagement of the Quincy Veterans' Home, his administration is on defense," said Pritzker campaign spokeswoman Jordan Abudayyeh. "This failed governor pays lip service to transparency while covering up evidence of administration-wide failures to get Veterans the care they deserve."
…Adding… DGA…
Over the weekend, Governor Bruce Rauner's administration released a new report which "push[es] back forcefully" against "misconceptions" about their response to Legionnaires' outbreaks at the state-run Quincy Veterans' Home. The report falls right in line with Rauner's attitude that they "would not do anything different" in the aftermath of 13 deaths and years of continued outbreaks.

Rauner's week-long stay following the release of a WBEZ investigative report was spun as "gain[ing] a more thorough understanding" about the home and his administration quietly appointed an official to oversee the response three years after the first outbreak. His team has attacked reporters' integrity, accused workers at the home of lying, hampered a legislative inquiry, and over-redacted emails to lawmakers. Even now, his administration began blaming prior administrations for the conditions at Quincy.

"Bruce Rauner is simply unable to admit failure or take responsibility for any mismanagement under his utter lack of leadership," said DGA Illinois Communications Director Sam Salustro. "13 people died due to three years of Legionnaires' outbreaks at a state-run facility and Bruce Rauner is still more concerned with spinning the news than finding solutions."
- Posted by Rich Miller 15 Comments


* From a 2016 Tribune profile of its new owner Michael Ferro…
"Instead of playing golf and doing stuff, this is my project — journalism," he said. "We all want to do something great in life. Just because you made money, is that what your kids are going to remember you for? Journalism is important to save right now."
* Robert Feder asks "How'd that work out?"…
On Friday Ferro announced he was selling his entire stake in tronc — more than nine million shares — for $208.6 million. Three weeks earlier he stepped down as chairman just ahead of a report that accused him of sexual misconduct with two women. His three-year, $5 million-per-year management consulting agreement with tronc will remain in effect, according to the Tribune. In the end, Ferro made a fortune stripping company assets (including the Los Angeles Times, which he sold for $500 million) and eliminating more than a thousand newspaper jobs. With employees rising up to demand union rights in L.A. and Chicago, and no discernible plan for the future, the company appears to be in disarray.

Far from saving journalism, Ferro had left a long list of newspapers much worse off than when he'd bought them. Former Tribune editor Ann Marie Lipinski tweeted: "What a scandalous reign atop an historic newspaper company."
$5 million a year could pay a whole lot of reporters' salaries.
"At $23 per share, his payout represents a premium of 34 percent over the current stock price," Feder wrote last week. He paid $44 million up front.
* Tribune…
The buyer, a distant relation to the McCormick family that controlled the Chicago Tribune throughout much of its history, approached Ferro within the past couple of weeks with the offer, according to a source familiar with the deal.

Sargent McCormick is listed in the SEC filing as the manager of McCormick Media, whose address is affiliated with Harvester Trust, a privately held trust formed in 1900 "to continue the legacy of the McCormick Family, building upon the pivotal role played by International Harvester in the industrial revolution and development of the United States and the world in the 1800s," according to its LinkedIn page.

Leander McCormick and his brother, Cyrus, co-founded the company that would become International Harvester. A third brother, William, was the grandfather of Robert McCormick, the famous publisher of the Chicago Tribune.

McCormick Media's planned level of involvement remains unclear. Efforts to reach McCormick were not successful Friday.
- Posted by Rich Miller 9 Comments


* Hmm…
Ives For Illinois - Governor
03/31/18
Raised: $3,926,019.36
Spent: $4,266,342.42
CoH: $63,705.83
Inv: $0.00
Debt: $250,000.00https://t.co/989esdmluM

— IL Election Data (@ILElectionData) April 16, 2018
* I took a quick look at her expenditures and found a few interesting items. For instance, that book her campaign published and mailed to voters about Gov. Rauner cost her $385,680 via Jameson Books Inc., which is based in Ottawa.
Ives spent $2,748,284.85 on advertising, including $64,660 to run spots on the Illinois News Network, which used to be run by the Illinois Policy Institute. She reported spending $257K on media production and just $3,759.65 on polls.
Her spokesperson Kathleen Murphy was paid a mere $1,000, which is really odd. Pundit and PR person Dennis Byrne was paid $20,000 for contractual services.
Locality Labs, which is owned by Dan Proft ally Brian Timpone, was paid $37,908 for a website, newspaper advertising and contractual work. Timpone's Newsinator LLC was paid $750.
Trump Tower got $1,294 for lodging and an event, while Uline Ship was paid $352.68.
And, finally, a company called Union Signs and Printing received $4,200 for yard signs out of a total of $35K spent on the signs.
A look at her in-kind contributions show Proft's Illinois Opportunity Project paid for a plane ride the day before the election.
- Posted by Rich Miller 16 Comments


* USA Today…
Mark Zuckerberg's tight grip on Facebook is under growing scrutiny as investors call for the giant social network to name an independent chairman. […]

"In essence Mr. Zuckerberg is not accountable to anyone. Not the board, nor the shareholders," Michael W. Frerichs, the state treasurer of Illinois, who oversees investments including college savings for citizens of the state, told the Financial Times. "Right now, Mr. Zuckerberg is his own boss and it's clearly not working."

Frerichs is supporting a proposal from New York City comptroller Scott Stringer, who oversees his city's pension funds which have a $1 billion stake in Facebook. Stringer has called on the Silicon Valley company to name an independent chairman and three new independent directors with "specific expertise in data and ethics."

"They have not comported themselves in a way that I think makes people feel good about Facebook and secure about their own data," Stringer said on CNBC. "And that's going to hurt the brand."
* Meanwhile, if you've been wondering about what's behind at least part of the biometric bill that proponents say will give the state law a much-needed update and opponents say will "gut" the law, look no further than this lawsuit…
U.S. District Judge James Donato's decision to let the class-action case proceed means that Facebook is still potentially on the hook for fines under a unique Illinois law of $1,000 to $5,000 each time a person's image is used without permission. A court victory for consumers could lead to new restrictions on Facebook's use of biometrics in the U.S., similar to those in Europe and Canada.

"When an online service simply disregards the Illinois procedures, as Facebook is alleged to have done, the right of the individual to maintain her biometric privacy vanishes into thin air," Donato wrote in [February's] ruling. "The precise harm the Illinois legislature sought to prevent is then realized." […]

The Illinois residents who sued under the Biometric Information Privacy Act said the 2008 state law gives them a "property interest" in the algorithms that constitute their digital identities — in other words, gives them grounds to accuse Facebook of real harm.

Facebook, which got the case moved to San Francisco from Illinois, argued the users hadn't suffered a concrete injury such as physical harm, loss of money or property; or a denial of their right to free speech or religion.

Donato concluded that the alleged violation of the user-consent requirement in the Illinois law goes to "the very privacy rights the Illinois legislature sought to protect."
Needless to say, $5,000 per violation could add up to a truly gargantuan payout by Facebook.
* Related…
* Illinois Biometric Privacy Law—and Effort to Carve Out Exceptions—Gets Moment in Spotlight at Facebook Hearing

* Illinois' Cook County Sues Facebook and Cambridge Analytica for Alleged Fraud
- Posted by Rich Miller 12 Comments


* Last week…
Multiple sources tell me pro-union Republican Senator @mccann_sam has officially decided to run for governor as an Independent. I'm hearing he could announce as early as Monday. He has not responded to any questions today, but he has been mulling a run for awhile.

— Mark Maxwell (@WCIA3Mark) April 12, 2018
Now hearing some Senate Democrats are urging McCann to reconsider and run for his same Senate seat as an Independent instead. They currently enjoy McCann's support on some bills and would likely lose that seat to a more partisan Republican if he runs for Governor. https://t.co/GMPaXTwNzX

— Mark Maxwell (@WCIA3Mark) April 12, 2018
McCann to announce independent bid Monday

GOP State Senator Sam McCann has threatened an independent bid for governor in the past, and the rumor is two-term Jacksonville lawmaker will be making an announcement Monday on a similar theme.

But this time McCann may be seeking a bid for his own Senate seat in 2018, but instead of a member of the GOP caucus, he would be seeking it as an independent. The Republican announced earlier this year he would not be seeking re-election in 2018.
* I got this text message from a top trade union official last night…
On Thursday, Senator Sam McCann will make his formal announcement regarding his gubernatorial bid as the Conservative Party candidate for Governor.
* From the State Board of Elections' 2018 candidates guide…
NEW PARTY CANDIDATES

Minimum of 1% of the number of voters who voted in the next preceding statewide General Election or 25,000 qualified voters of the state, whichever is less. Whether the petition must include all offices at state level has never been decided. The State Board of Elections will not decide the question outside the context of an electoral board hearing. […]

Nomination papers for new political parties must be filed with the State Board of Elections for federal, state, judicial, and multi-county offices, and with the county clerk for county offices, during the filing period June 18 – 25, 2018.
According to the guide, McCann and his running mate will need to collect 25,000 valid signatures if he decides to run statewide. If he runs for reelection as a new party candidate, he'll need 5,517 valid signatures.
* Related…
* Bernard Schoenburg: Rauner denies threatening McCann; McCann sticks to story
- Posted by Rich Miller 42 Comments


* McLatchy has a story about candidates combating "fake news" with a particular focus on the Pritzker campaign…
So the Pritzker campaign hired Democratic data science group Civis Analytics to conduct an in-depth online survey studying voters who had been exposed to fake news. What it found unsettled the campaign: Even attempts to correct the information didn't fully undo the damage. Worse yet, the damage was even greater for female candidates.

[Campaign manager Anne Caprara] wouldn't share details from the survey, or even describe what it found when testing the effectiveness of various responses to fake news. But after reviewing the survey results, the Pritzker campaign launched an aggressive response operation that, in their view, at least minimized the damage.

"What it told me as a campaign manager is you can't ignore anything," Caprara said of the survey. "You can't assume that something is absurd or ridiculous … you have to treat all pieces of information that are coming across your candidates as something important and something critical you have to take a look at." […]

Most digital strategists argue that a campaign's best defense is to simply have a large online presence, one that regularly and aggressively communicates with its supporters and potential supporters online.

That was the Pritzker campaign's approach. It asked its own supporters to flag material they found questionable on Facebook, Twitter, or elsewhere. When the campaign saw something it needed to push back on, it had the capability to do so with an online ad quickly, said Caprara, who said she was meeting with Pritzker campaign digital director Megan Clasen until the last day of the March primary.

"The unique part of digital spending is you can adjust those targets quickly, and really hone in on whatever group you think needs certain pieces of information your candidate," Caprara said.

Caprara declined to specify all the ways in which the campaign combated fake news, or whether they think the efforts were completely successful. But she did say that Pritzker won his competitive Democratic primary by nearly 20 points.
Thoughts?
- Posted by Rich Miller 15 Comments


* Late Friday afternoon press release…
State Senator Andy Manar is calling on Gov. Bruce Rauner to release the $3 million in state money he promised to Decatur's Crossing Healthcare during a splashy news conference in February.

More than two months after the governor's announcement, the Rauner administration has only approved $750,000 for the clinic.

That's unacceptable, said Manar, a Bunker Hill Democrat whose district includes Crossing Healthcare and much of Decatur.

"Let's revisit the governor's track record with money for this clinic. He froze its funding immediately upon taking office in 2015. He blocked negotiations on the Senate's 'grand bargain' budget last year and repeatedly vetoed budgets that would have provided the money the center was owed and desperately needed," Manar said.

"I have contacted the comptroller, and her office is prepared to release the full $3 million but can't do that until Rauner submits the paperwork to do so. I would hate to think the governor could be so cruel as to dangle money in front of a clinic just so he could get in front of a TV camera."

Rauner previously froze a promised $3 million construction grant to the clinic for its Community Health Improvement Center.

Crossing Healthcare is a federally qualified clinic that served more than 19,000 patients in Decatur in 2016. Among its many services is treatment for opioid addiction.

"Gov. Rauner is going around claiming his administration is doing everything in its power to address the opioid problem. It's baloney," Manar said. "And, clearly, he's not keeping his promises to Decatur."
Abdon Pallasch, a spokesman for Comptroller Susana Mendoza, said the comptroller's office is now processing the $750,000, after receiving the sign-off for that amount from the governor's office Friday.

"We'd be happy to release (the full amount) as soon as we get it," Pallasch said.

A spokeswoman for the governor, Rachel Bold, says Rauner signed off on the full $3 million on Feb. 8, six days after he toured Crossing Healthcare's facility.

"Then it goes to the (Department of Commerce and Economic Opportunity) to give the grant, and they've given them a quarter of the grant, and we've asked them to expedite the rest," Bold said. "We expect that to happen very soon."

Bold said she did not know why the grant was being made in installments or the reasoning behind the timing of its release.
Some background is here.
- Posted by Rich Miller 13 Comments


* From a subscriber who is also a Democrat…
Not sure an anchor with "MJM" on it is the best visual for the HDems this year.

I mean seriously, who let this out of the shop? Madigan as an anchor around the neck of his vulnerable members? Is that what they were going for? Lol.

An alarming lack of self-awareness if you ask me.
* The invite…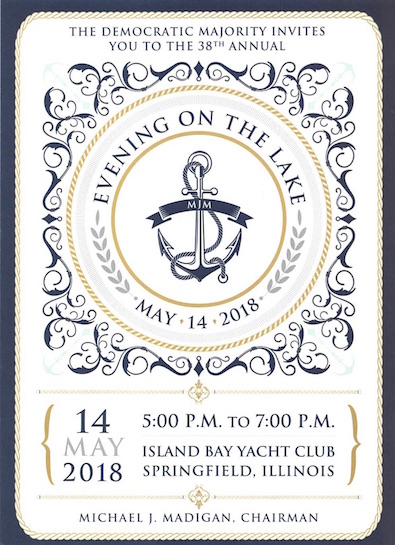 * Meanwhile, do you remember this from the other day?…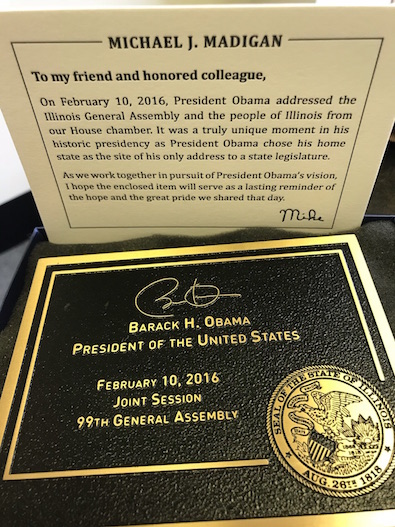 I asked Madigan's spokesman if Rep. Scott Drury received one. "Don't think his address is on that list," Brown replied.
- Posted by Rich Miller 24 Comments


* Peoria Journal-Star…
First responders were called to the home of Anthony Phillips, 46, and his fiancée, Rena Corp. He told them he had ingested K-2/spice around 11 p.m. on April 7 and woke up around 4 a.m. on April 8 with severe stomach pain. He told the medics he had been vomiting blood. Corp had been suffering symptoms as well. Both were transported to UnityPoint Health-Pekin. The hospital quickly transferred them to UnityPoint Health-Methodist in Peoria because they needed more advanced treatment.
Phillips died.
From the end of the story…
The family knows, said [said Becky Phillips, Anthony's sister-in-law], that some people will say he shouldn't have been using the K-2, that it wasn't all Smith's fault. She said there were other people at the hospital who were also reacting to K-2.

″(Anthony) probably wasn't all innocent," she said. "But he took it for his pain.

"He had severe arthritis. His leg was the size of a kids leg. He couldn't walk a block without the pain hitting him so hard. He just wanted to be out of the pain, and he couldn't get the proper medical."
You know what wouldn't have killed Anthony Phillips? Marijuana.
- Posted by Rich Miller 21 Comments


* My weekly syndicated newspaper column…
I've read, watched and heard a whole lot of commentary about the upcoming state budget negotiations during the past few weeks and it pretty much all ignores recent history and focuses instead on one-sided claims of pending controversy.

For instance, this is from an April 7 State Journal-Register editorial: "Some Republicans have voiced in recent weeks the thought that Democrats, who control the House and Senate, might not want to have a state budget again, in hopes it will impede GOP Gov. Bruce Rauner's re-election chances in November."

But that prediction — along with other predictions some Republican legislators are making about stuff like the possibility the Democrats will try to jam through a half-year budget — ignores one of the most significant legislative events of the past several years: The 2017 bipartisan overrides of Gov. Rauner's vetoes of the income tax hike and the budget bills.

That was not some isolated moment in history. Another bipartisan budget-related veto override could very well happen again this year. It would also be easier this time around because there's no immediate need for another hugely controversial tax hike. All they gotta do this spring is pass a budget with existing revenues.

"The retiring Republicans have great leverage and will use it," predicted a House Republican who voted to override the governor last year and is now serving out the remainder of his final term.

He's right. We probably can't count on all 10 of the HGOP members who voted to override Rauner's vetoes last year. Some are retiring and may want jobs. Some are running for reelection and may want Rauner's campaign money. The House Democrats have 67 members, a veto override requires 71, so if half of those ten Republicans vote as a bloc, they can drive the discussion throughout the rest of the spring session.

House Speaker Michael Madigan's rank and file members absolutely do not want another budget crisis, so they will be pushing him to find a way to compromise, either with the governor and the Republican leaders or with that rump group of 2017 tax hike Republicans.

It's also highly doubtful that Democratic gubernatorial nominee J.B. Pritzker wants a half-year budget. Who wants to take office and then immediately face a daunting fiscal crisis? Madigan, after all, messes with every governor, Republican and Democrat, over the budget. It's a situation to avoid at all costs. Besides, those rebel Republicans undoubtedly wouldn't go along with such a scheme anyway. If you have the votes, then do the responsible thing (like they did last year) and pass a full-year budget.

Not to mention that a lot of other Republicans who voted with the governor last year would much rather have a deal than yet another fight that they likely cannot win.

From the beginning of Rauner's term, Speaker Madigan did not want to make a move on a tax hike without the governor's cooperation and/or without Republican votes to override him. He simply didn't want the entire blame and after losing seats in the 2016 election Madigan didn't have enough votes to override a veto on his own anyway.

The same will undoubtedly hold true this year. Why make any unilateral, partisan budgetary moves when Madigan can once again claim to be cooperating in a bipartisan manner? It's not as if he cares about state budgets beyond whatever political advantages he can squeeze out of them. And another successful bipartisan defeat of Rauner would definitely be a "win." In fact, that's likely Madigan's best-case scenario.

So, despite what you may have been reading or seeing or hearing during the spring break, the real heat is on Gov. Rauner and his two legislative leaders. The governor has a horrible job approval rating, just barely won his Republican primary and is now facing a billionaire Democrat in what sure looks like a national wave year for the Democratic Party.

Rauner really needs a win. He and his leaders will have to either negotiate in good faith, or they can just punt it to the other side, and the governor can veto the budget yet again and spin the results as best they can.

The budget is the final major test of Gov. Rauner's first term. Whatever happens will set the tone for the rest of the year's campaign. He can yet again claim impotence ("I'm not in charge") by ceding control to the other side or he can finally become truly engaged in the task at hand.
…Adding… Finke's thoughts on the governor's three budget demands (full year, no new taxes, balanced) are pretty good…
That's not exactly a lofty list. For one, even though some Republicans keep pushing the idea the Democrats will pass only a half-year budget, there appears to be no desire by them to do that. The Democrats fully expect J.B. PRITZKER to get elected governor this year and they don't want him to start his term facing a budget crisis.

For two, lawmakers approved a 32 percent increase in the state income tax last year. Rauner has and will use it as a focus for attacking Democrats this year. Most lawmakers are up for election this year. Does anyone seriously think anyone is going to vote for another tax hike this year? So the governor has already achieved this goal.

Finally, we have the question of the whole mess being balanced. As anyone knows, balanced is in the eye of the beholder. Majority party lawmakers will tell you they pass balanced budgets all of the time. Rauner, on the other hand, insists each of his budget proposals was balanced when he proposed them. Few outside of government believe either of them.

So everyone can just agree whatever passes is balanced and voila, goals achieved.
- Posted by Rich Miller 25 Comments


* Tribune…
The Supreme Court has for the second time rejected an appeal by imprisoned former Gov. Rod Blagojevich of his convictions on corruption charges.

The justices did not comment Monday in letting stand the convictions and 14-year prison term that Blagojevich is serving. He's scheduled to be released in 2024.

Blagojevich's lawyers had wanted the high court to take up his case to make clear what constitutes illegal political fundraising. They argued that politicians are vulnerable to prosecution because the line between what's allowed and what's illegal is blurry.

His convictions included trying to extort a children's hospital for contributions and seeking to trade an appointment to the Senate seat Barack Obama vacated when he was elected president for campaign cash.
* Sun-Times…
His attorney, Leonard Goodman, presented the Supreme Court this time with two questions: Whether prosecutors in a case like Blagojevich's must prove a public official made an "explicit promise or undertaking" in exchange for a campaign contribution, and whether more consideration should have been given to sentences handed down in similar cases. […]

"Our petition lays out a compelling case that the Supreme Court needs to settle the confusion among federal courts about the dividing line between campaign fundraising, something all elected officials are required to do (unless they are billionaires) and the federal crimes of extortion and bribery," Goodman said last year.

The attorney also complained that Blagojevich's sentence "was more than twice as long as that given any other official convicted of corruption."
- Posted by Rich Miller 39 Comments