[Comments are now open on this post.]
* Maybe I'm wrong, but I do not recall the Daily Herald ever endorsing the Democratic nominee for governor…
We can't afford another four years of confrontation and stalemate. […]

Progress must come from somewhere, and we know that because of Illinois' political realities, it will not be through Rauner's re-election.

Hope for change rests only with Democrat J.B. Pritzker, a billionaire heir of the Hyatt hotel family fortune.

We're not without reservations about Pritzker. We're concerned about the lack of specificity in his graduated income tax vision. We're offended by toiletgate. And we're troubled by his ability to buy not just the governorship but also most of the legislature.

But Pritzker and Pritzker alone, among the four candidates on the ballot, can drive the change within the Democratic Party itself that must take place to solve Illinois' enormous problems.

He has the wealth to maintain his independence, the personal skills to build collaboration, the breadth of ideas necessary to address the issues and the ambition to make a difference.

We endorse Pritzker because status quo is not an option.
You could knock me over with a feather right now.
- Posted by Rich Miller 3 Comments


* NBC 5…
With Election Day rapidly approaching, the campaign for Illinois governor has been contentious, to say the least - with ad after ad saturating the state and each of the candidates firing off countless attacks on their opponents at every turn.

To help cut through the noise, we asked all four candidates 11 of the most important questions to help inform voters on who they are and where they stand on certain issues facing Illinois.
Check out the last two questions to Gov. Rauner…
10. What experiences in your life have most shaped your politics?

Rauner did not submit a response.

11. What accomplishment or achievement of yours are you most proud of?

Rauner did not submit a response.
JB Pritzker's responses are here.
* The Question: Fill in the blanks?
- Posted by Rich Miller 34 Comments


* I think I told you during the primary that the Sun-Times made a better case for JB Pritzker than he made for himself…
Among the essential leaders in building Chicago's vibrant tech industry, which barely existed two decades ago, has been J.B. Pritzker, whom we endorse in the Democratic primary for governor. He bought into the vision of "Silicon Prairie" early on, as a venture capitalist and public servant. He has put his energy, leadership and money behind it ever since.

Pritzker founded 1871, the tech business incubator in the Merchandise Mart credited with creating some 7,000 jobs. This remarkable nonprofit has raised Chicago's profile nationwide as a high-tech hub. He served as chairman of Chicago's Technology and Entrepreneurship Committee. He was a founder of Matter, the nonprofit healthcare technology incubator.

This kind of future-focused approach to economic development is precisely what Illinois sorely needs right now. It is also reflective of what seems to be Pritzker's philosophy for trying to make a difference in this world: work it from the bottom up.

That's the common thread — start at the beginning — running through Pritzker's many years of public service, whether he was supporting new technology, working to expand childcare services and early-childhood education, or simply trying to provide every child with a good school breakfast.

Pritzker saw the promise and nurtured it.

Illinois could stand more of his positive and inclusive approach to leadership, as well as his ability — as witnessed in this campaign — to build broad coalitions.
* Well, the CS-T editorial board did it again today…
Let's get moving.

Illinois has been losing ground for four long years, and that's just pathetic for a state blessed with so many strengths.

Take a boat ride on Lake Michigan and wonder at Chicago's skyline. Ride the California Zephyr through western Illinois and marvel at the cornfields that run to the horizon and feed the world. Fly into O'Hare Airport and remember that our state is still the crossroads of the nation, even now, and our future is bright.

If only we'd get moving.

We've been a bed-ridden strongman for too long.

So that's why we're endorsing Democrat J.B. Pritzker for governor in the Nov. 6 election. We believe he offers the best plan to put Illinois back on its feet in a way that benefits all of us, from billionaires to bus drivers.

His main opponent, incumbent Gov. Bruce Rauner, a Republican, has been a failure.

Pritzker, like Rauner, pledges to do what's necessary to grow our state's economy, but he wants to do so in a way that best benefits ordinary people. Sounds good to us. Illinois has suffered through almost four years of a governor whose whole pitch has been to make life easier for the monied classes; it's about time we remembered who really built this state and country
It's not that the endorsement is surprising. Of course they endorsed Pritzker. That's a given.
But Mario Cuomo once said you campaign in poetry and you govern in prose. Pritzker campaigns in prose. Those endorsement editorials are much more like poetry.
- Posted by Rich Miller 8 Comments


* Sun-Times…
An attack ad released this week depicting Cook County commissioner candidate Kevin Morrison as a puppet prompted the Democratic challenger to dub his opponent "a homophobe" Thursday — an allegation Republicans called "despicable."

The ad shows Morrison with a "limp wrist," Morrison said, a "bigoted caricature of gay people."

But zoom out on the ad, and you'll see Illinois House Speaker Mike Madigan pulling the strings on Morrison. Commissioner Tim Schneider, R-Bartlett, and the Illinois GOP, which Schneider leads, are calling Morrison a Madigan puppet. […]

"The whole image paints the entire picture clearly," [Travis Sterling, the executive director of the Illinois GOP, which mailed out the flier] said in a statement. "This is nothing but a desperate attempt from Kevin Morrison to try and hide the fact that he takes his orders from Tony Preckwinkle and Mike Madigan."
* The mailer in question…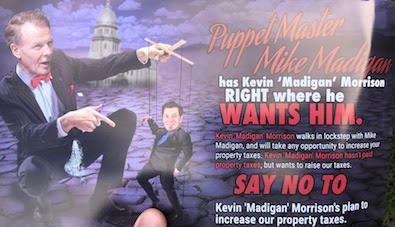 * There was some pile-on today…
The Equality Illinois PAC is deeply disturbed that the Chairman of the Illinois Republican Party would exploit a shameful anti-LGBTQ stereotype and homophobic imagery against openly gay candidate Kevin B. Morrison for Cook County Commissioner. The irony of this mailer arriving on National Coming Out Day makes it all the more offensive and tasteless. We call on incumbent Tim Schneider to denounce the mailer and affirm his support for LGBTQ Illinoisans.
* LGBTQ Victory Fund…
"Let me be clear: Tim Schneider and his team knew exactly what they were doing when they altered a photo of Kevin Morrison to show him with a limp wrist and on his tiptoes," said Mayor Annise Parker, President & CEO of LGBTQ Victory Fund. "Schneider is taking a page from the playbook of his pal in the White House – engaging in the divisive and destructive politics that Donald Trump thrives on. For too long, openly LGBTQ candidates were defeated by opponents who appealed to homophobia in a desperate effort to win votes, but I am confident this attack ad will backfire on Schneider. He has misread and misjudged his constituents, which is unsurprising given how rarely he interacts with or listens to them. Cook County voters are demanding leaders who unite their constituents, respect differences, and put forward positive solutions for the region. Kevin is running to do just that, and we are thrilled he is on his way to becoming the first openly LGBTQ person to serve on the commission."
- Posted by Rich Miller 40 Comments


It's not saying much, but House Republicans have seen more bright spots in the past week of polling since the Kavanaugh confirmation fight than they saw in over a month. Both sides agree Democrats' enthusiasm advantage has narrowed, and Republicans are benefiting from their base "waking up" in red districts. However, there's little evidence of movement in blue and swing districts.

Republicans suddenly feel more confident about several incumbents who have previously been tied or behind but have the luxury of sitting in Trump-won districts: Reps. Mike Bost (IL-12), John Faso (NY-19), Claudia Tenney (NY-22) and Steve Chabot (OH-01). They're also newly optimistic about Toss Up open seats in Trump country, like Kansas's 2nd CD and North Carolina's 9th CD.

However, it shouldn't come as a shock that the highly charged Supreme Court fracas has barely moved the needle in high-income, Clinton-won suburbs. Republicans are especially concerned about Reps. Mimi Walters (CA-45) and Peter Roskam (IL-06), who now appear to be narrowly behind. In fact, there's evidence the map was beginning to polarize before the Kavanaugh fight.

Republicans continue to face especially strong headwinds in states where gubernatorial races aren't going well for them. Illinois, where GOP Gov. Bruce Rauner trails by more than 15 points is a particular concern as Roskam and Rep. Randy Hultgren (IL-14) face an onslaught of Democratic cash in the Chicago media market. […]

Rating Changes

IL-06: Roskam - Toss Up to Lean D ←
IL-14: Hultgren - Lean R to Toss Up ←
Yikes. If a traditional Republican like Randy Hultgren could conceivably lose to a young African-American woman who was previously unknown in an 86 percent white and 3 percent black district encompassing most of McHenry County, parts of DeKalb County, northern Lake, western Kendall, etc. then we may be in for one really weird election night, campers.
* Meanwhile…
U.S. Rep. Randy Hultgren, running for re-election in the 14th Congressional District, has released his third ad of this campaign season.

As a senior member of the Science Committee and Chair of the STEM Caucus, Randy Hultgren is focused on training the next generation of leaders in Science, Technology, Engineering, and Math.

"I am working to make us a leader in STEM, by providing our kids with the building blocks for success and strengthening our economy with good and high paying jobs. That means encouraging innovation in our schools and businesses, and establishing scholarship initiatives so our kids are prepared to succeed." Said Rep. Hultgren. "To keep us competitive in the future, we have to be working at it today."
* The ad…
…Adding… One of my best guys tells me this ad is only on cable and he only put $50K behind it. Apparently, Hultgren has only spent $187k since 9/11. Meanwhile, Underwood is pushing 250 points a week on broadcast.
…Adding… Underwood got the Daily Herald endorsement…
Her knowledge of issues across the spectrum is impressive. Her stances on the issues are reasonable.

Hultgren a reliable red vote in a district that by all accounts is turning purple. He's been a solid congressman, but not an exceptional one.

Underwood could be exceptional. We endorse her.
* Related…
* Underwood talks health care during McHenry County campaign stops - Democrat says people with pre-existing conditions must be protected: Underwood made three stops in McHenry County to talk with voters during forum sessions. She stopped at Huntley High School to speak with students, traveled across town to talk with seniors at the Huntley American Legion Post 673, and ended the night at a National Coming Out Day celebration at Mixin Mingle in Woodstock.

* Incumbent, challenger in Illinois' 14th Congressional District stake out positions on health insurance: Underwood has said during numerous campaign events that her decision to run for office was motivated by a promise from Hultgren to support repealing the portion of the Affordable Care Act that protected health care coverage for people with pre-existing conditions, which she felt was broken when Hultgren voted for the American Health Care Act.

* Why one nurse is running for Congress

* Election 2018: A year for women in McHenry County?

* GOP-Held Illinois District Pounded with Outside Money as Election Nears: The independent spending arm of the environmentalist League of Conservation Voters political action group is dropping $291,000 to run negative advertisements against Roskam on digital platforms throughout the district. Naral Pro-Choice America, another national liberal organization, will shell out $148,000 over the coming weeks on digital advertising opposing the incumbent. The group is also mobilizing its supporters this weekend to canvass for Casten. The Democratic Congressional Campaign Committee, which has already spent hundreds of thousands of dollars supporting Casten, is pouring another $109,000 into the district against Roskam. … The independent expenditure arm of the Koch brothers-backed group Americans for Prosperity is injecting $55,700 into the district to support Roskam with advertising and canvassing. And the House GOP's campaign committee, the National Republican Congressional Committee, is adding a cool $1.5 million to its budget for the district over the next several weeks, Roskam told the Tribune.
- Posted by Rich Miller 18 Comments


* Press release…
Today, the Rauner campaign is launching the next "Brewskis with Bruce" video. This edition features Governor Rauner enjoying a cold brew with folks at DESTIHL Brewery in Normal, where he is asked about how we keep young Illinoisans from leaving the state. The governor speaks about how deficits and high taxes hurt job creation, and that forces young people to move elsewhere. This has been a problem in Illinois for decades and Governor Rauner is fighting every day to change that.
The first (and only, until now) one back in May was a bit on the odd side. This one is better…
* Transcript…
Question: What are you doing to make it more feasible for people like me after I graduate to find a job and stay in Illinois?

Governor Rauner: That is the number one priority. Because we have lots of challenges. Number one priority is to make Illinois competitive and attractive, and grow our economy faster. Our problem in the state of Illinois is that our government spending has been growing at a high rate and our economy has been growing at a slow rate.

As long as you've got that, you've got deficits, you've got higher taxes, and young people don't see as many jobs, so they go to where they see more jobs. And then our tax base erodes and then that exacerbates the problem.

So that's what's been going on in Illinois for 30, 40 years. That's what I'm fighting to change.
Since Pritzker supports legalizing marijuana, maybe he should counter this with "Joints with JB." Just a thought. /s
- Posted by Rich Miller 34 Comments


* WGN TV…
Rauner pivoted from Quincy to questions about Pritzker's $330,000 property tax breaks that involved removing toilets from his Gold Coast mansion. Pritzker has repaid the money, but the issue is being examined by the Cook County State's Attorney's Office.

"The voters cannot in anyway trust Mr. Pritzker on any issue," Rauner said. "A bank robber that gets caught and returns the money is still a bank robber. These are serious white collar crimes. Four of my five predecessors went to jail, Mr. Pritzker has a chance to be the fifth."
* Herald Whig…
Rauner alleged Pritzker knowingly tried to commit tax fraud.

"These are serious white-collar crimes," Rauner said. "People have gone to prison for far less than Mr. Pritzer has committed."

Rauner said "there is a very good chance that Mr. Pritzker is indicted in the coming months."
* Tribune…
"The voters can in no way trust Mr. Pritzker on any issue. He's demonstrated a complete lack of integrity, ethics and character. He is not worthy of elective office in the state of Illinois," Rauner said, adding later that the Democrat faces "likely indictment in the next few months."
When the inspector general of a solidly Democratic county calls out a "scheme to defraud" involving a Democratic gubernatorial candidate, that's legitimately a huge story. And it will likely continue to be a story for a while longer.
But is JB Pritzker himself in any danger here, outside of politics?
* The empty mansion is owned by a trust, so there's one legal buffer. His brother-in-law is the trust's agent, so there's another buffer. The brother-in-law signed the documents exposed by the IG report as the "owner," so that's another buffer. Pritzker never signed anything, so there's another. Pritzker's spouse is alleged in the IG's report to have told a contractor to remove the toilets ahead of an inspection, but she's alleged to have told that to somebody who then told somebody else who then told the IG. And she never signed anything, either. Also, she's not running for governor.
Gov. Rauner is fond of making dramatic, exaggerated claims, most of which never turn out to be true. Remember this from 2014?…
"Pat Quinn has been rolling the dice with taxpayer money, and after years of Quinn corruption, the U.S. District Attorney looks like he's about to hand Pat Quinn the worst Monopoly card there is — go to jail, go directly to jail," Rauner said.
I think it will take a very highly motivated prosecutor and a lot of stuff not yet in evidence and a bunch of luck to pin this solely on a guy who nobody has yet claimed any evidence of direct or indirect involvement in the alleged scheme. Not saying it won't happen. The Trump administration could come in full bore against one of Hillary Clinton's biggest supporters. Just sayin…
- Posted by Rich Miller 39 Comments


* Sun-Times…
On the same day Pritzker released a TV ad featuring a family member of a veteran who died of Legionnaires' disease at the home, Rauner apologized to family members of those affected by the outbreak: "I am sorry for your loss. It is deeply painful."

But the embattled Republican governor still asserted that the outbreak was dealt with "immediately."

"When the Legionella infection occurred, immediately the first day, action was taken to keep the veterans safe," Rauner said. "Water supplies were shut off. Windows were closed. Fountains were shut down. Bathtubs drained and no longer used. And the veterans were evaluated for their health condition. Those who were infected were treated properly. Everyone else was monitored, and the families of those veterans who showed some symptoms were notified immediately when a change in health condition of their loved ones."

"No one is perfect. In retrospect we could all learn lessons about how to do things better, but the veterans were well served by the outstanding staff here," Rauner said. "Action was taken immediately to keep them safe."
* WGN TV's called Rauner out on his pre-debate press conference claim…
At a news conference before the debate, Rauner made this false claim: "There were no delays. Immediate action was taken and if there were any change of the health status of a veteran, family members were immediately notified."

However, e-mails show there was a delay. The state did not notify the families of the veterans living in the home and it also did not notify staff.
* Herald Whig…
"Immediately, the first day, action was taken to keep the veterans safe," Rauner said.

"Water supplies were shut off. Windows were closed. Fountains were shut down. Bathtubs were drained and no longer used. And the veterans were evaluated for their health condition. Those who were infected were treated promptly. Everyone else was monitored, and the families of those veterans who showed some symptoms were notified immediately when a change in the health condition of their loved ones" was detected.

Pritzker countered that "actions were not taken immediately. In fact, six days went by (before residents and families were notified), and as a result, people got sick and someone died."

Pritzker pledged he would keep open the Veterans Home if elected governor.
* WTTW…
"Actions were not taken immediately," Pritkzer said. "And as a result of his failures and his fatal mismanagement, he's now under a criminal probe, as is his administration. It's a shameful neglect of our veterans, who we should be standing up for every single day." […]

Insiders say Rauner has come to be embraced by some locals, though, who he's gotten to know after making trips to the area, even staying overnight at the veterans home and pushing for this year's budget to include funding of a new campus for veterans, complete with updated plumbing.
* AP…
The debate played out on a sensitive stage - Quincy, home of the state-run military veterans' home beset by a deadly Legionnaires' disease crisis. […]

Rauner has been sharply criticized for his handling of the Legionnaires' situation and whether his administration notified the public in a timely enough manner, which has become the focus of the criminal investigation launched last week by Democratic Attorney General Lisa Madigan, who's not seeking re-election.

"Much of this so-called criminal investigation is a political ploy to divert attention from the tax fraud that Mr. Pritzker engaged in, and it's a shameful abuse of power by the attorney general," Rauner said.
* Tribune…
Rauner has been a regular visitor to the Quincy veterans home and plans to return for another stay later this month. The 1886 facility saw a deadly Legionnaires' outbreak that killed 12 residents and sickened dozens more in 2015. Since then, there have been annual outbreaks at the home. A dozen negligence lawsuits have been filed by families against the state, and the governor's veterans affairs director at the time resigned in June.

This year, a guest from the Quincy home that Rauner featured at his State of the State speech, Ivan Jackson, was later diagnosed with Legionnaires' and subsequently died.

An investigation by WBEZ-FM 91.5 found that the Rauner administration waited six days before notifying the public about the initial outbreak. The governor has said his staff acted properly because the Legionella bacteria is not contagious and he wanted to avoid any potential panic.
* The juxtaposition here is just… Ouch…
After the debate, Rauner told reporters he's cried over the deaths at the Illinois Veterans Home and he does not believe he's trailing by 20 points as a recent poll suggests.
- Posted by Rich Miller 16 Comments


* The Tribune's endorsement of Erika Harold for attorney general focuses almost entirely on corruption…
Voters this year can make a declaration: We want an aggressive attorney general who will expose, investigate and prosecute public corruption, no matter where it lies.

That's a key reason the Tribune endorses Erika Harold of Urbana, an attorney with the Champaign-based firm of Meyer Capel, for attorney general. She is a Harvard Law School graduate — winning the 2003 Miss America pageant helped pay for her education — with experience in commercial litigation, criminal law, class action, fraud and contract disputes. On policy, she has been outspoken on the need for criminal justice reform and prison rehabilitation. […]

We are confident Raoul would be an aggressive attorney general for the citizens of Illinois — on some fronts, none of which would offend Illinois politicians. But he oddly downplays the role of the attorney general in pursuing public corruption — "I'm not going to go fishing for it," he says — and he defends the thin anti-corruption record of the departing attorney general. […]

Voters: If you're looking for a smart, well-rounded and self-reliant watchdog in state government, Harold is it. She also is a Republican in a state that, with Democrats controlling most levers of government, needs checks and balances on that one-party dominion. Erika Harold is the superior choice for attorney general.
* The Sun-Times focuses on the need for a check on President Donald Trump…
It's a new era for attorneys general in states across the nation as they step up to fight for the environment, workers' rights, access to health care, consumer protections, and a free and open internet.

Illinois' next attorney general will have to take the lead in these battles and others, countering the retrograde policies of President Donald Trump's administration.

Kwame Raoul, the Democratic candidate for Illinois attorney general, gets our endorsement. We believe he is the best qualified — and most inclined — candidate to lead the charge, following in the footsteps of Lisa Madigan, who is retiring from the office. Raoul's Republican opponent, Erika Harold, has signaled far less enthusiasm for taking on such important broader issues. […]

Madigan has sued to stop the separation of families at the U.S. border, to reinstate energy efficiency standards for home appliances such as fans and air conditioners, and to prevent young adults who were brought to our country illegally as young children from being deported.

Action by state attorneys general, including Madigan, also recently stopped the Trump administration from permitting designs for untraceable, homemade 3D-printed guns to be distributed online.

Raoul has demonstrated the ability to work effectively on a wide range of big issues.
* Related…
* Why The Next Illinois Attorney General Could Shape Chicago Police Reform
- Posted by Rich Miller 19 Comments


Pritzker fired back after the governor touted various successes and plans for a second term.

"Well the governor made all these promises four years ago," Pritzker said. "He's living in a state of denial, the rest of us are living in the state of Illinois."
Pritzker, a billionaire entrepreneur and philanthropist, for the umpteenth time dodged questions about the rate of his proposed graduated income tax. And Rauner pledged big promises about changes he'll make to the state during a second term, without explaining how he'd get a Democratic supermajority to go along with his plans.

"You've just heard a desperate rant by a failed governor who is in the final hours of his campaign and his governorship," Pritzker said to applause after Rauner once again called the Pritzker a "bank robber" who got caught. […]

"You're likely to hear more of that tonight because he's got nothing else, just lies and excuses," Pritzker said.
He said Pritzker's graduated income tax plan will "crush the middle class, crush job creators."

"They will flood out and the sound of that flood will not be the sound of toilets being flushed, it'll be the sound of businesses getting flushed down the drain in this state of Illinois," Rauner said.
Republican Gov. Bruce Rauner says a criminal investigation into his administration's handling of a Legionnaires' disease crisis at the state-run veterans' home in Quincy is a "shameful abuse of power" by Democratic Attorney General Lisa Madigan.
- Posted by Rich Miller 18 Comments


* WTTW…
Pritzker once again refused to give detailed answers as to where Illinois would come up with the money for that as well as the billions of dollars' worth of other promises he's made, nor would he share projected tax rates despite a debate moderator needling him for having "tap dancing" around his centerpiece plan of amending the constitution so that Illinois could tax income based on wealth brackets.
The mental image of Pritzker tap dancing made me chuckle at the time.
* Tribune…
Asked how a Peoria teacher, making an average salary of $51,481, would fare under Pritzker's plan, the Democrat responded: "That teacher ought to get a tax break. In fact, people in the middle class and those striving to get there should get a tax break."

But Pritzker didn't elaborate on any more specifics, once again saying rates would have to be negotiated with lawmakers and that implementing a graduated tax would go before the voters as a proposed constitutional amendment.

That prompted Rauner to say, "Mr. Pritzker dodges questions like he dodges his taxes."
That was the governor's best rehearsed and best delivered line of the night. In fact, it was his only high point, I think.
* ABC 7…
"Why not give a rate? We didn't get a rate in the first forum, we didn't get a rate in the ABC7 debate, this is your chance tonight, in the last debate, can you give us a rate?" the moderator asked.

"Well let me tell you this, we want to make sure we're negotiating it with the people in the legislature," Prtizker answered.
He just looks so bad whenever he's asked these questions.
- Posted by Rich Miller 29 Comments


* Gov. Rauner was asked about education funding reform in last night's debate…
RAUNER: "Kaitlin, education funding is simply the most important thing we do together as a community. I ran for governor to have the best schools in America and the strongest, fastest growing economy, and we're making progress on both. Truth is, in the ten years before I became governor, we had one party rule, dominated by Mike Madigan, along with Blagojevich and Quinn. In that ten years, state support for education was cut four times in the prior ten years. We were one of the worst states for state support for local education. I ran for governor to fix that. And this baloney about Andy Manar. He was in the Senate then, he was part of the failure of that. I became governor. I created a bipartisan task force. We now have $1.4 billion dollars more every year from the state to our local schools. Record funding. And we have a new education funding formula that's more equitable."

PRITZKER: "That happened in spite of you, not because of you, governor."

RAUNER: "That I led, Mr. Pritzker. Could have happened anytime prior to my governorship."

PRITZKER: "Happened in spite of you."

RAUNER: "And you know what? If you're going to interrupt, [PAUSE] be careful about the perjury, Mr. Pritzker."
* Sen. Manar's response…
Packing bologna sandwiches for the kids' lunches this morning. #ILGovDebate #TeamJB #twill pic.twitter.com/MGN1WdEsTZ

— Andy Manar (@AndyManar) October 12, 2018
Manar also did a radio interview this morning, but I haven't listened to it yet.
- Posted by Rich Miller 24 Comments