I got this press release from several members of a coalition backing the big box ordinance:

Despite a million-dollar media blitz and vocal opposition from the Mayor, an overwhelming majority of likely voters in Chicago support a living wage law for large retailers according to a citywide poll released on Wednesday. According to the poll, 71% of Chicagoans favor the Big Box Living Wage ordinance, which would require stores like Home Depot, Target and Wal-Mart to pay a living wage of $10 an hour and provide $3 an hour in benefits like health insurance by 2010.

The poll comes after months of heated debate on the Living Wage ordinance. Large retailers and the Mayor have enjoyed repeated press coverage of their opposition to the ordinance, mounted a million dollar advertising campaign against the ordinance, and called 200,000 people to try and convince them to oppose the ordinance. Still, support for the living wage is both broad and deep. Of the 71% of Chicagoans who favor the ordinance, about 9 in 10 said they "strongly favor" it. […]

The ordinance's broad support shows that the 35 Aldermen who voted in favor of the ordinance reflect the feelings of Chicagoans, while Daley's opposition is out of step with almost three quarters of the city.

The Mayor's work to convince Aldermen to switch their votes may make Aldermen politically vulnerable in February's election. According to the poll, 68%of Chicagoans would view their Alderman less favorably if they took their own pay raise and voted against the Living Wage ordinance. […]

Conducted by Lake Research Partners, a highly respected Washington D.C. firm, the poll determined whether respondents were likely voters, then started with this question:

Now, I am going to read you a proposal that was recently passed by the Chicago City Council. It is called the Big Box Living Wage and Benefits Ordinance. This ordinance applies to any large retailer operating in Chicago with revenues of 1 billion dollars a year or more and 90,000 square feet or larger. This includes stores like Target, Home Depot and Wal-Mart. It requires these large retailers to pay an hourly wage of at least 10 dollars an hour and at least 3 dollars an hour towards benefits like healthcare by 2010. Do you favor or oppose this ordinance?

The poll of 500 registered voters has a margin of error of 4.4% was conducted Lake Research Partners, a nationally recognized polling firm based in Washington, D.C. The poll was funded by Chicago's UFCW local 881 and Wal-Mart Watch, a national organization dedicated to improving the retailer's business practices.
Topline results are here. [.doc file]
I've requested the crosstabs, and if I get them I'll post them in the subscriber-only section.
- Posted by Rich Miller 28 Comments


No, this is not another caption contest. It's just a humorous illustration.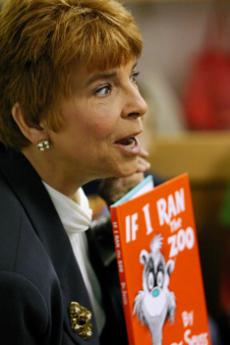 Question: What would you do if you ran the Illinois government zoo?
- Posted by Rich Miller 39 Comments


The saga continues.

Republican state Sen. Kirk Dillard called Wednesday on Democratic Gov. Rod Blagojevich to remove his children's baby sitter from the Illinois Civil Service Commission.

The call for Betty Bukraba's resignation from the panel that decides state employee disciplinary cases came after the Daily Herald reported that Blagojevich appointee Betty Bukraba is the some-time baby sitter for his two daughters.

"It's unconscionable that taxpayers are paying over $20,000-a-year to reward yet another Blagojevich crony whose fairness and judgment are compromised by her close relationship with the Blagojevich family," said Dillard, the DuPage County Republican chairman who was speaking as a surrogate for Republican governor candidate Judy Baar Topinka. […]

The civil service commission is poised to decide a key case involving two downstate personnel workers Blagojevich officials fired after accusing them of fixing hiring tests to get jobs for politically-connected applicants. The attorney for the two workers, who are trying to get their jobs back, says the duo was just following orders from Blagojevich higher-ups. The case is unfolding during the middle of a governor's race as Blagojevich fends off a widespread federal probe into his administration's hiring practices.
The governor's office makes a good point, however.

Blagojevich spokesman Abby Ottenhoff defended Bukraba. […]

She said Bukraba is qualified to serve on the panel, pointing to the 14 years she spent as the director of personnel services in the Cook County Circuit Court Clerk's office before retiring.
It doesn't matter. The baby sitter's decision in the crucial Dawn DeFraties case will be severely tainted, so she should probably step down.
- Posted by Rich Miller 32 Comments


The personalilty conflicts will always lead the stories.

The two Chicago-area candidates for governor took turns Wednesday wooing farmers' votes in a sea of central Illinois corn, touting competing energy plans that would replace oil with ethanol and chiding each other for ignoring rural communities. […]

The governor's new, $1.2 billion energy plan, featured this week in campaign commercials throughout the southern half of the state, would put ethanol-based fuel in all Illinois gas stations in 10 years.

"I have nothing against oil . . . , (but) if we want a lasting solution, it has to come from the heartland of America," he said.

Minutes after Blagojevich left the event, Topinka took the stage to accuse him of being a late convert. She noted she came out with an ethanol-based energy plan several weeks ago, "and 10 days later, the governor presented almost the same idea and immediately began running television advertisements."
But there is a legitimate policy difference here, too, that mostly gets pushed down to the bottom, as it was in this piece.

"I believe that if we're successful in November, that we'll get some sort of bonding program to do this sort of thing as well as build the schools and the road projects that are critical to our state and our infrastructure," said Blagojevich, who also toured construction sites at Illinois State University during his visit Wednesday to Central Illinois.

Topinka, however, scoffed at any idea of borrowing more money. She said Illinois has special-use funds generated by agriculture-related business to build ethanol plants but the governor raided those funds.

"I'm going to use renewable energy dollars to build new renewable energy projects. I'm not going to raid those funds," she said.
- Posted by Rich Miller 9 Comments