[Updated and bumped to the top because we're going to use this thread for newly filed campaign disclosure reports.]
*** UPDATE 25 @ 9:22 pm *** The governor's report is in and they told the truth about not having any new Winston & Strawn charges. They did this once before, however, and added them back in later, so one never knows what to believe.
The governor reported raising $1,891,238, spent $387,165 (including about $46K to Hinshaw & Culbertson law firm) and had $3.6 million in the bank.
He's still carrying $750,000 in old debt on the books. Every dime of that is owed to his criminal defense attorneys at Winston & Strawn. So 39 cents of every dollar he raised this period is committed to the pinstripes.
…Adding… The debt to Winston & Strawn has dropped from $965,352.04 in the last filing period to $750K in this filing period. But no money was reported as being paid to the firm this year. A campaign spokesperson said that the reduced amount was the result of negotiations with the firm. The guv's people have said for some time now that they've disputed some of the charges, and subscribers know another story about the law firm that I told them a couple of months ago.
The spokesman added that no separate legal fund has been set up by the governor.
*** UPDATE 24 @ 8:25 pm *** State Sen. Christine Radogno has been talking up a possible GOP gubernatorial bid. Her numbers are in. Radogno raised $111,692, spent $91,002 and had $94,089 cash on hand.
I'm not sure how any of these Republicans think they're going to be competitive with those kinds of numbers.
Here are the amounts raised for the Repubs who have been floating their names…
* Rutherford: $219,699

* Radogno: $111,692

* Birkett: $63,782

* Dillard: $60,187

* Brady: $55,730
Not exactly stellar.
*** UPDATE 23 @ 8:18 pm *** Trib bloggers Rick Pearson and John Chase have more on the governor's fundraising numbers…
That's far less than the embattled Blagojevich raised during a comparable reporting period—the first six months of 2004, two years before the next round of statewide elections. Back then, Blagojevich raised $4.9 million and spent only $877,000, which left him with more than $10.2 million in the bank heading up to his successful for a second term in 2006.

But Scofield said the governor is pleased with his fundraising results. He said over the last 12 months he's raised about $4 million, which is "right in the ballpark" for previous 12 month periods. Still, Scofield acknowledged that the governor has not spent time fundraising because he's been dealing with budget battles with the legislature and his plan last year to rearrange the state's tax structure.

"The governor has spent as little time fundraising in the last 18 months than any time since he's run for governor," Scofield said.
* 5:33 pm - I'm gonna take a bit of a break. I'll be back when the governor's report is filed.
*** UPDATE 22 @ 5:29 pm *** Treasurer Alexi Giannoulias' report has been filed. He raised $659,865, which is more than Lisa Madigan, who (to be fair) was busy having a baby, but a bit less than Dan Hynes. The campaign points out, however, that Giannoulias' individual contributions (as opposed to PAC money) was far higher than both Madigan and Hynes. Giannoulias ended with $1,273,741 cash on hand.
*** UPDATE 21 @ 5:09 pm *** The governor's campaign just said their report will be released at about 7 tonight. According to the campaign, no new Winston & Strawn expenditures will be reported. That could mean a lot of things, however.
The guv's campaign will report raising a bit under $2 million, with just under $3.6 mil cash on hand, although that's a ballpark at the moment. Stay tuned.
*** UPDATE 20 @ 5:00 pm *** The report is in for Citizens for Emil Jones. The committee raised $290,255, which compares to the $230,600 that Jones raised during the same period in 2006. Jones finished the period with cash on hand of $1.6 million - way down from the $2.5 million he had on-hand two years ago at this time and equal to Frank Watson's on-hand total.
* The Illinois Senate Democratic Fund report has also just been filed. The committe raised $621,812, which is down from the $719,311 it raised in the same 2006 period. The ISDF had $452,463, compared to $809K in '06, and far lower than the Senate GOP total.
*** UPDATE 19 @ 4:49 pm *** The Illinois Green Party raised $20,879 in the first half of the year. IGP had $9,611 cash on hand.
*** UPDATE 18 @ 4:42 pm *** Attorney General Lisa Madigan's D-2 is in. AG Madigan raised $569,399 during the reporting period. That's about $170,000 less than what Comptroller Dan Hynes pulled in. Ouch.
Madigan has $2.6 million in cash on hand - which is a few hundo more than Hynes.
*** UPDATE 17 @ 4:38 pm *** Sen. Bill Brady, who ran for governor in 2006, is talking up another run in 2010. But he reported just $55,730 in contributions during the first half of 2008. Brady had $67,413 on hand. Money was his biggest problem last time, you will recall.
*** UPDATE 16 @ 4:32 pm *** Rev. Sen. James Meeks has been touted by some as a possible 2010 gubernatorial candidate. Well, Meeks reported raising just $7,300 in the first six months of the year.
*** UPDATE 15 @ 4:14 pm *** Nothing has been filed yet, but I'm told that House GOP Leader Tom Cross' D-2 will show he raised about $640,000 and has $1.1 million cash on hand. That compares to $576,205 raised during the same period two years ago, with $1,372,742 cash on hand.
*** UPDATE 14 @ 4:05 pm *** Secretary of State Jesse White's disclosure report has been filed. White reported raising $359,807, spent $234,720, and had $668,712 on hand.
*** UPDATE 13 @ 3:59 pm *** The Democratic Party of Illinois, which Speaker Madigan uses to fund his House campaigns, reported raising $177,939 during the first six months of the year. That doesn't sound like much, but it's more than the $109,434 which DPI raised in the same period back in 2006.
And this is the bigger story: DPI ended the period with $743,190, way up from the $166,044 it had on hand at the end of June, 2006.
*** UPDATE 12 @ 3:52 pm *** House Speaker Michael Madigan's personal campaign committee report is in. Friends of Michael J Madigan raised $1,159,368 during the reporting period. That compares to $780,875 from the same period in 2006, so it's a big jump. But the end result is about the same, as far as bank balances go, at least. FOMJM ended the reporting period with $1,117,394 cash on hand, compared to $1,009,329 during the same period in 2006. Still, he's up while the GOP leaders are down.
*** UPDATE 11 @ 3:46 pm *** The governor's House floor leader, Rep. Jay Hoffman, has put together a giant campaign fund, partly in anticipation of an eventual run for secretary of state, and partly to help his allies against Speaker Madigan, and the rest to defend himself.
Hoffman reported raising $106,780 during the first half of the year, bringing his total cash on hand to over $1.24 million, even after spending $98,808 on campaigns, staff, infrastructure, etc. Not bad for a little ol' rep, eh?
*** UPDATE 10 @ 3:34 pm *** The Tribbies have some interesting campaign finance tidbits…
The Service Employees International Union's Illinois political action committee gave $50,000 to Gov. Rod Blagojevich. The PAC also gave $5,000 to each of the state's other Democratic statewide elected officeholders—an exception being Lt Gov. Pat Quinn, who got nothing—and gave $25,000 apiece to House Speaker Michael Madigan's campaign fund and to the Senate Democrat's campaign treasury.
*** UPDATE 9 @ 3:08 pm *** Senate GOP Leader Frank Watson's personal committee report is in. Watson raised $601,718 during the first half of the year, compared to $752,210 during the same period two years ago. Watson spent $249,601 and had a bit over $1.6 million on-hand. He had about $1.9 million on-hand two years ago.
*** UPDATE 8 @ 2:15 pm *** The Democratic nominee for Cook County State's Attorney, Anita Alvarez has raised $463,275 since the primary (compared to $71K for the filing period by her GOP opponent). Her total for the first six months of the year was $1,054,093. She has $167,957 on-hand.
*** UPDATE 7 @ 2:04 pm *** The House Republican Organization reported raising $407,791 in the first half of the year. That compares to $478,358 during the first half of 2006. But the HGOPs are going to have to defend a ton of seats this time around, unlike 2006, when they only lost one seat. HRO spent $389,411 and had just $111,779 in the bank.
These state legislative caucus committees are usually outpaced by the personal committees of the various leaders. So, we'll see what those numbers bring.
*** UPDATE 6 @ 1:56 pm *** The Cook County Republican Party raised $28,370 during the first half of the year. During the first six months of 2007. which was an "off" year, the party raised $27,262. Not much of an improvement. The latest reports show that the party has $14,460 in the bank.
*** UPDATE 5 @ 1:50 pm *** Two years ago, the Republican State Senate Campaign Committee raised $653,334 during the first half of the year and had about $1.1 million cash on hand. This time around, the RSSCC pulled in $611,252 and had $922,051 in the bank.
*** UPDATE 4 @ 1:38 pm *** GOP state Sen. Kirk Dillard has been mentioned as a possible statewide candidate. His latest report shows he raised $60,187, spent $90,199, and had $103,467 on hand.
* Also, Democratic state Rep. Jack Franks has been hinting around about a statewide bid. Franks reported raising $123,327 during the first six months of the year, he spent $112,545 and had $133,430 left over.
*** UPDATE 3 @ 1:36 pm *** The late John Stroger's campaign fund didn't raise any money this year, nor did it spend any, but it still has $559,556 in the bank.
The late county board president's son, Todd, also reported no money raised this year in one of his funds, but the Friends of Todd H Stroger for President funds hasn't yet reported anything today.
*** UPDATE 2 @ 1:22 pm *** GOP Sen. Dan Rutherford lost to Secretary of State Jesse White in 2006, but he's obviously been gearing up for another statewide bid. Rutherford reported raising $219,699 during the first six months of this year. He spent $135,840 and had $273,964 in the bank. Rutherford filed his report last week, but I hadn't seen any coverage on it, so there you go.
*** UPDATE 1 @ 11:35 am *** Dan Hynes is the first statewide officeholder to file his D-2 report today. Hynes raised $739,377, spent $108,498 and had $2,358,420 in the bank on June 30th.
* Republican Joe Birkett, who is talking about a race for governor, already filed with $63,782 raised, $57,221 spent and $96,713 in the bank.
* GOP state's attorney nominee Tony Peraica filed earlier with $71,215 raised, $120,874 spent and $43,522 in the bank.
***************************
OK, so today is campaign finance report deadline day and the State Board of Elections' website is proving to be a huge pain.
Yes, they fixed some of the more egregious problems that we complained about a few months ago. But check out the steps it takes to keep things in order for several campaign finance stories that will run in tomorrow's Capitol Fax (and which ran in today's CF - the one with the goofy error about Grumman)…
First, you go to the Latest Reports Filed page and start scrolling down.
OK, I found one that sparks my curiosity: Citizens for Jim Watson. He doesn't have any opposition, but he's in Iraq and I'm kinda interested to see if he's raised any money. So, I click on the D-2 link and up pops the report.
If I have a bunch of other reports open, often times when I click on one of the "itemized" lists I get somebody else's report details. That means hitting the "back" button, refreshing Watson's latest D-2 report page and then clicking on the details link once again. Sometimes that works, sometimes it doesn't, necessitating another back button, another refresh and another link.
Now, if I want to save the latest D-2 report for later, I have to go back to the Latest Reports Filed page, find Watson's name again, and click on the committee name, rather than the D-2 link. Of course, by now I've realized that I have to do this right off the bat, but it's just goofy that I have to do it at all.
But after I do that, I have to go into the D-2 report again or I won't get a unique address. Then and only then do I get a link that I can save for later, but the link is for the "all documents filed" page, not the latest D-2 in question. Argghhh!!!
Of course, they still haven't allowed users to open a link in a new tab or a new window, so once I get a link I can finally save, I have to copy and paste it into a new tab on my own.
Also, if I try to save the D-2 page as an html document so I can get around the Board's craziness by keeping a copy on my hard drive, I get this unreadable mess.
It's inexcusably retro, buggy and ridiculous, but that may not be the worst of it. As Curt Mercadante notes…
As many of you know, I'm a candidate for Grundy County Board, and the BOE's circa-1996 software makes it as confusing as possible even to file the most simple disclosure report.
Document the atrocities.
- Posted by Rich Miller 58 Comments


* Undermining a thin-skinned mayor on a problem that just about everybody agrees needs to be fixed and while the aforementioned mayor is trying to lure the Olympics to town is certain to get the local media in a tizzy. Daley did his best to keep the dispute on the down-low Saturday, but the very last line in this excerpt tells the whole story…
Mayor Richard Daley said Saturday he isn't mad at Gov. Rod Blagojevich for offering the Illinois State Police to help him with Chicago's "out of control" crime problem.

But the mayor, in his first public comments since the governor offered the law enforcement assistance before consulting Daley, did suggest that people "should be careful" in their public comments.

"No, I'm not mad at the governor. There's so many good things. You can never get mad at anyone because when you get mad it changes you. You get disappointed in people and these are good things that we bring out," Daley told reporters. "So if I were ever to get mad at anyone I'd just get disappointed because many times what you say can have a huge effect on an issue. You should be careful about what you say at all times." […]

"No, I'm not mad at him. I'm not upset with him," Daley said. "He said it. He has to live with those words."
And, if history is any guide, it may not be a pleasant life.
Also, I"m kinda wondering if anyone followed up and asked Daley if he's "disappointed" with the governor.
* Related…
- Posted by Rich Miller 19 Comments


* Somebody finally notices, but he buries it way down so nobody else will likely notice…
With all of the budget folderol from last week, it's worth remembering that back in May, the House passed another budget that didn't increase spending nearly as much as the one that landed on Blagojevich's desk. However, it was never called for a vote in the Senate, so that was that.

Basically, this budget mess didn't have to be this way.
It's difficult for readers to remember if hardly anybody ever told them it happened in the first place.
* A downstate editorial goes on and on about the veto overrides and the general nastiness in Springfield without mentioning the budget bills still sitting in the Senate…
The entire Senate should have a say on whether to accept the cuts made by the governor - and senators should have that say before November and without any threats regarding what will happen if they don't follow the wishes of Jones.

But, in refusing to bring the Senate to Springfield to act on the governor's amendatory veto, he is following the same pattern he did a year ago, so no one should be surprised.
* This editorial blames the governor for the budget mess, but also doesn't mention the bills idling in the Senate…
Now there will be pain. And no matter how he prefers to view it, the pain comes from the governor's hand. Unless voters send a radically new membership to the House in the November elections, the governor should plan on either coming up with more realistic revenue plans or inflicting more pain in the next two years. He should also plan on being held accountable for it.
* Related…
- Posted by Rich Miller 16 Comments


[Updated and bumped up for obvious reasons.]
* The Tribune has a story in Sunday's edition about its thorough investigation of apparently bogus after-school grants. The $20,000 grants are noncompetitive and are essentially awarded by Senate Democrats. One in particular…
Powerful Senate Democrats quietly gave out the money to hand-picked nonprofits, schools, businesses and churches. The lawmakers funneled the money through the Illinois State Board of Education, which rubber-stamped the choices.

But a Tribune investigation found that nearly half of the 48 groups that got money this past school year were running dubious programs, or declined to show how they spent the money. About a dozen of the grants went to established programs with a history of tutoring or mentoring school-age children.

All of the questionable projects share the same sponsor: West Side Sen. Rickey Hendon (D-Chicago), who awarded many grants to campaign workers and donors, the investigation found.
* If the Tribune story is accurate, many of these grants were just cash payouts…
In his application, Tate promised to tutor 12 to 20 children five days a week. But during a June visit to Revival Fellowship Church of God in Christ, where Tate says he runs his tutoring sessions, no one was there except the pastor, Rev. John Jackson. He said Tate paid him $1,500 to rent space in May and June, but he could not explain why no one was there that day.

The Tribune stopped by the following week and found three families sitting in the church hall waiting for Tate. Two youngsters played on unplugged computers while three others ran around the room.
* And here's the sidebar…
Hendon pointed out that former U.S. Rep. Dan Rostenkowski (D-Ill.)—who later went to federal prison for mail fraud—earned praise for "bringing home the money" when he was chairman of the House Ways and Means Committee. "Well, I'm the West Side chairman of the Ways and Means Committee," Hendon said. […]

Two years ago, the state demanded partial repayment of a $275,000 grant awarded, at Hendon's request, to a non-profit that promised job training for homeless men. The state said the group improperly gave nearly half the grant to a board member, who couldn't document how he spent the money. That board member had close ties to Hendon.

In 2002, the Illinois attorney general's office sued a woman, alleging she misspent the $175,000 state grant she was supposed to use for a job-training program for low-income mothers. A Cook County judge ordered her to pay back the grant, a portion of which Hendon helped her secure.

In 1998, the state demanded a West Side redevelopment group return nearly half of the $500,000 grant Hendon helped arrange. The senator had asked the company to subcontract part of the work to another redevelopment firm where his then-wife served as executive director, records show.
* Meanwhile, Bernie had quite the story yesterday…
What a coup it seemed to be for the Christian County Democratic Party to get a visit from Gov. Rod Blagojevich for a county party fundraiser back on April 9.
Well, the coup ended up being Blagojevich's, and some troubling questions arise from that event.

It turns out that, one week after the event, on April 16, the Christian County Democrats donated $25,000 to Blagojevich. The county party had raised only $32,580 in the six-month period, ending June 30, that included the event, and the party left itself with just $3,212 in cash on hand at the end of June.

Then on May 2, less than four weeks after the fundraiser, Jack Mazzotti, a pharmacist and chairman of Christian County Democrats, was named to the Mid-Illinois Medical District Commission.
Hmm. Where have I seen that $25,000 figure before? Oh, yeah, that's right. A cynic (and maybe even the federales) might think that $25,000 was the standard price for a state board or commission seat.
There's more. Much more. So go read the whole thing.
- Posted by Rich Miller 66 Comments


* Before we take a look at my syndicated newspaper column, I should point out that the anti con-con group "Alliance to Protect the Illinois Constitution" has filed its campaign finance report this morning. So far, they've reported $250,000 in contributions, including $75,000 from an apparently unregistered outfit called the Illinois Coalition for Jobs Growth and Prosperity PAC. [Several searches of the Board of Elections website came up empty, but somebody in comments provided a state committee number. Turns out, $50,000 of its cash came from AT&T and the rest came from the coalition itself]…
State Farm Mutual Automobile Insurance Company: $50,000

U.A.W. Illinois State CAP Council: $10,000

Illinois AFL-CIO: $40,000

Illinois Coalition for Jobs Growth and Prosperity PAC: $75,000

Illinois Federation of Teachers COPE: $25,000

Illinois Trial Lawyers Assn. PAC: $25,000

IPACE (IEA): $25,000
* Now, on to my column…
So, the fox says to the farmer, "Hey, don't fix the hen-house door, just buy more chickens."

That's pretty much the same advice that you, as Illinois voters, are about to be spoon fed.

Big business, big labor and some "good government" groups have teamed up to urge a "No" vote this November on the Constitutional Convention ballot question. They're planning to spend $3 million on TV and other advertising.

Illinois voters are given a choice every twenty years about whether to call a "con-con," and in 1988 the ballot question was defeated.

The entire Illinois establishment was opposed to a constitutional convention back then, including most newspapers. But 2008 is a whole lot different than 1988, when the political world was pretty stable here and most things were on track.

"A mess" hardly begins to describe our current state political situation. Some have suggested that voters might be so fed up with our political disaster that they will vote for a constitutional convention with the hope that something - anything - might change.

It was obvious during a conference call with reporters last week that "fear and loathing" will be the message of the "No" campaign.

"If you think things are bad now, just wait until the same people who have screwed up our government get their hands on the constitution," sums it up pretty well. The opponents did their very best to make the claim that the same people who are responsible for the gridlock and political warfare in Springfield will be the ones who will control a constitutional convention.

However, all the powers that be in this state oppose a convention. Why? Because they know they may not be able to control it. They fear the controls that ordinary citizens running as convention delegates might attempt to put on their power. And they believe that the voters, who will have the final say over every single proposed revision or amendment, are not to be trusted. It's no coincidence that the groups providing most of the cash for the "No" campaign are also allied with the most powerful politicians in Illinois.

The well-funded convention opposition will likely do anything to scare you away from voting "Yes." They claimed last week, for instance, that a convention will cost taxpayers $100 million. That's far more than a recent estimate by a legislative agency, but it has a nice, round, scary ring to it, so that's what we'll be hearing over and over again.

And the opposition's claim that all our problems are political, not structural, is simply ludicrous. "It's the politicians, not the constitution, that are at fault," said the executive director of the Alliance to Protect the Illinois Constitution, which is fronting for the interest groups.

I do not understand how the opponents can claim with a straight face that even though a tiny number of people have accumulated an enormous amount of power under this Constitution - the House Speaker, Senate President and governor - all we have to do is just elect new people and all our woes will suddenly disappear.

I've been around just since 1990, but only a small handful of legislators remain in office who were there when I first started reporting on Illinois politics. Rod Blagojevich was still chasing ambulances for Eddie Vrdolyak's law firm back then. The 27-year old state Rep. Aaron Schock was barely in grade school.

Lots and lots of new people have been elected since 1990. Lots of good people, even. I would venture to say that the General Assembly as a whole has a brighter, more diverse and thoughtful membership now than in the old days. But the power concentration problems have only gotten worse. Our constitution simply allows too much power to be concentrated in too few hands.

Also, the legislative leaders and the governor control the drawing of the legislative district maps so tightly that it's unbelievably difficult to defeat an incumbent. The only way to do it is with money supplied by those leaders, who get their campaign funds from the very people who are now saying that this mess is purely the fault of politicians, not the constitution.

The people arguing against change have been our political system's greatest enablers, and now the fox tells us that the broken hen-house door is fine and what we ought to do is buy more chickens.

Better to just fix the door.
Discuss.
- Posted by Rich Miller 49 Comments


A Daily Herald analysis of statewide casino operations reveals the moored riverboats are rolling out more and more slot machines designed for a better house advantage as declining foot traffic threatens profits.
In fact, the $1.5 million set aside in 2001 for that public awareness campaign was reduced in 2002 to $960,000 and it has stayed at that level ever since. Meanwhile, the state takes in more than $700 million a year from its nine casinos and another $600 million a year from the lottery. There's little interest, however, from legislative leaders to designate more money to the issue.
The panel - the idea of state Sen. Michael Bond, a Grayslake Democrat - will consist of lawmakers from both parties and both chambers of the General Assembly, as well as representatives of the attorney general's office, the Illinois Emergency Management Agency and the Illinois Environmental Protection Agency.
The Abraham Lincoln Presidential Library and Museum in Springfield is a finalist for a $20 million collection of Abraham Lincoln materials being given away by the Lincoln Financial Foundation, owner of a Lincoln museum in Fort Wayne, Ind., that recently closed.
"This week's illegal immigrant raids are another stark reminder of the failed policies of the Blagojevich Administration – policies that have encouraged illegal immigrants to flock to our state. Illinois is home to more than 550,000 illegal immigrants. Only three states have larger illegal populations, all of which are southern border states – California, Texas and Florida respectively.
In a story last week about campaign finances and fund-raising, 18th Congressional District candidate Aaron Schock's campaign manager, Steve Shearer, said, "Like Sen. (Barack) Obama, Aaron continues to attract new donors who have never given before because of the promise Aaron has for the future."
- Posted by Kevin Fanning 5 Comments


* Maybe, just maybe, the summer has finally started for us Statehouse types. I haven't seen any late afternoon press releases from the governor yet, but I'd hate to jynx us all with a flat-out prediction that we won't be back in session any time soon.
Anyways, head yourself to Illinoize this weekend. And don't forget to buy an ad at InsiderzExchange, or at least check out the ads that are there, like this one.
* Anyway, here's to better days…
Well, I see no reason as for why it cannot be
A little time, a little trouble, a better day



- Posted by Rich Miller Comments Off


* The setup…
An outspoken atheist filed papers in court yesterday to stop Illinois officials from giving money to a historic church.

Rob Sherman is known for his lawsuit that halted a moment of silence in schools. Now he wants to prevent the state from giving Pilgrim Baptist Church a million dollars to rebuild after a fire.

Gov. Rod Blagojevich has said the money is intended for a community center and administrative offices, not religious purposes.

But Sherman says that violates the constitution.

SHERMAN: What goes on in an administration building? That's where the church operates its ministry from. So Rod cannot stick the taxpayers with the cost of a church's ministry expenses.
* Question: In your opinion, does Sherman's claim have merit? Explain.
- Posted by Rich Miller 54 Comments


* The Tribune editorial misses a big point in its discussion of the budget and the governor's vetoes…
Political retribution aside, Blagojevich had some tough choices. It would have been easier to pass a sensible budget if anybody talked to anybody else in Springfield. But they don't. So the legislature gave Blagojevich a budget he didn't want, and he gave them back a budget they don't want.
Not mentioned is that the House did pass a flat-growth budget and it's still sitting in the Senate.
* The editorial concludes…
[Senate President Emil Jones] wants a pay raise. But he doesn't want to call his members to work because he doesn't want to be held accountable for a 7.5 percent pay increase that will take effect next summer—unless senators vote to reject it. They can't vote if they're not in town, and if Jones has his way they'll stay home until the November election is safely past, just in case voters aren't as dumb as he hopes they are.

Yes, you've got that right: They can come to work and do their job, or they can stay home and get a raise they don't deserve.

The unfinished budget is proof they haven't even earned their current salary. Sadly, there's no provision in state law that would require them to give it back. But to quietly award themselves a raise is pure disdain for voters. Jones should call in his members. There's little hope this year's budget can be repaired in any meaningful way. But the pay hike requires only a simple up-or-down vote. Surely they can handle that.
* And it's catching on…
The House did its job. But the pay raises will still go through unless the Senate votes no. That's one reason observers suspect Senate President Emil Jones has declined to reconvene the Senate. Jones enthusiastically supports the raises. But it is likely a state senator not beholden to him (any Republican, for example) would call for a vote on the raises. That vote would provide legitimate campaign fodder against any senator foolish enough to hike his or her own salary while everyone else in Illinois faces severe cuts.

Some observers suspect Jones will wait until after the November election to convene the Senate and face a possible vote on the 7.5 percent hike boosting annual pay to $72,985.

Legislative salaries, like all salaries, have to be earned. We've seen little evidence lawmakers have earned the $67,836, each is supposed to be paid right now.
* Speaking of budget cuts, a familiar face is back in the news, and she's using a catchy little attack line…
The governor's decision to cut $37.3 million from the RTA's budget leaves the RTA in a "very bad state" at a time when high gas prices are driving more people onto buses and trains, according to RTA director and former gubernatorial candidate Judy Baar Topinka.

"There's more clamor for transportation, and that's the time you pull the plug on it?" said Topinka. "What was he thinking?" she added, echoing a campaign slogan Gov. Blagojevich used against her to devastating effect in the 2006 campaign.
* And here's the most important reason why we need to somehow get things back on track…
Unemployment surged in Illinois in June to 6.8 percent, the highest level in 15 years, rising from 5 percent a year earlier.

The rate was up from 6.4 percent in May and exceeded the nation's 5.5 percent June unemployment rate, the Illinois Department of Employment Security said Thursday.
* Related…
- Posted by Rich Miller 11 Comments


* GOP US Senate candidate Steve Sauerberg threw out some red meat to his base yesterday.
In the Republican underdog role against two-term veteran Durbin, Sauerberg, a physician from Willowbrook, repeatedly has sought to label his opponent as too liberal. On one of his campaign's Web sites, Sauerberg noted Durbin's opposition to a Constitutional amendment to ban flag-burning and said the nation's founders never included one "because they never had to deal with ultra-liberal Americans who hate their own country."

Asked whether he was referring to Durbin, Sauerberg said Thursday, "I think he's an ultra liberal. Whether he hates his own country, I cannot determine for the gentleman." Sauerberg said voters "wonder a lot" about Durbin's patriotism.
Because, you know, the second ranking member of the US Senate is probably just a Manchurian Candidate waiting to be activated by his terrorist managers.
* Sauerberg then showed again why he's not quite ready for prime time…
Labeling the nation's energy problems a top voter concern, Sauerberg restated his call for a federal gas-tax holiday as the GOP's presumptive presidential nominee, Sen. John McCain of Arizona, has proposed. Sauerberg said money lost to the federal highway construction fund could be replaced by finding "another wasteful program that government runs."

Asked to name a specific wasteful government program to cut, Sauerberg said, "I can't answer that" and apologized, before proposing a freeze on federal hiring or a 2 percent cut in federal agency spending.
* Meanwhile, Progress Illinois has put together a nifty summation of 2nd Quarter congressional fundraising…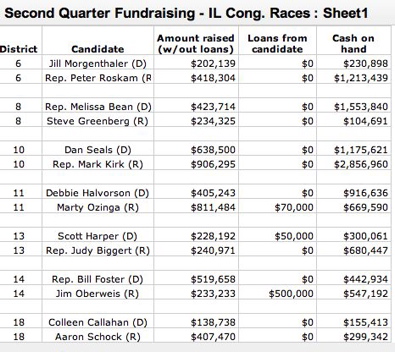 * Speaking of money…
While all that anti-lobbyist hoopla from Sen. Barack Obama (D-Ill.) has caused something of a minor identity crisis on K Street, it turns out that the prospect of an Obama presidency has one firm seeing dollar signs.

Chicago-based Dan Shomon Inc., the shop of former Obama political director and campaign manager Dan Shomon, has been busy pitching potential inside-the-Beltway clients.

"Should 'CHANGE' occur in November as polls indicate, we should see a lot of people from Illinois moving to Washington D.C. and taking key spots in an Obama administration," said an e-mail from Shomon's colleague, Gerald Galloway, to potential clients.

"Now is the time to anticipate these changes. … We will be in Washington DC August 4, 5, and 6th and were interested in scheduling a meeting with your government affairs team to discuss the changing political landscapes and our services and capabilities," the e-mail continued.
* Related…
* Greenberg trails Bean in fundraising race

* Foster heads to the border for fact-finding mission

* Ozinga Camp Claims Health Care Quote Taken "Out Of Context"

* Durbin: Speculators Running Up Oil Prices

* Barack Obama's accidental surrogate
- Posted by Rich Miller 27 Comments


* The Sun-Times editorial board continues the slams on Gov. Blagojevich for suggesting that violence in Chicago is "out of control" and suggesting that the National Guard might be deployed…
Now that Gov. Blagojevich's political career is teetering, we've been giving some thought to what his next job might be.

It has to be a job that requires only minimal ability to cultivate allies because, really, he's not much good at that. The GOP, of course, has never been on his side. His father in law, Ald. Dick Mell, gave up on him long ago. Illinois House Speaker Mike Madigan can't bear to be in the same room with him. And on Wednesday, he embarrassed and drove away Mayor Daley — his last remote hope for a political leader he could do business with — when he declared that violence is "out of control" in Chicago.

It has to be a job that requires no particular ability to read other people. The governor apparently believed that by shaming Daley — talking down Chicago while the mayor is trying to win the 2016 Olympics — he could bully the mayor into working with him in Springfield.
This is the same editorial page that has attempted to shame the city for weeks into paying attention to the surging violence. So, while the governor's National Guard comments were goofy, he didn't really say anything that hasn't already been said in the Sun-Times.
Unlike Mayor Daley, who blames everybody but himself for the crime problem (including reporters), Blagojevich took notice and offered to help. Sure, the press conference may have hurt the Olympic bid and embarrassed the city's thin-skinned mayor, but all those front page stories and editorials about the murder of children this year probably had the same effect.
And I'm fully aware that the governor is a bizarre human being. But the Sun-Times could use this event as an opportunity to spark discussion about what the city can do to break the gangs and stop the violence. Instead, they've elected to rhetorically shoot a messenger who mostly echoed their own views.
* Meanwhile…
A day after Gov. Rod Blagojevich called Chicago's rising crime rate "out of control" and offered state manpower to help, Police Supt. Jody Weis carefully waded into the political fray Thursday on the city's behalf, saying reports on the uptick in crime have been exaggerated.

At a news conference, Weis walked a cautious line, avoiding laying blame, asserting that his department has a handle on crime but still welcoming assistance. The superintendent said any deployment of state police would need more discussion and planning, and the Illinois National Guard isn't likely to be on the way. Weis said the Guard doesn't have the police powers necessary to help fight crime in the city.

The governor's offer, which the administration said potentially involved using state troopers to patrol streets and National Guard helicopters to carry out surveillance, raised questions about whether it was more the result of a political struggle with Mayor Richard Daley rather than the need for more police.
*** UPDATE *** From the Sun-Times…
DuPage County State's Attorney Joe Birkett is jumping into the governor's controversial offer to put state troopers on Chicago's streets to fight what the governor called "out of control" crime.

"I urge you to stop disparaging the Chicago Police Department, who, in my opinion, have done an outstanding job in their fight against street gangs," Birkett told Gov. Blagojevich in a letter today.
* Related…
- Posted by Rich Miller 40 Comments


* Oh, man, this is embarrassing for the state…
Illinois officials hope schoolchildren, churches and businesses will take part in next year's celebration of Abraham Lincoln's 200th birthday.

The Lincoln Bicentennial Commission offered a look Thursday at events it's organizing to mark the anniversary.

They include a simultaneous reading of the Gettysburg Address by Illinois schoolchildren, having churches toll their bells next Feb. 12 and asking businesses to say "Happy Birthday, Abe" on marquees and message boards.
Gee. I'm overwhelmed.
Not.
* Is the problem budget cuts?
The commission's budget was $1 million last year, and legislators asked for $5 million this year. Because of the state's budget problems, however, the commission probably will end up with only $1.5 million.
Maybe. But there's obviously a lack of imagination at play here. "Happy birthday, Abe" signs? What?
* And there doesn't seem to be much interest by the bigs…
The commission also has invited U.S. Sens. Dick Durbin and Barack Obama and U.S. Supreme Court Justice John Roberts as guests for a banquet that evening. None have accepted yet.
Durbin lives in Springfield, so his lack of cooperation so far is simply astounding. Obama announced his presidential campaign at the Old State Capitol, which Lincoln helped move to Springfield. Obama also used Lincoln imagery in his speech, so he has an obligation to cooperate.
* This is from a newspaper article during the centennial celebration in 1909…
It is interesting to note that, while an estimated nine-thousand people gathered for the celebration and probably thousands more having been turned away, across town the colored citizens, who had not been invited, had their own celebration at the A.M.E.Church. There was "great indignation expressed by the colored residents of the city because they were barred from the Lincoln banquet."
* I checked the list of events for Springfield, and there's nothing on the agenda to redress this egregious rebuff from the last century. Maybe that's because of the shockingly low number of African-Americans on the state's bicentennial commission.
* The budget cuts will have an impact on the celebration, however…
But this month, Gov. Rod Blagojevich slashed the budget for staff at all of the historic sites in Illinois, many of which revolve around Lincoln's life.

Thursday, Illinois Historic Preservation Agency Director Jan Grimes said the cuts mean some sites will have to close or reduce hours.

"All sites will be impacted by that in some way," Grimes said. "We'll have some reduced hours; we'll have some sites that will have to close.
Discuss.
- Posted by Rich Miller 29 Comments


Illinois' largest psychiatric hospital left sexual predators unguarded despite allegations that at least 10 mentally disabled children were assaulted during the last three years.

The youngest victim was an 8-year-old state ward admitted for evaluation after expressing suicidal thoughts.
Unnecessary deaths and amputation, grossly inadequate medical care and routine inmate beatings.

Those are some of the disturbing findings at the Cook County Jail after a 17-month civil review by the U.S. attorney's office, which is considering criminal charges against some jail guards.
Cook County Jail is a bleeding mess. That's the only conclusion you can arrive at after reading a 98-page report from the U.S. Justice Department on conditions at the facility, the largest county jail in the country.
The criticisms that have been leveled at the DuPage County Election Commission have had more to do with the appearance of impropriety. They've been about some members' close personal relationships with both the manufacturer and distributor of the voting machines, for example, and the kind of cross fertilization that, frankly, is not unusual in "old boy" networks.
That report noted a direct withdrawal of nearly $30 million in spendable income from the four-county region surrounding the prison where a vast majority of its 569 employees live. Indirect losses to Pontiac and other communities would be even greater.

"It would be devastating to businesses," Rutherford said.
- Posted by Kevin Fanning 8 Comments