* The African-American state central committeeperson weighted vote is about 33 percent of the total. Here's the list from the Democratic Party of Illinois…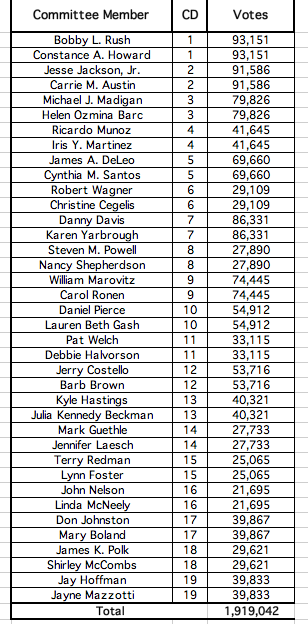 - Posted by Rich Miller Comments Off


* My dad is in the hospital again, so I'm not sure when I'll be back to work. The interns will be covering tomorrow's lite guv extravaganza and will be posting videos here. We may or may not post on Monday. Besides, it's spring break and I need some time off.
* My dad was listening to AC/DC a lot this week, so this one's for him…
Gettin' old
Gettin' gray
Gettin' ripped off
Under-paid
Gettin' sold
Second-hand
That's how it goes
Playin' in a band
- Posted by Rich Miller Comments Off


* The governor just announced his choice of Sheila Simon for lt. governor…
"This is a very important day," Quinn said speaking at the Allegro Hotel in downtown Chicago. "I do want to commend the party for the open process. Having been Lieutenant Governor, I know it's an important position…My choice is Sheila Simon." […]

"I think its important to have downstate balance," Quinn said today. "It's important to have a downstater."
More…
Quinn said Friday that Sheila Simon has an exemplary record of public service and her family's name is synonymous with public service.
We'll have video of Rep. Turner's reaction posted soon.
…Adding… Here's the vid…
*** UPDATE 1 *** This is a paraphrase, but hopefully we can find the actual quote…
Quinn responded to black criticism over his pick by saying voters know he's on their side and that Simon's family fought for civil rights.
*** UPDATE 2 *** An interesting question, from the Daily Herald Twitter page…
Quinn picks Simon, won't say who he voted for in Feb for lt gov "I believe in the right of privacy."
*** UPDATE 3 *** Uh-oh…
67th District Representative Chuck Jefferson is angry that Quinn didn't select Turner. As a result, the Rockford democrat says he's pulling all his support of Quinn and urging other black lawmakers to do the same.
Just about everybody else in the Black Caucus has said that they'll support the ticket, but tensions are apparently starting to bubble up.
…Adding… The esteemed Charlie Wheeler posted these numbers in comments and they're well worth a front page reference…
General Election, November 4, 2008

Total Ballots Cast
5,577,509

Cook County
2,933,502 52.6 percent
Collar Counties
1,345,166 24.1 percent
96 other counties
1,298,841 23.3 percent

Source: Illinois State Board of Elections.
"Official Vote–General Election–November 4, 2008."
…Adding More… Louis Howe gives us the more pertinent 2006 numbers…
Ballots Cast 2006

Cook County 1,350,915 38%
Collar Five 764,409 21%
Downstate 1,472,352 41%
Total 3,587,676 100%
*** UPDATE 4 *** From Rep. Turner's campaign…
Statement on Sheila Simon

"Sheila Simon was Rep. Turner's son's law school professor, and he speaks the world of her. But it is up to the Democratic State Central Committee to make this important decision on who should be the Party's nominee for Lt. Governor. We still think Rep. Art Turner is the best qualified, most experienced person for the job. And we believe that the committee members are more interested in quality ideas, significant experience and proven leadership than in a home address or other demographics."

Bryan Zises, Turner spokesperson
- Posted by Rich Miller 64 Comments


* Our not-so-prestigious award goes to ALEC, the conservative legislative group. The e-mail subject line was "IL and OK Legislatures Oppose Obamacare." Here's the text of the headline and the lede…
Illinois Is 40th State to Defend Health Care Choice; Oklahoma Health Freedom Bill Poised for Ballot

Washington, D.C.—Yesterday, Illinois became the 40th state where legislators have introduced, or will introduce, legislation modeled after the American Legislative Exchange Council's (ALEC) Freedom of Choice in Health Care Act. Illinois House Bill 6842 prohibits a requirement to purchase health insurance and would provide the state with protection in a constitutional challenge of the federal health reform bill.
Introducing a bill with a handful of co-sponsors does not translate into the Legislature opposing something. If that was the case, the Legislature could be said to support gassing to death puppies and kitties en masse.
That a major national organization which deals exclusively with state legislative issues would make such a goofy claim is just beyond me. Here's how ALEC describes itself…
The American Legislative Exchange Council (ALEC) is the nation's largest nonpartisan, individual membership organization of state legislators.
Everybody knows they have a conservative bent, but that press release shows they also have clear hackish tendencies. They certainly ought to know all the terms of legislative art.
…Adding… As we discussed the other day, NCSL did a study of the bills introduced nationwide on this issue and found ALEC's claims lacking.
…Adding more… How's about a question: What's the goofiest press release you've seen lately?
- Posted by Rich Miller 12 Comments


* Rep. Bill Black (R-Danville) gave a rousing speech on the House floor this afternoon and received a standing ovation at the end. Black praised Rep. Art Turner as a great legislator and a fine man. My intern Dan Weber caught the end of this speech and it's a must-watch, even though the video quality is no good. That's not Dan's fault. It's the cameras we're using. I gotta upgrade over break. Anyway, watch it…
* Also today, the Alexi Giannoulias campaign released a new Internet video blasting Mark Kirk over the Republican US Senate candidate's vow to "lead the effort" to repeal the new healthcare reform law. Have a look…
The Giannoulias campaign has also published a mock Facebook page making fun of Kirk's repeal vow. Kirk really ought to come home and explain his statement.
…Adding… Zorn thinks Quinn blew it with the Simon pick, calling it emblematic of the governor's "huge weakness for symbolism over substance." Go read the whole thing…
When the candidacy of Democratic nominee Scott Lee Cohen imploded, Quinn and party leaders had a chance to choose a No. 2 that contrasted with Plummer and with Quinn in ways that would appeal to independent and undecided voters — someone whose resume actually suggests a readiness to become governor if the necessity arose.

Instead Quinn has chosen an inexperienced downstater who's his ideological clone. She contrasts with him only in her gender and brings little more to the ticket than a famous last name: Shallow symbolism where substance was called for.
Whatever her faults, Sen. Susan Garrett was loaded with substance. So is Rep. Turner, for that matter.
- Posted by Rich Miller 35 Comments