* These Emanuel guys are too cute by half…
In the ongoing argument over what "luxury" services would be taxed under Emanuel's sales tax proposal, Chico held a news conference Monday to complain the tax would put neighborhood gyms out of business.

But the first neighborhood gym that Chico tried to hold his news conference at cancelled at the last minute after getting a call from the Emanuel campaign, Chico said. […]

Chico's campaign scrambled to line up the second gym, in West Town. Then the Emanuel campaign called that gym. But owner Sharone Aharon told the caller he planned to let Chico do his news conference there anyway.
For crying out loud, leave the gym owners alone. I mean, seriously, is this the way y'all intend to govern over there? Really? Sheesh.
* And this sounds pretty suspect to me…
Chico says that Emanuel's new sales tax would include neighborhood gyms such as Well Fit in West Town.

LaBolt said it would not — it would only cover "luxury" gyms such as the Saddle and Cycle Club or the East Bank Club, where Emanuel works out.
How the heck are you going to define a "luxury" gym in a state statute? Will only gyms that have an on-site car-washing service be taxed? And if it is just a few upscale gyms, how are they going to generate any real revenues to replace the $40 million lost by cutting the city sales tax by a measly quarter point?
Gery Chico has obviously hit a raw nerve here. The media really needs to start demanding to see this alleged list of luxury services which will be taxed under a Mayor Emanuel - if, that is, he can convince the General Assembly to enact it.
- Posted by Rich Miller 45 Comments


* Rocky Wirtz's lawyers went on and on in a brief filed with the Supreme Court today about how they thought they had a deal with the attorney general's office. They originally figured both sides would ask for a stay of the appellate court ruling which declared the capital program unconstitutional. But, no, the AG's office allegedly reneged on language. So, they couldn't come to an agreement.
Then they wrote this…
Relative to the request for stay and considerations of the status quo and balancing of harms, the challenge to the Acts at issue has been pending for 18 months and should not be a surprise, but allowing the State Parties some breathing time pending review to address
alternative financing for the state projects seems to serve the public interest, and to accommodate the preservation of the status quo pending review. Therefore, Plaintiffs do not object to a stay of the appellate court's January 26, 2011 opinion and judgment.
OK, so that's settled. Expect the Supremes to grant a stay. Hopefully, they can do it in less than the nine pages Wirtz's lawyers took. Either way, immediate disaster will likely be avoided.
* Meanwhile, you're recall that the other day I told you about Comptroller Judy Baar Topinka's list of $1 billion in budget cuts that she had earlier said could be eliminated without anyone noticing the impact.
Well, Senate President John Cullerton took issue with some of Topinka's points and sent her a letter…
• You suggest the state save $100 million by rolling back a "giveaway" in the form of universal preschool, requiring those families "financially-able" pay for preschool. The Early Childhood Block Grant is the primary funding source for the State's effort to enroll children age 3 to 5 in quality preschool. Participation is limited to children most at-risk of academic failure and from low- to moderate-income homes. Financial realities never allowed this laudable program to meet the so-called "preschool for all" threshold despite the massive marketing hype of a previous governor.

• SB3778 in on the Governor's desk and provides that seniors who meet the Circuit Breaker income limitations may travel free of charge on public transit systems. I join you in encouraging him to sign it. This rolls back a former governor's effort allowing all seniors, regardless of income, to "ride free." As a former RTA director you know this was no "free ride" and cost transit agencies millions to subsidize fares. And so, I'm confused as to how the state General Revenue Fund– as opposed to the transit agencies — would save $40 million as you contend.
Cullerton goes on to write that he's prepared to offer Topinka Senate Bills as a vehicle for any "meaningful, real cuts" she would like to propose.
- Posted by Rich Miller 26 Comments


* As subscribers already know, the big snow storm heading our way has canceled both the House and Senate sessions this week. The weather folks are predicting a monster…
'Virtually impossible' travel possible from expected winter storm

Northern Illinois is bracing for a winter storm that the National Weather Service says could be life-threatening.

Chicago and Milwaukee were expected to be particularly hard-hit.

A blizzard watch is in effect from Tuesday afternoon through Wednesday afternoon for most of northern Illinois. The blizzard could bring white-out conditions with snow falling at rates of 2 to 3 inches per hour. The weather service says travel could become "virtually impossible" at times.
* Things aren't looking so great in central Illinois, either…
A winter storm described by the National Weather Service as "extremely dangerous" that could bring up to a foot of snow to some areas of central Illinois is expected to begin about midday today and last into Wednesday.

"This will likely be our strongest storm of the season," said Kirk Huettl, a meteorologist with the National Weather Service office in Lincoln. "And it's going to cover a lot of real estate, all the way from the Midwest to the Northeast."

A mixture of snow, sleet and freezing rain will occur today and Tuesday, then change over to all snow over the entire area by Wednesday as colder air filters into the region.
* The Question: Your blizzard plans?
And be nice to each other in comments, please. I've got to get to the store and stock up before this thing hits, so there will be little time to monitor y'all for the next couple of hours.
- Posted by Rich Miller 124 Comments


* You may have seen this brief AP report on the wires over the weekend…
Gov. Pat Quinn tells a newspaper that he has authorized Springfield attorney John Simpson to oversee an investigation into potential abuse of the workers' compensation system.

On Friday night, Quinn released to the Belleville News-Democrat a letter he sent earlier in the day to Illinois Workers Compensation Chairman Mitch Weisz announcing Simpson's appointment.
* The Quinn announcement was specifically timed to bury this Belleville News Democrat report…
The arbitrator who approved many of the workers' compensation settlements that awarded millions of taxpayer dollars to guards at the Menard Correctional Center for carpal tunnel syndrome received $48,790 for the same type of injury.

But four months after state hearing judge John T. Dibble received the settlement, the award was not listed in the Illinois Workers' Compensation Commission's online database, which is the primary way the public learns about these payments.

That's because a key document, known as a settlement contract, never was assigned a case number, and the actual case file is lost, commission spokeswoman Sue Piha said. She said she does not know why the contract wasn't filed or what happened to the case file, which would contain medical reports, and suggested that a backlog of unfiled cases could be responsible. […]

Dibble's particular injuries were connected to an unusual form of carpal tunnel syndrome called post-traumatic carpal tunnel. A fall on the Herrin Civic Center steps as he was going in to hear cases later triggered the syndrome and led to the nearly $50,000 award.
* And how do we know that Quinn's office Workers' Compensation Commission tried to bury the item? Because Quinn's office the Commission admitted exactly that…
[Workers' Compensation Commission spokesperson Sue Piha] offered the News-Democrat an exclusive story concerning imminent "major changes" that would be made in the workers' compensation system in exchange for the newspaper holding the article about Dibble until Tuesday.

The offer of an exclusive story, which was overheard by the governor's representative, was made as "leverage" to persuade editors to hold the Dibble story, said Piha. The reason for holding the article, she said, was so that it wouldn't run until the day the state was ready to announce positive changes at the commission.

The day before, Commission Chairman Mitch Weisz made the same offer; it was denied.
Commissioner Dibble heard 125 of the repetitive trauma cases filed by 230 Menard prison guards, which ended up costing the state a total of $10 million.
*** UPDATE *** I just talked with a Quinn administration official who blamed this mess on the Workers' Compensation Commission spokesperson. The Quinn people wanted to make sure they could get their guy into a story about a screwy situation at the Commission, I was told. Instead, it got translated by the Commission spokesperson as some sort of deal to delay publication of a story.
That actually makes some sense to me. So, I'll lean their way on this one. Changed the headline and one line in the piece to reflect my updated views.
- Posted by Rich Miller 14 Comments


* The Pantagraph editorializes in favor of small budget cuts like this one…
Meanwhile, the idea of going from two license plates to one, another action that should be easy, is met with hemming and hawing.

When this issue has been raised previously, law enforcement officials have objected because having two plates increases the opportunity for identifying a car that's been stolen or involved in a crime or accident.

But many other states — including our neighbors in Indiana, Michigan and Kentucky — get along fine with just a rear plate.

The savings are limited — an estimated $800,000 a year. But we have to get away from this mindset that if "only" a little under $1 million is saved, the action is unworthy of attention.
* But the SJ-R is quite upset with one of those small budget cuts…
Now we learn that the Illinois Department of Agriculture, without consulting city tourism officials, canceled one of the biggest potential tourism events of 2012 and 2013: the National High School Finals Rodeo.

The reason? Ag officials say the state can no longer afford the $1 million annual cost of hosting the event.

Keep in mind, this is an event that brings thousands of people — spectators, competitors and their families — to Springfield for a long stay. Long enough to generate an estimated $8 million for the local economy, most of which goes back to the state in sales tax.

We're baffled at the logic behind the decision, but we're especially annoyed that it appears to have been made without any consultation with local officials outside of state government. The ag department owes an explanation to Springfield on that communication gaffe.
* Doug Finke is unimpressed with the fury…
Well, gee, you'd think [the Illinois Department of Agriculture] would be praised for what it did. The mantra we've heard for months, if not years, is that state government must cut spending. Spending's out of control, we've got to cut.

So ag cut. That's what people have been clamoring for, right? The department's allotment of state money (it also doles out a lot of federal funds) is down 30 percent since 2007. Something had to go. It was the rodeo.

That's the thing about cuts. Someone or something somewhere is going to be affected by them. That's not to say the state shouldn't make cuts in spending, but when it does, it's going to have an impact. This time it's in Springfield. The next time it could be Peoria or Rockford or wherever. We'll have to see how popular cuts will be when they start hitting home.
Exactly.
* If people are getting so riled up about budgetary peanuts, you can imagine the firestorm which will be created by this next topic…
Illinois lawmakers and Gov. Pat Quinn's administration plan to make another attempt to get state retirees to pay more for their health care during this legislative session.

The legislature's Commission on Government Forecasting and Accountability will meet Wednesday to talk with two Quinn administration officials about how the state can craft an income-based formula for how much retirees will have to pay. Also on the commission's agenda is approval of a request-for-proposal to study the best way to implement the new charges. […]

There are five cost tiers for current employees' health care premiums based on their income, Schoenberg said. The top tier, for those making more than $74,901, costs $59 a month for those employees in managed care and $84 a month for those employees in the state's preferred-provider plan.
The average retiree/survivor's premium is just $10.22 per month. But here's what the plans cost the state…
Managed Care / Quality Care Health Plan

Medicare retiree $294.55 / $332.47

Non-Medicare retiree $791.08 / $964.10

One Non-Medicare dependent $450.16 / $722.39

One Medicare dependent $299.35 / $344.52

Two or more dependents $773.85 / $978.19
Two-thirds are enrolled in the higher priced plan. The average retiree income is about $31K a year. But average household income is $78K a year. Click here for more detailed info.
- Posted by Rich Miller 41 Comments


* It hasn't reached Dick Tuck levels yet, but Rahm Emanuel's campaign has been pulling some political pranks on Gery Chico lately. All of the pranks are related to Chico's claims that Emanuel wants to raise taxes by expanding the sales tax to services, along with a proposed quarter-point cut in the overall sales tax rate. The other day, Chico held an event a a barber shop, claiming that Emanuel's new service tax would be imposed on those who cut hair (never gonna happen). Emanuel's campaign was also there…
Outside Ron's Barber Shop on South Harper, someone toyed with Chico's campaign by sending a stretch limousine with posters on it that read, "Gery's tax-free ride."

The limo driver would not say who sent him. Asked if Emanuel's campaign sent the limo, Emanuel spokesman Ben Labolt said, "Can you quote me winking?"
* And when Chico spoke out again about the sales tax plan, the Emanuel folks were present and accounted for…
As Chico talked, speakers from a rented truck blared a Web video produced by the Emanuel campaign, accusing Chico of distorting Emanuel's plan to cut the city's sales tax in exchange for broadening the tax to include some services.

The video rolled several news clips under a 1965 hit by the Lovin' Spoonful, "Did You Ever Have to Make up Your Mind?," to illustrate Emanuel's contention that Chico supported a similar idea before turning against it.

Chico called that "a bunch of bunk," explaining he'd previously suggested adding "e-tailing" or Internet purchases to the sales tax rate, not the "entire new swath of taxes" that Emanuel backs.
* The dispute was rather more intense among the campaign's two African-American female candidates, however…
"Carol Moseley Braun hasn't been around for 20 years," said [Patricia Van Pelt-Watkins], a community activist, prompting a verbal response from the crowd in the church. "We haven't seen her."

Moseley Braun, allowed to answer later, listed her public service and told Watkins, "You were strung out on crack. I was starting a business on the South Side. I was hiring people."

Watkins has said that she used drugs from ages 19 to 21 — more than 30 years ago — but said Sunday she has never used crack.

"She has a way of embellishing her own history and other people's experiences," Watkins said.
Oof.
*** UPDATE *** Video of the spat…
Apparently, things got pretty rough later in the day on the West Side.
[ *** End Of Update *** ]
* Meanwhile, Braun still has money trouble…
Braun traveled to Washington and New Orleans last week to raise money so she can air television spots she has already shot but can't afford to air. Her campaign posted a nearly three-minute video called "On the Issues, In Every Neighborhood" on YouTube.
* Related…
* Sun-Times: Rahm Emanuel for mayor

* Ballots without Emanuel's name under lock and key

* Brown: Emanuel vague on luxury tax, Chico adds it up

* Marin: Emanuel owes voters some answers

* Washington: African-American biz leaders don't pony up for Braun

* Emanuel as the independent, reform candidate?

* Ernie Banks celebrates 80th birthday with Jeff Garlin, Rahm Emanuel
- Posted by Rich Miller 46 Comments


* Gov. Pat Quinn and Rocky Wirtz, who filed the lawsuit which derailed the state's capital construction project…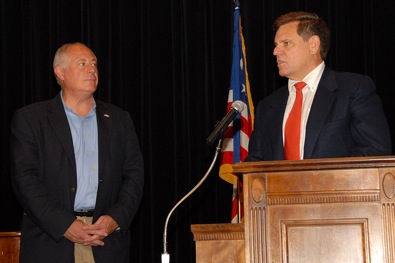 - Posted by Rich Miller 45 Comments


* I really wanted to take it easy this week. Didn't happen. Gonna have myself a little nap now. See you next week.
* This one seems appropriate. As requested by a commenter…
Now the king told the boogie men
You have to let that raga drop
- Posted by Rich Miller Comments Off


* I spoke to the Institute of Government and Public Affairs last year and afterwards Jim Edgar asked me to lunch. I insisted that Sam Gove join us. I'd never really talked to him before and he didn't disappoint. Clear headed with a great sense of humor and lots of stories. A true Illinois giant has passed away…
Samuel K. Gove, director emeritus of the Institute of Government and Public Affairs at the University of Illinois, founder of Illinois Issues magazine, and a longtime fixture in Illinois state politics, died early Friday, Jan. 28, in an Urbana hospital. He was 87.

Gove joined the Institute of Government and Public Affairs (IGPA) as a research assistant in 1950, just three years after the institute was created by resolution of the Illinois General Assembly. He later served as acting director three times before becoming director of IGPA in 1967, beginning an 18-year tenure.

"Sam Gove was a beloved colleague in IGPA," said Robert F. Rich, the current director. "He was really Mr. Illinois and universally respected in our state, both in academia and in government for his many contributions. He will be greatly missed."

Gove was active behind the scenes in Illinois state government for years. He directed the legislative staff intern program from 1962-73, was a member of several commissions and advisory boards and served on the Illinois Board of Higher Education. He also was a member of the transition teams for Governors Dan Walker and Jim Edgar.

"Sam was one of my mentors," Edgar said. "If it hadn't been for Sam Gove, there may not have been a legislative intern program and that was my entry (into public service)."

Gove was founding chairman of Illinois Issues, and served on the magazine's advisory board for 28 years.

"He sort of was the embodiment of Illinois government," said former Illinois legislator and comptroller Dawn Clark Netsch, a longtime friend. "He understood how all these pieces fit together (politically) but then always was involved in how it should work. He knew how to suggest things that would help to make it work better."

While director of IGPA, Gove served in a variety of roles leading up to the 1970 Constitutional Convention in Illinois and led a team that prepared a series of research papers that established the issues for the convention. These papers included one titled "The Illinois Constitution: An Annotated and Comparative Analysis," a 624-page analysis of the state's 1870 Constitution written under Gove's guidance by George D. Braden and Rubin G. Cohn.

"That became the bible for the delegates to the convention," Gove said in a 2007 IGPA oral history.

"Sam was an institution in and around the state Capitol, where he was viewed by lawmakers as Mr. Good Government," said Jim Nowlan, a longtime friend and colleague at IGPA. "He was a strong proponent of modernizing a legislature that had been condemned in national magazines for its backwardness, and Sam worked closely with legislative task forces to improve the legislative rules and provide professional staff for committees and lawmakers."

Gove was also a member of the U of I faculty, beginning as research assistant professor in 1951 and became a full professor of political science in 1961. He served as acting director and director of the university's Master's degree program in public administration from 1987-89.
- Posted by Rich Miller 9 Comments


* I really see nothing wrong with Gov. Pat Quinn taking some time to decide what to do about the repeal of the death penalty. Others? Not so much, according to James Warren…
"Is this theater?" said Jeremy Schroeder, executive director of the Illinois Coalition to Abolish the Death Penalty, when I asked about Mr. Quinn's supposedly probing the innermost recesses of his soul.

"For goodness gracious, he claimed he was a reformer!" declared State Senator Dan Duffy of Lake Barrington, a Roman Catholic South Sider and die-hard Republican conservative who voted for abolition. "Quinn's always trying to make everybody happy."

The notion that there's a bit of a sham under way has crossed minds. Might the governor's helter-skelter ways include a search for cover before he disappoints death penalty supporters?

"You'd think it would be something he would have signed immediately," said Senate President John J. Cullerton, a Chicago Democrat. "It would be dumb politically and dumb morally if he didn't."
Let's go through these point by point.
Politics has always been at least partially about "theater." You can't just go off and break yet another campaign promise without laying some groundwork. You could call it political cover, you could also call it setting the stage. And if this is what Quinn is doing, then it's fine by me. It's smart politics and good governance.
Sen. Duffy complains that Quinn is always trying to make everybody happy. Duffy is not happy. Therefore, the point is moot, albeit mostly correct. This is a huge decision, however, and he ought to take his time.
The governor has long supported the death penalty. So, signing this bill immediately would've been hypocritical in the extreme. I'm willing to give him some space to get his head together on this thing. Cullerton should as well.
* But while Quinn mulls this over, he should carefully read a tremendous column penned by Jeff Engelhardt, a Public Affairs Reporting intern in the Daily Herald's Springfield bureau. Jeff and my brother Devin are friends, and Devin has nothing but high praise for this young man, who has struggled with an unspeakable personal tragedy…
On April 17, 2009, three members of my family were murdered.

My father, grandmother and 18-year-old sister were all stabbed to death in their own home. My mother was in critical condition and my older sister was left with her baby girl and the horrifying sights of what happened to her family.

I was feeling helpless, six hours away at Southern Illinois University.

It didn't take long for the assistant state's attorney to tell me they wanted to pursue the death penalty for the man accused of committing the terrible crime.

As the citizens of Illinois await the governor's decision on the death penalty, it has given me another opportunity to contemplate what I would want done in my situation.

I live with what happened every day and have mulled over what I would like to see become of the man I believe took my family away. My vision was blurred for a while, but the decision became very clear after I remembered where I came from.

I am no governor, but I am my father's son. And as my father's son, that means I choose the path of forgiveness.

This is not a call to repeal the death penalty. Rather this is a declaration of dedication to a path of peace.
I hope Jeff eventually finds personal peace. That couldn't have been easy to write. Go read the whole thing.
- Posted by Rich Miller 23 Comments


* Rahm Emanuel is running a new radio ad featuring President Obama. Listen…
Script…
President Obama: When I first started assembling this administration, I knew we were about to face some of the most difficult years this country has seen in generations.

VO: President Barack Obama, last year.

President Obama: I needed somebody at my side who I could count on to help get the job done. There was no candidate for the job of Chief of Staff who would meet the bill as well as Rahm Emanuel. And that's why I told him he had no choice in the matter. He was not allowed to say no. This was a great sacrifice for Rahm, Amy and the family, to move out here. He has been a great friend of mine. He has been a selfless public servant, he has been an outstanding Chief of Staff.

VO: Rahm Emanuel

RE: Thank you Mr. President, for your warm friendship, your confidence and the opportunity to serve you and our country. I give you my word that even as I leave the White House I will never leave that spirit of service behind.
One doesn't use the president's voice without the president's permission, or at least his tacit permission.
Discuss.
- Posted by Rich Miller 23 Comments


* What is the world coming to? I mean, really…
Cubs fans, they're here! Chicago Cubs permanent Illinois license plates. The Cubbie Blue license plates, which feature the Cubs logo, are now available for pre-purchase online and will be sent out March 1. Random number plates will also be available at the Chicago Auto Show beginning Feb. 10.

"For many years I played in the wonderful Chicago Cubs organization as a center fielder," White said. "I feel a special bond and history with the team. I am not alone. The Chicago Cubs are a legendary franchise and boast of diehard fans throughout the country who will be excited to show their team spirit and support education with these plates."
Click here to design your own…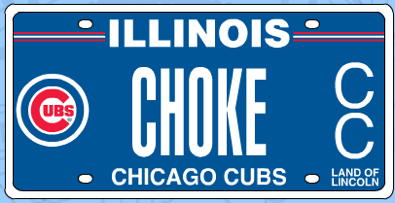 Heh.
* The Question: With football season over as far as Illinois is concerned, what are your 2011 baseball season predictions?
Go Sox. (All that Bears rah-rah unity was starting to become annoying anyway.)
- Posted by Rich Miller 40 Comments


* Attorney General Lisa Madigan has filed a motion for stay with the Illinois Supreme Court to keep the capital program alive for now. As you know already, an appellate panel declared the law unconstitutional because it violated the state Constitution's Single Subject Matter rule for legislation. The appellate court claimed that supporters of the law deemed the bill in question as being about "revenue," when there was a whole lot more to the bill than just revenues.
As I told subscribers earlier this week, that reasoning seems more than a little silly. This was the capital bill. That's how all the pieces fit together. And Madigan's motion for stay points that out as well…
The State Parties have a substantial case on the merits. In Arangold, this Court upheld against a single subject challenge the State's budget implementation act for fiscal year 1996, which contained a wide variety of statutory provisions creating and amending state programs and revenues in multiple acts. 187 Ill. 2d at 347-56. The State Parties argued below that the Capital Projects Acts were similarly related to a permissible single subject - the capital projects initiative - that was narrower in scope than implementation of a full year's budget. (State Parties' Br. at 28-33.) That argument clearly presents a substantial case on the merits. [Bolding added.]
* The State Journal-Register doesn't want the General Assembly to take any chances. Instead, it advises, legislators should come back to town next week and immediately pass all the pieces of the capital projects bill save for one…
[T]ake video poker out of the formula and revive the $1-a-pack cigarette tax you left on the table last session. That was estimated to bring in $377 million. Communities can't opt out of that one. Nor will we need a new army of enforcement personnel to make sure the state gets its cut, as we will when video poker machines arrive in hundreds of locations.
* But that could be easier said than done…
Some freshman Republican lawmakers, including state Reps. Jason Barickman of Champaign and Adam Brown of Decatur, have already introduced legislation seeking to roll back the recent income tax increases.

Their position on tax hikes indicates that getting any "yes" votes on a re-enacted liquor tax or higher vehicle fees for the construction program would be a stretch.

"I think there will be many legislators, myself included, who will question the wisdom of these funding mechanisms as being reliable sources of revenue for the state," Barickman said.

Although he supports the construction program because of the jobs it creates, Barickman said it might be better to finance it with savings found in other parts of state government, rather than additional taxes. For example, he said overhauling the state's public employee pension systems could generate extra money for building roads and bridges.
And…
David Yepsen, director of the Paul Simon Public Policy Institute at Southern Illinois University Carbondale, noted that some Republicans who voted for the tax increases in 2009 might not be willing to do so now.

"Voters are not in any great mood to do any more tax increasing," Yepsen said.

Gross agreed that passing tax increases now would be difficult.

"I think all bets are off if this court decision is allowed to stand," [David Gross, SIU's legislative liaison] said.
Gross could very well be right.
* An understatement…
"My prediction would be that the Supreme Court will take this case. It doesn't have to. It should. I think it should hear this case expeditiously, and I think it should stay the appellate court decision pending a speedy resolution of the case because this is throwing an entire state in more chaos than we were in before," said Harold Krent, dean, IIT- Kent College of Law.
Chaos R Us.
* Related…
* Supporting record on motion for stay

* Illinois' choice: Construction jobs or steep liquor tax?

* Work Continues Despite Court Ruling

* Ruling Sends Lawmakers Back to the Drawing Board
- Posted by Rich Miller 20 Comments


* Supreme Court Justices Freeman and Burke voted with the majority, but wrote what otherwise looks like a stinging dissent. Among other things, they claimed that the Rahm Emanuel residency ruling opens up a big can of worms, including for city workers forced to reside in Chicago…
Because the court holds that residency has one settled meaning, and that meaning rests on a person's intent, today's decision will have implications for residency requirements for in-state tuition, residency requirements for municipal employees such as police officers and firefighters, residency requirements for school districts and other similar situations. This court should be prepared to address those issues as firmly and expeditiously as we have done today.
Does it? Rushed decisions in the heat of the moment can most certainly have unintended consequences. The Supremes pulled a mini Bush v. Gore at the tail end of their opinion yesterday by saying that this opinion should not be construed to have any impact on anything other than the topic at hand…
So there will be no mistake, let us be entirely clear. This court's decision is based on the following and only on the following: (1) what it means to be a resident for election purposes was clearly established long ago, and Illinois law has been consistent on the matter since at least the 19th Century; (2) the novel standard adopted by the appellate court majority is without any foundation in Illinois law; (3) the Board's factual findings were not against the manifest weight of the evidence; and (4) the Board's decision was not clearly erroneous.
Former Gov. Jim Thompson was right about the Rahm residency case this week, and he's probably right about this topic as well…
"City employees do not have a constitutional right to a city job, so the city can make reasonable rules and regulations about where their employees should live," [said Thompson].
* The two justices also complained about the tone of yesterday's ruling, the appellate dissent and resulting Chicago newspaper editorials…
The dissenting justice below accused the appellate court majority of engaging in a "pure flight of fancy"… of "conjur[ing]" its result "out of thin air"… and of having a "careless disregard for the law." The dissenting justice also stated that the result was a "figment of the majority's imagination", based on the "whims of two judges. In other words, the dissenting justice accused the majority of basing its decision on something other than the law.

When the appellate court's decision was announced, these accusations were repeatedly emphasized in the media (see, e.g., Judicial Arrogance, Chicago Tribune, Jan. 25, 2011, at 14; Rahm Ruling a Disservice to Voters, Chicago Sun-Times, Jan. 25, 2011, at 21), thereby fueling the perception that the appellate court's decision was, in fact, based on extrajudicial considerations. The tone taken by the majority today, and the refusal to acknowledge conflicting case law, unfairly perpetuates that notion.
The appellate dissent and the majority Supreme Court opinion were both, indeed, quite harsh. While unusual, it's not unprecedented. Take a look at Justice Karmeier's dissent in the medical malpractice ruling a year or two ago.
And Justice Thomas, who wrote the majority opinion, may still be enraged that his former team lost the NFC championship game last Sunday [/snark].
* But the concurring justices are a bit light on their own reasoning…
Rather, we would answer the narrow question that was actually raised by the objectors in this case: Does a person lose his permanent abode if the adobe is rented during the relevant residency period? To that question we answer "no." For that reason alone, we join in the judgment of the majority.
But why do they say "no"? No reason supplied. Weird.
* Roundup…
* 2 justices to majority: pipe down

* Court Allows Emanuel on Ballot for Chicago Mayor

* Supreme Court Rules in Favor of Emanuel

* Rahm Emanuel stays on Chicago ballot

* Rahm's Opponents Weigh in on Supreme Court Decision

* Brown: Ballot battle turned Rahm into sympathetic figure

* CST Editorial: Ruling a victory for democracy

* Tribune editorial: And now, the election
- Posted by Rich Miller 20 Comments


* My Sun-Times column…
A month after returning home to Galesburg from service in the Civil War, an attorney named Arthur Smith decided to move to Tennessee.

Smith wasn't sure if a Yankee could live down South, but he was stationed in Tennessee during the war and he liked it. Smith rented out his Galesburg house, stored some of his stuff with friends, packed up the rest and headed down the Mississippi River with his family.

Smith quickly discovered that the postwar South was just too hostile for people like him. He never bought a house there, refused to vote in a Tennessee election for fear of losing his Illinois citizenship and wouldn't even sell his Illinois law books because he figured he could very well end up moving back home.

Six months later, he did just that. As soon as the Mississippi River became navigable, Smith moved his family back to Galesburg. Less than a year later, the Illinois governor appointed him to a judgeship.

Trouble was, state law required judges to reside in Illinois for five years before their appointment, so somebody filed a lawsuit claiming Smith didn't meet the residency requirement.

Does any of this sound familiar? It should. The facts are eerily similar to the Rahm Emanuel saga. A guy rents out his house, leaves town, decides to move back home, takes a shot at political office — and somebody claims he doesn't actually reside there.

And, just like with Emanuel, a lower court ruled that Smith wasn't a resident and therefore couldn't qualify for his job. But in 1867, the Illinois Supreme Court ruled that it was clearly Smith's intent to remain an Illinoisan. He didn't sell his home, he rented it. He didn't do anything in Tennessee to disturb his Illinois residency.

It doesn't sound right to a lot of people today, and a dissenting Supreme Court justice way back then agreed, thundering that Smith moved out of Illinois and that should be all that mattered.

The "intent" standard established by the majority in that Supreme Court case has held sway ever since. Until, that is, Emanuel got booted off the ballot by the appellate court this week. The appeals court used tortuous reasoning and previous residency cases on voters — not candidates — to buttress its argument that Emanuel couldn't run.

But the Illinois Supreme Court unanimously overturned that flawed appellate court decision Thursday in a blistering opinion that blasted the appeals court judges for overturning 150 years of precedent and replacing it with a standard that the judges didn't bother to define.

The appeals court had said "reside in" means "actually live in," but the justices didn't specify how, exactly, that could be measured. Taken to a logical extreme, if congressmen or state legislators spent months living outside the district doing their jobs, does that mean they would not legally be residents of their districts? It's ridiculous, of course. Obviously, they have no intent on living in Washington, D.C., or Springfield.

Maybe a case of obvious abandonment of a residency can help clear things up.

A few years ago, former Chicago Schools CEO Paul Vallas wanted to run for office in Illinois but was told he couldn't. Unlike Judge Smith and Rahm Emanuel, Vallas sold his Chicago house when he moved to Pennsylvania. He registered to vote in Philadelphia and then he voted there. He made his intent crystal clear with those actions, so he couldn't run for office in Illinois.

Smith and Emanuel, on the other hand, had no intention of ever becoming citizens of another state, and they clearly proved it. Case closed.
If Rahm's elected mayor, he ought to name a street after Judge Smith.
- Posted by Rich Miller 30 Comments


* 4:44 pm - I'm hearing the Rahm Emanuel decision is going to be handed down any minute now.
* And, it turns out, I'm not the only one. From the Tribune…
Illinois Supreme Court officials said they will issue a ruling this afternoon on whether Rahm Emanuel can run for Chicago mayor.

The officials said the ruling could be expected at 4:45 p.m.
* 4:46 pm - Maybe not. Just talked with the Supreme Court again. Hang loose, but don't stray far.
* 4:56 pm - From the Tribune's Twitter feed…
L Supreme Court Justice Charles Freeman came out and said the Rahm Emanuel opinion would be released this afternoon.

* 5:06 pm - The Supremes have reversed the appellate court ruling. Emanuel is on the ballot. Click here to read the opinion.
* From the opinion…
Before proceeding to the merits, we wish to emphasize that, until
just a few days ago, the governing law on this question had been
settled in this State for going on 150 years. In Smith v. People ex rel.
Frisbie, 44 Ill. 16 (1867), this court was faced with a question
remarkably similar to that which is before us today. Smith, a longtime
resident of Illinois, had been appointed a circuit judge by the governor
of Illinois, and a quo warranto action was brought to remove Smith
from that office on the grounds that he had not been an Illinois
resident "for at least five years next preceding *** his appointment,"
as the Illinois Constitution then required. In support of their action,
the objectors pointed to the fact that Smith had moved with his family
to Tennessee for eight months during the relevant five-year residency
period.

In concluding that Smith's eight-month sojourn to Tennessee did
not result in an abandonment of his established Illinois residency, this
court explained that, once established, "residence is lost *** by a
union of intention and acts" and that "the intention in many cases will
be inferred from the surrounding circumstances." Smith, 44 Ill. at 24.
More…
Thus, from April 1867 through January 24 of this year, the
principles governing the question before us were settled. Things
changed, however, when the appellate court below issued its decision
and announced that it was no longer bound by any of the law cited
above, including this court's decision in Smith, but was instead free to
craft its own original standard for determining a candidate's residency.

… Thus, our review of the appellate court's
decision in this case begins not where it should, with an assessment of
whether the court accurately applied established Illinois law to the
particular facts, but with an assessment of whether the appellate court
was justified in tossing out 150 years of settled residency law in favor
of its own preferred standard. We emphatically hold that it was not.

The Smith principles control this case, plain and simple. With the
sole exception of the prescribed time period, the provision at issue in
Smith is identical to one the issue at here.
* This opinion is a true beatdown of the appellate court decision. For instance…
All of that said, and putting aside the appellate court's conclusion
that Smith is not binding in this case, the appellate court's residency
analysis remains fundamentally flawed. This is because, even under
traditional principles of statutory analysis, the inevitable conclusion is
that the residency analysis conducted by the hearing officer, the
Board, and the circuit court was proper.
Major point…
Indeed, once a person has established
residence, he or she can be physically absent from that residence for
months or even years without having abandoned it
More beatdown…
[The appellate court's] reasons for departing from over 100 years of settled
residency law are hardly compelling and deserve only brief attention.
More…
Although adopting a previously unheard-of test for
residency that would have applied to all future municipal elections, the
court made no attempt to explain what its standard means. The only
hint given by the appellate court is that, whatever its standard means,
this candidate did not satisfy it. The appellate court never explained
what it meant by "actually reside" or "actually live." Indeed, as its
discussion of section 3.1–10–5(d) reflects, the entire appellate court
opinion can be read as nothing more than an extended exercise in
question begging, in which the appellate court sets forth the question
to be answered as what it means to "reside" (No. 1–11–0033, slip op.
at 11), and concludes that it means to have "actually resided" (No.
1–11–0033, slip op. at 21).

The difficulty of applying such a standard is immediately apparent.
For instance, consider a Chicago resident who owns a second home
in Florida and typically spends a month there every winter. Where is
that person "actually living" or "actually residing" during the month
when he or she is at the second home? Is such a person ineligible for
municipal office unless he or she sleeps at the Chicago house every
night for the year preceding the election? Is there a time limit with this
test? Would a week at the second home be short enough but two
months be too long? What about a Chicago resident whose job
requires him to spend extended periods of time out of the country
every year? Where is such a person "actually living" or "actually
residing" when out of the country? Assuming without deciding that
the appellate court was correct that the government service exception
does not apply to candidates, consider the example of Representatives
in Congress who often spend 4-5 days a week in Washington. If a
Representative from a Chicago congressional district owns a
condominium in Washington, where is that representative "actually
living" or "actually residing" when Congress is in session? Under the
majority's test, would the candidate have been ineligible to run for
mayor even during the time he was serving in Congress? The same
confusion would arise with respect to State Representatives or State
Senators who must spend considerable amounts of time in Springfield.
* Emanuel's intent…
This is a situation in which, not only did the candidate testify that
his intent was not to abandon his Chicago residence, his acts fully
support and confirm that intent. […]

The objectors claim that, once a person rents out a residence, he
or she has abandoned it as a matter of law. This is obviously incorrect,
as it is directly contrary to Smith. Indeed, Smith makes clear that
rental is merely one factor to consider in determining abandonment
(Smith, 44 Ill. at 24), and the terms of the rental and the circumstances
surrounding it must be considered.
* Conclusion…
So there will be no mistake, let us be entirely clear. This court's
decision is based on the following and only on the following: (1) what
it means to be a resident for election purposes was clearly established
long ago, and Illinois law has been consistent on the matter since at
least the 19th Century; (2) the novel standard adopted by the appellate
court majority is without any foundation in Illinois law; (3) the
Board's factual findings were not against the manifest weight of the
evidence; and (4) the Board's decision was not clearly erroneous. [Bolding added]
* There were no dissents. Two justices (Freeman and Burke) concurred in the result but not the reasoning.
- Posted by Rich Miller 141 Comments


* As you might expect, this is very bad news for Illinois' credit rating, at least with Moody's…
Moody's Investors Service has begun to recalculate the states' debt burdens in a way that includes unfunded pensions, something states and others have ardently resisted until now.

States do not now show their pension obligations — funded or not — on their audited financial statements. The board that issues accounting rules does not require them to. And while it has been working on possible changes to the pension accounting rules, investors have grown increasingly nervous about municipal bonds.

Moody's new approach may now turn the tide in favor of more disclosure. The ratings agency said that in the future, it will add states' unfunded pension obligations together with the value of their bonds, and consider the totals when rating their credit. The new approach will be more comparable to how the agency rates corporate debt and sovereign debt. Moody's did not indicate whether states' credit ratings may rise or fall. […]

In the past, Moody's looked at a state's level of bonded debt alone when assessing its creditworthiness. Pensions were considered "soft debt" and were considered separately from the bonds, using a different method.

"A more standard analysis would view both of these as liabilities that need to be paid and put stress on your operating budgets," said Robert Kurtter, managing director for public finance at Moody's.
* From the accompanying graphic…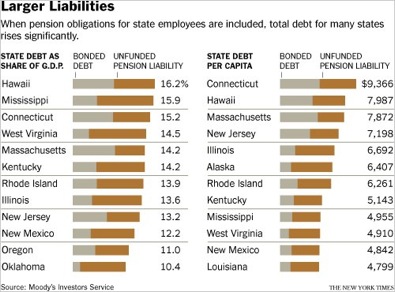 * From Moody's…
Moody's presentation of combined debt and pension figures as part of a more integrated view of states' total obligations follows a period of rapid growth in unfunded pension liabilities.

"Pension underfunding has been driven by weaker-than-expected investment results, previous benefit enhancements, and, in some states, failure to pay the annual required contribution to the pension fund," says Hampton. "Demographic factors — including the retirement of Baby Boom-generation state employees and beneficiaries' increasing life expectancy — are also adding to liabilities."

Moody's says that the evaluation of current and projected pension liabilities is an important area of focus in its rating reviews. For some states, such as Illinois, which is rated A1 and has a negative outlook, large and growing debt and pension burdens have already contributed to rating changes.
As I've said before, when New York says "Jump!" Illinois, with its huge bonded indebtedness, has no choice but to ask "How high?" If I had to bet, it would say we'll see more pension reform stuff soon, including forcing government employees to pay lots more into the system.
- Posted by Rich Miller 74 Comments


* This Politico article pretty much sums up how disgusted I am with DC politics…
Sen. Mark Kirk (R-Ill.) had been a member of the "most exclusive club" for about two weeks when he pulled the equivalent of spiking a football on the decorous Senate floor, reveling in the GOP's defeat of a catch-all $1.1 trillion spending bill riddled with earmarks.

"As the most junior people, for those who don't understand what just happened, did we just win?" Kirk inquired, feigning ignorance for dramatic effect, at the end of one of the Senate's final debates in December. […]

"I think his whole demeanor wasn't that appropriate," Sen. Mark Begich (D-Alaska) told POLITICO after chiding Kirk on the Senate floor. "I saw what he said, and I thought, 'I'm going to say something.' And I thought that that was the politics that people are fed up with. So he has to be very careful."

Among Republicans who privately complained about the episode, one called it "amateurish."
Yeah, lock him up and throw away the key.
What a freaking crock.
I'd like to send them Rickey Hendon for a few days. His electric blue suit with matching shoes and attitude might finally shake that place up a bit.
There was a time in the French royal court when one had to speak in rhyme to be respected. DC is pretty much the same way. They have their own little world out there and it makes little real sense to anyone outside of it.
…Adding… Hilariously enough, somebody in Illinois actually fell for this contrived silliness…
Remember the scene from Animal House, in which Otter is trying to persuade the Deltas to pledge the sad-sack Flounder?

When Otter was a freshman, he says, "I myself was so obnoxious the seniors beat me up once a week."

That's the kind of start Mark Kirk is getting off to in the U.S. Senate. Here in Illinois, we've always known he was a self-aggrandizing pipsqueak — remember those triumphant little hops every time he scored a point in a debate against Alexi Giannoulias? Now, his new co-workers are finding out, too.
* His "inappropriate" behavior didn't hurt Kirk with his committee assignments. The freshman just snagged seats on Appropriations; Banking, Housing and Urban Affairs; Health, Education, Labor, & Pensions; and the Special Committee on Aging. Not bad at all.
- Posted by Rich Miller 34 Comments


* We received a phone call this week from a car salesman in Libertyville. Apparently, somebody had applied for a car loan on the Internet in my wife's name. The loan was never approved, but the salesman said he knew who the culprit was. However, the salesman adamantly refused to tell us the dastardly fool's name over the phone, because of various privacy laws.
Needless to say, this greatly puzzled me. They know who a criminal is, but they won't give us the name? And they didn't report him to the coppers? What the heck?
So, I called the attorney general's office. To my amazement, there is no law requiring merchants to report even blatantly obvious attempts at identity theft. The car dealer was also within his rights not to release any information over the phone, according to the AG's office. Lisa Madigan's office tried to be helpful, sending us two several-page forms to fill out which they would then mail to the car dealer and he would then mail them the details, which they'd then forward to us. My wife decided that she'd just make the long trek from Springfield to Libertyville herself today and get the information. Whether the cops or anyone else will do something about it is another matter entirely.
* The Question: Have you or a close loved one ever been the victim of identity theft? If so, did you find existing laws adequate? Explain.
- Posted by Rich Miller 39 Comments


* I'm almost speechless…
There was one fellow who would have defeated Daley in a one-on-one race, reform Ald. Scott Waguespack, 32nd. Waguespack terrified City Hall by actually speaking up against the cost of corruption. He began criticizing that terrible parking meter deal. He promised that if elected mayor, he'd hire IRS agents to conduct forensic audits of every department going back 20 years.

Almost immediately, Daley stepped down. Then the usual suspects — those who'd never dare challenge the mayor — crawled out of the bush and made like change agents. In such a crowded field, poor Waguespack was forced to withdraw.
OK, if Waguespack was such a great candidate, wouldn't he have stood out in this big crowd? After all, he had an enormous campaign bank account balance of $33,260.63 at the end of last year. Surely, those billions would've allowed him to stomp Daley as well as dominate the big field.
Also, do you have any idea how long a 20-year forensic audit would take? Probably 20 years [/snark]. Daley's cronies would've all passed away to that great patronage hiring hall in the sky by then.
* Let us now turn to analysis based on something resembling the real world…
The [appellate] court concluded that the words "resided in" in one election law mean something entirely different from the same words in a second election law. It did so even though neither the second law nor the Illinois Supreme Court has defined them differently.

The Supreme Court has for decades defined "residency"… to mean the place where you intend to make your permanent abode. If you leave your home for a temporary work assignment intending to return to your home, your residency does not change. The court has not interpreted the word to mean where you "live" or sleep each night. Emanuel obviously lived in Washington while serving as President Barack Obama's chief of staff, but clearly he intended to return to his Chicago home. […]

Two Appellate Court judges agreed that Emanuel is a "resident" of Chicago under this definition, as he had not abandoned his permanent home and intended to return to it. The court therefore held — under the first law — that he can vote in the mayoral election.

But when the court returned to the very same words in the second law (a related law regarding candidates), it decided that "resided in" could mean something different because the laws were separate. And it decided that in this second law, the Legislature had used the word "reside" to mean two different things within the same sentence — and that one of those meanings equated "reside" with "live." [Emphasis added.]
That appellate ruling is a total mess. Subscribers know more, but that was a pretty good look by David Hoffman.
* More on the case from the AP…
Experts say a court never has ignored a candidate's intent.

"We've all been working under this absolute presumption based on cases of the last 50 years that intent was really the key," Dorf said. "But the appellate court got rid of intent."

Edward Foley, a law professor at Ohio State University who heads the school's election law program, said the court's decision to disregard intent was striking.

"There is a general theme in election law that when in doubt, you err on the side of democracy," he said. "If there is any doubt about the understanding of the statute, you interpret it so that you let the voters decide."
*** UPDATE *** From an op-ed written by Jim Thompson, Ty Fahner, Jim Ryan and Dan Webb…
Adlai Stevenson II was absent from Illinois for much of 1945-48, while serving as an American delegate to the United Nations in London and New York. Then, in 1948, he was elected governor — despite the Illinois Constitution's requirement that a candidate for governor must have been "a resident of this State for the three years preceding his election."
* Related…
* Will Emanuel ruling escape political taint?: Joseph Tybor, spokesman for the Supreme Court, said it would be unfair to imply the high court is tainted by politics simply because the constitution requires they be elected. "I challenge you to find one case, or two cases, in which a judicial decision was made because of improper political influence," he said.

* Chico Says He'll Hire 2,000 More Police Officers

* Quigley to Endorse Emanuel for Mayor

* Braun Looks Out of State For Campaign Cash

* Patricia Van Pelt Watkins' Gritty and Inspiring Life Story: I think [Carol Moseley Braun has been] missing in action. I didn't even know she still lived in Chicago. All the challenges we face in this city, and we haven't heard anything from her.

* Biggest donor in mayor's race explains the gift
- Posted by Rich Miller 72 Comments


* From a Daily Herald editorial…
Illinois remains 48th in job creation while it wallows in a $13 billion deficit.
OK, first of all, that $13 billion figure is outdated because of the income tax increase. I wish people would stop using it. But facts always get in the way of long-established memes when you're dealing with the mainstream media.
Second, I keep seeing this "48th in job creation" stat without a citation. Here are the actual numbers from the federal government of net jobs created between December, 2009 and December, 2010…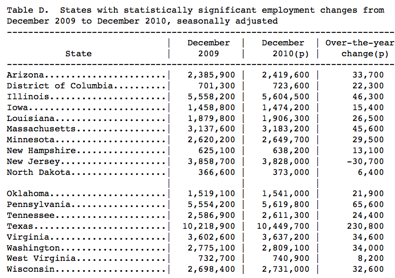 According to this federal list, Illinois is third best overall with 46,300. What's the worst? New Jersey, which lost 30,700 jobs.
* Speaking of New Jersey, Gov. Chris Christie was on Larry Kudlow's CNBC program yesterday and took more shots at Gov. Pat Quinn…
"And so between me and Governor Quinn in Illinois, here's the very simple difference: He's raising taxes, I'm cutting them. And the promise I made to the business owners in Illinois is come to New Jersey, and for as long as I'm governor we're not going to raise your taxes. If you stay in Illinois, you know for a certainty that Pat Quinn's going to raise your taxes. Because what he's done is made his bed with the public sector unions during the election campaign."
Gov. Christie already did raise taxes. By getting rid of the state's property tax rebate program, property taxes jumped almost 30 percent. And that doesn't count the actual property tax increases to cover state cuts to education and local governments.
* Illinois Statehouse News has an excellent article knocking down all that silly national talk about allowing states to declare bankruptcy…
In several reports by national media, Illinois has been used as an example of a state that could use a bankruptcy option because of its billions-dollar deficit.

But there are constitutional hurdles that would be hard to overcome, according to Douglas Baird, a law professor at the University of Illinois at Chicago.

"A state may contract debt but, typically speaking, you can't go to an Illinois court and sue the state of Illinois to collect the debt and you can't go to federal court to sue a state and collect the debt because states have what's called sovereign immunity," Baird said.

Bankruptcy affords individuals and businesses a way to get out from under the debt they owe and, in some cases, reorganize that debt to remain in business. States don't need that option because of sovereign immunity, Baird said.

"If you're immune from suit, then you don't need bankruptcy because your creditors can jump up and down but they're not going to be able to do anything because they can't seize your assets or do stuff like that anyway," he said.

This immunity makes bankruptcy for states unnecessary, according to opponents of the plan.
Exactly. Move along.
* Meanwhile, the Chicago Tribune engaged in more than a little revisionist history…
Last March 24, the pols who run Illinois nearly ruptured multiple vertebrae by slapping themselves so enthusiastically on the back.

In one day they had rammed through the Illinois General Assembly a bill establishing scaled-down pension benefits for public employees — but only those hired in 2011 and later. This was the so-called major pension reform that had Gov. Pat Quinn and his budget director, David Vaught, bragging that they had saved taxpayers $200 billion over nearly 35 years. Why, they even estimated that Illinois could reduce $300 million to $1 billion from the state's required pension contribution in the fiscal year that began July 1. House Speaker Michael Madigan and Senate President John Cullerton were thrilled too. Pension mess? Solved! Slap, slap.
Talk about hyperbole. Sheesh. Here's what Illinois Chamber President Doug Whitley said as the pension reform bill was working its way through committee…
If you can't watch the video, Whitley called the pension reform legislation "the biggest thing that I've seen around here in years."
* All that being said, there's very little good news out there right now…
Nearly 1,100 people turned out to apply for the 50 full-time jobs available at a Joliet distribution center.

The jobs with Central Grocers drew long lines of applicants interested in the positions, which are union jobs and pay benefits.
And…
The foreclosure crisis is getting worse as high unemployment and lackluster job prospects force homeowners in an increasing number of U.S. metropolitan areas into dire financial straits. […]

In the Chicago-Naperville-Joliet metropolitan area, foreclosure activity rose 16 percent, while home repossessions climbed nearly 20 percent, RealtyTrac said.
And…
Robertson was the lead author of a study published by Northwestern University Feinberg School of Medicine that found that doctors who study in Illinois are fleeing the state in droves. Robertson is chairman of the Department of Family and Community Medicine at Northwestern. […]

The study surveyed Illinois' graduating residents and fellows, and sampled about 561 respondents, of a 1,738 total population size.

The primary reason for the exodus was overall practice opportunities; however, the medical malpractice liability environment was a major consideration, the study stated.

Sixty-seven percent of the study's participants cited the medical malpractice liability environment in Illinois as a reason for leaving the state. There are no caps to the amount of money for which a physician can be sued, Robertson said.
* Related…
* Edgar: State needed a tax hike: Saying that Democrats have likely "used up all of their courage," Edgar, who was governor from 1990 to 1998, said more efforts to cut spending and put the state on a "fiscal diet" will have to come from both sides of the aisle, along with cooperation from the governor's office.

* State lawmakers grilled over income tax in Kane County: "You guys are one of hundreds of organizations that are screaming that we haven't paid you," said Chapa LaVia, of Aurora. "You're just as important as our kids … as our veterans … just as important as all our vendors who haven't gotten paid."

* Some in Illinois GOP Want to Link Work Comp Reform, State Borrowing

* New-home sales in 2010 fall to lowest in 47 years: For December, sales rose in all parts of the country except the Northeast, which saw a 5 percent decline. Sales surged 71.9 percent in the West and were up 3.2 percent in the Midwest and 1.8 percent in the South.

* What happens at Mitsubishi has wide impact

* DuPage's no-bid emergency radio contract with Motorola is in shambles

* IDOT top staffer canned; No. 2 director may retire
- Posted by Rich Miller 32 Comments


* Blackhawks owner Rocky Wirtz filed the lawsuit which resulted in the capital bill's demise yesterday at he hands of the appellate court. At least one union is now talking boycott…
Blackhawks owner Rocky Wirtz might face a backlash now that the lawsuit he filed has indirectly put tens of thousands of construction jobs in jeopardy. […]

The lawsuit that led to Wednesday's ruling was filed by Wirtz, whose family owns the Chicago Blackhawks. The foundation of their financial fortune is Wirtz Beverage Illinois, a distributor of alcoholic beverages. Used to getting their way in Springfield, the Wirtz family was infuriated when the legislature ignored their objections to the liquor tax.

Chicago labor leaders were not happy about the construction jobs that will vanish if the capital projects don't go through. Jim Sweeney, President of Local 150 International Union of Operating Engineers, said his members might boycott Wirtz family businesses including the Blackhawks.
First of all, there was nothing "indirect" about it. That lawsuit led directly to the current calamity. Also, secondary union boycotts are illegal, although this might not be viewed as such.
* Meanwhile, the Tribune triumphantly gloated…
Lawmakers are, of course, free to disassemble their Frankenbill and pass the measures separately, as they should have done in the first place. Good luck with that. In the year and a half since they pulled this stunt, we've had the sort of public airing we didn't get in the beginning, and it's clear Illinois residents don't want those new bridges and buildings badly enough to welcome video poker to their neighborhoods.

More than 70 communities already have voted not to allow the machines. All four major candidates for mayor of Chicago want to leave the city's ban on video gambling in place. We've elected some new lawmakers, and set old and new on notice: This doesn't fly. Wednesday's ruling should be the end of it.
* As I explained to subscribers this morning, it won't be easy passing another funding bill. The Sun-Times has more on that…
If Wednesday's decision is not overturned, Gov. Quinn will face an unexpectedly difficult and financially uncertain spring legislative session that many observers had expected to be relatively tame. Now, after passage of the politically unpopular income-tax hike, he could be faced with scaling back the construction plan or persuading re-enactment of the stricken tax and fee increases, borrowing and video poker that has been rejected by dozens of communities.

"For those who supported this most recent tax increase and then went home and heard from their constituents, what will your reaction be to another vote on fee and tax increases, which were part of the original capital proposal?" said Sen. Matt Murphy (R-Palatine), who said it is not a certainty that Republicans in a new Legislature will agree to the same framework as before on a construction package. "We're in a different time."

The prospect of having to go back to the Legislature and win backing again for billions of dollars in construction borrowing is further complicated by Gov. Quinn's push for a separate $8.75 billion borrowing package he had intended to seek this spring to whittle down the state's backlog of unpaid bills.

"You'd like to think at a certain point we'd collectively achieve borrowing fatigue. I know I'm there personally," Murphy said. "This is just a sticky wicket."
* But not all Republicans are so pessimistic…
State Rep. Dan Brady, R-Bloomington, said he was disappointed with the court's ruling on a measure he called a "jobs bill."

"When you now say that the funding in the legislation itself is unconstitutional, you put a choke hold on those jobs and the state and the economy," Brady said. "This whole jobs bill … was directed to stimulate the economic engine of the state of Illinois and put people back to work in this high unemployment time."
* Locals reacted in horror…
"Regardless of my feelings on what the Legislature did to fund the capital bill, what's concerning is that we haven't had one in such a long time. The infrastructure in our state is terrible. My immediate concern is that it's addressed," said Peoria Mayor Jim Ardis.

"My initial concern would be the impact that this ruling would have on all the capital projects that have been identified and planned and, most notably, with the Peoria Riverfront Museum," said Peoria County Administrator Patrick Urich. "The state has identified $5 million for part of this project and I'm concerned what's going to happen with that." […]

District 150 Treasurer Dave Kinney said he hoped the ruling would not have any effect on the money expected to go to the school district.

If it does, though, "I would think that our first step would be to meet with the PBC and architects involved … and put a temporary halt to the projects until we can sort out what the priorities would be," Kinney said. "We were anticipating bids to go out on both projects in April or May, so right now there isn't an obligation to one project or the other from the standpoint of having hired contractors. Hopefully, since we have been on a (Capital Development Board) list for quite some time, there will be minimal impact. Obviously, we will need to find out as soon as possible what that link might be."
* Except for video poker, most people have forgotten what was used to fund the capital program. The SJ-R has a handy list…
* Legalizing video poker in places like bars and social clubs, raising an estimated $375 million.

* Turning over day-to-day management of the lottery to a private firm and allowing the sale of lottery tickets online, $150 million.

* Increasing the tax on alcohol, $114 million.

* Extending the sales tax to previously exempt items such as candy, non-carbonated beverages, and health and beauty products, $150 million.

* Increasing vehicle fees, $331 million. Vehicle registration and driver's license fees increased $20. Titles and commercial licenses went up by $30.
* And the Sun-Times has the list of what's been borrowed and spent…
How much has already been borrowed: $2.2 billion

How much has already been collected: $425 million
* Related…
* Daily Herald: Liquor tax hike, video gambling struck down

* Court puts massive construction program in limbo

* Court ruling derails Stevens Building plans - Ruling also imperils other capital funding

* Video gaming, tax hike ruling raises questions about Route 59 project

* A new round for racetrack site - Wirtz Beverage to build liquor distribution center at former Sportsman's Park in Cicero

* Chicago wins court appeal
over O'Hare Airport expansion

* High court ducks battle between O'Hare, cemetery

* Attorney general sides with Quinn on appointments dispute

* Attorney General: Pay Quinn's appointees
- Posted by Rich Miller 83 Comments