* Press release…
After productive conversations, Gov. Pritzker, the Illinois Education Association, the Illinois Federation of Teachers and other stakeholders announced that they have negotiated a compromise that will keep students and teachers safely in the classroom without penalizing vaccinated employees for taking COVID-required sick time.

"Vaccines are a vital tool in preventing the deadly effects of COVID-19, and those who take the steps to be fully vaccinated against this virus are doing their part to keep everyone safe," said Governor JB Pritzker. "They deserve to be able to take the time they need to respond to the ongoing devastating impacts the COVID-19 pandemic continues to have on them and their families. This collaborative initiative will provide paid administrative leave for education employees who, despite doing all they can to keep themselves and their communities safe, continue to have their lives and livelihoods disrupted by COVID-19."

"Keeping schools open and those inside them – and their families – safe has been our number one priority from the start of the pandemic," said Kathi Griffin, President of the Illinois Education Association. "We want people to stay home when they're sick, to be able to care for their children when their children need them the most, and to be paid when the circumstances that close their buildings are completely beyond their control. This bill protects school and university employees and all those they teach, drive to and from school, feed and care for in so many ways. Health care professionals and scientists have given us a path out of this pandemic and we should follow it."

"The pandemic has been physically, emotionally, and economically challenging for us all, and certainly no less so for educators, school staff, and their families," said Illinois Federation of Teachers President Dan Montgomery. "This legislation provides important relief and ensures that education personnel can afford to take time off if they or they families become ill with COVID.

"We applaud Governor Pritzker for his steady support of science and good public health and thank him for working with us to provide teachers, school staff and higher education professionals with critical resources that will help them keep kids safe and schools open," added Montgomery.

This joint initiative provides the following protections for educators, school employees, and their families:

• Paid administrative leave for every employee of a public school district established under Article 10 or Article 34 of the School Code, public university, and public community college who is

o fully vaccinated or has received the required doses to become fully vaccinated within five weeks of the effective date of the Act and who
o is required, or whose child is required, to be excluded from school because of a positive COVID-19 test result or close contact with a person who had a confirmed case of COVID-19.
o has been required by the school or school district policy to be excluded from school district property due to COVID-19 symptoms.

• Restoration of sick leave for every employee of a public school district, public university, and public community college who

o is fully vaccinated or has received the required doses to become fully vaccinated within five weeks of the effective date of the Act, and
o who has previously used their sick time because they or their child were required to be excluded from school because of a positive COVID-19 test result or close contact with a person who had a confirmed case of COVID-19
o has been required by the school or school district policy to be excluded from school district property due to COVID-19 symptoms.

• Maintains wage protections in HB 2778 for all hourly school employees, including but not limited to, custodial, transportation, food service providers, classroom assistants, or administrative staff. This protection applies for the entire 2021-22 school year, including any days that a school has already closed or switched to e-learning which caused the paraprofessional to go without pay or take their own earned paid time off.

As a result of this collaboration, the Governor is vetoing House Bill 2778.
"Fully vaccinated" at the moment means two shots (or one J&J). If the CDC says a booster is required, the state requirement will change for future benefits.
* Excerpt from the FAQ…
What if I have a religious or medical exemption from my district?

The bill does not impact any federal protections regarding religious or medical exemptions from vaccination requirements. Those employees who were granted a medical or religious exemption from vaccination by their employer pursuant to federal law are eligible for this benefit.

What does this mean for teachers who aren't vaccinated and do not have a recognized medical or religious exemption from their employer, but who are tested every week?

They will not receive any additional leave beyond what they receive in their contract.

Why are only vaccinated teachers eligible for these benefits?

Vaccines prevent serious illness, hospitalization and death, and decrease the chances of an employee spreading the virus which is in furtherance of public health and means that schools will be able to operate more consistently over time, with fewer staff in need of sick time. Vaccinations are widely available through many publicly available sources.

What wage protection is provided under this Act?

If a school district temporarily closes because of COVID-19 or switches to e-learning, paraprofessionals and school related personnel must continue to be paid even if they cannot perform their regular scheduled duties. For instance, if you are a 180-day paraprofessional and your district goes remote for 10 days, this Act requires you to be paid for those days even if you were not required to work those days. This protection applies for the entire 2021-22 school year, including any days that a school has already closed or switched to e-learning which caused the paraprofessional to go without pay or take their own earned paid time off.

Will you apply this sick leave policy to preschool teachers and day care staff?

The COVID-19 paid sick leave policy in this bill only applies to employees of public school districts, public universities, and public community colleges.
- Posted by Rich Miller 7 Comments


* Rep. Kelly Cassidy touts a few of her new bills to constituents…
HB4164: Allows that a member of the General Assembly may visit the institutions, facilities, and programs of the Department of Corrections, upon request of the member, for the purpose of inquiring into the affairs and conditions of the Department. Currently, the law only allows this access to the Governor, and legislators must seek permission to visit which doesn't allow for effective oversight.

HB4671: Will prevent juveniles under the supervision of the Department of Juvenile Justice from being sent to the Illinois Department of Juvenile Justice due to failing rehabilitation treatment. It takes many people multiple attempts to get clean and address their sobriety issues. Finding a way to offer an alternative to jail for minors with solely drug offenses will help solve the underlying issue. Jail is not a forever solution and can just cause more strain on our systems while creating potential future offenders who could have turned their life around if given appropriate responses to treatment challenges

HB3659: Our Mandatory Supervised Release system is often a series of tripwires leading to reincarceration without much meaningful programming to assist with re-entry. To better focus the limited services available, this bill proposes removing mandatory supervised release as a condition of release for Class 4 felonies (the lowest level felony), allowing prioritization of services for higher need offenders.
* Center Square…
As Illinois law stands today, parents can be charged with neglect if they leave children under the age of 14 home alone – even for a short time. The law is rarely enforced.

State Rep. Sue Scherer, D-Decatur, told The Center Square that people want the law changed.

"I have lots of constituents who have reached out to me about this," Scherer said. "It's causing a lot of hardship on our working families."

She filed legislation in House Bill 4305 that will lower the home alone age in Illinois to 12.
* WICS…
A new bill is looking to raise the legal age to get married in Illinois.

Soon, people under the age of 18 may not be able to walk down the aisle in the Land of Lincoln.

Age 16 is currently the youngest age you can tie the knot in Illinois, but you have to have parental consent.

Lawmakers say this is dangerous because as long as a parent signs off, the son or daughter can't object to that union.
The bill is HB4704.
…Adding… Rep. Barbara Hernandez is also working on a child marriage bill. HB4588.
* Press release…
State Rep. Terra Costa Howard, D-Glen Ellyn, today introduced HB4699, which will make it possible for a person who wants to relinquish a newborn baby to call 911 and ask for a first responder to take the infant to safety, with no questions asked.

The new bill would amend Illinois' Abandoned Newborn Infant Protection Act, which allows an unharmed newborn, up to 30 days old, to be handed over to staff at a hospital, emergency medical care facility, police station, firehouse, college/university police station, or Illinois State Police district headquarters, without fear of prosecution.

"When a baby is born in desperate circumstances, we need to do everything we can to make it possible for a new mother to relinquish that infant safely, legally, and responsibly," Costa Howard said. "Just a few weeks ago, an infant died of exposure after being left outside an unstaffed firehouse in Chicago. With this bill, we can prevent that kind of tragic loss by making it possible to call a first responder to come in and take the baby to safety."

Under the bill, a 911 dispatcher could send a law enforcement officer, firefighter, or emergency medical technician to respond to a call from a parent who is unable or unwilling to travel to a firehouse or other designated location to relinquish an infant.

"Since the Safe Haven law went into effect in 2001, 148 babies have been relinquished safely," said Dawn Geras, one of the founders of the Chicago-based Save Abandoned Babies Foundation. "Sadly, there have been 90 illegal abandonments since then, and more than half of those infants died. We hope this new law will help to prevent any more needless infant deaths."

Costa Howard said she hopes this bill will bring more public attention to the Abandoned Newborn Infant Protection Act. "We need to make sure that people know this law saves infants' lives and also protects parents from potential criminal charges," Costa Howard said. "Together, we can find safe new homes for these babies and bring new help to people in crisis.
* Press release…
State Rep. Maurice West, D-Rockford, introduced a bill earlier this month requiring Illinois schools to teach Native American curriculum beginning in the 2023 – 2024 school year. The bill aims to require the teaching of Native American curriculum in order to inspire students to respect the dignity of all races and peoples and to forever abandon discrimination.

"This legislation will ensure that our students learn about the Native American experience and contributions to the development of our country," said West.

The legislation takes steps to guarantee that curriculum developed by the Illinois State Board of Education (ISBE) will be informed by federally recognized Native American tribes and individuals, especially those with ties to Illinois and the Midwest. The curriculum developed by ISBE will be implemented by school districts and will be monitored by the regional superintendent of schools for compliance.

"This legislation is a first step towards ensuring we are teaching our children how to properly respect the heritage and culture of Native Americans," West added.

House Bill 4548 was filed on January 13th and is currently awaiting assignment to a committee.
- Posted by Rich Miller 7 Comments


* IDPH is reporting 5,238 covid hospitalizations as of midnight. That's down 29 percent from January's peak of 7,380 set on the 12th. That gives us a seven-day rolling average daily decrease of 3.11 percent, which is significantly improved from Friday's average daily decrease of 2.04 percent.
ICU usage also continues its decline. The seven-day rolling average daily ICU decrease is 2.74 percent. ICU bed usage is down 23 percent since its peak on the 12th.
* Daily Herald…
The St. Charles Public Library will remain closed for in-person visits following a near altercation between patrons Thursday afternoon as well as phone calls threatening staff and patrons over the library's mask policy.

"Our number one goal is the safety of our patrons and our employees," library board President Robert Gephart said during a virtual board meeting Saturday. "Late Thursday afternoon, we narrowly avoided a patron-on-patron altercation. Afterward, the library started receiving phone calls threatening the health and safety of our staff and patrons. Looking at social media amplified our level of concern. At that time, with the cooperation of the St. Charles Police Department, it was determined that it was in the best interest of public safety to close the library."
* Daily Herald…
The DuPage Children's Museum's COVID mitigation policy for children drew scores of protesters to its Naperville address Saturday.

Protesters, including parents with young children, lined the sidewalk in front of the museum at 301 N. Washington St., many holding signs calling for allowing children to "play." […]

"A significant number of our guests are under age 5 and not yet eligible to be vaccinated. CDC (Centers for Disease Control and Prevention) recommends that the best way to protect these young children is to ensure all eligible people around them are vaccinated." [the museum's statement read]

The museum anticipates ending the policy when hospitalizations and infections dip below Illinois threshold metrics.
* Tribune…
More than 250 demonstrators sent a message Sunday in Port Clinton Square in downtown Highland Park saying people should be free to choose whether to be vaccinated against COVID-19 or wear masks as a preventive measure. […]

People opposed to the Highland Park mandate were carrying signs saying "My body, my choice," and "Passports for travel and not for tacos." Another sign compared Dr. Anthony Fauci to Josef Mengele, the Auschwitz concentration camp doctor.

Rachael Wachstein of Highland Park, who helped organize the counterprotest, said Illinois Against Tyranny has presented ideas at rallies in Arlington Heights and other suburbs comparing mask and vaccination mandates to policies in Nazi Germany.

"When you do that you trivialize the Holocaust and the millions who were murdered," Wachstein said. "Believing that is disrespecting the 6 million who were killed and that is a form of antisemitism."
* Crazies gonna crazy, but that Holocaust comparison is so awful and disgusting…
Exploiting of the tragedy of people who suffered, were humiliated, tortured & murdered by the totalitarian regime of Nazi Germany - including children like Anne Frank - in a debate about vaccines & limitations during global pandemic is a sad symptom of moral & intellectual decay.

— Auschwitz Memorial (@AuschwitzMuseum) January 23, 2022
*** UPDATE *** Statement from Chris Kennedy on his brother's statements about the Holocaust…
The use of this analogy diminishes the horror of the Nazi regime, the Holocaust of the Jews, and the loss of more than 400,000 American men and women who served our country, millions of allied troops, and two of our own uncles.

America fought a justifiable war against the Nazis. To make a comparison between the Nazis and our government is to suggest that there is a justifiable war against the government of the United States, and there is no place for such a call to political violence in our democracy.

Nazis perfected the use of fake science and real lies to commit atrocities — those same elements that are being used to stop people from getting vaccinated. It was wrong then, and it is wrong now.

I love my brother but could not disagree with him more. He is wrong about vaccines and even more wrong to make such an analogy. I hope he withdraws it.
* More…
- Posted by Rich Miller 19 Comments


* Posted in the order they were received. ILGOP…
Day 4 of Pritzker Silence on secret Madigan spending
Pritzker previously gave $10 million to Madigan funds, said he was "grateful" for Madigan

The Better Government Association Friday revealed a massive investigation into millions of dollars of infrastructure projects requested by Mike Madigan that were approved and coordinated by Governor JB Pritzker and his key budget staff.

——— BGA REPORT ———-

It took the intervention of the Weglarz brothers' longtime property tax lawyer — then House Speaker Michael J. Madigan — to find a solution. Now Illinois taxpayers are footing the $98 million bill for what would undoubtedly be one of the most expensive brake jobs in history.

….

In addition to the $98 million brake job, Madigan delivered another $31 million for a charter school that provided the BGA records detailing only $1.5 million in requests to lawmakers, $9 million for a Chicago high school even though nobody from the Chicago Public Schools sought it and another $6 million for a suburban airport control tower a Madigan political ally wanted for years.
…

A BGA examination of public records found at least $144 million went to just four projects backed by Madigan, the longest-serving house speaker in U.S. history. Each of those projects benefitted those to whom the former speaker has personal, professional or political ties.

In addition to the $98 million brake job, Madigan delivered another $31 million for a charter school that provided the BGA records detailing only $1.5 million in requests to lawmakers, $9 million for a Chicago high school even though nobody from the Chicago Public Schools sought it and another $6 million for a suburban airport control tower a Madigan political ally wanted for years.

….

"I also confirmed that Speaker Madigan has submitted the request to the Governor's office," she wrote to Bria Scudder, one of Pritzker's top deputies. Emails show Scudder quickly forwarded the message to the director of the Governor's Office of Management and Budget, which plays a critical role in releasing state grant funds.

————————-

The Illinois Republican Party calls on JB Pritzker to end his silence on his Madigan corruption.

Will Pritzker release all communications between the Office of the Speaker of the House and the Governor's office, the Governor's Office of Management and Budget, and/or the Illinois Department of Transportation?

Will Pritzker release all communications between the Governor's Office and both the Governor's Office of Management and Budget and the Department of Transportation regarding Rebuild Illinois projects?

Will Pritzker release the full Madigan project list?
* DPI…
Griffin's Rauner Reboot Slate Continues to Hide From Reporters, Voters

Today, we hit the one-week mark since the announcement that Richard Irvin is running for governor, the centerpiece of Ken Griffin's Rauner Reboot slate. Since Irvin's announcement, he has met with a grand total of zero reporters, taken zero questions, and held zero campaign events with voters. In fact, none of the Rauner Reboot candidates have done a single interview since announcing their respective campaigns. Let's take a look at the stats:

• John Milhiser: 20 days silent
• Tom Demmer: 13 days silent
• Shannon Teresi: 12 days silent
• Steve Kim: 11 days silent
• Richard Irvin and Avery Bourne: 7 days silent

Why are the Rauner Reboot candidates so shy? When will any of them take questions from the press? How many conversations have they had with Ken Griffin, Bruce Rauner, or Rauner's campaign team while they hide from voters? How long are they going to play this game of hide-and-seek?

While the Rauner Reboot slate talks a big game on transparency and accountability, their campaigns have been anything but. Here's the most basic question of all: why are they hiding?
…Adding… ILGOP…
When will @JBPritzker break his silence? #twill pic.twitter.com/f1nyR4f2Sx

— IL Republican Party (@ILGOP) January 24, 2022
* DGA…
ICYMI: DGA Launches Accountability Clock Counting Up the Days Radio Silent Richard Irvin Has Avoided Talking to the Press

Richard Irvin has been dodging interviews since entering the Illinois GOP primary for governor a week ago — and now a new website is counting up the days Irvin's remained radio silent.

The DGA launched GriffinSlate.com last Friday. View the site here.

Billionaire Ken Griffin is hand-selecting a slate of candidates to drag Illinois back to the days of Bruce Rauner — and Irvin is likely to top the list. Despite being the face of the Rauner reboot campaign, Irvin has yet to take an interview with the press.

"Radio Silent Richard is desperate to walk back his past support of Gov. JB Pritzker and learn Ken Griffin's talking points before telling reporters where he really stands," said DGA Senior Communications Advisor Christina Amestoy. "Irvin has been in this race for a week, and he's already hiding from the press and his primary opponents. There's a long, brutal primary ahead — and he can't stay silent much longer."
- Posted by Rich Miller 21 Comments


* NBC News…
The coronavirus pandemic has brought more than 20 months of uncertainty. And through the mask mandates and vaccination debates, Americans have developed a complicated and somewhat surprising set of voices they trust about the virus, according to the latest NBC News poll.

The poll asked a simple question —"In general, do you trust what _____ has said about the coronavirus or not?" — and subbed in a series of possibilities into the blank space.

Through all the names and groups that were mentioned, one thing jumps out in the data: Americans seem more likely to trust people they know directly or people with whom they have direct contact. For instance, the group that ranked highest was "your employer."
* Check out the current number for governors and how much it has moved since April of 2020…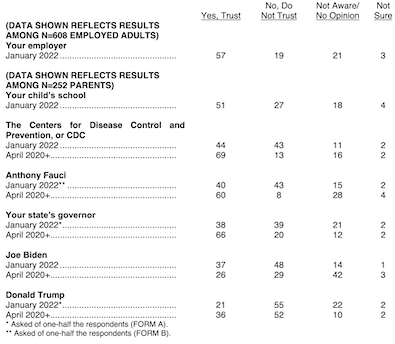 It's only one poll, but a rampant disinformation campaign coupled with incompetent messaging and inaction from the CDC, the White House, etc. are combining to put us all in a very dangerous spot.
* Also…

Teachers' unions should take note.
- Posted by Rich Miller 27 Comments


* Greg Hinz…
We're just over a week out from Gov. J.B. Pritzker's annual big speech laying out budget and other priorities, and the big scramble is on behind the scenes to claim a piece of the pie.

As usual, one key question is how much schools will get. Given that it's an election year, they'll probably do all right.

Another is, with tax receipts running better than expected both here and nationally, whether Pritzker will follow the lead of New York's Kathy Hochul—like Pritzker, a Democrat—and include some form of relief for taxpayers, especially property owners. Doing so, even if the amount is small, sure would look good out there on the campaign trail.

For the business community, the big issue is whether Pritzker will allot a sizable share of the remaining $3 billion or so in unallocated federal COVID relief funds to fill a portion of the $4.5 billion hole in the state's unemployment insurance trust fund.
* Ten days ago, a friend was polled and took copious notes…
Interesting poll… The only candidates mentioned by name were Richard Irvin and Darren Bailey. But the only matchup asked about was Bailey v Pritzker.

And she asked about policy positions on some kinda interesting stuff

- one-year suspension of grocery tax
- eliminate small biz franchise tax
- eliminate license and registration fees for 200K nurses in IL
- provide incentives for ppl to become nurses w free community college
- eliminate regulatory fees for small businesses
- expand EITC
- freeze property taxes statewide
- Ensure College Illinois! is fiscally stable to guarantee families don't lose their investments
- fully fund special ed w $200M more
- direct cash payments $200/child for every family earning below $50K
- eliminate scheduled increase to the gas tax this summer
- increase funding for programs that support minority-owned businesses that serve underserved
- eliminate regulatory fees for alcohol for restaurants and bars for one year … hit hard by pandemic
- increase penalties for organized retail theft
I haven't been able to confirm who did that poll, but it looked to my eyes like a Pritzker endeavor. But, hey, I could be wrong.
Anyway, is there anything on that list which you like more than others?
- Posted by Rich Miller 18 Comments


* I don't usually post these sorts of things, but Tina is a good friend and all of us are glad she's returning to Illinois…
Mac Strategies Group, one of the state's premier strategic communications and government relations firms, announced today that former Politico White House reporter and Chicago Sun-Times political reporter Tina Sfondeles has joined the firm as Vice President of Public and Media Relations.

In this role, Sfondeles will develop effective communication strategies for issue-oriented public relations and public affairs campaigns, using her experience covering Illinois and national politics and government to drive meaningful conversations in media outlets across Illinois.

"We are excited to welcome Tina to our team," said Ryan McLaughlin, President and CEO of Mac Strategies Group. "Her deep familiarity with the media landscape as well as state and national politics will further our ability to communicate complicated and nuanced subjects, allowing us to more effectively tell important stories and secure successes for our clients."

Sfondeles will be based in Chicago, where she began her career in journalism, starting as a transportation reporter for the Chicago Sun-Times before eventually being elevated to political reporter. Sfondeles covered numerous elections and administrations, including the historic two-year state budget impasse. She has been a frequent guest on television and radio, providing expert commentary to help the public easily understand the complex issues and personalities driving public policy. In 2020, Sfondeles moved to Washington where she covered Joe Biden's presidential campaign as a politics correspondent for Business Insider. In 2021, she joined Politico as a White House reporter and co-author of the influential West Wing Playbook, a newsletter about the people and power centers in the White House. An advocate for mentorship and professional development, Sfondeles has also served as an adjunct professor at her alma mater Loyola University Chicago, teaching students about essential writing skills, professional and business speaking and reporting.

"After a whirlwind experience in Washington, I'm so proud to be returning home to Chicago for my next adventure. I'm looking forward to working with Ryan and the Mac Strategies Group team to help drive conversations on important public policy issues that affect many people," Sfondeles said. "As an added bonus, I get to work alongside Monique Garcia, a former competitor turned close friend whose personal and professional skills I have admired for years."

Founded in 2008 by McLaughlin, Mac Strategies Group has a proven track record of conducting widely successful media relations and communication programs, earning more than thirty industry awards and becoming one of the most effective agencies for directing successful issue advocacy campaigns. The firm secures consistent earned media for clients, while also providing strategic counsel to meet goals and objectives.

As Mac Strategies Group continues the expansion of its capabilities with the addition of Sfondeles, Monique Garcia has been promoted to Senior Vice President of Public and Media Relations. A former Chicago Tribune Statehouse reporter, Garcia joined the firm in 2018 and helps lead its operations in Springfield. The firm's roster of talent also includes Matt Butterfield, a Peabody Award-winning Chicago broadcast journalist, as well as Matt Murphy, former deputy leader of the Illinois Senate, and Anne Schaeffer, who previously managed a multi-state government affairs practice for a global Fortune 500 company. Murphy and Schaeffer lead the firm's government affairs practice.
- Posted by Rich Miller 5 Comments


* My weekly syndicated newspaper column…
Richard Irvin is a Republican. Period.

Irvin might not be enough of a Republican for the purists. And Democrats might want to weaken Irvin in the Republican primary for governor by pointing to some of the nice things he's said about Democrats (including the governor) over the years. But Richard Irvin is still a Republican.

I've covered and watched the Aurora mayor for years, and it's always been obvious to me that he's a Republican.

If he was a Democrat, why would then-U.S. Sen. Barack Obama, Sen. Dick Durbin, Sen. Tammy Duckworth and House Speaker Michael Madigan all campaign against a Black candidate over the years and instead work to elect various white, openly Democratic opponents? Those Democrats were trying to stop Irvin from gaining any kind of foothold because they all knew he was talented enough that he could eventually do something really damaging to their party, like running for governor as a Republican with plenty of cash to spend. Oops.

Maybe he's not a pure Republican for gubernatorial candidates like state Sen. Darren Bailey, who took a Democratic primary ballot in 2008; or Jesse Sullivan, who appeared to back Obama in 2008; or Gary Rabine, who financially supported Ald. Ed Burke and his ward organization. But if somebody tells you for two decades they're a Republican while fending off numerous, well-funded, high-profile Democratic attacks, I'd believe them.

And, while I'm at it, Gov. J.B. Pritzker needs to stop helping and enabling the far-right wing of the GOP in this state. No way would Jeanne Ives have given Gov. Bruce Rauner such a run for his money in the 2018 Republican primary had it not been for the generous intervention of the Democratic Governors Association (funded by Pritzker) on Ives' behalf.

The governor regularly bemoans the fact that Republicans here are too tied to Donald Trump and Rauner, and they don't want to come to the table and negotiate. Yet, he seems fully prepared to unsubtly support the ultra-right Republican Bailey.

I get that Pritzker doesn't want to have to face someone backed by Ken Griffin, who is worth almost 10 times what Pritzker is. But if he wants to stamp out the far right, then don't fund it.

I also get that Pritzker and pretty much everyone else have good reasons to suspect Irvin won't be his own man. Irvin could very well turn out to be a wholly owned subsidiary of the billionaire Griffin, who once said rich people have "insufficient influence" over politics in this country. Irvin should definitely have to answer for that on a constant basis. Not to mention that almost his entire campaign team elected Rauner in the first place. Who are they bringing us now?

Irvin should also expect to get a much closer once-over than any of the other announced Republicans have received. Hardly anybody has so far taken any of the other Republican hopefuls seriously. The election would effectively end on primary day, so why even bother vetting them?

Irvin, though, is the opposite of that. He may not make it through the primary, but if he does win, he has a shot at giving Pritzker a run for his money. And so he will likely be vetted much more closely.

And how can Irvin win the primary? Griffin's money, for one. He also threw around some buzzwords in his kickoff video about children being "indoctrinated" and how "All lives matter" and crime is skyrocketing, and the state is broke, and all those other things written by Griffin's people. Much of it seemed out of place because that's not the Richard Irvin we've seen over the years. But every consultant's dream candidate is one who says and does whatever he's told.

Slightly more than half the Republican primary electorate lives downstate, but former Gov. Jim Edgar pointed out to me that if you count the exurban counties within the Chicago media market, that's most of the primary vote. Even so, it's still an uphill climb.

It's also past time for Griffin to publicly account for the tens of millions of dollars he's spent on campaigns here. Whatever else you can say about the billionaire Pritzker, he (and the self-funding Rauner before him) regularly takes questions from reporters on whatever subjects they want to talk about. Griffin's money defeated a Supreme Court justice and killed a graduated income tax, and he is now reportedly trying to elect a governor and several others without once ever having the guts to submit himself to public questions. That's the opposite of democratic.
* The Tribune editorial board kinda tiptoes around the GOP billionaire…
We respect the rights of Pritzker and Griffin, highly successful men, to spend their fortunes as they choose and to engage in ideas involving the future of our state. But here's the other bizarre thing. While Pritzker is self-funding his campaign, Griffin's name apparently will not be on the ballot. Rather, he is selecting a preferred candidate he intends to bankroll.
- Posted by Rich Miller 40 Comments


* National Restaurant Association press release excerpt…
The restaurant industry was hit hard by the latest surge of COVID-19 cases caused by the omicron variant. Forced to adapt to deteriorating consumer confidence, restaurants reduced hours/days of operation, cut seating capacity, and shutdown, pivoting to off-premises dining with the end result being lower sales volumes in 2021 than in 2019.

According to the survey, we know:

• 88% of restaurants experienced a decline in customer demand for indoor on-premises dining in because of the omicron variant.
• 76% of operators report that business conditions are worse now than three months ago.
• 74% say their restaurant is less profitable now than it was before the pandemic.
* WICS has a local angle…
Over $111 million dollars in relief funds have gone out to small businesses in Illinois who struggled throughout the pandemic.

These grants were given out to help small shops with challenges from the pandemic like rehiring staff or paying for PPE.

Ms. D's Kitchen here in Springfield says COVID-19 initially closed her doors but this state relief money is giving her the push to expand.

"We don't have money anyway, "said the owner of Ms. D's Kitchen, Magalene Daniel. "If you have a business and can get a little help to do things, you can get started." […]

This latest wave of back-to-business grants was especially geared toward industries that hit the hardest like hotels, restaurants, salons, and gyms.

More than half of the back-to-business grants sent out have gone to owners of color.
…Adding… The DCEO grant recipient list is here.
…Adding… American Hotel & Lodging Association…
The hotel industry will continue moving toward recovery in 2022, but the path will be uneven and potentially volatile, and full recovery is still several years away, according to the American Hotel & Lodging Association (AHLA)'s 2022 State of the Hotel Industry Report. The report, which reveals shifts in consumer and business sentiment, was created in collaboration with AHLA Silver Partner Accenture and is based on data and forecasts from Oxford Economics and AHLA Platinum Partner STR.

The top findings of the report include:

• Hotel occupancy rates and room revenue are projected to approach 2019 levels in 2022

• The outlook for ancillary revenue, which includes food & beverage and meeting space, is less optimistic

• Hotels lost a collective $111.8 billion in room revenue alone during 2020 and 2021

• Leisure travelers will continue to drive recovery: in 2019, business travelers made up 52.5% of industry room revenue; in 2022, it is projected to represent just 43.6%

• Business travel is expected to remain down more than 20% for much of the year, while just 58% of meetings and events are expected to return; the full effects of Omicron are not yet known

• Changing traveler segments, including the rapid rise of bleisure travelers—those who blend business and leisure travel—are impacting how hotels operate. In fact, one study of global business travelers found 89% wanted to add a private holiday to their business trips in the next twelve months

• In this new environment, technology will be even more critical to a property's success, according to AHLA Platinum Partner Oracle Hospitality—with hotels investing in technology to meet the needs of both guests and employees today and in the future
…Adding… Press release…
Dozens of local South Side businesses were recently awarded over $2.4 million in funding from the Back to Business Program to help them recover from the COVID-19 pandemic thanks to the support of State Senator Robert Peters (D-Chicago).

"Businesses across the state have been negatively impacted in the last two years, especially Black and Brown-owned small businesses and in the hospitality industry," Peters said. "These grants are giving South Side businesses a much needed boost to get back on their feet as we continue to recover."

The B2B program grants are awarded by the Illinois Department of Commerce and Economic Opportunity using funds allocated to them by the American Rescue Plan through last year's state budget. So far – thanks to strong support from Sen. Peters – DCEO has provided $111 million in B2B grants to nearly 3,000 small businesses throughout the state with an emphasis on disproportionately impacted areas.

In the district Peters represents, 81 businesses were awarded grants ranging from $5,000 to $145,000 to help them cover the costs of safely staying open in these unpredictable times. Businesses ranged from barber shops to photography studios and more.

"The B2B program's focus on hard hit sectors like restaurants, salons, fitness centers and organizations focusing on the arts really make it a nation-leading example of small business recovery," Peters said. "I am glad to see so many businesses in our community receive this important assistance."
- Posted by Rich Miller 10 Comments


* Jordan Elder at WICS filed a very moving story about Saturday's funeral for slain DCFS worker Deidre Silas. Here's an excerpt but you should go watch it…
[Silas' father] Roy Graham tells us he requested the casket be propped open, a white mesh sheet over his daughter's body, so that people could see what happened to his little girl.

No parent wants to plan or attend a funeral for their child, and the Grahams say Saturday's service filled them with both sorrow and gratitude.

"It shows she was really loved, and the impact she had on these people, and kids in general too," Roy Graham told us after the service.

Deidre was described as the heartbeat of every room she was in, fearless, giving, and kind.

She was known as Nadia to her family members and "Momma D" to the children she helped in St. Charles when she worked in juvenile justice.

Loved ones told stories about her bright smile, her passion to further her education, and her phone calls intended to last five minutes that usually lasted about an hour.

Her dedication to Illinois children always at the forefront.

"Deidre dedicated her young life, her too short life, to saving the lives of children," said Roberta Lynch, the executive director of AFSCME Council 31. "We will go forward in that mission, each of us in our own way."

Dozens of DCFS workers came to support Silas and her family.

Department director Marc Smith was also in attendance.
* AP…
Flags at Illinois state office buildings were lowered for three days to honor a child welfare worker who was stabbed to death this month.

Gov. JB Pritzker ordered that U.S. and Illinois flags be set at half-staff beginning at sunrise Thursday in honor of Deidre Silas, a child protection specialist for the Department of Children and Family Services. Flags were to be returned to their traditional spot at sunset Saturday.

Silas, 36, was responding to a call about possibly endangered children at a home in Thayer, south of Springfield, on Jan. 5.

She was met at the door by an assailant who stabbed her and fled, according to authorities.
* Her family has set up a GoFundMe page…
The purpose for this fund is for her children. Her husband André Silas will no longer be able to come home and smell the Jamaican food cooking in the air, their daughter Amelia who is just 2 years old will no longer hear her mom sing to her, play with her, or struggle to tidy her room up with Amelia coming in behind her pulling down her toys just so mom can pick them up again.

Her son Ashton who is 5 years old and still not talking as he is autistic will not be able to come to his mom to comfort him after watching his favorite show that also makes him cry, he won't be able to bring his bowl of Honey Nut Cheerios for constant refills.
- Posted by Rich Miller 3 Comments


* I am having one of "those" mornings. Not fun. Could be worse, though. I could be getting dragged all over the Internet for losing a football game…
Unlike the Packers offense, we know vaccines are still effective in the winter.

Please get your free vaccine and booster: https://t.co/pHGNXftFP3

— Governor JB Pritzker (@GovPritzker) January 23, 2022
- Posted by Rich Miller 39 Comments