* Man, if Wyma has flipped, is there anyone at all whom the governor can trust?
Federal investigators recently made covert tape recordings of Gov. Rod Blagojevich in the most dramatic step yet in their corruption investigation of him and his administration, the Tribune has learned.

As part of this undercover effort, one of the governor's closest confidants and former aides cooperated with investigators, and that assistance helped lead to recordings of the governor and others, sources said.

The cooperation of John Wyma, 42, one of the state's most influential lobbyists, is the most stunning evidence yet that Blagojevich's once-tight inner circle appears to be collapsing under the pressure of myriad pay-to-play inquiries.
We're talking about one of the governor's very closest political and personal friends here. This ain't no low-level guy.
* Did they get this meeting on tape?
Wyma, Blagojevich's chief of staff when he was in Congress, has long been one of the few advisers trusted by Blagojevich and kept in the loop on matters of policy and politics. As the federal probe intensified, Wyma met privately with the governor and his former chief of staff at the governor's campaign headquarters on the North Side for 90 minutes on Oct. 22.

Confronted outside that meeting, Wyma declined to talk to Tribune reporters about what the meeting was about before jumping into his car. The next day, the Tribune was the first to report that Wyma's name appeared in a federal subpoena delivered to Provena Health, a former client of his.
Blagojevich might've been comfortable enough in that meeting to say anything. Oof.
…Adding… Lon Monk was the "former chief of staff" listed as attending that campaign headquarters meeting in today's Trib article. Some background on Provena and that meeting can be found at this link…
Pushing further into Gov. Rod Blagojevich's inner circle, federal investigators have subpoenaed records involving a lobbyist friend who represented a hospital company that won a favorable state ruling.

The company's for-profit affiliate donated $25,000 to Blagojevich's campaign a month after the state's action.

John Wyma, a top fundraiser and former Blagojevich aide, was named in a federal subpoena delivered two weeks ago to Provena Health, according to sources. It sought records about Provena's lobbying relationship with Wyma, the donation and the company's efforts to win approval for a new heart program. […]

On Wednesday, Wyma met for about 90 minutes with the governor and another fundraiser and state lobbyist, Lon Monk, at Blagojevich's political offices on the North Side. When asked after the meeting about the subpoena, Wyma said, "I have no comment."

Monk, who was Blagojevich's chief of staff during his first term, also declined to comment.

Doug Scofield, a spokesman for the Friends of Blagojevich campaign committee, described the meeting as "routine."

"I don't think anything big happened," he said.

Lisa Lagger, a spokesman for Provena Health, said, "We are not parties of interest here."
If Provena isn't a "party of interest," then that might leave at least two others: The guy who solicited the standard $25,000 contribution and the guy who accepted it.
* Anyway, here's more background…
Wyma, 42, now a top lobbyist, has also been named in a federal subpoena delivered to Provena Health, a former client of his.

The subpoena sought records about Provena's relationship with Wyma, the hospital's efforts to win state approval of a new heart program and a $25,000 donation the company's for-profit affiliate gave to Blagojevich's campaign fund, the newspaper reported.

Wyma had no comment about the story.
Wyma doesn't lobby the General Assembly much at all. He mainly uses his exclusive access to Gov. Blagojevich to make money.
* This story from a year ago might help explain some things as well…
Gov. Rod Blagojevich's wife received the real estate commission in a $650,000 condominium sale from a businessman who since has won $10 million in no-bid state contracts.

The seller was Mark T. Wight, owner of Wight & Company, an architecture firm that won three new contracts with the state's toll highway authority after the 2005 sale. The buyer was John R. Wyma, Wight's tollway lobbyist and a longtime Blagojevich insider.
The governor might wanna make that US Senate appointment before it's too late.
Just sayin'.
* Meanwhile…
In another development, FBI agents searched two Joliet businesses owned by Harish Bhatt, a longtime Blagojevich supporter.

Agents descended upon Basinger and Essington pharmacies early in the morning and combed through paperwork. The FBI would only say it's part of an ongoing federal investigation.

Bhatt told reporters agents weren't looking into him, adding, "We have nothing to do with it."

Last year, the Tribune named Bhatt as being part of an ongoing investigation into Blagojevich's administration. The paper reported state police were looking into whether Bhatt solicited campaign donations in exchange for state favors.

Bhatt and Blagojevich go back years. Bhatt has raised thousands of dollars for the governor. And just this year, another Blagojevich fundraiser, Antoin "Tony" Rezko, was convicted on pay-to-play corruption charges.
* More from the Joliet Herald News, which broke the story yesterday…
Rice said the warrant was connected to "an ongoing federal investigation," but would not disclose details on what the agents were looking into.

Both the complaints and warrants were under seal, Rice said.
* The Sun-Times is not so sure this is related…
It appeared, however, that the feds' visit to Bhatt's pharmacies was not connected to the Blagojevich probe. "They are looking into somebody else," Bhatt said Thursday. "We have nothing to do with it."

Bhatt would not disclose whom the feds were interested in, saying agents asked him to be quiet.
We'll all know soon enough.
* More bckground on Blagojevich and Bhatt is here.
A photo of Blagojevich and Bhatt…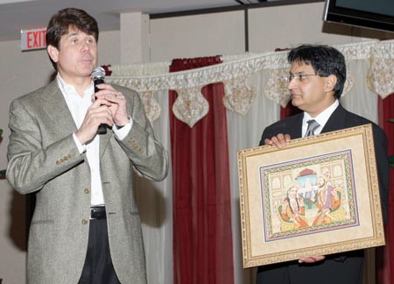 And here's one of Wyma [center] and Blagojevich in Texas from back in August. They apparently held a funder down there…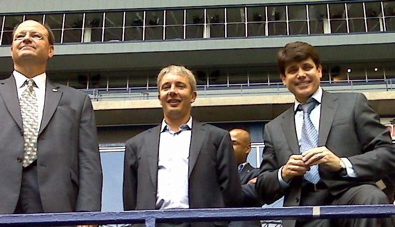 120 Comments







































































































































































































































































































































































Sorry, comments for this post are now closed.