Constituent Dynamics has some fresh numbers for Illinois congressional races. You will recall that they already polled IL 6, 14 and 19 and came up with a few surprises.
These new results are a lot different than commonly believed. Melissa Bean is thought to have a larger lead than this, and Mark Kirk is believed by nobody to be below 50. Still, we're looking at 1,000 respondents in these (automated) phone polls. Both polls were conducted Oct. 15-16.
* Bean-McSweeney, 47-44 - Crosstabs here [pdf] (They didn't include the third candidate in the race.)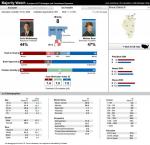 * Kirk-Seals, 46-44 - Crosstabs here [pdf]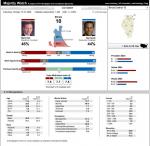 13 Comments






































Sorry, comments for this post are now closed.