- Posted by Rich Miller Enter your password to view comments


* Daily Herald:

In what might be interpreted as a thinly veiled threat to get in line, Chicago Mayor Richard M. Daley implied Forrest Claypool is risking his political career by not endorsing Todd Stroger. […]

Daley noted that he got over the loss [to Harold Washington in 1983], he sucked it up and he fought for the fellow Democrat.

"I didn't destroy my political career," he said pointedly.

Asked if that was what Claypool was doing, Daley replied, "I don't know."

Claypool, however, remained undaunted.

"Todd Stroger was not elected by the voters … but was instead appointed in a back room by a bunch of ward bosses," Claypool said, re-asserting his contention that ward bosses deliberately deceived voters as to John Stroger's health in order to dissuade anyone from filing a third-party candidacy until the deadline had passed.
* Sun-Times:

"It's a disservice to Harold Washington's memory to compare him to Todd Stroger."
* Daley was endorsing Todd Stroger when he made the above comments. This is how the Peraica campaign responded, according to the Tribune:
The endorsement was hardly a surprise as the Daleys and the Strogers have had a decades-old political alliance.

The announcement brought a sarcastic response from the Peraica campaign.

"In other related breaking news, the sun rose in the east this morning,'' Peraica spokesman Dan Proft said in a written statement. "The real story in this race is all of the self-identified Democratic voters not supporting Todd Stroger, not the ones who are."
* And the Tribune's editorial board tries to whip up some fury.
If the bosses get away with this, they'll have more than survived John Stroger's exit. They'll have installed a successor who could rule–and repay his debt to them–for several decades.

The alternative the bosses dread is four years of Tony Peraica, teaming with other reformers on the County Board to redirect money spent on patronage to improving services for poor people.

The bosses who lied to put Todd Stroger on the ballot figure citizens don't much care about all that–or about all those FBI agents rooting through county offices. They want to believe that talk of public anger is just protest chatter from whiners too lazy to actually vote.
* Also, the Windy City Times has a pretty good interview of Stroger this week. He comes off a lot better than many are making him out to be. It ends on a somewhat humorous note:
Everyone has been afraid of getting hit by the bus and stepping out in front, which has disappointed me, because I thought that I've always been an aboveboard person. Some of these attacks have not only been on my character, [ but ] they've [ also ] been on me as an elected official, trying to portray me as a puppet, among others. I've been my own person all of my life, which is probably why my dad yelled at me so much. [ Laughs ] I guess part of my problem is since I am my own person, I have the ability to be truly independent. I came from a strong ward organization, and my dad did not call me up and say, "You vote this way today, you vote this way tomorrow." I could do what I thought was right. In that, I didn't have to talk to a lot of people, so maybe they don't know me that well.
- Posted by Rich Miller 52 Comments


The bickering between Weller and Jackson shows no sign of abating.
U.S. Rep. Jerry Weller sharply criticized a congressional colleague, U.S. Rep. Jesse Jackson Jr., on Wednesday for spending $270,000 for a "failed" airport advertising campaign.

The summer ad campaign encouraged residents of Will, Southern Cook and Kankakee counties to contact Gov. Rod Blagojevich and urge him to lease land for a third major airport to Jackson's group, the Abraham Lincoln National Airport Commission. About 25 suburbs donated money to the fund.

Weller (R-11th) said the campaign generated only a few letters to the governor, and the money came largely from impoverished southern suburbs that couldn't afford it. […]

Bryant said all the ad campaign expenditures were made at public meetings held by the commission and that the governor's office was inundated with phone calls generated by the campaign.

But a spokeswoman for the governor told a Daily Southtown reporter in August that Blagojevich's office received only a few calls.
Meanwhile, Weller's Democratic opponent released a statement yesterday claiming that the incumbent Republican had taken an "extremist, radical position on racial profiling." From a press release:

In response to a question from the audience regarding what he would do to address racial profiling at the local level, Rep. Weller said that "if we know a middle eastern male has entered our community, I believe our law enforcement needs to be able to go out and look for middle-eastern males."

In response to Weller's comment, Pavich stated, "This isn't going to work."

"We need to recognize the fact that there are a lot of Muslims in the world, and they're not all from the middle east. A lot of them are blue-eyed and blonde haired. Al-Qaida and other groups recognize this, and are recruiting accordingly."
- Posted by Rich Miller 13 Comments


[Kind of in a strange location today, but at least it's here.]
* Topinka opposes statewide smoking ban
* The Southern asked readers to submit questions for Gov. Blagojevich yesterday but this is the article they came up with
* McClain: After a long campaign laced with scandal, Illinois voters seem less than enchanted with either candidate
* McQueary: Todd trouble
* Guv gets more mileage out of power plant
* Questions Over Electric Rate Freeze Continue
* From The Hotline On Call:
Karl Rove talked to "All Things Considered": On '06: "I see several things; first, unlike the general public, I'm allowed to see the polls on the individual races and after all this does come down to individual contests between individual candidates. Second of all, I see the individual spending reports and contribution reports. For example at the end of August in 30 of the most competitive races in the country, the house races, the Republicans had 33 million cash on hand and Democrats had just over 14 million."

NPR's Siegel: "We are in the home stretch though and many would consider you on the optimistic end of realism about."

Rove: "Not that you would exhibit a bias, you just making a comment."

Siegel: "I'm looking at all the same polls that you are looking at."

Rove: "No, you are not. I'm looking at 68 polls a week for candidates for the U.S. House and U.S. Senate, and Governor and you may be looking at 4-5 public polls a week that talk attitudes nationally."

More Rove: "I'm looking at all of these Robert and adding them up. I add up to a Republican Senate and Republican House. You may end up with a different math but you are entitled to your math and I'm entitled to THE math" (NPR, 10/24).
* Barack Obama will eat your souls.
* AP: The former head of the state's I-PASS electronic toll-collection system, who stepped down in March amid questions about his handling of a contract, filed a federal lawsuit Wednesday against the Illinois State Toll Highway Authority.
* Tribune: Although they promise to move Illinois forward, none of the candidates running for governor has offered a comprehensive blueprint or a bankroll to repair and widen congested, crumbling roads and make mass transit a preferred travel mode.
* Quote of the Day: "If Judy was in the governor's office, she would be out there scooping the snow herself … and scooping a lot of other things as needed," Tracy said.
* Once an independent loner in her party, Judy Baar Topinka now heads the ticket
* McMillin: Greens planting problems in elections
- Posted by Rich Miller 8 Comments


The governor's office has previously released other lists of those who were passed over for state jobs, but refused to do so once this particular case came up. It's just one more unanswered question in a long, long, LONG list.

Attorney General Lisa Madigan's office has concluded that names and qualifications of unsuccessful state job applicants should be released to the public, but Gov. Rod Blagojevich's administration says it won't comply.

The administration should heed its own rule that explicitly defines so-called "eligible lists" as public records, an aide to Madigan wrote in a letter to the governor's office and his Department of Central Management Services. […]

Agencies under the Democratic governor hired the son-in-law of a Democratic congressman to be a pilot and the son of a St. Clair County Blagojevich campaign contributor as a prison business administrator. The information on other job applicants could shed light on whether more qualified people were passed over. […]

But Blagojevich's personnel office took special interest in Brian Keen, then the son-in-law of U.S. Rep. Jerry Costello of Belleville. In an internal memo obtained by the AP, a Blagojevich staff member said she wanted the military veteran's application "graded ASAP" and followed with other e-mails about it and Keen's attempts to get the proper certificate to fly state planes.

The Corrections Department hired Bernard Ysursa Jr., son of a Blagojevich contributor, as an East St. Louis prison administrator. Officials said he was the best candidate interviewed but that he needed more experience, so they made him an intern — a position exempt from the veterans preference law. But another internal document shows that the agency created the internship a full week before Ysursa even interviewed for the job.
Eventually, they're going to have to own up to all this stuff, whether it's to reporters or to the feds.
On a related note, we're all still waiting for Lisa Madigan to issue a formal opinion on whether the governor has to release federal subpoenas to the media, or at least whether he has to provide some details about them.
AG Madigan has said she believes he should, but until we get an actual formal opinion there's no way to force him to do it other than extended legal efforts. Stu Umholtz could be making some hay with this, but he seems more interested in… well, I'm not sure what he's interested in. Stu? Are you out there, man? A little help?
- Posted by Rich Miller 27 Comments


[Note from Rich: This does not mean I've been bought, so relax. I still own 100 percent of me. We're simply going to share some resources, maybe do some future Web projects, send readers each direction and do some advertising stuff. The National Journal is the big dog of DC, so it's a pretty cool thing. We'll see how it develops.]

For Immediate Release:
October 26, 2006
THE HOTLINE ANNOUNCES CREATION OF STATE
POLITICAL NETWORK
Beltway's Political Bible Goes Local to Provide Up to the Minute News on State Politics
Washington, DC– The Hotline, National Journal Group's daily political news and analysis service, announced today the formation of The Hotline Political Network, a new partnership with the nation's best state political websites.
The Network will allow The Hotline's influential readers to quickly access superior state and local coverage on top of the comprehensive, ground-breaking reporting on national politics they get from The Hotline.
"For years, The Hotline has had its finger on the pulse of Washington." said Chuck Todd, Editor in Chief of The Hotline. "Now, we can provide our readers with the best, most authoritative coverage of state and local politics."
The Hotline Political Network is pleased to have as a member The Capitol Fax Blog - Illinois' premiere political blog.
"I'm looking forward to participating in this new network with The Hotline and the National Journal Group," said Capitol Fax Blog publisher Rich Miller. "It's an honor to be part of a national network like this, and The Hotline also benefits by associating itself with some excellent state political websites."
The Hotline Political Network, which can be found at this link, provides readers access to each of the Network member's sites, Hotline's On Call and Blogometer, as well as other select content from The Hotline, including columns from Chuck Todd, John Mercurio and Charlie Cook.
- Posted by Rich Miller Comments Off


The stage is being set for tomorrow's expected guilty plea by Stu Levine. From the looks of things, this will be a fight to the death.
* Tribune:

Aides to Gov. Rod Blagojevich confirmed Wednesday for the first time that one of his top advisers, Christopher Kelly, accompanied the governor on a controversial 2003 fundraising trip with two political insiders who later faced corruption charges. […]

Blagojevich's Republican opponent, Judy Baar Topinka, called on the governor Wednesday to "fully detail what he discussed with Stuart Levine while they were traveling together to New York for fundraising meetings aboard a cushy corporate jet" between Chicago and Teterboro, N.J.

In a September 2005 plea agreement with federal prosecutors, Cari said he was told that state pension fund business was steered to firms that made campaign donations under the direction of a high-ranking public official. The unnamed person was described in the plea agreement only as "Public Official A." Blagojevich has denied being that public official.
* Sun-Times:

The Chicago Sun-Times last month reported that the Oct. 29, 2003, trip — plus another to the East Coast later — are focuses of a federal pay-to-play probe of state government.

"The chief fund-raiser is meeting with people who are interested in government contracts along with a high-ranking member of the governor's staff," said Joe Birkett, DuPage County's state's attorney and GOP candidate for lieutenant governor. "You're setting the table to exchange your governmental decision-making in exchange for a political benefit."

Blagojevich campaign spokesman Doug Scofield dismissed the criticism. Kelly and Tusk, he said, never met with Wexford or Maximus — despite what the "preliminary draft" schedule indicates.

"Bradley and Chris were not in any meetings together. I really have no idea why it would be that way on the schedule," Scofield said. "You have a schedule that looks like it's inaccurate in a number of ways."
CBS2:

"Had I known that one of the guys who was part of that was a guy involved in activities like that, frankly I would have preferred to be out of the Harvard Club and back in my old neighborhood with gang-bangers," said Blagojevich.

The governor told CBS 2 he did not know Levine had given him big campaign contributions. He denied even discussing it with Levine.
ABC7:
"Checks were received by the Blagojevich administration. The timing and the largesse of this money shows me there is some symptomatic pay-to-play quid pro quo activity taking place in Illinois," said Dillard.

"I firmly believe that the truth will, as the old saying goes, set you free. Stuart Levine is a big time Republican big shot," said Governor Rod Blagojevich.

The governor says he reappointed Levine to a couple of state boards in the spirit of bi-partisanship, even though Levine was the biggest single contributor to his 2002 opponent, former attorney general Jim Ryan, and also gave campaign cash to his Republican opponents this year.

"It's interesting that both Treasurer Topinka and Joe Birkett have yet to return the campaign contributions from Stuart Levine even though he was indicted two years ago," said Blagojevich.
Back to the Trib:

On Wednesday, the governor's campaign released a 1998 letter from former GOP Gov. Jim Edgar that praised Levine for his service on the Health Facilities Planning Board.

Edgar is among Topinka's bigger supporters and is featured in her latest TV campaign ad.

"We had every reason to think, based on the glowing recommendation from Gov. Edgar … [and others], that he was a responsible and qualified person to serve on those boards," Blagojevich said. "Had [Edgar] told us [Levine] was involved in a criminal conspiracy, I'll be very clear here, we'd have gone in a different direction."
- Posted by Rich Miller 66 Comments


Low on cash, still down in the polls, once solid reputation beaten to a bloody pulp by millions of dollars worth of often false negative TV ads, almost without a person left in the world who thinks she can win. This photo, taken Wednesday, pretty much sums it all up. Click for a larger image.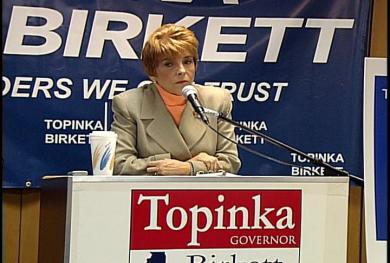 - Posted by Rich Miller Comments Off


- Posted by Rich Miller Enter your password to view comments


I don't usually watch network TV, but I force myself to do it around this time of the year so I can watch the political ads.
Describe some of the campaign ads you've seen in the past few days and rate them for effectiveness.
*** UPDATE *** While you're at it, rate Topinka's new TV ad.

- Posted by Rich Miller 57 Comments


The Daily Herald's bloggy type thing Animal Farm takes a look at two new ads in the 6th Congressional District. The first ad is a Peter Roskam spot that also features his wife, Elizabeth.
With upbeat music playing, Roskam starts off by saying the charges in the race have gotten "pretty wild," with ads saying he's against stem cell research and hates Social Security. "The only thing we banned at home? Speedos," chimes in his wife.
Roskam then gets negative in the ad and claims Duckworth wants to raise taxes and cut Social Security benefits.
Roskam does oppose embryonic stem cell research. He has given different responses to different groups on privatizing Social Security, but when pressed, ultimately supports a half-measure to move money into private accounts that couldn't be invested in the risky stock market. Duckworth supports most of the Bush tax cuts, but only half of the capital gains and dividends tax cuts and only up to $2 million exempted for the inheritance tax.
Here's the ad:
The second spot is being run by the DCCC. It slams Roskam for siding with the NRA.
It attacks Roskam for voting "present" on a 1993 measure that would have allowed school principals to ban students who brought a gun to school for up to one year without the school board's permission.
And then the analysis.
Roskam did, in fact, vote present on House Bill 2073, on 4/23/1993. The bill passed the House 73-27, with Roskam among the 16 present votes. But the measure never saw the light of day in the Illinois Senate. The voting pattern in the House was an odd combination. Moderate Rep. Tom Cross, now the House GOP leader, voted present. Conservative Reps. Tom Johnson of West Chicago and Vince Persico of Glen Ellyn voted present, as did moderate Rep. Andrea Moore of Libertyville. But liberal Chicago Democrats Reps. Lou and Shirley Jones also voted present. Rep. Judy Biggert, now a Hinsdale congresswoman, voted no. But conservative Rep. Al Salvi of Wauconda voted yes. Seems like the Chicago Democrats would have had concerns about punishing too harshly a 7-year-old kid who brought Dad's gun to school. Republicans who voted present might have had the same thought.
Here's the ad. It's not a good copy. Sorry.
*** UPDATE *** Raw video from Peter Roskam's press conference this week. Speaking is David Beamer, whose son was killed on United Flight 93. Beamer was supposed to talk just about national security and Iraq as a 9/11 victime, but he drifted at least briefly into economics.

- Posted by Rich Miller 14 Comments


*** UPDATE *** You can hear the governor questioned by the Daily Herald's editorial board about Tony Rezko and other issues by clicking here. Judy Baar Topinka is also interviewed.
************************************************
The fact that one of Rezko's guys put up his home for Tony Rezko's bond is not a big deal. The fact that he and his wife are state employees and she apparently got a state job through Rezko is a bigger deal. The fact that the Sun-Times story keeps the Rezko story alive another day or two is more significant for our purposes.

Gov. Blagojevich on Tuesday continued to distance himself from Antoin "Tony" Rezko, but one of the governor's managers is betting the house that Rezko will fight federal corruption charges and won't skip town.

Mustafa Abdalla, a $75,000-a-year contracting supervisor for Central Management Services, put up his Libertyville home to help Rezko meet a $2 million bail, records show. Abdalla's is one of nine properties that friends and family of Rezko offered so Rezko wouldn't have to sit in jail as he awaits trial.

Blagojevich administration officials said they did not know details about Rezko's ties to Abdalla and Abdalla's ex-wife Shawna Young, who also is a state employee. Both are well-qualified to work for taxpayers, they said.

Rezko appears to have played a role in Young being hired as an intern in Blagojevich's Employment Security Department in 2003. Her name is on a list of 292 clout-heavy job applicants that the Chicago Sun-Times disclosed in May. The initials "TR," code for Rezko, were on the same line as her name. Young and 273 others on the list were hired.
Meanwhile, the local news reported last night that the governor turned and walked away without saying a word when asked by a reporter in Springfield if he was under criminal investigation.
And this little tidbit from Sneed:

Republican gubernatorial hopeful Judy Baar Topinka's supporters claim Team Blagojevich's anti-Topinka ads have run nearly 19,000 times.
- Posted by Rich Miller 34 Comments


* Stufflebeam rates yet another profile, but our guys remain unnoticed in the mainstream press. The press blackout ranks among the greatest outrages of 2006. OK, maybe not. But, still. How can you not write about two guys using YouTube to hype a mostly non-existent but still legal statewide campaign that was first covered on a blog? It's the story of the year. For crying out loud, even the New Republic is calling this "The YouTube election." Get with it, people.
* Wisconsin complains about Illinois corruption invading Cheese Land. Apparently, we got enough for everybody.
* Daily Herald: DuPage County State's Attorney Joseph Birkett usually asks the questions in court. But the career prosecutor will be in the one in the hot seat today if called to testify about why he blocked a judge from hearing dozens of felony cases in recent months.
* Trouble in paradise? Yesterday's Sun-Times editorial endorsing Alexi Giannoulias claimed that this was the position of all the papers in the Sun-Times News Group. Today, the Daily Southtown begs to differ and endorsed Christine Radogno.
* Chicago withholds voting machine pay
* Jackson writes U.S. attorney, seeks probe of clouted workers' claims
* Marin: Outrage at excessive worker claims takes a day off
* Many, many congratulations to Babs Dickerman. She's an amazing person.
* Not good: Amtrak's expansion may be derailed - Track owner said to be backing out
* Political apathy? Not these college students
* Governor appeals feds' rejection of Rockford flood aid
* Brown: Here's one race guaranteed to hit you right in the wallet
* Rod Blagojevich was no student–of boxing or school– but he's learned the tough lessons of politics
* Backgrounds separate treasurer candidates
* Hey, Tribsters. If you're gonna call something a "daily download" then you gotta, you know, be, um, daily.
- Posted by Rich Miller 16 Comments