Have you seen the Crain's endorsements yet? Wow. Commenters kept urging me to read it, but I was a bit busy and simply forgot.
The Crain's editorial is by far the strongest denunciation of a sitting Illinois governor that I have ever seen. It's even harsher than the magazine's round of primary endorsements.

Her opponent, Gov. Rod Blagojevich, has presided over an administration of unparalleled venality, and for that reason alone we cannot endorse him.

A man who ran as a self-styled reformer four years ago has taken the state's pay-to-play system to new heights. His campaign promise to "end business as usual" in Springfield has been kept only in the sense that payola politics now far exceeds what had been usual before he took office.

Gov. Blagojevich allowed his top political fund-raisers to dole out state jobs and steer state contracts as rewards for campaign contributions. In so doing, he made it clear that state government is for sale.

Now a trail of indictments is working its way toward the governor's office, forcing him into the last refuge of the political scoundrel: claiming ignorance of what goes on in his own administration.

In sum, Gov. Blagojevich has disgraced himself and the state. Nothing he may have accomplished in office can erase that taint or entitle him to another term. Voters must send a strong message that Illinois will no longer tolerate the corruption his regime has fostered.

The Democratic incumbent portrays himself as the champion of the little guy. But the working people of Illinois bear the ultimate cost of pay-to-play politics. When the state is for sale, those without cash are excluded.
Thoughts?
*** UPDATE *** The Post-Dispatch goes the other way.
Largely because Rod Blagojevich is governor of Illinois, 500,000 more people have health coverage, and all children without health insurance can get state coverage.

Largely because of Mr. Blagojevich, thousands of Illinoisans on the bottom of the economic heap got a raise as the state increased the minimum wage to $6.50 from $5.15 an hour.

Largely because of Mr. Blagojevich, free pre-school classes are being opened for all 4-year-olds.

When Mr. Blagojevich saw that elderly Illinoisans were struggling to pay for their medications, he set up a program to import them from Canada, defying drug companies and Bush administration bureaucrats. The program never really caught on — only 3,700 state residents use it — but it was a worthy effort.

Rod Blagojevich, the son of an immigrant steel worker, is a man of compassion. His policies have done much for ordinary folk who never could give a dime to his campaign fund. Those policies have earned him our endorsement for re-election.
*** UPDATE x2 *** As I mentioned in comments, Crain's endorsed Blagojevich in 2002. Here's part of it.

For decades, the Republican Party has had a stranglehold on the governor's office. And though the GOP enjoyed its share of triumphs during that time, it's become apparent in recent years that this concentration of power also has a dark side, as evidenced by displays of blatant cronyism, woeful ethics and some very costly wheeling and dealing. The next governor will have to clean up this unholy political mess, while at the same time finding a tangible way to ease the fiscal crisis Illinois will assuredly suffer next year, when it posts a $2-billion-plus budget deficit.

As important, the next governor must stretch himself to be more than a good bureaucratic cost-cutter or aggressive naysayer. He must become highly attuned to the state's commercial needs and be proactive about fostering a healthy business environment, especially during these tough economic times.

This is a huge job. It requires someone with vision, energy and the etermination to shake up the Springfield status quo. Of the two major gubernatorial candidates, Democrat Rod Blagojevich offers the greatest appetite for change and the political will that's essential to produce this crucial transformation. For those important reasons, Mr. Blagojevich is Crain's choice for Illinois governor.

During the campaign, Mr. Blagojevich has repeatedly vowed to clean up the excesses of state government. He promises to halt initiatives that provide individual state lawmakers with funds to back pork barrel projects, and will do a top-to-bottom overhaul of state finances, cutting costs and eliminating waste.
- Posted by Rich Miller 94 Comments


Man, I'm sure glad I'm not a Cub fan.
First, the cross-town rivals White Sox win the World Series, then the cross-state rivals Cardinals take it all. Oof. That's gonna leave a mark for sure. lol
Congratulations to all Cardinal fans, particularly this drunken crew. Gloat away.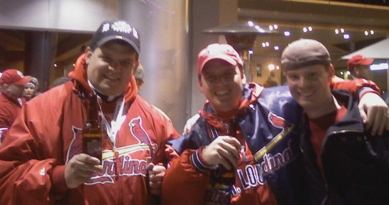 - Posted by Rich Miller 29 Comments


The Tribune obviously did not buy into the governor's spin.

Political insider Stuart Levine pleaded guilty Friday to scheming to squeeze millions of dollars from firms seeking state business, and authorities alleged in the clearest detail yet that he had the help of Gov. Rod Blagojevich's top campaign supporters.

The new allegations in the plea agreement of Levine, a longtime Republican fundraiser reappointed to state boards by the Democratic governor, only increased the questions about corruption swirling around the race for governor with little more than a week until the Nov. 7 election.

In the 58-page plea agreement, federal authorities spell out allegations that Blagojevich's two top fundraisers schemed almost from the beginning of the governor's administration to use their newfound influence for corrupt purposes.
* The AP was a bit more sympathetic.
A businessman who funneled thousands of dollars into Gov. Rod Blagojevich's campaign pleaded guilty Friday to using his seats on two state boards in a bid to collect millions of dollars in kickbacks.

But Stuart Levine's plea agreement with federal prosecutors contained no direct charge of wrongdoing on the part of the governor who is waging a re-election campaign while coping with a federal corruption investigation.

All the same, the 58-page plea agreement was crammed with details of corruption in state government and guaranteed to fuel campaign fireworks.
* The Daily Herald focused on Chris Kelly.
Four days after Gov. Rod Blagojevich predicted federal prosecutors would never indict his kitchen cabinet adviser Christopher Kelly, a guilty plea put Kelly in the midst of a scheme that's already led to the indictment of the governor's top fundraiser.

The Kelly revelations unfolded Friday as Stuart Levine, a Republican campaign donor who also contributed to Blagojevich, pleaded guilty to mail fraud and money laundering, and admitted a whole host of other criminal conduct.
* ABC7 reported "the plea agreement contained no new blockbuster allegations and none involving the governor directly." Quotes from both sides.
* Copley took the political route.
A former appointee of Gov. Rod Blagojevich pleaded guilty Friday to mail fraud and money laundering in a kickbacks-for-clout case that also accuses one of the governor's top fundraisers of corruption.

But the highly anticipated guilty plea of Highland Park businessman Stuart Levine came as something of an anti-climax in Illinois' political world.

Levine's plea in federal guilty added little to allegations contained in the indictment of Blagojevich adviser Antoin "Tony" Rezko earlier this month. And nothing in Levine's 58-page plea document accuses the governor himself of wrongdoing, prompting Blagojevich spokeswoman Sheila Nix to call the document "extremely good news."
* And the Sun-Times went a different direction altogether.
Robert K. Kjellander, a nationally powerful Republican with strong ties to the White House, emerged Friday as a key figure in an ongoing probe of corruption in Illinois.

Kjellander is identified as "Individual K" in a guilty plea by Stuart Levine, a political insider who describes an underworld of behind-the-scenes deal makers who wielded clout to bilk millions of dollars through two state boards.

Levine said he used his connections to steer a $150 million state pension deal to a firm represented by Kjellander, earning Kjellander a lucrative finder's fee. In return, Kjellander allegedly agreed not to bill Levine for lobbying work.

The plea deal does not accuse Kjellander of any wrongdoing, but the mention of him indicates the feds are interested in his actions.
Have at it.
[Comments are now closed on this thread. Go here for more.]
- Posted by Rich Miller 34 Comments


Not looking good at all for JBT.

Blagojevich's 57 percent negative rating is high enough that it would likely be politically fatal for him — except that Topinka's favorability rating is even worse, in part because of Illinois' growing anger with her party on the state and national levels.

"Any other election year, Blagojevich loses this in a blowout," said Research 2000 pollster Del Ali. "I think the only thing saving his butt is the disgust for the Republicans."
Lots more details at this link.
- Posted by Rich Miller 35 Comments