Who do you think is the better legislative leader, Senate President Emil Jones or House Speaker Michael Madigan? Define "better" and explain.
- Posted by Rich Miller 34 Comments


I'm still in catch-up mode this week. A while back, I linked to a study that showed the paltry coverage of politics by local TV news outfits. Well, the Joyce Foundation has a new study with the wholly unsurprising finding that TV viewers received much more political information during TV newscasts from advertisements than from the news programs themselves.
In the month leading up to the recent 2006 mid-term elections,
local television news viewers got considerably more information about campaigns from paid political advertisements than from actual news coverage, a new study shows. Local newscasts in seven Midwest markets aired nearly four and a-half minutes of paid political ads during the typical 30-minute broadcast while dedicating an average of one minute and 43 seconds to election news coverage.

The new post-election analysis also shows that most of the actual news coverage of elections on early and late-evening broadcasts was devoted to campaign strategy and polling, which outpaced reporting on policy issues by a margin of over three to one (65 percent to 17 percent). These findings come amid studies consistently showing that voters look to local television newscasts as their primary source of information about elections.
There's more below. Click for a larger image.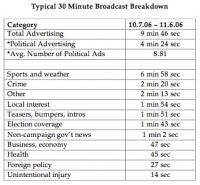 Hopefully, we can get a breakdown of how Illinois stations fared in this comparison.
- Posted by Rich Miller 5 Comments


Part 1 comes from the Tribune:
Following two scolding reviews, Illinois must repay $7.7 million in federal funds because of a litany of problems in running a federal job retraining program.

The program is supposed to match workers with training that will help them find new positions quickly after they have lost their jobs to foreign competition.

But the federal reviews found that Illinois officials seemed to ignore schedules and procedures established to make sure workers were not sitting by idly when they could be in retraining programs.

Reviewers found the state took as long as 16 months to approve training plans. Files lacked basic information, such as workers' educational backgrounds and previous job duties, according to the reports.
And Part 2 is from the Sun-Times:
Pink slips have been handed to two East Coast law firms that made hefty political donations to Gov. Blagojevich and were placed on a preferred list for Illinois pension work.

This month's vote by the state Teachers' Retirement System to overhaul the way it hires lawyers for class-action cases followed a Chicago Sun-Times report in September.

That story detailed how federal authorities have been probing Blagojevich's visits with the two firms during trips to New York in 2003. It also said Blagojevich's interaction with a third law firm once employed by TRS also is under federal scrutiny. […]

Nonetheless, "We believe that all of our vendor selections should be made strictly on the basis of merit and suitability for the particular work assignment," said Jon Bauman, TRS' executive director. "In this particular situation, the campaign contributions … had the effect of placing a cloud over a number of the firms that were eventually selected."

Bauman, however, stressed that the contributions were not the only factor in the TRS board's decision to dismantle the preferred list, which also included three law firms not connected to the governor's New York trips. The fact that none of the firms had brought a successful class-action case on behalf of TRS in three years weighed heavily, he said.
- Posted by Rich Miller 8 Comments


The Sun-Times has loads of property tax stories today.
If you own a home or property in Chicago, it's probably worth more — maybe two or three times more — than it was three years ago, according to the Cook County assessor.

And you'll be taxed accordingly.

The Civic Federation of Chicago calculates an average 36 percent increase in every property tax bill, or $829 more a year, unless state legislators renew a homeowners' protection bill that would drop the average hike down to about $255.

The assessor's office finished its triennial assessment of property in Chicago, and just about every corner of the city is seeing a whopping boost in housing value.
The 7 percent tax cap expires at the end of the year. According to the Civic Federation study, "The average Chicago apartment owner's tax bill will drop $1,051 a year with the cap and $1,643 without it, the study says. It says that commercial property owners will see their bills drop $216 with the cap and $488 without."
Speaker Madigan voted for the tax cap extension, but he wasn't exactly a supporter. Assessor Houlihan has blamed Madigan for the delay. Other stuff is brewing, but that's for subscribers only.
Also in today's CS-T package, "Who wins, who loses under 7 percent cap" … "Figure out your taxes" … "Suburban homeowners not getting break, either"
Meanwhile, over at Illinoize, Rep. John Fritchey expressed support for the Houlihan bill.
Interestingly, what I find most telling about the issue has nothing to do with taxes. People, especially conservatives, are always talking about local control. Here we have a bill that is rooted in that very concept. There is nothing mandatory about the bill, it is opt-in legislation that allows a county to implement the provisions if it so chooses. Those county officials eventually have to stand before voters and answer for their actions.
And Greg Hinz has a fascinating column about how Houlihan flexed his political muscle to "effectively take control of both of the regulatory agencies with the power to overrule his decisions."
- Posted by Rich Miller 12 Comments


So, what do you make of this?
Sen. Barack Obama's biggest cheerleader, Sen. Dick Durbin, launched an online petition drive on Monday to persuade his fellow Illinois Democrat to run for president.

Several people tell me that Obama, who is seriously considering a bid, is phoning people he knows to get input — and cold-calling key figures in Iowa and New Hampshire.

He's not asking people in those two important early primary states for support, since he's not in the race. Rather, he's asking them to stay neutral until he decides.

Durbin's petition drive is a free-lance effort. He sent the e-mails to his list of donors and supporters without an explicit request of, or permission from, Obama & Co., the freshman senator's small circle of advisers.
Durbin's online petition can be found here.
As many of you may know, I'm a huge Barack Obama fan. I've known Barack since he was first elected to the Illinois State Senate in 1996, and I'm impressed by what he has accomplished in his relatively short political career. I'm also proud to call him my friend.

Not only does Senator Obama do a wonderful job representing the people of Illinois, in just a few short years he has proven himself to be an incredibly inspirational national leader. From his memorable and unifying speech at the Democratic National Convention to his new book The Audacity of Hope, Barack has shown that he has the best interests of all Americans at heart.

That is why I want to see Barack run for President in 2008. I believe that he is the right man to lead our country at a time of such turmoil around the globe, bringing Americans together at a time in our nation's history when we need unity more than ever.

Barack has said publicly that he is considering a run, and part of his consideration will doubtlessly include measuring the level of his support from Democrats across the country. So let's show him how strong that support is.
- Posted by Rich Miller 25 Comments


* Blagojevich hasn't paid for lawsuit
* Journalism.org: With each election cycle come more websites and more political predictions. With a Democratic surge apparent, and more competitive contests this year, the race for prognostications was even more intense than usual. Who fared best in the 2006 midterm elections?
* Rasmussen: When it comes to the issues of taxes and abortion, Democrats hold a very modest advantage over Republicans. However, on health care, Social Security, and education, voters trust Democrats more than Republicans by a double-digit margin. But, despite the difference of degree, Democrats have the edge on all five issues.
* Who Is Middle Class? - Democrats Take Up The Cause, But Group Is Undefined
* Democratic gains in suburbs spell trouble for GOP
* Bouman: The re-election of Gov. Rod Blagojevich in Illinois showed the country that fighting for expanded health care is not only good policy, it's good politics.
* Editorial: Duckworth a fine choice for vets post
* Editorial: Stripping a racketeer's pension
* AP: The U.S. Supreme Court on Monday let stand a ruling that dismissed a $10.1 billion verdict against Philip Morris USA, ending a case that became a windfall for the county where it originated but helped feed its reputation as a "judicial hellhole."
* Malpractice caps face big challenge
* Tribune: An attorney for Illinois Supreme Court Chief Justice Robert Thomas said today his client offered to accept a reduced settlement after a $7 million victory in a defamation case against a Kane County newspaper but opposing attorneys didn't respond.
* Murnane: More to Thomas verdict than victory for chief justice?
* Lawmaker miffed that mayor said 'no' to state flood aid; mayor didn't want to jeopardize federal aid
* "Official Use of the name 'Republican'"
* Bill Brady: The GOP of Lincoln and Reagan can rebuild
* McNamee: How our Dirty Dozen would lock up Olympics
* Employee fired by Cook commissioner last year says she did political and personal work on county time, but he says she is retaliating
* American Spectator "analyst" claims that in Illinois, "Republicans are closer to the majority in the state senate"
* Zorn: Pension windfall for Steele is no accident of law
* Media Week: The battle for audience supremacy in the online news category continues to be a fiercely competitive three-horse race, despite efforts by some of the biggest traditional news players to strengthen their digital output.
- Posted by Rich Miller 9 Comments