I'm still in catch-up mode this week. A while back, I linked to a study that showed the paltry coverage of politics by local TV news outfits. Well, the Joyce Foundation has a new study with the wholly unsurprising finding that TV viewers received much more political information during TV newscasts from advertisements than from the news programs themselves.
In the month leading up to the recent 2006 mid-term elections,
local television news viewers got considerably more information about campaigns from paid political advertisements than from actual news coverage, a new study shows. Local newscasts in seven Midwest markets aired nearly four and a-half minutes of paid political ads during the typical 30-minute broadcast while dedicating an average of one minute and 43 seconds to election news coverage.

The new post-election analysis also shows that most of the actual news coverage of elections on early and late-evening broadcasts was devoted to campaign strategy and polling, which outpaced reporting on policy issues by a margin of over three to one (65 percent to 17 percent). These findings come amid studies consistently showing that voters look to local television newscasts as their primary source of information about elections.
There's more below. Click for a larger image.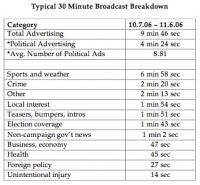 Hopefully, we can get a breakdown of how Illinois stations fared in this comparison.
5 Comments














Sorry, comments for this post are now closed.