If you get a moment, say a prayer or have a kind thought for former House staffer Tim Hunsdorfer. He's very sick and no longer able to work.
If you can kick in a few bucks to help him out of his excruciatingly bad financial situation, I'd consider it a personal favor if you would go here. Thanks.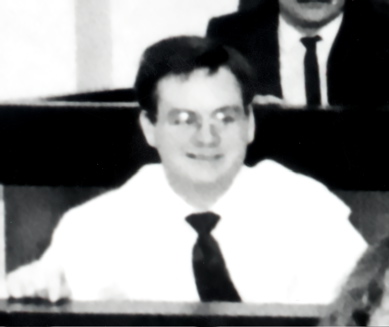 - Posted by Rich Miller Comments Off


What a long week that was. The craziness never seems to end at the Statehouse.
Just so you know, I'm taking bids for a new web hosting service. Best reliability wins. Local company preferred. Goodbye, PowWeb. I'm not gonna miss you. Hopefully, you will be out of my life by early next week.
By now, loyal blog readers most certainly know our Friday drill. It's Illinoize time…
- Posted by Rich Miller Comments Off


My Sun-Times column today is about more possible turmoil in Chicago elections, but ends with these thoughts about the recent aldermanic races…
Speaking of Obama, it might be interesting to watch what the presidential candidate does in next year's primary. Obama refused to endorse any of the insurgent candidates this year, sticking with the Daley Machine and openly endorsing faded hack Ald. Tillman in her losing race to Pat Dowell, who is truly a breath of fresh air.

It's more than a little ironic that a self-styled ''new politics'' guy like Obama has no strong ties to the newly elected aldermen who seem to share so many of his self-professed political values. He's just lucky that no national political reporter has covered this hypocrisy angle yet.
My syndicated column this week also took a whack at the guy for the same reason and put him in the "loser" category for the season…
Barack Obama, who styles himself as the epitome of a young, black "new politics" candidate, did not endorse a single one of the bright, new, independent-minded aldermen who will be taking the helm of black wards on the South and West sides. Count him as a big loser.
And here's a little teaser: On Monday we'll take a look at how Obama's association with the Daley Machine is playing with voters.
Anyway, to the question: Did anyone watch the Democratic presidential candidates debate last night? What did you make of it? Apparently, Lynn Sweet didn't think much of Obama's performance.
If you've been on Mars for a while and did not know the names of the Democratic White House frontrunners, you could have thought after the first presidential debate Thursday they were Sen. Joe Biden, Gov. Bill Richardson and Sen. Chris Dodd.
- Posted by Rich Miller 33 Comments


The statewide smoking ban is getting closer to reality…
Illinois took another step toward a statewide smoking ban on Thursday, when the House environmental health committee approved it on a 10-to-2 vote. […]

The Senate has already approved SB500, which would prohibit smoking in all Illinois workplaces and indoor public areas, including bars, restaurants, casinos and bowling alleys. Smoking also would be banned within 15 feet of any entrance to those facilities and in all government vehicles.
Surprisingly enough, the governor has been rather noncommittal on this issue…
"The governor's been supportive of public health initiatives in the past that deal with smoking," said Blagojevich spokeswoman Abby Ottenhoff. "But we still need to take a closer look at the particulars of this bill."
The bill also bans smoking in riverboat casinos, which doesn't please some members with boats in their districts…
State Rep. Mike Boland, D-East Moline, said he wished there were more exceptions to the ban. He worries about towns on the Illinois border that could lose business to bars or casinos on the other side. ''I wish there'd been more flexibility,'' he said.
The Peoria Journal-Star reports that most of that area's legislators are apparently against a smoking ban, despite a recent show of support in Peoria…
(L)awmakers' opinions apparently weren't influenced by a recent advisory referendum in which Peoria voters said 2-1 that they support a statewide smoking ban. […]

"Sen. Koehler did vote yes. He was the only senator to vote yes who has a casino in his district. That was huge," said Kelli Evans, health initiatives manager for the 19 downstate counties of the American Cancer Society.

State Reps. David Leitch, R-Peoria; Aaron Schock, R-Peoria; Don Moffitt, R-Gilson, and Keith Sommer, R-Morton, all said Thursday that they plan to vote against the smoking ban.
The bill could receive a vote in the full House as early as next week, according to many of the reports above.
- Posted by Rich Miller 8 Comments


A parental notification of abortion bill came up short in the House yesterday, scoring just 55 votes of the 60 needed.
Favored by abortion-rights groups, the initiative that failed 55-62 was designed to broaden the pool of adults that pregnant girls could contact to fulfill a dormant 1995 parental-notification law.

That law, which is before a federal court and could soon be enforced, requires females under 18 to notify an adult relative or receive approval from a judge. The legislation voted on Thursday would have allowed minors in dysfunctional families to notify an aunt or uncle or meet with a health professional instead.

"This is not a referendum on abortion," said Rep. John Fritchey, the bill's lead sponsor. "It is a referendum on protecting the health and safety of young women."
There was lots of heated debate…
"It's really irresponsible for people on the other side to characterize any of us as pro-abortion," said state Rep. Rosemary Mulligan, a Des Plaines Republican who voted for the plan. "That's not where we're going with this. What we want to do is protect young women. We want to protect them from going to the wrong place if they do seek an abortion."

Critics argued the proposal didn't do enough to help young girls in what could be one of the most important decisions they'll ever make. They also said teenagers should have a compelling reason, such as incest or other dangers, for wanting to go around telling their parents, something more than embarrassment or fear of parental retribution.

"I'm her father … and I should know about it," said state Rep. Robert Molaro, a Chicago Democrat and the father of three teen daughters, who voted against the plan.
And also lots of charges and counter-charges from both sides, including claims of death threats…
Opponents suggested Fritchey was trying to torpedo any notification law by leaving out language that lets courts rule part of the law unconstitutional without striking down the whole measure. Omitting that language could mean that any small legal flaw would nullify the entire law.

Fritchey said working on the measure was the "worst experience" of his legislative career. He said the proposal inspired people to lie, spew hatred and even make death threats.
From Lee Newspapers…
All central Illinois lawmakers voted against the legislation… All Southern Illinois lawmakers voted against the legislation.
Thoughts?
- Posted by Rich Miller 18 Comments