* Go to the 22:42 mark from the governor's NIU press conference yesterday and listen to the crowd shout down CBS 2 reporter Mike Flannery as he tries to get a response out of Blagojevich on the "Public Official A" subject. The crowd objects to bringing up non-NIU topics into the presser, and the governor gets a chuckle out of it. But since Blagojevich is in the bunker these days it was the only chance to try to get him on the record. [Video is here]
* The IFT is not pleased with a reporter's work, and the Illinois Times has the story…
Dave Comerford is unhappy with Scott Reeder and the Small Newspaper Group, a family-owned chain of Illinois newspapers. Comerford, media director for the Illinois Federation of Teachers, says he's frustrated by what he sees as dishonest reporting and the twisting of quotes to fit a political agenda.
*** UPDATE *** Scott Reeder has written a response to the IT piece. It can be found here…
If one does a quick Google search you'll find that Mr. Downs [the author of the IT story] worked extensively for teacher union publications and received substantial campaign contributions from American Federation of Teachers affiliates.
* Illinois' top 10 consumer complaints…
For the second year in a row, identity theft heads the list of the top 10 consumer complaints received by the Illinois attorney general's office.
* New Glitz for Michigan Ave?
Chicago's Magnificent Mile is packed with shoppers and gawkers, but to some, the area just south of there is not so magnificent. Now, some downtown boosters want to change that.

Today, a downtown development group unveils a plan to bring glitz to Michigan Avenue south of the river. Ty Tabing directs the Chicago Loop Alliance. He says one suggestion is to create a set of grand, ornamental steps.
* JibJab video…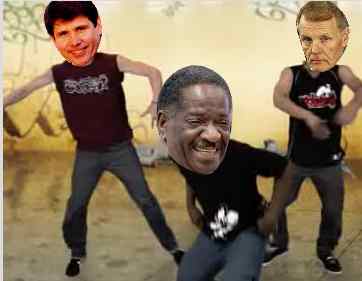 [hat tip: Fritchey]
22 Comments

































































Sorry, comments for this post are now closed.