* From a pal…
Hi buddy. What is the best site to monitor results tonight. Where will u be?
This will be the best site, of course. And I'll be right here, posting away. We'll have election returns, video, links to live video, etc., etc.
* Can Mike Madigan be blamed for this? It's probably too late for the Tribune to try…
Candidates across Illinois are trying to make the most of their last day before Tuesday's election. But a leading contender in a tight Cook County race had to step off the campaign trail for a few hours.

Assessor candidate Forrest Claypool said his "emergency" began last night after Halloween trick-or-treating. "I made the mistake of stealing my 9-year-old daughter's Tootsie Roll," he said. "It was like a hydraulic lift on my cavity filling, and just pulled it right out."

Before he knew it, Claypool was in a Hyde Park dentist's chair. The repair on Tooth No. 18 forced Claypool to cancel a Monday afternoon appearance at Manny's Deli, a frequent stop for politicians before Election Day. He hoped the Novocain would wear off in time to meet rush-hour commuters at the Roosevelt stop of CTA's Red Line.
* Tony Peraica has ruined it for everybody. From a press release…
At approximately 11:30 PM last night, an automobile registered in Maryland, was involved in the alleged theft of Joe Walsh for Congress campaign signs in Hainesville, Illinois. The theft occurred at the intersection of Illinois Route 120 and Illinois Route 134.

Steve Tucker, a volunteer in the Joe Walsh for Congress campaign, and another volunteer, were sitting in a car at the 7-11 gas station across the street, and observed the passenger of a car with Maryland License Plate (8 MD 1526) remove three Joe Walsh for Congress campaign signs from the shoulder of the road and replace them with campaign signs for Melissa Bean.

The getaway car was registered with a specialty license plate issued by the State of Maryland for the Maryland Democratic Party.
*** UPDATE *** I didn't even see Walsh's video link. Thanks to a commenter for pointing it out. First of all, the Walsh video doesn't show the alleged operative actually touching the sign. At the very beginning she appears to be standing next to a Bean sign. And lastly, the Walsh sign appears to be posted in a public right of way, which is illegal. Is not stealing or even touching an illegally posted sign illegal? No. Watch it for yourself…
Lamest. Allegation. Ever.
[ *** End Of Update *** ]
And more silliness: He said. She said.
* From the RNC's spokesperson…
Thank you for putting up with my endless stream of emails.
No. Thank YOU for your endless streams of mob banker references.
* A new record! From the Illinois Campaign for Political Reform…
Supreme Court Chief Justice Tom Kilbride's retention election has set a record as the most expensive retention election in the state's history and the second most expensive in our nation's history. Kilbride's committee and his opponents have raised more than $3.2 million. The previous Illinois record for a retention race was in the low six figures. Kilbride had $2.6 million compared to nearly $700,000 for his opponents. Nearly $1.5 million of Kilbride's money came from the Democratic Party of Illinois. The opposition JUSTPAC is the political committee of the Illinois Civil Justice League, which has the financial support of insurance companies and health care providers who support limits on medical malpractice and other personal injury lawsuits.
* From a buddy in Decatur…
* Today's front page…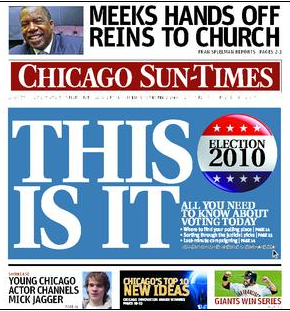 Yep. Even on election day, they have to get something in there about the mayor's race.
Here's a more interesting headline: Meeks never did endorse Pat Quinn.
…Adding… People, don't be silly. If you see vote fraud, call the attorney general, the state's attorney, the FBI. Don't call WLS Radio. What're they gonna do? Send Roe over to heckle? Sheesh.
* What's going on at your precincts?
44 Comments



































































































































Sorry, comments for this post are now closed.