* From Illinois Review…

Their link goes to our caption contest of Attorney General Lisa Madigan yesterday.
But we're not gonna caption that ridiculous little post. I just thought you'd get a chuckle out of the site's silly hostility.
* By the way, Jeff Trigg won yesterday's caption contest and a free ticket to Wednesday's benefit party for Lutheran Social Services of Illinois (5 o'clock at Boone's) for this one…
Don't worry, these drug dogs I brought with me aren't actually searching anything.
* Our first two roasters at the black tie optional charity roast for Lutheran Social Services of Illinois this Saturday night in Chicago are Senate Republican Leader Christine Radogno and Comptroller Judy Baar Topinka…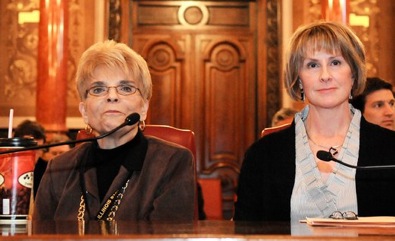 Leader Radogno has a funny, biting wit, but she doesn't show it very often in public. I've been pushing her people to make sure she ups her game for Saturday night. Maybe this caption contest will prod them into retaliation.
Comptroller Topinka has a well-known reputation as a smart aleck, and she is that way in private, too. But she also has a sweet side that she doesn't often show. Let's hope JBT leaves her softer side at home. Saturday's roast of yours truly is supposed to be funny, but it can't really be funny if the roasters don't go over the top.
* Anyway, commenters with the best two captions today will get a free ticket to tomorrow night's big charity bash at Boone's. The fundraiser starts at 5 o'clock. Admission is $20. Tom Irwin, Brooke Thomas and Mike Burnett will all be performing live and Mike Fountain is our DJ. I've heard a rumor that Luke Turasky might also be playing. I love Luke. He's the best around, so I hope he makes it.
As I write this, a friend of mine is cooking a 28-pound roast for Italian beef. Another friend is making more Italian beef. Another friend is contributing some other foodstuffs. And last night, a blog fan gave me a case of barbeque sauce made in tornado-ravaged Harrisburg. I'm gonna sell those bottles for as much as we can get and give the money to the relief fund. It's good stuff, by the way. I tried it this morning (I'm keeping that test bottle for myself, however).
Also, if anyone wants to bring food or stuff to sell or whatever, send me an e-mail or call me. I'll say yes.
* Oh, there's one other thing. Legislative staffers don't make much money, so they get in Wednesday for $5. All the legislative staffers (including secretaries) have to do is show their state ID cards and they get the discount.
* OK, have at the caption contest, campers.
87 Comments




































































































































































































































































Sorry, comments for this post are now closed.