* First Place winner of yesterday's caption contest goes to 47th Ward for this entry beneath a photo of Comptroller Judy Baar Topinka and Senate Republican Leader Christine Radogno…
Welcome to the GOP Family Feud!

100 people surveyed, top 5 answers on the board: name an Illinois Republican who can get elected in a Democratic district.

Tom Swiss: X
Fred Crespo: X
Mitt Romney; X

Sorry ladies. Let's see the answers: Jim Edgar, Jack Franks, Skip Saviano, Ronald Reagan and Abraham Lincoln.
However, I know who 47th Ward is, and I know he can afford to contribute to Lutheran Social Services Illinois, so he gets in free to my birthday party today (Boone's, starts at five o'clock, goes to closing, $20, $5 for legislative staff and secretaries), but he has to make a $50 donation to LSSI.
* Second Place goes to the inimitable Wordslinger for this play on The Godfather, Part II…
JBT: "Buffers, yeah that's right. The party had a lot of buffers."

CR: "I don't know nothing about that. I have my own caucus, Senator."
If Wordslinger cannot attend, I will randomly choose a person today and grant that person free admission.
* Honorable mention goes to OneMan. I liked his comment the best, but he can't make it to Springfield today…
Judy and Christine sit in stunned silence after Lisa Madigan and Mike Madigan do the exact same "Who's on First" bit they had rehearsed.
* OK, on to today's caption contest. Chicago Sun-Times columnist Carol Marin is one of the roasters at this Saturday night's black tie optional charity event. Carol actually called my brother Doug yesterday for background info on me. Here's a lesson for anyone planning a roast: Never, ever invite a reporter to be on the panel. She also has my father's phone number and I am more than a little concerned about what else she may dig up.
So, I've decided to comically retaliate in advance. Here's Carol showing off her tattoo last year…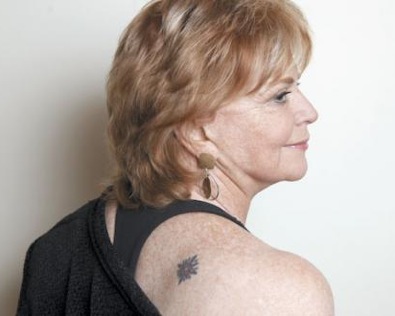 And, yes, that's a real photo. From a Time Out Chicago article…
Carol Marin Chicago Sun-Times columnist, NBC 5 political editor, Chicago Tonight correspondent and…body inker? Yes, the 62-year-old, arguably Chicago's most venerable journalist, has a tat—and she's proud of it. Nine years ago, Marin's son, then 16, approached her about wanting his own tattoo. "Joshua had been a great kid, so I said, 'I'll go with you, I'll get one, too,' " she recalls. Joshua went with a sun; Mom chose a multicolored compass—both placed on their right shoulders. It's a nod to her directional impairment. "Also," she explains, "I went looking for a peace symbol but all had ghoulish faces and skulls in the background." As the artist finished up her piece, Marin says, an 18-year-old girl with purple and yellow hair approached. "She looked up at me and said, 'Does it hurt?' I said, 'A little bit.' So she said, 'Oh, I think I'll just get my tongue pierced.' I said, 'Oh, honey, it'll chip your teeth. Think about a tattoo.' "
Winner receives free entry to my birthday party at Boone's, which starts today at 5 o'clock. All proceeds from the $20 entry fee ($5 for legislative staff and secretaries) benefit Lutheran Social Services of Illinois. [ADDING: I'll post the winner's name at the door today.]
We will have a 50-50 raffle (the winner will be announced tomorrow on the blog), and we'll have a couple things for sale and auction. For instance, this…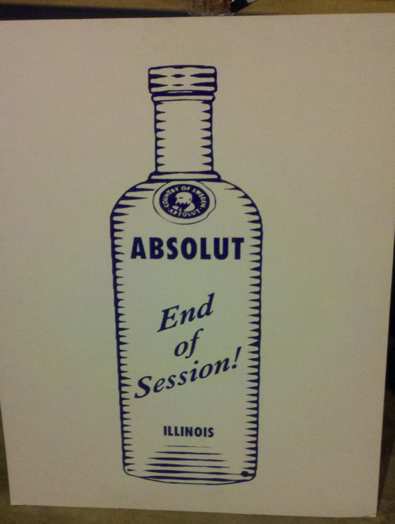 * David Vite of the Illinois Retail Merchants Association claims to have worn out his shoes walking precincts for Sen. Kirk Dillard, so we'll auction them as well…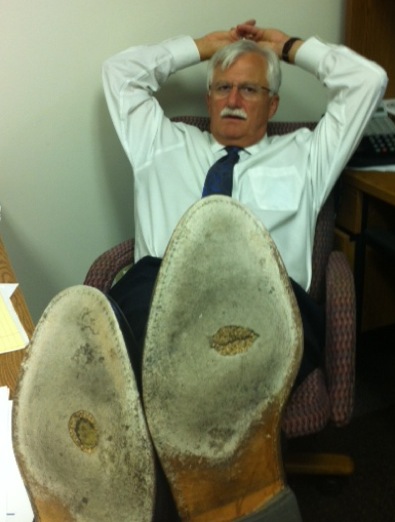 46 Comments









































































































































Sorry, comments for this post are now closed.