* Crain's has some new poll numbers out about Gov. Pat Quinn's job approval and disapproval ratings. But deciphering the results is a bit difficult…
Only 23 percent say they approve (including 5 percent who strongly approve), versus 46 percent who are dissatisfied with the governor. But 24 percent have mixed feelings and 7 percent say they're not sure.
That "mixed feelings" category basically lets respondents cop out of taking a stand. Plus, they already have categories like "lean toward disapprove" and "lean toward approve" that are, by definition, mixed feelings.
* Some of you pointed out yesterday that these are Internet polls. I asked Greg Hinz about the topic…
The sample is randomly selected from Ipsos' data base, weighted to Illinois' current population of adults by gender, age, education, ethnicity and region.
* Back to the poll. While 28 percent say the corruption problem is "getting a little better" and 38 percent said it was staying the same, 17 percent said it was "getting much worse"…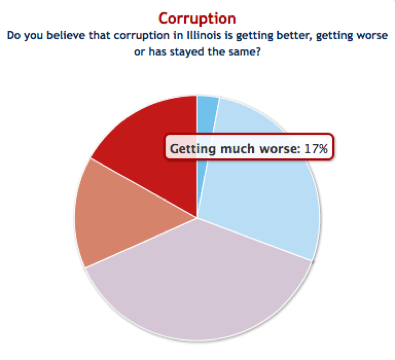 * Check out the wrong track numbers…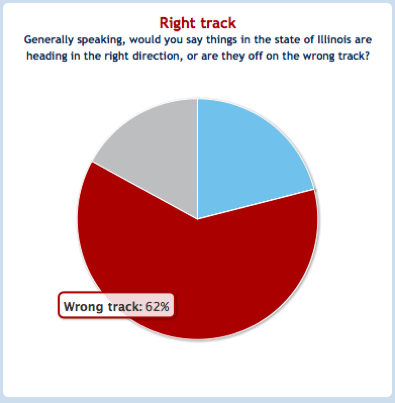 * Also, according to the poll, 53 percent either strongly or somewhat disapprove of the way Gov. Quinn is handling gas prices. Not sure what that means.
Go check out all the poll questions and get back to us with your thoughts.
- Posted by Rich Miller 27 Comments


* I think I may have told you that my mom worked for the Department of Defense as a civilian when I was a teenager. Because of this, I went to three different high schools as we bounced around the country and then moved to Europe (where I graduated high school). My brother Devin went to three different 1st Grades at one point.
So, I do have some experience with the problems that military families face as they move from place to place. This new Illinois law should be a big help to many of those families. From a press release…
Senate Bill 275, sponsored by Illinois State Senate President John Cullerton (D-Chicago) and State Representative Bob Pritchard (R-Hinckley), provides for temporary expedited professional and educational licenses for active duty members of the military and their spouses. State agencies that issue occupational licenses, including the Illinois Department of Financial and Professional Regulation and the State Board of Education, will be able to grant temporary licenses to military members and spouses who hold credentials in other states in more than 50 professions, such as teachers, doctors, nurses, dentists, plumbers, paramedics, social workers, dieticians and therapists. […]

In addition to temporary, 6-month licenses, the Act allows IDFPR to consider all relevant experience and training a servicemember has gained through military service towards meeting certain permanent state licensing requirements. These provisions will help military members and their spouses more easily navigate the patchwork of non-uniform regulations across all 50 states. The law takes effect Jan. 1.
* From the WhiteHouse.gov blog…
The First Lady and Dr. Jill Biden spoke to the nation's Governors and their spouses in February about how they could support military spouses by making it easier for their licenses to transfer as they move from state to state.

You can appreciate that there are hundreds of issues that the First Lady and Dr. Biden could have addressed but they focused on supporting our nation's military spouses and in this case the 100,000 military spouses in the country who serve in professions that require state licenses.

Back in February, only 11 states had pro-spouse legislation in-place.

[Yesterday], Illinois became the 23rd state to adopt pro-military spouse license portability measures.
* Background…
In states without the eased restrictions, military spouses spend too much time compiling and transferring documents and being retested, and many decide it's too much trouble, Marcus Beauregard, the Defense Department's state liaison chief, told American Forces Press Service in a June 22 interview. "We started looking at how to truncate that time," he said.

States require licenses for those in virtually every medical occupation, as well as teaching, social work, cosmetology and other fields, and the requirements vary from state to state, Beauregard said. Of working military spouses, one-third work in fields that require licenses, and most of those are medical, he said.

To ease the burden, some new state laws allow military spouses to transfer an out-of-state license with an endorsement of the office that issued it, Beauregard said, while others will accept the licenses with documents that validate the license or the holder's clean business record, and other states issue temporary licenses for spouses to do business.

"We don't ask them to lower any standards," he said. "We just ask them to encompass military spouses in licensure more quickly."
* More…
"I cannot tell you the number of months I've spent waiting around for licensing paperwork to catch up so that I can continue with my own nursing career," said Courtney Sensenig, of Chicago, who has moved eight times because of her husband's Navy career.

Sensenig, who is licensed in three states and specializes in obstetrics, said many of her friends have similar stories.

"Some find the process so cumbersome and difficult that they give up and decide not to work in their profession," she said. "This adds so much hardship to our lives. It's also a loss … to our community."
* Here's a map with states in green that have similar laws or policies. States in yellow are considering legislation this year. States in red have nothing yet…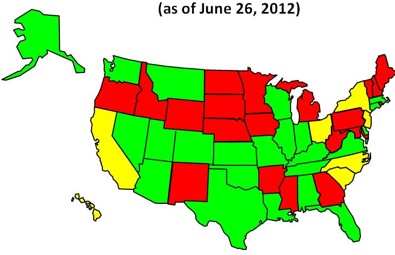 * This was bipartisan legislation. Senate GOP Leader Christine Radogno attended yesterday's event with Gov. Quinn and the First Lady, so please keep your comments focused on the law, not the stupid DC talking points. Thanks.
- Posted by Rich Miller 23 Comments


[Congressman Jesse Jackson Jr. spokesman Frank Watkins] told Dempsey that the reason his office waited for two weeks to make the announcement was because of "family considerations."
U.S. Rep. Jesse Jackson Jr.'s sudden "medical" leave of absence this month is due to a case of the "shpilkes."

◆Translation: Jackson's got the jitters.

◆Explanation: Jackson's litany of ailments, which includes a tough political schedule, a shaky marriage and a federal probe — also includes a past history of adultery. That can cause a stapled stomach to reflux over news the feds arrested his buddy, Raghuveer Nayak, a top Dem fund-raiser who flew Jackson's "social acquaintance" to Chicago on at least two occasions.
Jackson's surgery was a duodenal switch, which involves removing part of the stomach and reconfiguring the intestine to reduce the size of the small bowel. The procedure changes how the body absorbs nutrients, and lack of absorption of some vitamins and minerals can cause fatigue, doctors said.

"People who undergo gastric bypass surgery often have chronic problems with nutritional deficiency and may lack micronutrients like iron, calcium, vitamin B complex and may need to be on vitamin supplements," said Dr. David Zich, a doctor of internal medicine and emergency medicine at Northwestern Memorial Hospital. "It takes careful attention to diet, and for people who have varying schedules and are constantly on the go, oftentimes a diet is the first to go when we are rushing and trying to meet a schedule."
Ald. Sandi Jackson, the congressman's wife, has acknowledged to Chicago Sun-Times columnist Mike Sneed that this has been a very difficult time for the couple.
"Some people think it's suspect, but ironically, we were going to acknowledge last week that the congressman was going to take a leave. In fact, we were prepared to make a statement last week when the news broke that Nayak was arrested, but we postponed that announcement, because this has nothing to do with the Nayak arrest. There's no connection between the two," said Bryant.
Although it's only been a day since Jackson announced he's suffering from exhaustion and has been on medical leave, House Minority Whip U.S. Rep. Steny Hoyer (D-MD) said he was first told of the situation last Friday.
- Posted by Rich Miller 25 Comments


* The setup…
Indiana's Republican Governor, Mitch Daniels, once considered a potential candidate for U.S. president, will become the next president of Purdue University after a vote by the school's board of trustees on Thursday.

Daniels will become the 12th president in Purdue's 143-year history in January at the end of his second term as governor, his spokeswoman, Jane Jankowski, said. His salary as governor is $107,000

Purdue trustee and search committee chairman Michael Berghoff said Daniels, 63, was recruited for the job and was interviewed at length three times, earning the unanimous support of the search committee.
* The Question: What do you think Gov. Pat Quinn will do in retirement? Snark is heavily encouraged, of course.
- Posted by Rich Miller 161 Comments