* As we've already discussed, Congressman Bobby Schilling claims there is $75 million in the federal Bureau of Prisons budget that could be used to buy the Thomson prison from Illinois.
Schilling wants the state to lower its asking price from $165 million down to $75 million to make the deal happen. Republican Congressman Frank Wolf has held up the sale over fears that the Obama administration wants to house Gitmo terrorists in the facility, even though there's a federal law against that. Schilling insists that the administration could tap into the $75 million without having to go through Wolf.
* Well, US Sen. Dick Durbin's office contacted me today via e-mail to say that the $75 million figure is a figment of Schilling's imagination…
We checked in with the Bureau of Prisons and they again made clear that there is no funding currently in their budget that amounts to $75 million which would not need the approval of both House and Senate appropriators in order to be used for the purchase of Thomson prison. So the funding that has been cited by Congressman Schilling's office would need the approval of Congressman Wolf who, up to this point, has not indicated that price is a problem.
If Durbin is right, then Schilling's gonna get hammered by his local media… again.
* Durbin's office also released the text of a letter he sent to Congressman Wolf…
Dear Congressman Wolf:

Today, in your capacity as Chairman of the House Appropriations Subcommittee on Commerce, Justice, and Science, you again received a reprogramming request from the Department of Justice for federal funding to purchase the Thomson Correctional Center in Carroll County, Illinois, from the State of Illinois. I write in strong support of that request and to urge you to approve this important reprogramming as soon as possible.

We are both aware of the history of this project. Despite your rejection of a similar reprogramming request in May 2011, I believe a close examination of today's reprogramming will demonstrate the issues that were of concern to you more than a year ago have been addressed by Administration officials, including funding sources.

In recent weeks, the Obama Administration has clearly restated that they will not seek to transfer any detainees from U.S. facilities at Guantanamo Bay, Cuba to Thomson. As you know, current federal law prohibits these transfers. In addition, Attorney General Holder committed, under oath before the Senate Judiciary Committee on June 12, 2012, that no detainee transfers would take place to Thomson no matter the state of the law.

The Department of Justice, working with the Office of Management and Budget, has identified existing funds that could be used for the purchase of Thomson and that this reprogramming is acceptable to your Senate counterpart, Senator Barbara Mikulski.

Senator Mark Kirk and I have repeatedly pointed out that the sale of the Thomson Correctional Center to the federal government enjoys broad-based local and state support. It will lead to significant economic development in the region, including more than 1,100 jobs. The Bureau of Prisons believes that the acquisition of Thomson will help alleviate the safety problems associated with serious federal prison overcrowding, currently running higher than 50 percent over rated capacity, and especially help increase the safety of the system's prison guards.

I hope you will act promptly to approve this reprogramming request. I will work with you and the Illinois Congressional Delegation to open the Thomson Correctional Center as a federal maximum security prison in the near future.
- Posted by Rich Miller 2 Comments


* Wordslinger sent me an e-mail today that's worth posting…
The summer Olympics begin today in swingin' London and some Illinois athletes rate a shout out.

Ellis Coleman, the pride of Oak Park, is the most dangerous Greco wrestler in the world. He may be skinny, but I can assure you from personal experience, the dude eats a lot. Check out his signature move, the "Flying Squirrel," as demonstrated on this poor Bulgarian last year at the World Championships.
Wow. Just, wow…
* Back to Wordslinger's e-mail…
Also, the James Gang, 6′5″ twins from DeKalb High, who walked on at Wisconsin, are going for the gold in rowing.

I know — twins, DeKalb, Wisconsin, rowing, Olympics — not exactly the usual daydream when you're walking the row detasseling corn. But it's for real.
More on the James brothers here.
* The Question: What sports and athletes will you be watching during the Olympics? Explain, please. Thanks.
*** UPDATE *** I completely forgot to post this link to US Sen. Mark Kirk's listing of all Illinois Olympic athletes. Click here.
- Posted by Rich Miller 22 Comments


* There's new evidence that the feds are currently interested in retired Chicago Democratic state Rep. Connie Howard…
Federal authorities are widening their probe of a newly retired South Side lawmaker with a fresh subpoena seeking records of a scholarship named in her honor and of an Illinois House committee she once chaired.

Democratic Rep. Constance Howard sent in a resignation letter dated July 6. The new subpoena, dated July 18, requested records to or from the "Constance A. 'Connie' Howard Technology Scholarship Fund," including grants or disbursements awarded to that fund.

Prosecutors also called for "notes, minutes of meetings, transcripts of meetings or reports issued by the Computer Technology Committee" for the years 2000 through 2007, which includes a period when Howard chaired the panel. […]

The Tribune obtained the subpoena under an open records request. The House clerk also provided a 2010 subpoena that requested a variety of financial records from Howard's 34th District. The subpoena sought vouchers, employee time sheets and written and electronic communication for a time period from mid-2006 to mid-2009.
That July 18th subpoena was issued a week after I first reported that she was resigning. The feds don't often give a heads up when they're about to subpoena people, so the resignation and the subpoena aren't yet connected, as a Tribune headline proclaimed the other day.
* Meanwhile, I put this into the subscriber section this week and neglected to post it in the public section, but the feds are taking a closer look at Rep. Dan Burke…
College tuition waivers awarded by a member of one of Chicago's best-known political clans are under criminal investigation by a federal grand jury probing possible abuses in the state's soon-to-be-dismantled legislative scholarship program.

The grand jury in Chicago subpoenaed State Rep. Dan Burke (D-Chicago), brother of Ald. Ed Burke (14th) and brother-in-law to Supreme Court Justice Anne Burke, making the veteran House Democrat at least the third known current or former lawmaker whose waivers are being probed by the feds.

The March 21 subpoena, released by the Illinois House in response to an open-records request by the Chicago Sun-Times, seeks "all information" about "Representative Daniel J. Burke's procedures for the establishment, awarding and operation of the Illinois General Assembly Scholarship."

The federal government's request to Burke also seeks records "pertaining to receipt of any funds or gift in connection with the award of the scholarship, including the identity of any person/entity giving any funds or gift, the amount or gift received, and the date received."
* And this looks like as good a place as any to tell you I've just been told that Sun-Times federal courts reporter Natasha Korecki will be the paper's new political reporter. She'll replace Abdon Pallasch, who is leaving to work for the Quinn administration.
Chicago federal courts reporters know politics because, obviously, they cover a whole lot of federal corruption investigations/prosecutions/etc. of Illinois politicians.
Korecki also covered politics for the Daily Herald and knows the Statehouse as well. She's top notch. She'll do well.
- Posted by Rich Miller 8 Comments


* You may have read that Motorola Mobility is moving its corporate headquarters from Libertyville to Chicago's Merchandise Mart…
Motorola Mobility will move its Libertyville headquarters — and 3,000 workers — to downtown Chicago, taking the top four floors and rooftop of the Merchandise Mart and becoming the landmark building's largest tenant with 600,000 square feet, Motorola Mobility CEO Dennis Woodside and Mayor Rahm Emanuel announced Thursday. […]

Gov. Pat Quinn said at a news conference in Deerfield that he gave Google "permission" to move from Libertyville to downtown Chicago, since that was the location Google preferred.
* This is why he apparently had to give permission…
In 2011, after considering a headquarters move to California or Texas, Motorola Mobility struck an agreement with the state to maintain a local workforce of 2,500 in exchange for more than $100 million in tax credits over 10 years. That agreement remained in place after the Google acquisition.
* More from Gov. Quinn…
"I told their CEO we expect them to work very hard here in Lake County (and) Libertyville to help all those people who are working for Motorola now be able to get down to their jobs in downtown Chicago and if they have to use extra transportation to do it, so be it. And we also want to make sure we work with Libertyville and Lake County to get a new company to replace Motorola on their campus here in Lake County. It's a very good place to do business," Quinn said, pointing to companies like Abbott Laboratories near North Chicago and Baxter Healthcare in Deerfield.

He said he wants to make sure Lake County continues to thrive economically.

"But the bottom line is we want to keep the jobs in Illinois," Quinn said. "It's important to have good technology jobs in Illinois that spawn other jobs for many, many different people. The pairing of Google and Motorola Mobility, I think, will be one that will hopefully create jobs for many people for years to come."
* But Rep. Ed Sullivan, who represents Libertyville, is not a happy camper…
State Rep. Ed Sullivan, a Mundelein Republican, complained that Quinn, a Democrat, didn't tell local leaders in advance about the move and said Quinn was "placating Chicago at the expense of the suburbs."

"The governor was very quick to ask for help passing the incentive package to keep Motorola in Illinois," Sullivan said, "but was nowhere to be heard of when he stabbed Libertyville in the back."
* Sullivan also noted the "irony" of the House roll call on the Motorola Mobility tax incentive…
Twenty people voted against the tax breaks. At least 16 are lawmakers from Cook County.
- Posted by Rich Miller 6 Comments


* There was a small protest this week in Mount Vernon against a county board resolution against gay marriage…
A rainbow-colored flag flew in front of Jefferson County Courthouse on Monday as dozens of people gathered to protest a recent county board resolution that affirmed its "defense of marriage as a sacred union between one man and one woman."
* The resolution's sponsor defended his action…
County Board Vice Chairman Wayne Hails, who asked that the resolution be brought before the board, remained committed to its message, despite the crowd protesting it outside the county board's meeting in the courthouse.

Hails said he would sit down for a discussion with people who support gay marriage but "I would not reconsider my opinion. It's still my belief and the belief of the vast majority of the people I represent." […]

"I don't agree with their opinion of same-sex marriage," he said. "The vast, vast majority of the people I represent believe marriage is between a man and a woman."
* But a 2010 poll of southern Illinoisans found that less than half of the respondents opposed gay marriage…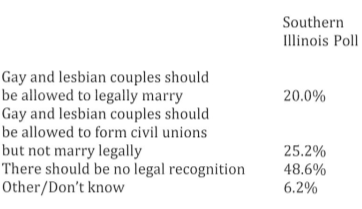 * And a 2012 poll of southern Illinoisans found that even fewer people were against gay marriage…
Asked their position on same-sex marriage in Illinois, a little over one in five (22 percent) chose the option "gay and lesbian couples should be allowed to legally marry." A third (32 percent) chose "gay and lesbian couples should be allowed to form civil unions, but not to legally marry"; and four in 10 (40 percent) chose "there should be no legal recognition of relationships between gay and lesbian couples." [Emphasis added.]
Now, it's possible that in Hails' district the "vast, vast majority" of residents oppose gay marriage. But if they're even close to the mainstream of southern Illinois thought, they're rapidly moving away from that position.
The lesson here is that if you want to oppose gay marriage based on your own ideology, then go for it. But you probably shouldn't rely on public opinion as a justification because it appears to be moving away from you.
* All that being said, something has been really grating on me for the past few days…
The anti-gay views openly espoused by the president of a fast food chain specializing in chicken sandwiches have run afoul of Mayor Rahm Emanuel and a local alderman, who are determined to block Chick-fil-A from expanding in Chicago.

"Chick-fil-A's values are not Chicago values. They're not respectful of our residents, our neighbors and our family members. And if you're gonna be part of the Chicago community, you should reflect Chicago values," Emanuel said Wednesday.
That's just a preposterous and outrageous thing for any mayor to say.
I mean, what if a socially conservative southern Illinois mayor had decided to block Best Buy from obtaining a zoning permit to build a store in his town because the company had contributed to pro-gay marriage efforts?
And what about all the conservative Catholic business owners in Chicago? Should they all be subjected to ideological purity tests before they get a city permit?
Chick-fil-A has no discernible record of anti-gay business practices. They don't refuse to hire gay people. They don't refuse to serve gay customers. The CEO has said marriage should be between a man and a woman and has given some money to groups who believe that way as well. If you don't want to go to that restaurant, then by all means don't. If you want to help boycott the restaurant chain, then get involved. But unless there's some illegal act here, government should stay the heck away from these sorts of purity tests when granting zoning permits.
*** UPDATE *** As usual, the Illinois Republican Party found a way to blame Speaker Madigan…
The Illinois Republican Party started fund-raising off of the Chick-fil-A controversy, on Friday, promising a $5 Chick-fil-A gift card to people who donate at least $10. […]

In making the appeal the state GOP said, "Obama's fellow Madigan-backed Chicago Democratic politicians have stooped to a new low in trying to silence a business owner, Chick-fil-A, by trying to block their business license simply for expressing an opinion that they disagree with."
- Posted by Rich Miller 41 Comments


* Here we have GOP congressional candidate Jason Plummer with retired USAF Captain Scott O'Grady. O'Grady's story about being shot down in Bosnia was made into a movie called "Behind Enemy Lines," starring Owen Wilson…
Consider this as just another present for our old pal Oswego Willy.
…Adding… I should've noted that this is a gift to OW because he won Monday's caption contest.
- Posted by Rich Miller 83 Comments


* Frankly, I'm kind of ashamed to say that I didn't even know Tamms had a minimum security prison camp…
Inmates are moving out of Tamms Correctional Center's minimum-security camp in advance of the prison's Aug. 31 closure date.

Maximum-security inmate transfers have not begun, nor has a start date for those transfers been set, Illinois Department of Corrections spokeswoman Stacey Solano said.

Solano said about 30 minimum-security inmates were being moved Thursday from Tamms to the Hardin County Work Camp, on Illinois 1 in Cave-in-Rock. Solano said 145 minimum-security inmates remain at Tamms.

"The remaining minimum-security inmates will be appropriately transferred across the system in the coming weeks," Solano said. "IDOC will implement the closures responsibly and in a way that prioritizes public safety and security while minimizing the impact on staff and inmates."

Hardin County Work Camp was opened in 1980. Solano said there are 230 inmates, counting the new arrivals from Tamms. The facility's capacity is 288 inmates, Solano said.
* Apparently, things can get pretty hairy at minimum security prisons…
Last Thursday, a near-riot broke out at a minimum-security prison in the Illinois Quad-Cities shortly after the facility lost both power and running water. When prisoners erupted in anger and refused to return to their cells, a tactical team was deployed, threatening prisoners with tear gas until they submitted. The prison was placed on full lockdown until Saturday evening.

Illinois Department of Corrections (DOC) spokeswoman Stacey Solano told the Quad-City Times that repair crews accidentally severed a set of power lines Thursday night while attempting to fix a water main break at the East Moline Correctional Center (EMCC).

Gregg Johnson, a prison supply supervisor and president of the American Federation of State, County and Municipal Employees (AFSCME) Council 46, which represents local prison employees, told the Moline Dispatch that the drawn-out heat wave and overcrowding have exacerbated tensions among prisoners. "Correctional officers told me they have never seen anything like it. All hell broke loose."

According to Johnson, after the facility lost power, enraged prisoners began throwing tables and chairs against windows in the day room. When told to return to their cells, they began chanting, "Hell, no, we won't go!"
* Meanwhile, I'm not quite understanding the uproar made by some legislators about transferring prisoners out of state. We belong to an interstate compact, so we send prisoners to other states regularly, and they do the same with their prisoners. The only cost is transportation. And if we can get some of our most notorious prisoners out of here, why not do it? Why spend huge dollars, for instance, to keep them incarcerated at Tamms?…
The proposal to move prisoners has state lawmakers questioning the cost of inmate transfers and whether or not Illinois' remaining prisons will be able to hold inmates from Tamms Correctional Center and the all-women Dwight Correctional Center, both of which Quinn said he wants to close on Aug. 31 to save an estimated $48 millions.

"Our correction system is already greatly overpopulated," said state Rep. Jason Barickman, R-Champaign, whose district includes the Dwight Correctional Center. "If the governor is choosing to close prisons that is going to further aggravate that system."

But in an effort to avoid some of that aggravation, the governor is opting to move prisoners out of the system completely, Barickman said.

"First and foremost the ability of our state to house our criminals is a core function of the government that I believe should be provided by our state government," Barickman said.
The argument just seems phony and contrived to me. Anything to kick up dust over the prison closures, I suppose.
- Posted by Rich Miller 14 Comments


* My Sun-Times column…
I spent some time at my Uncle Kenny's house in Ashkum last weekend. We went to the Iroquois County Fair, which is like taking a step back in time.

The fair hasn't changed much at all since I was a kid. They still don't allow alcohol on the clean grounds where kids safely run free.

I was at that fair every day back when I was growing up, often accompanied by my Uncle Kenny.

I'm the oldest of five sons, so Kenny was like my big brother growing up. It was a nostalgic weekend, and it felt like old times.

Kenny worked hard all of his life, putting in more overtime hours as a state groundskeeper during blizzards and mowing season than I could count, and he finally retired after then-Gov. George Ryan signed early retirement legislation shortly before leaving office.

I insisted that Kenny take the early out because I knew incoming Gov. Rod Blagojevich was a vindictive little jerk. I told Kenny I had a strong feeling that things were going to get rough with this guy and if Rod ever found out that I had a state employee relative, then either Kenny would be in a world of hurt or I'd be put in a very difficult spot, or both.

Kenny mows lawns to supplement his modest state pension. He's not one of the few greedheads you read about all the time. Kenny followed the rules, he didn't game them. You'd think by reading some of the media coverage that all public employee retirees have huge incomes and laugh at the taxpayers every time a bloated pension check arrives in their gold-plated mailboxes.

Not true.

Kenny doesn't charge much for his side jobs, but he may have to raise his rates soon.

We as a state have a problem. A big problem. For at least 60 years, Illinois has never consistently made its full payments to the pension systems and kept promising to pay out more benefits than it could afford.

A payment plan approved in the 1990s kicked the solution down the road, but the resulting payments ended up being so high that Gov. Blagojevich and the General Assembly decided not to make them. So, now we're even deeper in the hole, and last year's $7 billion income tax increase couldn't solve the problem.

If the current pension reform package that's on the table becomes law, my Uncle Kenny will have to make some difficult choices about whether to give up his compounded cost of living increases every year or his state subsidized health insurance. He'll survive, but it'll hurt.

Nothing stays the same, I suppose. I used to bring a steer to the fair every year and competed against dozens of fellow 4-H members. But the competition eventually got out of hand. Parents were spending small fortunes to gain even a slight advantage for their kids' animals. This year, only a few steers were shown. Times are just too tough to be spending that much cash.

But we as a state can't just stop making pension payments because the costs are too high and times are too difficult. Another way has to be found.

The taxpayers have done their part to address the pension deficit with that income tax increase, which is about equal to a week's pay every year. The retirees (who pay no state income taxes on their pensions) and the active employees are going to have to pitch in to save the system.

This situation truly sucks. People like my uncle shouldn't have to be targeted. But so far, I've seen no other way to do it.
Discuss.
- Posted by Rich Miller 63 Comments


* Dear Chicago Tribune editorial board,
I was looking up something else and came across this passage in a recent Trib editorial where y'all laid out your own pension reform plan…
We can think of multiple reasons, Governor, for legislators to reject this template. But they were elected — all of you were elected — to deliver solutions. To be leaders. If the four caucus heads embraced the deal we're proposing and told their members that it has to pass or they'll face campaign funding and other harsh consequences, it would pass.
Threatening to withhold campaign contributions in explicit exchange for a vote in the General Assembly would be a hugely illegal quid pro quo that could land everybody involved in federal or state prison. Demanding such a course of action is about the dumbest thing I've ever seen in any editorial page anywhere at any time.
Please, take a breath. You're scaring me.
* Dear Southern Illinoisan editorial board,
You ended your editorial today about the possible closure of Tamms with this paragraph…
There is no shame in embracing a compromise, Gov. Quinn. If that happens, some of the disappointed voters in Southern Illinois might be willing to forgive — if not forget — this damaging misstep before casting gubernatorial votes in 2014.
So, all of southern Illinois' voters ought to base their votes on the closure of one state prison? This is the issue you want them to think about when they go to the polls? In another editorial, you write…
It's established: Tamms' closure would be disastrous to Southern Illinois' economy.
You mean to tell me that the loss of 250 jobs (that aren't really being "lost" because pretty much everybody will be offered other jobs at other facilities) will be "devastating" to a region that's thousands of square miles? How many people has your own newspaper laid off in the last decade? Have you ever editorialized about those job losses and the impact they've had on your community?
* Dear Champaign News Gazette editorial board,
Pretty much everybody has fallen for this line, so I probably shouldn't be singling out your editorial today, but I'm going to do it anyway…
Each side accuses the other of stalling, and now it looks like no action will be taken on pensions until after the election when it will be easier for lame-duck lawmakers who are not accountable to vote on a proposal. If so, it will be the second time in less than two years that a lame-duck Legislature acted on major legislation that legislators were afraid to tackle before an election — the massive state income tax increase passed early in 2011.

In the meantime, each day without pension reform costs the state about $12.5 million by Quinn's calculation. If he's right, the cost of a summer of inaction could reach close to $2 billion.
As I've pointed out before, that $12.6 million figure Quinn cites is a great little number guaranteed to be latched onto by the media.
Trouble is, even if all the pension bills passed today, the state would still be piling up that unfunded liability. The bill the Senate passed doesn't start the reforms until January 1st, so if it becomes law the state would continue accruing that additional unfunded liability until then. The pension systems have asked that any new bills be written so that they don't take effect until July 1st of next year, meaning that $12.6 million per day would continue accruing until that point.
* Your turn…
- Posted by Rich Miller 31 Comments


* A new lawsuit has been filed over Illinois' campaign contribution caps…
The legal arm of the conservative Illinois Policy Institute has filed a federal lawsuit asking that Rod Blagojevich-inspired campaign contribution limits be declared unconstitutional because donations from political leaders are not regulated in general elections.

The Liberty Justice Center suit alleges that limits of $5,000 on individuals, $10,000 on corporations and unions, and $50,000 on political action committees violate the equal protection and free speech rights of the Illinois Liberty PAC.
* More…
In an action filed in U.S. District Court here this morning, Liberty Justice Center, a conservative/libertarian legal group that counts former gubernatorial hopeful Dan Proft as a director, asks the court to throw out limits on its ability to donate as much as it wants to whomever it wants.

Under the law, political party committees can spend without limit in general elections, but individuals, political action committees and companies are limited to $5,000, $50,000 and $10,000, respectively. […]

With political committees headed by state Democratic Party Chairman and Illinois House Speaker Michael Madigan alone spending $15 million in the last election cycle, the law is "a scheme to further consolidate power in the hands of party bosses," said Mr. Proft, who is chairman of Illinois Liberty PAC, the plaintiff in the case. He's also a talk-show host on WLS-AM/890.

He added, "Party bosses should have to live under the same laws they impose on the rest of us." […]

The new law already has been watered down twice

The first came when Personal PAC, a pro-abortion-rights group, successfully challenged limits on independent political expenditures. Then the Legislature voted to allow unlimited donations in which an outside independent expenditure of at least $250,000 has been made.
The lawsuit is here.
* React via press release from the Illinois Campaign for Political Reform…
Plaintiffs in this lawsuit are correct that the campaign contributions of parties to candidates should be treated the same way as private interest contributions, but ICPR believes both should be regulated. Plaintiffs are sorely mistaken in suggesting that Illinois should return to the bad old days of Blagojevich-style shake downs and pay-offs, which were disguised as campaign contributions under Illinois' earlier, unrestricted campaign finance system. […]

We urge the plaintiffs to consider the serious damage its suit may do to public trust in government if successful, and ICPR will continue to defend limits on private giving to candidates.
* The Question: Should political action committees operate under the same contribution limits (both giving and receiving) as party and legislative caucus committees? Take the poll and then explain your answer in comments, please.
- Posted by Rich Miller 19 Comments


* Gov. Pat Quinn signed a bill to protect debtors yesterday…
The governor, who signed the legislation at an event in Chicago, said debt collectors have become so aggressive in some parts of Illinois that they commonly use taxpayer-financed courts, sheriff's deputies and county jails to squeeze poor people who fall behind on small payments.

The law will make it harder to jail people who miss court dates or are found in contempt of court as they struggle with unpaid debts – a practice that got worse, some say, during the recession.
* Attorney General Lisa Madigan pushed for the bill and issued a press release applauding the signature…
The attorney general sought the measure after learning that residents in roughly a third of Illinois' counties commonly face incarceration when they fail to appear in court over a previously entered judgment to pay a debt. In many of these cases, notices of court hearings were mailed to addresses that were no longer valid, leaving many debtors unaware of the hearings. In spite of the failure to notify the debtors, courts have frequently issued warrants for their arrests.

Compounding the problem, according to the attorney general's office, is that many victims of these practices are living solely on income that is legally protected from being used to pay outstanding judgment debts, including Social Security, unemployment insurance or veterans' benefits.

"It is outrageous to think in this day and age that creditors are manipulating the courts, even threatening jail time, to extract whatever they could from people who could least afford to pay — veterans, the unemployed, seniors who rely solely on their benefits to get by each month," Madigan said. "This law corrects that gross oversight and puts a stop to throwing people in jail for being poor while still allowing fair debt collection when people have the means to pay their debts."

The new law becomes effective immediately and was sponsored by State Rep. Ann Williams, D-Chicago, and State Sen. William Haine, R-Alton. It also bans abusive and burdensome "pay or appear" orders that are routinely entered against debtors in some Illinois counties. These orders — which usually remain in effect for three years — require debtors to make a monthly payment or appear in court each month to explain why they are unable to pay, even if their financial circumstances have not improved. That means, if a debtor misses just one payment and court hearing, they can end up in jail. Debtors who have been victims of this practice typically owe outstanding medical bills, credit card debts or payday loans.

According to court documents obtained by Madigan's office, one Illinois court entered a "pay or appear" order against a mentally disabled man living on legally protected disability benefits that provided him with $690 a month. Even though the man informed the court of his circumstances, he was still ordered to either pay $100 a month or appear in court once a month for a three-year period.

By amending the Code of Civil Procedure, the new law codifies and clarifies practices followed by attorneys, creditors and courts across Illinois to ensure courts make a finding of a consumer's ability to pay before entering a payment order, and it prohibits payment orders that rely on legally protected income and prevents arrest warrants from being issued unless the debtor was personally served with a hearing notice.
* Meanwhile, the Illinois Federation of Public Employees represents 250 paralegal and clerical employees at the Illinois Attorney General's Office voted overwhelmingly (88 percent) to authorize a strike if negotiations that have last a year aren't wrapped up soon…
Union officials declined to disclose specifics but said they are asking for a "modest" one-time stipend in lieu of a percentage salary increase. The group says it understands the state's financial squeeze but contends that Madigan's office received a budget increase this year that could "easily" cover the cost of the stipend.

Madigan spokeswoman Natalie Bauer argues that the budget bump was minuscule — an additional $1.15 million for a total of $32.6 million in general funds — and is required to be spent on worker retirement costs and health insurance. Union members counter that Madigan's office has raised hundreds of millions of dollars for the state this year through settlements with mortgage and pharmaceutical companies that could be used to cover an increase in employee pay.
Since Madigan has been in negotiations, she could've tried to muscle through an appropriation for a "modest stipend" for these low-level workers. They have a point.
However, unlike New York, the Illinois AG doesn't get to keep any of the money she makes via lawsuits for her own budget. That criticism leveled by the union might look good on paper, but it doesn't represent reality.
- Posted by Rich Miller 21 Comments


* Subscribers learned of this development yesterday afternoon…
A coalition of labor leaders said Wednesday that House Speaker Michael Madigan is considering asking for a vote on pension cuts for lawmakers and state workers — but not teachers — when lawmakers return to Springfield for one day next month.

Legislation that has already been approved by the Illinois Senate would cut back annual pension benefit increases if workers wanted to keep state-subsidized health care.

Teachers weren't included in the package because a deal couldn't be reached over shifting future pension costs of teachers from the state to local schools — an idea Madigan has backed.

Lawmakers are planning to head to Springfield Aug. 17 to debate the possible expulsion of state Rep. Derrick Smith, a Chicago Democrat indicted on bribery charges. But they could do pension work, too, if they wanted to.
Subscribers also found out a lot more this morning about what's going on.
* React…
A coalition of unions representing state employees issued a statement Wednesday slamming the proposal as "unfair" and "unconstitutional."

"This bill would gut the provision allowing retirees on fixed incomes to keep up with rising costs. It would burden retirees with the overwhelming share of the state's pension debt, punishing middle-class public servants for the sins of politicians," according to the statement from the We Are One coalition.

Gov. Pat Quinn has been urging action on pension reform since lawmakers left town in May, but he wants lawmakers to act on a plan that includes pension changes for schoolteachers and university employees.

"I'd like to get to the finish line completely. I think everyone understands the importance in Illinois of comprehensive pension reform," Quinn told reporters Tuesday. "It's our moment, and I would really like to see the legislature roll up their sleeves and get the job done sooner rather than later."

On Wednesday, Quinn spokeswoman Brooke Anderson added, "The governor would like to see all the necessary steps taken to eliminate the unfunded pension liability and restore fiscal stability to Illinois."
The bill will require a three-fifths vote to pass, so its future is, as they say, "in doubt."
Thanks to Erickson for the hat tip, by the way.
Discuss.
- Posted by Rich Miller 57 Comments


* The National Conference of State Legislatures is holding its big annual meeting in Chicago next month. One of the featured speakers on the group's home page is none other than convicted felon and former bigtime DC lobbyist Jack Abramoff. From the NCSL website…
Thursday, 2:15 to 3:30 p.m. at MPW W183b, Level 1

Term limits, no revolving door, no gifts. These reforms are touted by America's best-known lobbyist/felon, Jack Abramoff. He will defend his ideas in front of a panel of experienced legislators who will talk about ethics reforms in their states and challenge Abramoff on what makes sense.
Apparently Rod Blagojevich and George Ryan weren't available to speak to the NCSL gathering because they're still in prison.
* Abramoff spent over three years in federal prison after being convicted of mail fraud, conspiracy and tax evasion. He's been promoting his new book "Capitol Punishment: The Hard Truth About Washington Corruption From America's Most Notorious Lobbyist." He was on "60 Minutes" not long ago and said that one reform he'd like to see is a complete prohibition on congressional staff and congresscritters from ever becoming lobbyists.
* Abramoff addressed the Kentucky legislature earlier this year and outlined some reforms he'd like to see…
* There is a connection between money and politics. Any gift, no matter how small, is a form of bribery.

* Public officials should not be allowed to accept any gifts, including campaign contributions, from lobbyists or their clients or anyone seeking government awards.

* Politicians are human and humans are grateful to people who do nice things for them. This is how lobbyists gain access.

* Terms limits are necessary for lawmakers and their aides to curb a culture of arrogance.

* There should be a lifetime ban on public officials becoming lobbyists–no revolving door.

* Everything about gambling and gaming is political. Stay away from it, he warns. "Beware of the power of money in that industry."
And remember that a public servant works for the public, not for lobbyists.
* But as former Washington Post reporter R. Jeffrey Smith wrote, Abramoff remains defiant about his own actions in his new book…
When it comes to his own role, Abramoff leaves out some embarrassing details, making a reader suspect that there is still more to tell. And his sensible yet improbable prescriptions — which Abramoff says occurred to him while he was doing time at a minimum-security federal prison in Cumberland — are undercut by the pride with which he recounts his lobbying victories. We are left with an odd mixture of candid revelation, defiant celebration and score-settling, all stuck to a postscript of avowed remorse. […]

He dismisses his numerous critics by claiming that they were engaged in "a bloodbath of slander" or bent on the destruction of his clients. He slams The Washington Post in particular for its "vitriolic attacks." He said the paper was "thrilled to have another angle of attack" when it published a 2004 article by me about Abramoff's diversion of funds from an avowed sports charity to pet political causes, a short-lived religious school for his kids and an overseas golf trip. […]

For all of its interesting play-by-play — marred in part by numbing accounts of his golf games with clients — the book skims the surface of Abramoff's psyche. One explanation for his devotion to such hard-edged lobbying is that a habitual rule-breaker will always gravitate toward a profession where ethical norms are few and enforcement is largely missing. But there are hints of other compulsions, including a desire to outperform lobbyists with more cultivated lifestyles. (He writes with relish that his clients and tactics left the partners at Preston Gates squirming "at their wine and brie parties.")

Even after a few years in prison, Abramoff appears unconvinced that he should be subject to the same rules as others. At one point behind bars, he writes, he violated a rule against circumventing the prison mail system by passing a note to visitors, in hopes of getting a Torah scroll from a local rabbi that he could use to organize a communal reading in prison. Abramoff writes in frustration that the "rabbi ratted me out" and says it was "a badge of honor" to endure another month in prison for having tried to obtain the scroll. He decries the prison's punishment as "harassment."

One of the book's unintended themes is thus that redemption is particularly elusive for those who think they can lobby to get everything they want.
Maybe this wasn't the best panel choice. We'll see. Are you going to the conference? What are you planning to do?
* Meanwhile, the ALEC "mole" is back…
[Wednesday] is the first day of the American Legislative Exchange Council's (ALEC) annual meeting. State legislators from around the country will be attending, as will representatives from corporations looking to pitch model legislation.

There will also be spies.

Activists from several progressive groups will sneak into the Salt Lake City conference, (at least, they'll try), in hopes of capturing some of ALEC's model legislation. They will be especially motivated now that mass outrage over Florida's Stand Your Ground law, an ALEC-modeled statute which many presumed would form the basis of George Zimmerman's legal defense for shooting Trayvon Martin, has lofted ALEC's profile.

But long before ALEC watching became its own cottage industry, there was Mark Pocan—a Wisconsin state assemblyman who spied on ALEC for more than a decade and frustrated its attempts to advance policy in the Badger State. […]

But the conferences are of dwindling use to a known quantity like Pocan. While his fellow ALEC-affiliated never tried to obstruct him, ALEC's staff and its sponsors are a different matter. Corporate representatives ensure that he is never invited to the private dinners and sessions where they do some of their choicest lobbying. "That's where they really wine and dine you," he said. At last summer's summit, "I was probably the loneliest guy in New Orleans."

The only private event Pocan ever made it to was a cigar party. Sponsored by several corporations, it literally consisted of prim servers proffering cigars to legislators on silver platters. Within five minutes of Pocan's getting there, an ALEC staffer hurried up to him, asked for his invitation, and, after he produced it, brusquely asked him to leave.
* Background…
More than a decade ago, Wisconsin state Rep. Mark Pocan began agitating to expose the American Legislative Exchange Council's behind-the-scenes manipulation of the legislative process in Wisconsin and other states on behalf of multinational corporations. It was a lonely fight at first. Republicans were enthusiastic about ALEC and most Democrats did not have the courage to take on powerful corporations and the lobbying and campaign contribution networks they had developed.

But Pocan, a Madison Democrat who has represented the 78th Assembly District since 1998, persisted, attending ALEC meetings and writing groundbreaking exposes for The Progressive on how the right-wing group crafts "model legislation" that benefits the most powerful corporations in the world — while undermining protections for workers, consumers and the environment. When the Center for Media and Democracy and The Nation magazine developed the "ALEC Exposed" project to reveal the full extent of the secretive group's manipulation of the legislative process, Pocan lent his experience and insight to the work of naming and shaming corporations that fund ALEC.

As a result, responsible corporations are fleeing ALEC's membership rolls. Some 25 companies have announced they are no longer associated with ALEC — including, most recently, MillerCoors, Best Buy, CVS, Hewlett-Packard and John Deere & Co. They join Johnson & Johnson, Dell, Kraft, Pepsi, Coca-Cola, McDonalds, Wendy's, Walmart and Mars. Four nonprofits, including the Gates Foundation, have also ended their involvement in ALEC activities or initiatives.

But Pocan is not satisfied just with the reduction in ALEC's ranks. The legislator, who is one of several contenders for the open 2nd District congressional seat, is promoting an "ALEC Accountability Act," which would require the shadowy group to register as a lobbyist in Wisconsin and report the funding sources for the "scholarships" it provides conservative legislators.
* Pocan is running for Congress, and he's hyping his visit to the media. From a press release…
**Press Advisory**
Pocan At 2nd Day of ALEC Conference
National Coalition Shedding Light on Illegal, Non-Registered Lobby Group

SALT LAKE CITY – State Representative Mark Pocan will attend his second day at the American Legislative Exchange Council (ALEC) Conference in Salt Lake City on Thursday, July 26th. ALEC wines and dines state legislators nationwide in an attempt to lobby for model corporate-sponsored, special interest-inspired legislation. Over the past few years, public awareness of troubling legislation promoted by ALEC has caused 28 corporations and over 50 legislators to leave the organization. In 2012, Pocan introduced the ALEC Accountability Act, which would require ALEC to register as a lobbying organization and own up to its illegal practices.
Is anybody out there at the ALEC conference this week?
- Posted by Rich Miller 16 Comments