* Down in the polls and apparently fed up with being belittled, Jason Plummer's campaign first resorted to attacking Bill Enyart's son and has now moved on to attacking Enyart's wife in a press release that's literally chock full of glaring mistakes.
While seniors and working families in Southern Illinois are left in limbo about the future of the pensions they earned, millionaire trial lawyer Bill Enyart and his family continue to enrich themselves on the taxpayer's dime.

Enyart, who served as a political advisor to convicted felon Rod Blagojevich and Governor Quinn, and his wife Annette currently collect three taxpayer-funded pensions that pay more than $156,000 each year. With his household in line to receive at least four more taxpayer-funded pensions, how much more will Enyart collect off the backs of the taxpayers?

If elected, the Enyarts would add an eighth pension to their collection. This begs the question: Is he running to enrich himself or the lives of Southern Illinois families?
Despite those breathless allegations, Plummer's own research shows that Bill Enyart isn't collecting a single pension. Yes, you read that right. Go look for yourself.
* While the press release isn't so explicit, this attack is purely about Enyart's wife, Annette Eckert. And Plummer's own research on her doesn't even support Plummer's attack.
For instance, this is one of the "pensions" that Ms. Eckert is supposedly receiving…

That ain't a "pension." That's a one-time death benefit payout from her own mother, for crying out loud.
* And if you look at the Plummer research, the number of actual pensions being collected doesn't equal seven, it equals three. And two of those are pretty small. Click for a larger view…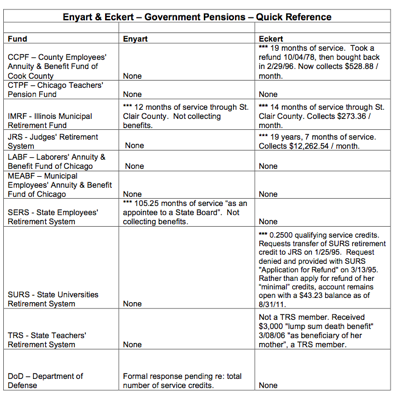 * Back to the press release…
Much of Illinois' dire financial situation is due to pension abuse, and Enyart's insider dealings show how Illinois' pension system has been corrupted. Two of the pensions that he collects come from positions that lasted a total of 14 and 19 months, respectively.
Again, Enyart is not collecting those pensions. Plummer's own research shows that Enyart's wife is collecting those monthly payouts.
Argue what you want about whether or not Enyart's wife should be receiving those two pensions. The monthly payouts do look a bit excessive for the time employed, even if they are small.
* But, really, that's neither here nor there. Plummer's press release comes nowhere near to matching Plummer's actual research. This is a totally bogus release. Period. End of story.
To sum up: Plummer's research shows three pensions for Enyart's wife (one big, two small), but Plummer's press release claims the couple is collecting seven pensions and that Enyart himself is collecting two, when Enyart is actually not collecting any.
Also, to say that Enyart was a Blagojevich "political adviser" is a huge stretch.
We'll see soon enough how the southern Illinois media covers this, but this is a crock.
*** UPDATE *** The News-Democrat leads with Enyart's rebuttal: "Enyart, the Dems' 12th U.S. House District nominee, calls GOP rival Plummer 'unconscionable' for attacking wife's state pension"…
Bill Enyart, the Democratic nominee for the 12th U.S. House District seat, on Tuesday lashed out at GOP nominee Jason Plummer for claiming that Enyart and his wife. retired St. Clair County Judge Annette Eckert, were unethically taking advantage of state-funded pensions.

"I say this first as a father and a husband, for Mr. Plummer to attack my wife's career of service is unconscionable because nothing matters to me more than my family," Enyart said in a written statement.
36 Comments











































































































Sorry, comments for this post are now closed.