* "Pensions and Investments" writes about Squeezy the Pension Python…
"It's designed to be edgy and bring attention to the pension squeeze," Brooke Anderson, spokeswoman for the governor, said of the video. "It's designed to provide information about how Illinois found itself in the pension squeeze and what's at stake."

State Rep. Darlene Senger, a member of the state House Personnel and Pensions Committee, said the grass-roots campaign will not accomplish anything in the next few days, and the governor did not do voters justice in his method of explaining the problem.

The pension issue is "complicated the way it is and not something I find to be cartoonish," said Ms. Senger. "It's a serious business … and to make fun of it or dumb it down … I don't think it's appropriate."
* And the Rockford Register Star rewrites history…
One of the few things former governor and current convict Rod Blagojevich got right was warning that the pension situation was a catastrophe waiting to happen. He said he would "fight like hell" to ensure pension reform.

A few months after he made that declaration, lawmakers voted to skip that year's pension payment. Blagojevich didn't put up enough of a fight.
Um, Rod loved that idea. He took all the credit for it.
* But all the talk about Squeezy got me to thinking before the Thanksgiving break about some other goofy, dumbed-down, patronizing and ultimately failed ad campaigns. For instance, who could forget the Andy McKenna "hair" ads?…
* And then there was the IL GOP's "Madiganville" push…

That campaign was retooled to a "Fire Madigan" message…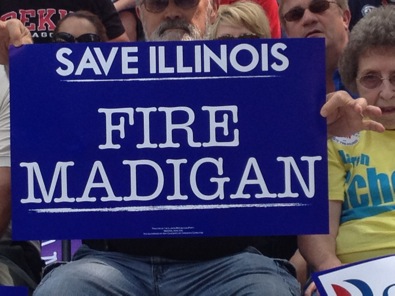 Which, like with the Squeezy push, also included a mascot…
* Adam Andrzejewski rolled out a Lincoln super hero to little affect…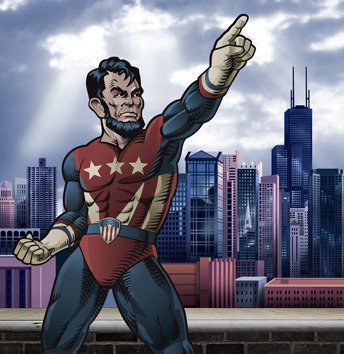 * Ty Fahner's "Illinois is Broke" campaign used a different version of Abe…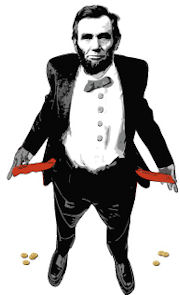 * And no such list would be complete without the infamous Jim Oberweis helicopter ad…
* These campaigns all share a single attribute: They oversimplified issues to the point where people wouldn't take them seriously. The governor's office says that since people are talking about Squeezy, their mission is accomplished. And, indeed, it has prompted a few editorials about pension reform, but those don't mean much in all the clutter.
The governor enters the veto session and the lame duck session desperately needing to appear like a serious leader. This just doesn't help…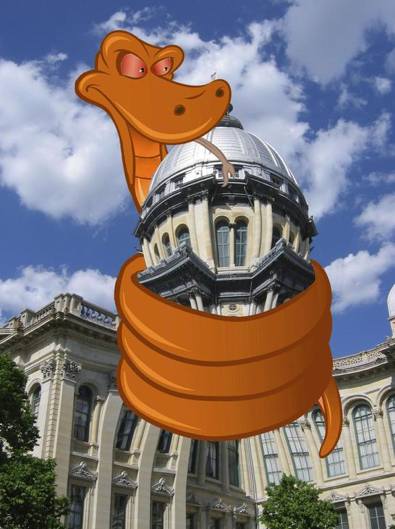 29 Comments






















































































Sorry, comments for this post are now closed.