* One of the things we always watch during the Democrat and Republican State Fair days is who shows up to float their names for higher office. Nobody did that during the Democratic affair Wednesday because of the massive AFSCME protest. But there were some hopefuls at Republican Day…
Senator Dillard and at least three other elected officials at the state party convention say Pat Quinn's latest political trouble is another reason for them to consider running for governor in 2014.

"Certainly what happened yesterday has me even more focused on whether I will run statewide again," Dillard said.

"Let me just say bluntly, it's an option that's out there," said Illinois Treasurer Dan Rutherford.

"I'm certainly going to take a very serious look at it after the first of the year," said Sen. Bill Brady, (R) Bloomington.

"If there's an interest in me running, I'm interested in helping the state turnaround," said Sen. Murphy.

But party chairman Brady said it was too early to think about 2014.

"Every Republican should concentrate on getting Republicans elected this November," said Brady. "There's plenty of time to think about 2014."
Kazillionaire Bruce Rauner didn't show up. Rauner is considered a likely gubernatorial prospect, as is Congressman Aaron Schock, who also wasn't around.
* Yesterday's crowd wasn't exactly enthusiastic…
"I haven't heard any speaker drowned out by boos, but I haven't heard a lot of excitement out there either," said Rodney Davis, the party's nominee in the 13th Congressional District, which includes part of Springfield.

"Hey, who wants Republican victories in November?" he asked. That generated a round of cheering and applause.
* Dave Dahl used dead air to craft a pretty funny intro to his report about the general lack of enthusiasm…
* Amanda Vinicki also played up the contrasts in sounds…
* Chairman Brady hired a leprechaun to spice things up a bit…
On Thursday, the state GOP put a bull's eye on Madigan, the House speaker and chairman of the state Democratic Party. Party loyalists hoisted signs that read "Save Illinois. Fire Madigan."

A leprechaun also wandered about during the rally, carrying a sign that said, "Madigan stole my poto' gold."

"The message you need to drive home to … each one of your precinct workers, to everyone you talk to in the next 83 days is that a vote for any Democrat in the state of Illinois is a vote for Mike Madigan," Brady told the crowd. "He's been down there 42 years. He's taken us to the brink of financial collapse. The problems we face today are his problems, and it's time for Mike Madigan to go."
* The "Fire Madigan" sign…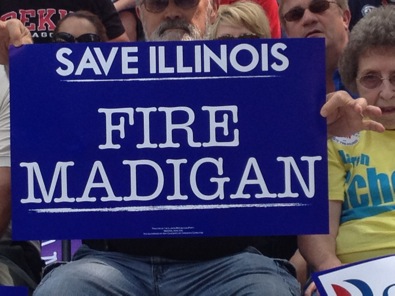 * More on MJM…
House Republican leader Tom Cross called on Madigan to "quit the games" that have led to deadlock on comprehensive pension legislation that would rein in costs of a state retirement system hurtling toward a $93 billion debt by next summer.

"I think Mike needs to look in the mirror and accept the fact that he's been here for 40 years, and every single problem we have has his fingerprints on it," said Cross, who has been in the House since 1993. "We all need to act like adults, quit the politics and get this done."
* More…
Illinois House Minority Leader Tom Cross, R-Oswego, said GOP leaders and voters are united because of dissatisfaction with Democratic leadership, from the Illinois Capitol to the White House.

"I look at what's going on in our races, and we've got a lot of folks from the far right to the middle and the left that are working with us. People are disgusted with what's going on. This is all about finances, about the budget, about the pension," Cross said.
* And this prediction about Democratic-leaning public employee union members staying home on election day would be more accurate if it wasn't a presidential year. But they may skip over some down-ballot races…
"I think the protest you saw yesterday is representative of larger anger throughout the state of Illinois with the failed policies of Mike Madigan and Pat Quinn," said Pat Brady, chairman of the Illinois Republican Party.

Party leaders acknowledged it may be difficult to get union members to vote Republican, although they promised to reach out to organized labor, but they predicted frustrated union members will stay home instead of working hard for Democratic candidates.
* Related…
* Same-sex marriage advocates seek support at state fair

* Friday's highlights at the Illinois State Fair

* State Fair harness racing cut short by storm

* 10 years, no bites for state fair snakehandler

* Illinois State Fair vendor introduces the 'buca-wich'
25 Comments










































































Sorry, comments for this post are now closed.