* Democratic 2nd Congressional District hopeful Robin Kelly shared her own poll today…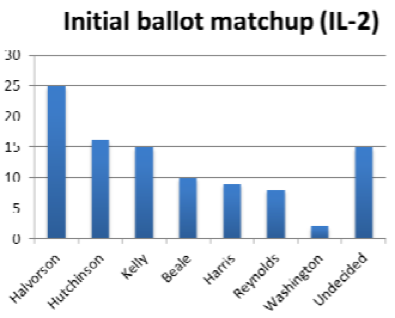 Unlike state Sen. Toi Hutchinson's poll, Kelly's pollster only asked about the top seven candidates. Actually, they asked about eight candidates, but then David Miller dropped out and they used voters' "second choice" responses to reallocate his support elsewhere.
The poll of 500 likely voters was conducted by GBA Strategies January 3-7 with a margin of error of +/- 4.4 percent.
Hutchinson's poll had Halvorson at 16, Hutchinson at 12 and Kelly at 8. Kelly's poll has the race for second place much closer. Hutchinson's attempts to push Kelly out or dismiss her to contributors and influencers as an also-ran probably aren't gonna work, at least for now.
* From the pollster…
• Halvorson begins in the lead, but the race is wide open. Congresswoman Halvorson begins the campaign with 25 percent of the electorate in her corner, but her lead is soft. Senator Hutchinson (16 percent) and Kelly (15 percent) follow, with no other candidate getting more than 10 percent. Fifteen percent are purely undecided, but a full 65 percent of voters are either undecided or only softly supporting a candidate.

• Hutchinson and Halvorson share the same base. Both Debbie Halvorson and Toi Hutchinson start with their base of support coming from the same demographic and regional base, especially white voters and voters in the southern portion of the district.

• Kelly starts with a base of support in the suburbs. Robin Kelly currently leads all other candidates among several key groups, including African American women, African Americans in the suburbs and African Americans with a college degree. And Kelly's support from these pivotal blocs grows during the survey.

• The NRA is extremely unpopular with this electorate. Just 17 percent of likely voters have a favorable impression of the NRA, with 63 percent saying they feel unfavorably towards the pro-gun organization. Kelly's record of standing up to the NRA and her pledge to reduce gun violence resonates as one of the most powerful reasons to support her.

• Kelly has significant room to grow. Despite having lower name ID than Halvorson or Hutchinson, Kelly starts the race off statistically tied in second place. Once voters—especially voters in the city—hear more about Kelly and the leading candidates' positions on preventing gun violence, the vote moves dramatically in her favor, pulling her ahead of both Halvorson and Hutchinson.

• Hutchinson/Halvorson's growth limited by NRA ties. Both other leading candidates find their growth opportunities severely limited by their proud associations with the NRA and the ISRA. Nearly 7-in-10 voters (69 percent) oppose allowing concealed carry in this race. Voters have very serious concerns about Hutchinson's and Halvorson's positions on this critical issue.
There's no doubt that Kelly believes the gun issue is her best path to victory here. She's also raised more money than any other candidate so far (although not a huge amount more than Hutchinson is claiming).
Discuss.
*** UPDATE *** Speaking of guns…
Kelly Supports Obama Gun Control Initiatives, Calls Out Opponents
Only major candidate with a record of standing up to the NRA

RICHTON PARK, IL— Today, Robin Kelly, Democratic candidate for the Second Congressional District of Illinois, announced her support for the gun violence prevention proposals that President Obama and Vice-President Joe Biden announced this morning.

"I stand with President Obama's plan to get the dangerous weapons that are killing our neighbors off of the streets," Robin Kelly said. "The NRA has engaged in desperate smear campaign to stop him, including attacking President Obama's daughters. We need more voices in Washington willing to stand up to NRA, instead of taking support from them.

"Unlike my opponents Debbie Halvorson and Toi Hutchinson, who both received support from the NRA, I got an F rating and frankly, I could not be more proud. I have the record and resolve to stand with President Obama, Mayor Emanuel, and Cook County Board President Toni Preckwinkle to get dangerous weapons out of our neighborhoods."

Robin Kelly is the only candidate to have issued a five-point pledge to get assault weapons and high capacity magazines off the streets of Chicago and the Southland, as well as making sure that Illinois' conceal and carry ban stays in effect. You can read her full pledge at RobinKellyPledge.com.

Robin Kelly is a former state representative, Chief of Staff to the Illinois State Treasurer and Chief Administrative Officer for Cook County under Toni Preckwinkle. But, most importantly, she's a mother and a community activist who has dedicated her career to fighting for economic opportunity, domestic violence prevention and reasonable common sense gun control laws.
13 Comments






































Sorry, comments for this post are now closed.