* Yesterday's blog post about Illinois House candidate Richard Chapman's pledge to oppose Sharia Law resulted in quite a bit of mocking in comments. For instance…
The Wing Nut wing of the Republican Party!
* But, in reality, Chapman has been a quiet, moderate, work-a-day mayor of Shorewood…
Ask Mayor Rick Chapman what Shorewood means to him, and he'll tell you: it's all about the people.

That was the overarching message of his 2012 State of the Village Address last week-Putting people back to work. Giving people a break on their taxes. Bringing people, and their businesses to Shorewood. Chapman said he was both "proud and lucky" to be offering his tenth of such speeches to the Shorewood community.

"I've got a good story to tell," he said "So it's easy for me. Shorewood seems to be in good shape."

Chapman said that 2012-13 continued to be a time of recovery for the village, as it has begun to see a resurgence of sales tax revenue. December 2011 saw the first month sales tax revenues exceeded $300,000 since fiscal year 2007-08.

Tax rebates offered to big box retailers also are coming to an end, and the village is beginning to see more and more tax dollars come in to fund the village coffers, he said.

Additionally, Chapman told the audience there had been no village layoffs since 2009.
"The downturn from 2009-10 caused us to re-think how the village staffs and services its community," he said. "Through that, we have become more efficient."

That efficiency-minded government also turned its attention to construction and infrastructure, said Chapman, who praised a 2011 partnership with the City of Joliet to extend a sewage and water system along Black Road. The project, which was cumbersome to commuters, was well worth the struggle, Chapman said, as it resulted in better water service for Shorewood residents and a more comprehensive system for Joliet's West side. Shorewood loaned Joliet the $14 million for the project, and is being repaid with water service.
* More…
[Chapman] said that he admires the effort that Cross has put in to his work in Springfield on behalf of the residents of the 97th district and wanted to insure that they continue to have a strong advocate in the general assembly.

"We need to maintain that," he said.
He even raised the village's tax levy during tough times in 2008.
* So, the lesson here is that you can't always tell. The person who sent me Chapman's flier knew Chapman and didn't originally know if the guy was a Democrat or a Republican. He thought Chapman was just a moderate, reasonably successful and popular local mayor.
* Meanwhile, Chapman's tea party primary opponent calls himself "The Bat."
I kid you not. "The Bat."
Check out his campaign logo…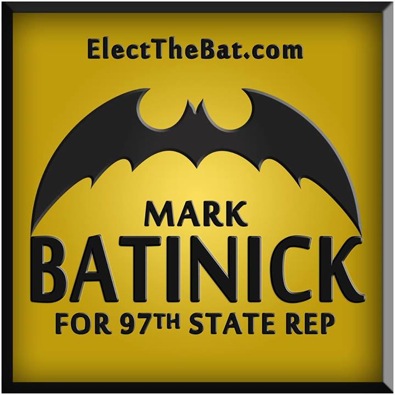 Republican voters may have a tough choice in that district. An anti-Sharia Law crusader or a caped crusader.
64 Comments































































































































































































Sorry, comments for this post are now closed.