* A generous $500 contribution from Rep. Dave McSweeney bumped up our fundraising total to $4,804 as of 5:43 this afternoon. Many, many thanks to everyone for helping out the Washington, IL-area tornado victims.
Of course, you can still contribute any time. Click here to give. Thanks!
*** UPDATE 1 *** As of late Saturday morning, our grand total is now up to $5,969! Many, many thanks to Rep. Mike Zalewsi, Allen Skillikorn, Jo Johnson and several others for their generous contributions since yesterday afternoon. Click here to help. Thanks!
Here's a photo of Oscar at his birthday party last night…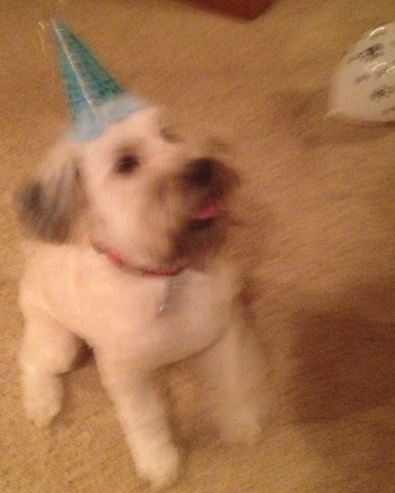 *** UPDATE 2 *** A bigtime donation from Rep. Lou Lang as well as other generous gifts have helped push our grand total so far to $6,679. Thanks to all! Click here to keep it going!
[ *** End Of Updates *** ]
* Oscar the Puppy is loving his birthday haircut, by the way. Here's a bit of chaotic video I shot at the salon when I picked him up…
He's such a little cutie.
* Will Cousineau helped choose the winner of today's caption contest. I'll be donating $100 to our tornado relief fund in Oswego Willy's honor…
"We know you are married, but where does 'Speaker Madigan's Ward Office' fall on your 'Speed Dial'…"
* Rep. Greg Harris generously donated $250 to our tornado relief fund today. Greg's had a pretty good week, what with his gay marriage bill being signed into law. So, I let him choose our Friday music video. He didn't disappoint…
Here's what we call our golden rule
Have faith in you and the things you do

No Comments
Be the first to comment.
Sorry, comments for this post are now closed.