* Sen. Don Harmon unveiled his progressive tax proposal today…
Progressive income tax rate proposal for $12k-$180k bracket is 4.9%: decrease from 5% rate now, but up from 3.75% in Jan, when hike expires

— Amanda Vinicky (@AmandaVinicky) March 25, 2014
Oy.
Cue the screamers.
* However, that's not the rate people pay with standard deductions. Here's the actual tax rates under the new plan and the supposed cuts…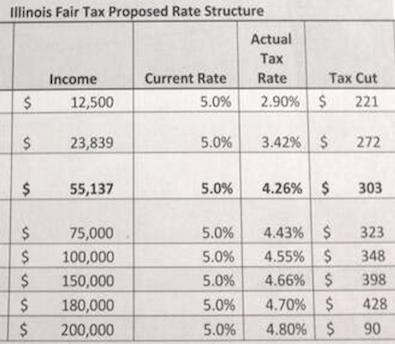 Top rate would be 6.9 percent.
* And speaking of screamers, I haven't been a big fan of "A Better Illinois" for the way it handled the progressive tax rollout. But a group with ties to the Illinois Policy Institute has created a website to denounce the pro-tax group and uses fake mugshots to drive home its point.
Actually, I'm not sure what the point of the site is except to tell us what we already know. They're a group of liberals with union ties and funding.
31 Comments




























































































Sorry, comments for this post are now closed.